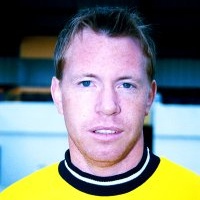 Position:
Midfielder
Bio
Combative midfielder who also looked equally comfortable playing at left back and filled both positions a number of times in his five years with the club.
Won the Conference with Stevenage Borough in 1992/93 and cost Brentford a fee of around £50,000 for his services shortly afterwards. Had a host of Conference clubs to his previous playing experience and racked up just under 200 Rebels appearances.
Retired from playing football in 2009 to take up the role of physio for the Metropolitan Police.
Mens
| First Appearance | Appearances | First Goal | Goals |
| --- | --- | --- | --- |
| 02-01-1999 vs Heybridge Swifts | 193 | 16-02-1999 vs Carshalton Ath | 6 |
History
| Match Date | Home | Score | Away | Competition | Goals | Cards | |
| --- | --- | --- | --- | --- | --- | --- | --- |
| 27-03-2004 | Slough Town | 3-1 | Egham Town | League | | | Match report |
| 23-03-2004 | Corinthian Casuals | 4-1 | Slough Town | League | | | Match report |
| 20-03-2004 | Banstead Athletic | 1-2 | Slough Town | League | | | Match report |
| 13-03-2004 | Slough Town | 1-0 | Croydon Athletic | League | | | Match report |
| 06-03-2004 | Bracknell Town | 4-2 | Slough Town | League | | | Match report |
| 02-03-2004 | Slough Town | 1-1 | Walton & Hersham | League | | | Match report |
| 28-02-2004 | Dulwich Hamlet | 2-4 | Slough Town | League | | | Match report |
| 21-02-2004 | Slough Town | 1-0 | Lewes | League | | | Match report |
| 14-02-2004 | Staines Town | 1-3 | Slough Town | League | | | Match report |
| 10-02-2004 | Bromley | 0-4 | Slough Town | League | | | Match report |
| 07-02-2004 | Slough Town | 3-2 | Horsham | League | | | Match report |
| 24-01-2004 | Slough Town | 2-0 | Tooting & Mitcham Utd | League | | | Match report |
| 20-01-2004 | Maidenhead United | 1-2 | Slough Town | B&B Senior Cup | | | Match report |
| 17-01-2004 | Worthing | 2-0 | Slough Town | League | | | Match report |
| 10-01-2004 | Slough Town | 1-1 | Hampton & Richmond | League | | | Match report |
| 11-11-2003 | Slough Town | 4-2 | Bromley | League | | | Match report |
| 08-11-2003 | Slough Town | 2-2 | Staines Town | League | | | Match report |
| 02-11-2003 | Slough Town | 2-2 | Bishop's Stortford | FA Trophy | | | Match report |
| 28-10-2003 | Slough Town | 5-1 | Banstead Athletic | League | | | Match report |
| 25-10-2003 | Lewes | 3-2 | Slough Town | League | | | Match report |
| 22-10-2003 | Slough Town | 2-1 | Corinthian Casuals | League | | | Match report |
| 18-10-2003 | Tooting & Mitcham Utd | 0-2 | Slough Town | League | | | Match report |
| 14-10-2003 | Hampton & Richmond | 4-0 | Slough Town | League | | | Match report |
| 27-09-2003 | Slough Town | 1-1 | Welling United | FA Cup | | | Match report |
| 23-09-2003 | Slough Town | 4-1 | Bracknell Town | League | | | Match report |
| 20-09-2003 | Croydon Athletic | 1-0 | Slough Town | League | | | Match report |
| 09-09-2003 | Whyteleafe | 2-0 | Slough Town | League | | | Match report |
| 15-02-2003 | Barton Rovers | 2-2 | Slough Town | League | | | Match report |
| 08-02-2003 | Slough Town | 3-0 | Arlesey Town | League | | | Match report |
| 04-02-2003 | Slough Town | 2-0 | Thame United | League | | | Match report |
| 25-01-2003 | Slough Town | 3-0 | Oxford City | League | | | Match report |
| 18-01-2003 | Wealdstone | 3-2 | Slough Town | League | | | Match report |
| 14-01-2003 | Great Wakering Rovers | 2-2 | Slough Town | League | | | Match report |
| 04-01-2003 | Northwood | 5-1 | Slough Town | League | | | Match report |
| 28-12-2002 | Slough Town | 2-0 | Marlow | League | | | Match report |
| 26-12-2002 | Yeading | 0-2 | Slough Town | League | | | Match report |
| 21-12-2002 | Slough Town | 5-1 | Leyton Pennant | League | | | Match report |
| 17-12-2002 | Slough Town | 1-1 | Wealdstone | League | | | Match report |
| 14-12-2002 | Hornchurch | 3-2 | Slough Town | League | | | Match report |
| 07-12-2002 | Slough Town | 3-2 | Berkhamsted Town | League | | | Match report |
| 30-11-2002 | Wembley | 2-2 | Slough Town | League | | | Match report |
| 26-11-2002 | Tilbury | 3-0 | Slough Town | League | | | Match report |
| 23-11-2002 | Slough Town | 4-0 | Great Wakering Rovers | League | | | Match report |
| 19-11-2002 | Slough Town | 1-3 | Kingstonian | Unknown Cup | | | Match report |
| 16-11-2002 | Slough Town | 1-2 | Harrogate Railway | FA Cup | | | Match report |
| 12-11-2002 | Slough Town | 1-0 | Wycombe Wanderers | B&B Senior Cup | | | Match report |
| 09-11-2002 | Slough Town | 0-1 | Hemel Hempstead Town | League | | | Match report |
| 02-11-2002 | Lewes | 6-4 | Slough Town | FA Trophy | | | Match report |
| 26-10-2002 | Slough Town | 3-2 | Canvey Island | FA Cup | | | Match report |
| 22-10-2002 | Slough Town | 4-0 | Wivenhoe Town | League | | | Match report |
| 19-10-2002 | Oxford City | 1-1 | Slough Town | League | | | Match report |
| 15-10-2002 | Wingate & Finchley | 2-3 | Slough Town | League | | | Match report |
| 12-10-2002 | Slough Town | 4-2 | Hampton & Richmond | FA Cup | | | Match report |
| 08-10-2002 | Barking & East Ham Utd | 2-1 | Slough Town | League | | | Match report |
| 05-10-2002 | Slough Town | 2-0 | Wembley | FA Trophy | | | Match report |
| 01-10-2002 | Slough Town | 2-0 | AFC Totton | FA Cup | | | Match report |
| 28-09-2002 | AFC Totton | 2-2 | Slough Town | FA Cup | | | Match report |
| 24-09-2002 | Arlesey Town | 1-0 | Slough Town | League | | | Match report |
| 21-09-2002 | Slough Town | 1-0 | Barton Rovers | League | | | Match report |
| 14-09-2002 | St. Leonards | 1-2 | Slough Town | FA Cup | | | Match report |
| 10-09-2002 | Slough Town | 1-1 | Harlow Town | League | | | Match report |
| 06-09-2002 | Uxbridge | 0-1 | Slough Town | League | | | Match report |
| 31-08-2002 | Thame United | 1-2 | Slough Town | FA Cup | | | Match report |
| 26-08-2002 | Slough Town | 2-1 | Northwood | League | | | Match report |
| 24-08-2002 | Marlow | 2-3 | Slough Town | League | | | Match report |
| 20-08-2002 | East Thurrock United | 0-2 | Slough Town | League | | | Match report |
| 27-04-2002 | Slough Town | 0-1 | Bognor Regis Town | League | | | Match report |
| 20-04-2002 | Staines Town | 0-1 | Slough Town | League | | | Match report |
| 13-04-2002 | Slough Town | 0-1 | Bishop's Stortford | League | | | Match report |
| 06-04-2002 | Dulwich Hamlet | 0-0 | Slough Town | League | | | Match report |
| 01-04-2002 | Windsor & Eton | 3-3 | Slough Town | League | | | Match report |
| 30-03-2002 | Slough Town | 3-0 | Bromley | League | | | Match report |
| 23-03-2002 | Slough Town | 1-2 | Ford Utd | League | | | Match report |
| 16-03-2002 | Aylesbury United | 4-0 | Slough Town | League | | | Match report |
| 09-03-2002 | Slough Town | 0-0 | Whyteleafe | League | | | Match report |
| 02-03-2002 | Thame United | 3-0 | Slough Town | League | | | Match report |
| 23-02-2002 | Slough Town | 3-0 | Uxbridge | League | | | Match report |
| 19-02-2002 | Slough Town | 4-1 | Abingdon Town | B&B Senior Cup | | | Match report |
| 16-02-2002 | Harlow Town | 1-4 | Slough Town | League | | | Match report |
| 12-02-2002 | Slough Town | 2-1 | Barking & East Ham Utd | League | | | Match report |
| 09-02-2002 | Slough Town | 3-1 | Tooting & Mitcham Utd | League | | | Match report |
| 02-02-2002 | Northwood | 1-1 | Slough Town | League | | | Match report |
| 22-01-2002 | Slough Town | 3-0 | Windsor & Eton | League | | | Match report |
| 19-01-2002 | Carshalton Ath | 2-1 | Slough Town | League | | | Match report |
| 12-01-2002 | Slough Town | 6-0 | Wealdstone | League | | | Match report |
| 05-01-2002 | Worthing | 0-3 | Slough Town | League | | | Match report |
| 01-01-2002 | Yeading | 0-0 | Slough Town | League | | | Match report |
| 29-12-2001 | Slough Town | 1-2 | Oxford City | League | | | Match report |
| 22-12-2001 | Slough Town | 0-1 | Hitchin Town | Ryman League Cup | | | Match report |
| 11-12-2001 | Slough Town | 1-0 | Bracknell Town | B&B Senior Cup | | | Match report |
| 04-12-2001 | Bracknell Town | 1-1 | Slough Town | B&B Senior Cup | | | Match report |
| 24-11-2001 | Tooting & Mitcham Utd | 1-1 | Slough Town | League | | | Match report |
| 17-11-2001 | Slough Town | 2-0 | Staines Town | League | | | Match report |
| 10-11-2001 | Bognor Regis Town | 0-0 | Slough Town | League | | | Match report |
| 03-11-2001 | Slough Town | 0-2 | Aylesbury United | FA Trophy | | | Match report |
| 27-10-2001 | Slough Town | 3-2 | Dulwich Hamlet | League | | | Match report |
| 23-10-2001 | Slough Town | 4-0 | Harlow Town | League | | | Match report |
| 20-10-2001 | Bishop's Stortford | 3-2 | Slough Town | League | | | Match report |
| 16-10-2001 | Slough Town | 3-4 | Aylesbury United | League | | | Match report |
| 13-10-2001 | Ford Utd | 0-2 | Slough Town | League | | | Match report |
| 02-10-2001 | Slough Town | 1-1 | Thame United | League | | | Match report |
| 29-09-2001 | Whyteleafe | 0-2 | Slough Town | League | | | Match report |
| 25-09-2001 | Uxbridge | 3-1 | Slough Town | League | | | Match report |
| 22-09-2001 | Slough Town | 1-1 | Carshalton Ath | League | | | Match report |
| 11-09-2001 | Barking & East Ham Utd | 0-1 | Slough Town | League | | | Match report |
| 08-09-2001 | Wealdstone | 2-1 | Slough Town | League | | | Match report |
| 04-09-2001 | Slough Town | 0-1 | Worthing | League | | | Match report |
| 01-09-2001 | Lewes | 3-0 | Slough Town | FA Cup | | | Match report |
| 27-08-2001 | Slough Town | 3-3 | Yeading | League | | | Match report |
| 25-08-2001 | Bromley | 0-3 | Slough Town | League | | | Match report |
| 21-08-2001 | Oxford City | 3-0 | Slough Town | League | | | Match report |
| 18-08-2001 | Slough Town | 0-3 | Walton & Hersham | League | | | Match report |
| 05-05-2001 | Chesham United | 2-0 | Slough Town | League | | | Match report |
| 28-04-2001 | Slough Town | 3-1 | Carshalton Ath | League | | | Match report |
| 24-04-2001 | Slough Town | 2-0 | Ebbsfleet United | League | | | Match report |
| 21-04-2001 | Harrow Borough | 1-0 | Slough Town | League | | | Match report |
| 19-04-2001 | Slough Town | 0-1 | Canvey Island | League | | | Match report |
| 16-04-2001 | Slough Town | 1-0 | Maidenhead United | League | | | Match report |
| 14-04-2001 | Farnborough Town | 1-1 | Slough Town | League | | | Match report |
| 10-04-2001 | Slough Town | 2-3 | Billericay Town | League | | | Match report |
| 07-04-2001 | Slough Town | 1-1 | Dulwich Hamlet | League | | | Match report |
| 31-03-2001 | Slough Town | 0-3 | Hitchin Town | League | | | Match report |
| 24-03-2001 | Billericay Town | 0-0 | Slough Town | League | | | Match report |
| 10-03-2001 | Slough Town | 4-4 | Sutton United | League | | | Match report |
| 03-03-2001 | Slough Town | 1-1 | Heybridge Swifts | League | | | Match report |
| 24-02-2001 | St Albans City | 1-0 | Slough Town | League | | | Match report |
| 17-02-2001 | Slough Town | 1-0 | Hendon | League | | | Match report |
| 10-02-2001 | Aldershot Town | 1-0 | Slough Town | League | | | Match report |
| 13-01-2001 | Purfleet | 2-0 | Slough Town | League | | | Match report |
| 06-01-2001 | Basingstoke Town | 3-2 | Slough Town | League | | | Match report |
| 26-12-2000 | Maidenhead United | 1-0 | Slough Town | League | | | Match report |
| 23-12-2000 | Slough Town | 0-2 | Farnborough Town | League | | | Match report |
| 16-12-2000 | Grays Athletic | 1-0 | Slough Town | League | | | Match report |
| 09-12-2000 | Slough Town | 0-2 | Chesham United | League | | | Match report |
| 05-12-2000 | Bromley | 1-0 | Slough Town | Full Members Cup | | | Match report |
| 02-12-2000 | Newport AFC | 2-1 | Slough Town | FA Trophy | | | Match report |
| 28-11-2000 | Slough Town | 1-2 | Harrow Borough | League | | | Match report |
| 18-11-2000 | Dulwich Hamlet | 2-2 | Slough Town | League | | | Match report |
| 11-11-2000 | Slough Town | 0-2 | Basingstoke Town | League | | | Match report |
| 04-11-2000 | Slough Town | 5-0 | Bishop's Stortford | FA Trophy | | | Match report |
| 24-10-2000 | Slough Town | 4-3 | Aldershot Town | Full Members Cup | | | Match report |
| 26-08-2000 | Slough Town | 3-2 | Purfleet | League | | | Match report |
| 22-08-2000 | Slough Town | 1-0 | Grays Athletic | League | | | Match report |
| 19-08-2000 | Ebbsfleet United | 1-2 | Slough Town | League | | | Match report |
| 06-05-2000 | Dagenham & R. | 2-1 | Slough Town | League | | | Match report |
| 02-05-2000 | Slough Town | 0-0 | Aldershot Town | League | | | Match report |
| 29-04-2000 | Slough Town | 2-1 | Heybridge Swifts | League | | | Match report |
| 24-04-2000 | Basingstoke Town | 1-0 | Slough Town | League | | | Match report |
| 22-04-2000 | Slough Town | 2-3 | Boreham Wood | League | | | Match report |
| 18-04-2000 | Heybridge Swifts | 1-1 | Slough Town | League | | | Match report |
| 15-04-2000 | Enfield | 1-3 | Slough Town | League | | | Match report |
| 10-04-2000 | Purfleet | 2-0 | Slough Town | League | | | Match report |
| 08-04-2000 | Slough Town | 2-3 | Harrow Borough | League | | | Match report |
| 01-04-2000 | Slough Town | 2-0 | Chesham United | League | | | Match report |
| 28-03-2000 | Aylesbury United | 4-2 | Slough Town | B&B Senior Cup | | | Match report |
| 25-03-2000 | Aldershot Town | 2-0 | Slough Town | League | | | Match report |
| 21-03-2000 | Slough Town | 2-1 | Enfield | League | | | Match report |
| 18-03-2000 | Canvey Island | 2-0 | Slough Town | League | | | Match report |
| 07-03-2000 | Ebbsfleet United | 3-2 | Slough Town | Full Members Cup | | | Match report |
| 23-10-1999 | Chesham United | 3-0 | Slough Town | League | | | Match report |
| 16-10-1999 | Slough Town | 1-1 | Cambridge City | FA Cup | | | Match report |
| 09-10-1999 | Slough Town | 0-2 | Hendon | FA Trophy | | | Match report |
| 02-10-1999 | Slough Town | 1-0 | Carshalton Ath | FA Cup | | | Match report |
| 25-09-1999 | Hampton & Richmond | 1-1 | Slough Town | League | | | Match report |
| 18-09-1999 | Slough Town | 3-1 | Cowes Sports | FA Cup | | | Match report |
| 14-09-1999 | Slough Town | 1-0 | Grays Athletic | Full Members Cup | | | Match report |
| 11-09-1999 | Slough Town | 1-2 | Canvey Island | League | | | Match report |
| 07-09-1999 | Farnborough Town | 0-1 | Slough Town | League | | | Match report |
| 04-09-1999 | Slough Town | 2-1 | Dulwich Hamlet | League | | | Match report |
| 30-08-1999 | Slough Town | 4-0 | Billericay Town | League | | | Match report |
| 28-08-1999 | Ebbsfleet United | 1-0 | Slough Town | League | | | Match report |
| 23-08-1999 | Carshalton Ath | 1-1 | Slough Town | League | | | Match report |
| 21-08-1999 | Slough Town | 3-0 | Purfleet | League | | | Match report |
| 17-08-1999 | Slough Town | 1-1 | Hendon | League | | | Match report |
| 14-08-1999 | St Albans City | 0-1 | Slough Town | League | | | Match report |
| 13-04-1999 | Slough Town | 2-2 | Aldershot Town | League | | | Match report |
| 10-04-1999 | Enfield | 2-1 | Slough Town | League | | | Match report |
| 05-04-1999 | Slough Town | 1-0 | Dulwich Hamlet | League | | | Match report |
| 27-03-1999 | Aldershot Town | 1-1 | Slough Town | League | | | Match report |
| 20-03-1999 | Slough Town | 1-1 | Hendon | League | | | Match report |
| 13-03-1999 | Billericay Town | 1-2 | Slough Town | League | | | Match report |
| 06-03-1999 | Slough Town | 0-1 | Dagenham & R. | League | | | Match report |
| 02-03-1999 | Boreham Wood | 1-0 | Slough Town | League | | | Match report |
| 27-02-1999 | Harrow Borough | 0-2 | Slough Town | League | | | Match report |
| 20-02-1999 | Slough Town | 1-0 | St Albans City | League | | | Match report |
| 16-02-1999 | Carshalton Ath | 0-3 | Slough Town | League | | | Match report |
| 13-02-1999 | Slough Town | 3-0 | Hampton | League | | | Match report |
| 06-02-1999 | Purfleet | 0-4 | Slough Town | League | | | Match report |
| 30-01-1999 | Slough Town | 1-2 | Sutton United | League | | | Match report |
| 25-01-1999 | Slough Town | 1-2 | Rushden & Diamonds | FA Trophy | | | Match report |
| 23-01-1999 | Bishop's Stortford | 0-1 | Slough Town | League | | | Match report |
| 09-01-1999 | Chesham United | 1-0 | Slough Town | League | | | Match report |
| 02-01-1999 | Slough Town | 0-1 | Heybridge Swifts | League | | | Match report |
Slough Town FC is not responsible for content produced on external websites | Copyright Slough Town FC 2023