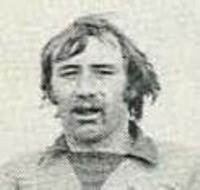 Position:
Midfielder
Achievements
Amateur Cup - runner-up 1972/73
Bio
Legendary midfielder who holds the record for most number of appearances of any player in a Slough Town shirt.
Terry started off learning his football at both the Godolphin and William Penn schools. He gained representative honours with the Slough and District Schools team that used to attract massive crowds to the Dolphin on Saturday mornings. Represented the district side for four seasons and graduated to the county youth side when he was 17. At this time he was with Slough Boys' Club but he switched to Pathfinders for his last season as a youth. While with them he played for the Bucks Association of Boys' Clubs and was in the side which reached the final of the all-England county competition, losing 2-1 to Durham at Crystal Palace.
He went on to enjoy a long playing career as a hard grafting but skilful midfielder. Terry played for Yiewsley (who later became Hillingdon Borough), joining Slough after a couple of seasons, where he remained for four years. Terry, who comes from a well-known footballing family in Slough has had a trial with West Ham.
Then, after spending one season away, he returned to his roots to settle down at the Dolphin. He also played for Wycombe Wanderers, with a brief spell at Chesham, before going into management. He was a real local, making his first appearance for the club on 22 August 1964 in a home match in the Athenian League against Erith & Belvedere. He made an immediate impact, scoring twice.
In all, Terry scored 90 goals for Slough Town. His final appearance for the club came on 18 April 1981 in a 2-1 home defeat against Hendon at Wexham Park in the Isthmian Premier Division, as the club edged towards the end of a title-winning season. Amongst his goals were some vital strikes, including two from the penalty spot against Alvechurch at the Dolphin in a tough replay in the Amateur Cup in 1970 in front of a gate of 3,768 and in 1973, the clincher as Slough beat Blyth Spartans 2-1 in front of 3,500.
He also represented Slough in the 1973 Amateur Cup final defeat to Walton & Hersham at Wembley in front of a 41,000 crowd.
After retiring as a player, Terry returned to Slough in the capacity of manager and set about creating a good side consisting of local players. He famously masterminded the FA Cup defeat of Millwall in the 1982/83 season when in charge of the Rebels, the first time the club had beaten league opposition, with Gary Attrell scoring the winner.
Has represented the National Association of Boys' Clubs, Berks and Bucks F.A., England and Wales (the only man to be capped by 2 countries at amateur level) and Berkshire at cricket.
Outside of football, Terry worked as a plumber.
Mens
| First Appearance | Appearances | First Goal | Goals |
| --- | --- | --- | --- |
| 22-08-1964 vs Erith | 475 | 22-08-1964 vs Erith | 90 |
History
| Match Date | Home | Score | Away | Competition | Goals | Cards | |
| --- | --- | --- | --- | --- | --- | --- | --- |
| 18-04-1981 | Slough Town | 1-2 | Hendon | League | | | Match report |
| 31-03-1981 | Slough Town | 2-1 | Bishop's Stortford | Isthmian Lge Cup | | | Match report |
| 24-03-1981 | Bishop's Stortford | 1-1 | Slough Town | Isthmian Lge Cup | | | Match report |
| 17-01-1981 | Harlow Town | 1-1 | Slough Town | League | | | Match report |
| 10-01-1981 | Dartford | 4-1 | Slough Town | FA Trophy | | | Match report |
| 03-01-1981 | Slough Town | 1-0 | Boreham Wood | League | | | Match report |
| 01-01-1981 | Slough Town | 2-1 | Wycombe Wanderers | League | | | Match report |
| 27-12-1980 | Wycombe Wanderers | 1-4 | Slough Town | League | | | Match report |
| 16-12-1980 | Boreham Wood | 1-0 | Slough Town | League | | | Match report |
| 13-12-1980 | Slough Town | 2-1 | Bromley | League | | | Match report |
| 09-12-1980 | Leytonstone Ilford | 3-3 | Slough Town | League | | | Match report |
| 06-12-1980 | Slough Town | 1-0 | Barking | League | | | Match report |
| 29-11-1980 | Slough Town | 6-0 | Wokingham Town | FA Trophy | | | Match report |
| 26-11-1980 | Newbury Town | 0-3 | Slough Town | B&B Senior Cup | | | Match report |
| 11-11-1980 | Woking | 2-0 | Slough Town | League | | | Match report |
| 01-11-1980 | Walthamstow | 0-2 | Slough Town | League | | | Match report |
| 28-10-1980 | Slough Town | 3-0 | Hayes | League | | | Match report |
| 25-10-1980 | Dulwich Hamlet | 0-1 | Slough Town | League | | | Match report |
| 21-10-1980 | Staines Town | 0-2 | Slough Town | League | | | Match report |
| 04-10-1980 | Hounslow | 1-3 | Slough Town | FA Cup | | | Match report |
| 30-09-1980 | Slough Town | 0-0 | Hitchin Town | League | | | Match report |
| 27-09-1980 | Slough Town | 2-1 | Leytonstone Ilford | League | | | Match report |
| 20-09-1980 | Slough Town | 2-1 | Tooting | League | | | Match report |
| 26-04-1980 | Slough Town | 2-2 | Woking | League | | | Match report |
| 12-04-1980 | Boreham Wood | 3-2 | Slough Town | League | | | Match report |
| 07-04-1980 | Walthamstow | 3-0 | Slough Town | League | | | Match report |
| 05-04-1980 | Slough Town | 10-0 | Hitchin Town | League | | | Match report |
| 29-03-1980 | Hitchin Town | 1-1 | Slough Town | League | | | Match report |
| 22-03-1980 | Slough Town | 0-1 | Walthamstow | League | | | Match report |
| 15-03-1980 | Hendon | 0-1 | Slough Town | League | | | Match report |
| 26-02-1980 | Slough Town | 0-1 | Aylesbury United | B&B Senior Cup | | | Match report |
| 23-02-1980 | Slough Town | 2-1 | Barking | League | | | Match report |
| 16-02-1980 | Dagenham | 0-2 | Slough Town | League | | | Match report |
| 02-02-1980 | Slough Town | 2-1 | Boreham Wood | League | | | Match report |
| 26-01-1980 | Slough Town | 1-0 | Chesham United | B&B Senior Cup | | | Match report |
| 19-01-1980 | Tilbury | 1-3 | Slough Town | League | | | Match report |
| 12-01-1980 | Hertford Town | 3-0 | Slough Town | FA Trophy | | | Match report |
| 05-01-1980 | Slough Town | 2-1 | Wycombe Wanderers | League | | | Match report |
| 29-12-1979 | Harlow Town | 2-1 | Slough Town | League | | | Match report |
| 26-12-1979 | Slough Town | 2-1 | Hayes | League | | | Match report |
| 15-12-1979 | Yeovil Town | 1-0 | Slough Town | FA Cup | | | Match report |
| 08-12-1979 | Sutton United | 3-1 | Slough Town | League | | | Match report |
| 04-12-1979 | Slough Town | 2-2 | Leatherhead | League | | | Match report |
| 24-11-1979 | Slough Town | 3-1 | Hungerford Town | FA Cup | | | Match report |
| 21-11-1979 | Oxford City | 0-0 | Slough Town | League | | | Match report |
| 17-11-1979 | Slough Town | 2-1 | Croydon | League | | | Match report |
| 13-11-1979 | Slough Town | 3-1 | Wycombe Wanderers | B&B Senior Cup | | | Match report |
| 10-11-1979 | Dulwich Hamlet | 1-1 | Slough Town | League | | | Match report |
| 07-04-1979 | Hayes | 1-1 | Slough Town | League | | | Match report |
| 27-01-1979 | Flackwell Heath | 0-2 | Slough Town | B&B Senior Cup | | | Match report |
| 20-01-1979 | Slough Town | 3-2 | Walthamstow | League | | | Match report |
| 30-12-1978 | Dagenham | 2-1 | Slough Town | League | | | Match report |
| 09-12-1978 | Barking | 4-1 | Slough Town | League | | | Match report |
| 02-12-1978 | Slough Town | 2-1 | Enfield | League | | | Match report |
| 28-11-1978 | Slough Town | 0-0 | Hayes | League | | | Match report |
| 25-11-1978 | Walthamstow | 1-0 | Slough Town | League | | | Match report |
| 11-11-1978 | Leytonstone | 0-3 | Slough Town | League | | | Match report |
| 30-09-1978 | Slough Town | 5-0 | Didcot Town | B&B Senior Cup | | | Match report |
| 16-09-1978 | Slough Town | 2-0 | Farnborough Town | FA Cup | | | Match report |
| 12-09-1978 | Woking | 0-0 | Slough Town | League | | | Match report |
| 05-09-1978 | Wycombe Wanderers | 0-1 | Slough Town | League | | | Match report |
| 28-08-1978 | Tilbury | 0-1 | Slough Town | League | | | Match report |
| 26-08-1978 | Dulwich Hamlet | 2-0 | Slough Town | League | | | Match report |
| 23-08-1978 | Carshalton Ath | 1-1 | Slough Town | League | | | Match report |
| 19-08-1978 | Slough Town | 2-4 | Barking | League | | | Match report |
| 20-04-1978 | Barking | 3-1 | Slough Town | League | | | Match report |
| 27-03-1978 | Bishop's Stortford | 1-0 | Slough Town | League | | | Match report |
| 07-03-1978 | Slough Town | 0-1 | Woking | Isthmian Lge Cup | | | Match report |
| 04-03-1978 | Slough Town | 1-2 | Dagenham | League | | | Match report |
| 28-02-1978 | Woking | 3-1 | Slough Town | League | | | Match report |
| 14-02-1978 | Slough Town | 1-4 | Wycombe Wanderers | B&B Senior Cup | | | Match report |
| 04-02-1978 | Winsford United | 1-0 | Slough Town | FA Trophy | | | Match report |
| 17-01-1978 | Slough Town | 1-1 | Maidstone United | FA Trophy | | | Match report |
| 14-01-1978 | Maidstone United | 0-0 | Slough Town | FA Trophy | | | Match report |
| 02-01-1978 | Leatherhead | 1-1 | Slough Town | League | | | Match report |
| 31-12-1977 | Slough Town | 0-3 | Wycombe Wanderers | League | | | Match report |
| 17-12-1977 | Tooting | 1-1 | Slough Town | League | | | Match report |
| 10-12-1977 | Slough Town | 3-0 | Bracknell Town | B&B Senior Cup | | | Match report |
| 03-12-1977 | Wycombe Wanderers | 1-3 | Slough Town | League | | | Match report |
| 29-11-1977 | Enfield | 2-0 | Slough Town | League | | | Match report |
| 26-11-1977 | Slough Town | 2-1 | Hayes | League | | | Match report |
| 19-11-1977 | Hendon | 0-1 | Slough Town | League | | | Match report |
| 15-11-1977 | Boreham Wood | 1-2 | Slough Town | League | | | Match report |
| 12-11-1977 | Hayes | 2-1 | Slough Town | League | | | Match report |
| 07-11-1977 | Southall | 0-3 | Slough Town | League | | | Match report |
| 05-11-1977 | Slough Town | 4-1 | Carshalton Ath | League | | | Match report |
| 29-10-1977 | Dagenham | 2-0 | Slough Town | League | | | Match report |
| 25-10-1977 | Slough Town | 1-3 | Croydon | League | | | Match report |
| 22-10-1977 | Slough Town | 1-1 | Leytonstone | League | | | Match report |
| 15-10-1977 | Slough Town | 1-4 | Hitchin Town | League | | | Match report |
| 11-10-1977 | Slough Town | 1-2 | Staines Town | League | | | Match report |
| 08-10-1977 | Slough Town | 2-1 | Kingstonian | League | | | Match report |
| 24-09-1977 | Slough Town | 3-2 | Bishop's Stortford | League | | | Match report |
| 17-09-1977 | Hitchin Town | 2-1 | Slough Town | League | | | Match report |
| 12-09-1977 | Croydon | 2-0 | Slough Town | League | | | Match report |
| 10-09-1977 | Slough Town | 3-4 | Boreham Wood | League | | | Match report |
| 06-09-1977 | Slough Town | 0-1 | Hillingdon | FA Cup | | | Match report |
| 16-05-1977 | Slough Town | 0-1 | Tilbury | League | | | Match report |
| 15-05-1977 | Slough Town | 0-0 | Walthamstow | League | | | Match report |
| 10-05-1977 | Staines Town | 1-1 | Slough Town | League | | | Match report |
| 07-05-1977 | Slough Town | 1-3 | Enfield | League | | | Match report |
| 05-05-1977 | Slough Town | 0-0 | Hayes | League | | | Match report |
| 26-04-1977 | Slough Town | 2-1 | Ilford | League | | | Match report |
| 25-04-1977 | Woking | 1-0 | Slough Town | League | | | Match report |
| 23-04-1977 | Slough Town | 2-1 | Leytonstone | League | | | Match report |
| 21-04-1977 | Wycombe Wanderers | 1-0 | Slough Town | League | | | Match report |
| 18-04-1977 | Hungerford Town | 1-3 | Slough Town | B&B Senior Cup | | | Match report |
| 16-04-1977 | Slough Town | 2-3 | Dagenham | FA Trophy | | | Match report |
| 11-04-1977 | Hungerford Town | 1-1 | Slough Town | B&B Senior Cup | | | Match report |
| 09-04-1977 | Dagenham | 3-0 | Slough Town | FA Trophy | | | Match report |
| 02-04-1977 | Dulwich Hamlet | 0-1 | Slough Town | League | | | Match report |
| 29-03-1977 | Leatherhead | 3-0 | Slough Town | League | | | Match report |
| 26-03-1977 | Slough Town | 1-1 | Tooting | League | | | Match report |
| 24-03-1977 | Hendon | 2-1 | Slough Town | Isthmian Lge Sub. Cup | | | Match report |
| 22-03-1977 | Slough Town | 3-0 | Kingstonian | League | | | Match report |
| 19-03-1977 | Slough Town | 2-0 | Morecambe | FA Trophy | | | Match report |
| 12-03-1977 | Leytonstone | 0-0 | Slough Town | League | | | Match report |
| 07-03-1977 | Slough Town | 2-1 | Crook | FA Trophy | | | Match report |
| 02-03-1977 | Crook | 3-3 | Slough Town | FA Trophy | | | Match report |
| 19-02-1977 | Slough Town | 2-1 | Leatherhead | League | | | Match report |
| 14-02-1977 | Minehead | 0-1 | Slough Town | FA Trophy | | | Match report |
| 12-02-1977 | Wokingham Town | 0-1 | Slough Town | B&B Senior Cup | | | Match report |
| 07-02-1977 | Minehead | 0-0 | Slough Town | FA Trophy | | | Match report |
| 05-02-1977 | Slough Town | 1-1 | Minehead | FA Trophy | | | Match report |
| 29-01-1977 | Barking | 3-0 | Slough Town | League | | | Match report |
| 25-01-1977 | Slough Town | 0-2 | Hendon | League | | | Match report |
| 22-01-1977 | Maidenhead United | 2-4 | Slough Town | B&B Senior Cup | | | Match report |
| 15-01-1977 | Enfield | 0-2 | Slough Town | FA Trophy | | | Match report |
| 08-01-1977 | Slough Town | 2-1 | Bishop's Stortford | League | | | Match report |
| 01-01-1977 | Hitchin Town | 0-3 | Slough Town | League | | | Match report |
| 18-12-1976 | Slough Town | 4-0 | Hayes | FA Trophy | | | Match report |
| 13-12-1976 | Croydon | 0-0 | Slough Town | League | | | Match report |
| 11-12-1976 | Dagenham | 1-0 | Slough Town | League | | | Match report |
| 04-12-1976 | Tilbury | 1-4 | Slough Town | League | | | Match report |
| 27-11-1976 | Tooting | 3-0 | Slough Town | League | | | Match report |
| 23-11-1976 | Slough Town | 4-2 | Woking | League | | | Match report |
| 13-11-1976 | Hayes | 3-2 | Slough Town | League | | | Match report |
| 09-11-1976 | Slough Town | 0-1 | Woking | FA Cup | | | Match report |
| 30-10-1976 | Sutton United | 1-0 | Slough Town | League | | | Match report |
| 27-10-1976 | Oxford City | 0-5 | Slough Town | Isthmian Lge Sub. Cup | | | Match report |
| 23-10-1976 | Barnet | 0-1 | Slough Town | FA Cup | | | Match report |
| 16-10-1976 | Slough Town | 3-2 | Wycombe Wanderers | League | | | Match report |
| 12-10-1976 | Slough Town | 1-0 | Leytonstone | FA Cup | | | Match report |
| 09-10-1976 | Leytonstone | 1-1 | Slough Town | FA Cup | | | Match report |
| 06-10-1976 | Slough Town | 3-2 | Southall | League | | | Match report |
| 02-10-1976 | Slough Town | 3-0 | Barking | League | | | Match report |
| 28-09-1976 | Slough Town | 1-1 | Croydon | League | | | Match report |
| 25-09-1976 | Ilford | 0-1 | Slough Town | League | | | Match report |
| 20-09-1976 | Finchley | 0-4 | Slough Town | FA Cup | | | Match report |
| 18-09-1976 | Slough Town | 2-2 | Finchley | FA Cup | | | Match report |
| 14-09-1976 | Slough Town | 2-1 | Sutton United | League | | | Match report |
| 11-09-1976 | Bishop's Stortford | 1-2 | Slough Town | League | | | Match report |
| 07-09-1976 | Kingstonian | 0-1 | Slough Town | League | | | Match report |
| 04-09-1976 | Slough Town | 0-1 | Hitchin Town | League | | | Match report |
| 31-08-1976 | Slough Town | 0-1 | Staines Town | League | | | Match report |
| 28-08-1976 | Enfield | 1-1 | Slough Town | League | | | Match report |
| 23-08-1976 | Southall | 2-0 | Slough Town | League | | | Match report |
| 21-08-1976 | Slough Town | 1-1 | Dagenham | League | | | Match report |
| 03-11-1973 | Horsham | 1-0 | Slough Town | League | | | Match report |
| 30-10-1973 | Wembley | 0-1 | Slough Town | Premier Midweek FL | | | Match report |
| 27-10-1973 | Carshalton Ath | 1-1 | Slough Town | League | | | Match report |
| 20-10-1973 | Slough Town | 4-0 | Southall | League | | | Match report |
| 13-10-1973 | Harwich | 0-1 | Slough Town | League | | | Match report |
| 10-10-1973 | Feltham | 0-0 | Slough Town | Premier Midweek FL | | | Match report |
| 06-10-1973 | Slough Town | 1-0 | Harlow Town | League | | | Match report |
| 03-10-1973 | Slough Town | 5-1 | Boreham Wood | Premier Midweek FL | | | Match report |
| 29-09-1973 | Tilbury | 2-0 | Slough Town | League | | | Match report |
| 25-09-1973 | Southall | 0-5 | Slough Town | Premier Midweek FL | | | Match report |
| 22-09-1973 | Slough Town | 2-0 | Carshalton Ath | League | | | Match report |
| 19-09-1973 | Slough Town | 6-0 | Feltham | Premier Midweek FL | | | Match report |
| 11-09-1973 | Hertford Town | 2-0 | Slough Town | League | | | Match report |
| 08-09-1973 | Slough Town | 2-3 | Dagenham | League | | | Match report |
| 05-09-1973 | Slough Town | 2-1 | Finchley | League | | | Match report |
| 01-09-1973 | Harlow Town | 1-1 | Slough Town | League | | | Match report |
| 28-08-1973 | Chesham United | 1-2 | Slough Town | League | | | Match report |
| 25-08-1973 | Slough Town | 2-1 | Aveley | League | | | Match report |
| 15-05-1973 | Slough Town | 2-0 | Worthing | Athenian League Cup | | | Match report |
| 04-05-1973 | Slough Town | 1-0 | Dagenham | League | | | Match report |
| 30-04-1973 | Slough Town | 4-0 | Cheshunt | League | | | Match report |
| 23-04-1973 | Wycombe Wanderers | 0-1 | Slough Town | B&B Senior Cup | | | Match report |
| 21-04-1973 | Slough Town | 5-1 | Erith | League | | | Match report |
| 19-04-1973 | Hornchurch | 1-2 | Slough Town | League | | | Match report |
| 16-04-1973 | Slough Town | 5-0 | Wembley | Athenian League Cup | | | Match report |
| 14-04-1973 | Walton & Hersham | 1-0 | Slough Town | FA Amateur Cup | | | Match report |
| 07-04-1973 | Slough Town | 4-1 | Hornchurch | League | | | Match report |
| 31-03-1973 | Slough Town | 0-0 | Croydon | League | | | Match report |
| 26-03-1973 | Redhill | 0-7 | Slough Town | League | | | Match report |
| 24-03-1973 | Harwich | 2-4 | Slough Town | League | | | Match report |
| 19-03-1973 | Slough Town | 2-0 | Maidenhead United | Athenian League Cup | | | Match report |
| 10-03-1973 | Bishop's Stortford | 0-1 | Slough Town | FA Amateur Cup | | | Match report |
| 03-03-1973 | Wokingham Town | 0-1 | Slough Town | B&B Senior Cup | | | Match report |
| 26-02-1973 | Slough Town | 0-0 | Hayes | Premier Midweek FL | | | Match report |
| 24-02-1973 | Harlow Town | 1-3 | Slough Town | League | | | Match report |
| 17-02-1973 | Slough Town | 2-1 | Blyth Spartans | FA Amateur Cup | | | Match report |
| 10-02-1973 | Slough Town | 3-0 | Cheshunt | Athenian League Cup | | | Match report |
| 03-02-1973 | Slough Town | 2-1 | Boreham Wood | League | | | Match report |
| 30-01-1973 | Hayes | 0-0 | Slough Town | Premier Midweek FL | | | Match report |
| 27-01-1973 | Slough Town | 2-1 | Leytonstone | FA Amateur Cup | | | Match report |
| 20-01-1973 | Slough Town | 3-1 | Aylesbury United | B&B Senior Cup | | | Match report |
| 13-01-1973 | Maidenhead United | 0-0 | Slough Town | League | | | Match report |
| 08-01-1973 | Slough Town | 3-2 | Southall | Premier Midweek FL | | | Match report |
| 06-01-1973 | Eastbourne Utd | 0-2 | Slough Town | FA Amateur Cup | | | Match report |
| 30-12-1972 | Lewes | 1-0 | Slough Town | League | | | Match report |
| 27-12-1972 | Slough Town | 6-1 | Maidenhead United | League | | | Match report |
| 16-12-1972 | Aveley | 1-0 | Slough Town | League | | | Match report |
| 09-12-1972 | Slough Town | 2-1 | Cadbury Heath | FA Amateur Cup | | | Match report |
| 25-11-1972 | Slough Town | 2-1 | Boreham Wood | Athenian League Cup | | | Match report |
| 18-11-1972 | Croydon | 2-3 | Slough Town | League | | | Match report |
| 14-11-1972 | Southall | 0-0 | Slough Town | Premier Midweek FL | | | Match report |
| 11-11-1972 | Slough Town | 2-0 | Tilbury | League | | | Match report |
| 04-11-1972 | Erith | 2-0 | Slough Town | League | | | Match report |
| 01-11-1972 | Maidenhead United | 1-3 | Slough Town | Premier Midweek FL | | | Match report |
| 28-10-1972 | Redhill | 0-2 | Slough Town | League | | | Match report |
| 24-10-1972 | Wembley | 1-3 | Slough Town | Premier Midweek FL | | | Match report |
| 21-10-1972 | Slough Town | 5-0 | Southall | League | | | Match report |
| 14-10-1972 | Cheshunt | 0-1 | Slough Town | League | | | Match report |
| 07-10-1972 | Banbury United | 2-1 | Slough Town | FA Cup | | | Match report |
| 02-10-1972 | Slough Town | 1-0 | Wembley | Premier Midweek FL | | | Match report |
| 30-09-1972 | Slough Town | 2-0 | Redhill | League | | | Match report |
| 23-09-1972 | Tilbury | 1-1 | Slough Town | League | | | Match report |
| 16-09-1972 | Slough Town | 0-0 | Bletchley | FA Cup | | | Match report |
| 11-09-1972 | Slough Town | 4-2 | Lewes | League | | | Match report |
| 09-09-1972 | Slough Town | 1-1 | Harwich | League | | | Match report |
| 05-09-1972 | Boreham Wood | 0-2 | Slough Town | League | | | Match report |
| 02-09-1972 | Slough Town | 1-0 | Bedford | FA Cup | | | Match report |
| 31-08-1972 | Slough Town | 1-0 | Aveley | League | | | Match report |
| 22-05-1972 | Slough Town | 1-0 | Walton & Hersham | Premier Midweek FL | | | Match report |
| 12-05-1972 | Dagenham | 0-2 | Slough Town | Athenian League Cup | | | Match report |
| 09-05-1972 | Leytonstone | 0-1 | Slough Town | Premier Midweek FL | | | Match report |
| 05-05-1972 | Cheshunt | 0-1 | Slough Town | League | | | Match report |
| 02-05-1972 | Southall | 3-3 | Slough Town | League | | | Match report |
| 29-04-1972 | Slough Town | 4-0 | Erith | League | | | Match report |
| 21-04-1972 | Slough Town | 1-0 | Cheshunt | League | | | Match report |
| 18-04-1972 | Marlow | 0-2 | Slough Town | Premier Midweek FL | | | Match report |
| 15-04-1972 | Aveley | 0-1 | Slough Town | Athenian League Cup | | | Match report |
| 08-04-1972 | Harwich | 1-0 | Slough Town | League | | | Match report |
| 03-04-1972 | Wycombe Wanderers | 0-3 | Slough Town | B&B Senior Cup | | | Match report |
| 25-03-1972 | Aveley | 1-2 | Slough Town | League | | | Match report |
| 20-03-1972 | Slough Town | 2-2 | Wycombe Wanderers | Premier Midweek FL | | | Match report |
| 18-03-1972 | Slough Town | 4-0 | Harwich | League | | | Match report |
| 07-02-1972 | Slough Town | 5-1 | Maidenhead United | Premier Midweek FL | | | Match report |
| 25-09-1971 | Tilbury | 2-0 | Slough Town | League | | | Match report |
| 21-09-1971 | Woking | 0-2 | Slough Town | FA Cup | | | Match report |
| 18-09-1971 | Slough Town | 1-1 | Woking | FA Cup | | | Match report |
| 13-09-1971 | Slough Town | 5-0 | Wokingham Town | Premier Midweek FL | | | Match report |
| 11-09-1971 | Slough Town | 5-0 | Aveley | League | | | Match report |
| 06-09-1971 | Slough Town | 2-0 | Boreham Wood | League | | | Match report |
| 30-08-1971 | Leatherhead | 1-0 | Slough Town | League | | | Match report |
| 23-08-1971 | Slough Town | 4-0 | Southall | League | | | Match report |
| 21-08-1971 | Dagenham | 3-2 | Slough Town | League | | | Match report |
| 14-08-1971 | Slough Town | 1-0 | Tilbury | League | | | Match report |
| 13-05-1971 | Slough Town | 7-0 | Hemel Hempstead Town | Premier Midweek FL | | | Match report |
| 12-05-1971 | Slough Town | 2-1 | Hayes | League | | | Match report |
| 10-05-1971 | Wycombe Wanderers | 1-0 | Slough Town | B&B Senior Cup | | | Match report |
| 08-05-1971 | Dagenham | 1-0 | Slough Town | League | | | Match report |
| 03-05-1971 | Hayes | 1-1 | Slough Town | League | | | Match report |
| 01-05-1971 | Wembley | 0-0 | Slough Town | League | | | Match report |
| 28-04-1971 | Wycombe Wanderers | 0-0 | Slough Town | B&B Senior Cup | | | Match report |
| 19-04-1971 | Slough Town | 1-1 | Redhill | League | | | Match report |
| 15-04-1971 | Boreham Wood | 1-2 | Slough Town | League | | | Match report |
| 10-04-1971 | Lewes | 1-2 | Slough Town | League | | | Match report |
| 08-04-1971 | Slough Town | 6-3 | Wealdstone | Premier Midweek FL | | | Match report |
| 05-04-1971 | Slough Town | 0-1 | Leatherhead | League | | | Match report |
| 03-04-1971 | Bishop's Stortford | 1-1 | Slough Town | League | | | Match report |
| 31-03-1971 | Slough Town | 2-0 | Cheshunt | League | | | Match report |
| 29-03-1971 | Slough Town | 1-0 | Lewes | League | | | Match report |
| 27-03-1971 | Slough Town | 1-2 | Dagenham | FA Amateur Cup | | | Match report |
| 20-03-1971 | Dagenham | 3-3 | Slough Town | FA Amateur Cup | | | Match report |
| 13-03-1971 | Slough Town | 3-1 | Chesham United | B&B Senior Cup | | | Match report |
| 08-03-1971 | Slough Town | 2-1 | Boreham Wood | League | | | Match report |
| 06-03-1971 | Maidenhead United | 0-1 | Slough Town | B&B Senior Cup | | | Match report |
| 01-03-1971 | Slough Town | 1-1 | Oxford City | Premier Midweek FL | | | Match report |
| 27-02-1971 | Aveley | 0-2 | Slough Town | FA Amateur Cup | | | Match report |
| 23-02-1971 | Wycombe Wanderers | 0-2 | Slough Town | Premier Midweek FL | | | Match report |
| 20-02-1971 | Slough Town | 3-1 | Hendon | FA Amateur Cup | | | Match report |
| 13-02-1971 | Hendon | 1-1 | Slough Town | FA Amateur Cup | | | Match report |
| 09-02-1971 | Leatherhead | 1-1 | Slough Town | League | | | Match report |
| 06-02-1971 | Slough Town | 0-0 | Maidenhead United | B&B Senior Cup | | | Match report |
| 25-11-1970 | Slough Town | 1-0 | Wycombe Wanderers | FA Cup | | | Match report |
| 21-11-1970 | Wycombe Wanderers | 1-1 | Slough Town | FA Cup | | | Match report |
| 17-11-1970 | Wealdstone | 1-6 | Slough Town | Premier Midweek FL | | | Match report |
| 02-11-1970 | Oxford City | 4-1 | Slough Town | Premier Midweek FL | | | Match report |
| 31-10-1970 | Cheshunt | 4-2 | Slough Town | Athenian League Cup | | | Match report |
| 17-10-1970 | Grays Athletic | 0-1 | Slough Town | League | | | Match report |
| 12-10-1970 | Slough Town | 2-1 | Marlow | Premier Midweek FL | | | Match report |
| 10-10-1970 | Slough Town | 5-0 | Kingstonian | FA Cup | | | Match report |
| 06-10-1970 | Marlow | 2-2 | Slough Town | Premier Midweek FL | | | Match report |
| 03-10-1970 | Slough Town | 0-2 | Walton & Hersham | League | | | Match report |
| 26-09-1970 | Slough Town | 2-0 | Wembley | League | | | Match report |
| 21-09-1970 | Slough Town | 2-0 | Tilbury | FA Cup | | | Match report |
| 15-09-1970 | Maidenhead United | 1-0 | Slough Town | Premier Midweek FL | | | Match report |
| 12-09-1970 | Slough Town | 3-0 | Harwich | League | | | Match report |
| 07-09-1970 | Slough Town | 3-0 | Southall | League | | | Match report |
| 05-09-1970 | Eastbourne Town | 1-3 | Slough Town | Athenian League Cup | | | Match report |
| 02-09-1970 | Redhill | 1-3 | Slough Town | League | | | Match report |
| 25-08-1970 | Maidenhead United | 1-2 | Slough Town | League | | | Match report |
| 22-08-1970 | Slough Town | 4-0 | Bishop's Stortford | League | | | Match report |
| 19-08-1970 | Southall | 0-2 | Slough Town | League | | | Match report |
| 15-08-1970 | Tilbury | 2-2 | Slough Town | League | | | Match report |
| 07-05-1970 | Marlow | 2-1 | Slough Town | Wycombe Floodlit Lge. | | | Match report |
| 25-04-1970 | Slough Town | 0-0 | Leatherhead | League | | | Match report |
| 22-04-1970 | Crawley Town | 0-2 | Slough Town | Premier Midweek FL | | | Match report |
| 20-04-1970 | Slough Town | 7-0 | Redhill | Premier Midweek FL | | | Match report |
| 15-04-1970 | Slough Town | 3-0 | Windsor & Eton | Windsor Hosp. | | | Match report |
| 10-04-1970 | Redhill | 0-1 | Slough Town | League | | | Match report |
| 08-04-1970 | Slough Town | 2-1 | Dagenham | League | | | Match report |
| 30-03-1970 | Walton & Hersham | 1-5 | Slough Town | League | | | Match report |
| 28-03-1970 | Slough Town | 0-0 | Finchley | League | | | Match report |
| 23-03-1970 | Guildford City | 2-1 | Slough Town | Premier Midweek FL | | | Match report |
| 21-03-1970 | Leatherhead | 0-2 | Slough Town | League | | | Match report |
| 18-03-1970 | Slough Town | 0-1 | Woking | Premier Midweek FL | | | Match report |
| 14-03-1970 | Cheshunt | 0-1 | Slough Town | League | | | Match report |
| 10-03-1970 | Walton & Hersham | 3-2 | Slough Town | Premier Midweek FL | | | Match report |
| 07-03-1970 | Hayes | 2-1 | Slough Town | League | | | Match report |
| 28-02-1970 | Skelmersdale | 3-0 | Slough Town | FA Amateur Cup | | | Match report |
| 21-02-1970 | Slough Town | 0-0 | Skelmersdale | FA Amateur Cup | | | Match report |
| 07-02-1970 | Slough Town | 2-0 | Alvechurch | FA Amateur Cup | | | Match report |
| 31-01-1970 | Alvechurch | 2-2 | Slough Town | FA Amateur Cup | | | Match report |
| 24-01-1970 | Maidenhead United | 3-1 | Slough Town | B&B Senior Cup | | | Match report |
| 20-01-1970 | Addlestone | 0-3 | Slough Town | Wycombe Floodlit Lge. | | | Match report |
| 17-01-1970 | Slough Town | 4-1 | Wembley | League | | | Match report |
| 10-01-1970 | Slough Town | 2-0 | Aveley | FA Amateur Cup | | | Match report |
| 03-01-1970 | Slough Town | 0-1 | Walton & Hersham | League | | | Match report |
| 27-12-1969 | Finchley | 1-5 | Slough Town | League | | | Match report |
| 20-12-1969 | Slough Town | 5-0 | Eastbourne Utd | League | | | Match report |
| 13-12-1969 | Chesham United | 2-3 | Slough Town | FA Amateur Cup | | | Match report |
| 08-12-1969 | Slough Town | 2-1 | Walton & Hersham | Premier Midweek FL | | | Match report |
| 06-12-1969 | Harwich | 0-1 | Slough Town | League | | | Match report |
| 02-12-1969 | Woking | 2-3 | Slough Town | Premier Midweek FL | | | Match report |
| 26-11-1969 | Slough Town | 3-0 | Wokingham Town | Premier Midweek FL | | | Match report |
| 15-11-1969 | Bishop's Stortford | 1-0 | Slough Town | League | | | Match report |
| 08-11-1969 | Slough Town | 0-0 | Redhill | League | | | Match report |
| 01-11-1969 | Grays Athletic | 0-0 | Slough Town | League | | | Match report |
| 25-10-1969 | Slough Town | 3-0 | Tilbury | League | | | Match report |
| 18-10-1969 | Eastbourne Utd | 0-4 | Slough Town | League | | | Match report |
| 15-10-1969 | Redhill | 1-3 | Slough Town | Premier Midweek FL | | | Match report |
| 11-10-1969 | Slough Town | 0-1 | Grays Athletic | League | | | Match report |
| 08-10-1969 | Slough Town | 3-2 | Guildford City | Premier Midweek FL | | | Match report |
| 04-10-1969 | Wembley | 0-3 | Slough Town | League | | | Match report |
| 20-09-1969 | Hertford Town | 1-0 | Slough Town | FA Cup | | | Match report |
| 16-09-1969 | Maidenhead United | 1-4 | Slough Town | League | | | Match report |
| 13-09-1969 | Slough Town | 2-2 | Hayes | League | | | Match report |
| 07-05-1968 | Hornchurch | 2-4 | Slough Town | Mithras Cup | | | Match report |
| 04-05-1968 | Slough Town | 4-2 | Leyton | League | | | Match report |
| 01-05-1968 | Dagenham | 2-1 | Slough Town | League | | | Match report |
| 27-04-1968 | Leatherhead | 0-0 | Slough Town | League | | | Match report |
| 24-04-1968 | Slough Town | 4-1 | Hornchurch | Mithras Cup | | | Match report |
| 23-04-1968 | Southall | 0-0 | Slough Town | League | | | Match report |
| 19-04-1968 | Slough Town | 4-0 | Bishop's Stortford | League | | | Match report |
| 15-04-1968 | Wycombe Wanderers | 3-2 | Slough Town | B&B Senior Cup | | | Match report |
| 13-04-1968 | Slough Town | 6-1 | Hornchurch | League | | | Match report |
| 11-04-1968 | Slough Town | 4-0 | Maidenhead United | Wycombe Floodlit Lge. | | | Match report |
| 06-04-1968 | Aylesbury United | 0-1 | Slough Town | B&B Senior Cup | | | Match report |
| 30-03-1968 | Chesham United | 0-2 | Slough Town | B&B Senior Cup | | | Match report |
| 26-03-1968 | Maidenhead United | 0-2 | Slough Town | Wycombe Floodlit Lge. | | | Match report |
| 18-03-1968 | Slough Town | 3-1 | Redhill | League | | | Match report |
| 11-03-1968 | Slough Town | 1-1 | Dagenham | League | | | Match report |
| 09-03-1968 | Slough Town | 3-1 | Leatherhead | League | | | Match report |
| 06-03-1968 | Slough Town | 3-0 | Hertford Town | Mithras Cup | | | Match report |
| 04-03-1968 | Slough Town | 2-0 | Wycombe Wanderers | Wycombe Floodlit Lge. | | | Match report |
| 02-03-1968 | Slough Town | 7-0 | Hemel Hempstead Town | League | | | Match report |
| 28-02-1968 | Slough Town | 0-1 | Walton & Hersham | Premier Midweek FL | | | Match report |
| 24-02-1968 | Hayes | 0-2 | Slough Town | League | | | Match report |
| 21-02-1968 | Tooting | 0-0 | Slough Town | Premier Midweek FL | | | Match report |
| 17-02-1968 | Sutton United | 1-0 | Slough Town | FA Amateur Cup | | | Match report |
| 12-02-1968 | Slough Town | 2-2 | Wokingham Town | Wycombe Floodlit Lge. | | | Match report |
| 10-02-1968 | Slough Town | 1-1 | Sutton United | FA Amateur Cup | | | Match report |
| 03-02-1968 | West Auckland | 1-3 | Slough Town | FA Amateur Cup | | | Match report |
| 27-01-1968 | Marlow | 0-4 | Slough Town | B&B Senior Cup | | | Match report |
| 22-01-1968 | Wokingham Town | 0-3 | Slough Town | Wycombe Floodlit Lge. | | | Match report |
| 20-01-1968 | Slough Town | 3-2 | Finchley | FA Amateur Cup | | | Match report |
| 03-01-1968 | Slough Town | 5-2 | Horsham | Mithras Cup | | | Match report |
| 30-12-1967 | Slough Town | 4-0 | Maidenhead United | League | | | Match report |
| 26-12-1967 | Maidenhead United | 0-4 | Slough Town | League | | | Match report |
| 18-12-1967 | Wycombe Wanderers | 1-5 | Slough Town | Wycombe Floodlit Lge. | | | Match report |
| 16-12-1967 | Slough Town | 4-1 | Hoddesdon | FA Amateur Cup | | | Match report |
| 04-12-1967 | Slough Town | 3-0 | Woking | Wycombe Floodlit Lge. | | | Match report |
| 02-12-1967 | Harwich | 1-3 | Slough Town | League | | | Match report |
| 29-11-1967 | Slough Town | 2-0 | Tooting | Premier Midweek FL | | | Match report |
| 25-11-1967 | Slough Town | 5-0 | Grays Athletic | League | | | Match report |
| 22-11-1967 | Slough Town | 7-1 | Crawley Town | Premier Midweek FL | | | Match report |
| 18-11-1967 | Walton & Hersham | 0-2 | Slough Town | League | | | Match report |
| 15-11-1967 | Slough Town | 2-1 | Guildford City | Premier Midweek FL | | | Match report |
| 11-11-1967 | Hornchurch | 0-1 | Slough Town | League | | | Match report |
| 07-11-1967 | Walton & Hersham | 0-2 | Slough Town | Premier Midweek FL | | | Match report |
| 04-11-1967 | Slough Town | 9-1 | Southall | League | | | Match report |
| 01-11-1967 | Leytonstone | 2-1 | Slough Town | FA Cup | | | Match report |
| 28-10-1967 | Slough Town | 2-2 | Leytonstone | FA Cup | | | Match report |
| 21-10-1967 | Finchley | 1-2 | Slough Town | League | | | Match report |
| 14-10-1967 | Slough Town | 5-1 | Bishop's Stortford | FA Cup | | | Match report |
| 07-10-1967 | Leyton | 0-4 | Slough Town | League | | | Match report |
| 30-09-1967 | Slough Town | 3-0 | Hertford Town | FA Cup | | | Match report |
| 23-09-1967 | Hounslow | 1-3 | Slough Town | League | | | Match report |
| 20-09-1967 | Slough Town | 1-0 | Windsor & Eton | Westminster Hospital Cup | | | Match report |
| 16-09-1967 | Slough Town | 3-0 | Corinthian Casuals | FA Cup | | | Match report |
| 09-09-1967 | Slough Town | 3-0 | Walton & Hersham | League | | | Match report |
| 06-09-1967 | Slough Town | 2-0 | Hayes | League | | | Match report |
| 02-09-1967 | Grays Athletic | 1-4 | Slough Town | League | | | Match report |
| 26-08-1967 | Slough Town | 6-2 | Harwich | League | | | Match report |
| 23-08-1967 | Slough Town | 2-2 | Finchley | League | | | Match report |
| 19-08-1967 | Bishop's Stortford | 1-2 | Slough Town | League | | | Match report |
| 04-05-1966 | Slough Town | 0-1 | Leatherhead | League | | | Match report |
| 26-04-1966 | Finchley | 4-0 | Slough Town | League | | | Match report |
| 23-04-1966 | Slough Town | 5-0 | Hornchurch | League | | | Match report |
| 20-04-1966 | Edgware | 0-0 | Slough Town | League | | | Match report |
| 02-04-1966 | Slough Town | 1-1 | Grays Athletic | League | | | Match report |
| 28-03-1966 | Slough Town | 1-2 | Wycombe Wanderers | Wycombe Floodlit League | | | Match report |
| 26-03-1966 | Maidenhead United | 3-1 | Slough Town | League | | | Match report |
| 12-03-1966 | Slough Town | 3-2 | Hayes | League | | | Match report |
| 05-03-1966 | Leyton | 2-1 | Slough Town | League | | | Match report |
| 02-03-1966 | Slough Town | 2-1 | Hemel Hempstead Town | League | | | Match report |
| 26-02-1966 | Slough Town | 2-0 | Leyton | League | | | Match report |
| 19-02-1966 | Slough Town | 3-0 | Worthing | League | | | Match report |
| 05-02-1966 | Slough Town | 3-4 | Maidenhead United | B&B Senior Cup | | | Match report |
| 29-01-1966 | Hemel Hempstead Town | 2-3 | Slough Town | League | | | Match report |
| 08-01-1966 | Slough Town | 1-2 | Maidenhead United | League | | | Match report |
| 01-01-1966 | Southall | 1-0 | Slough Town | League | | | Match report |
| 21-12-1965 | Wycombe Wanderers | 0-2 | Slough Town | Wycombe Floodlit League | | | Match report |
| 18-12-1965 | Slough Town | 10-0 | Carshalton Ath | League | | | Match report |
| 04-12-1965 | Hayes | 1-2 | Slough Town | League | | | Match report |
| 27-11-1965 | Slough Town | 1-2 | Hemel Hempstead Town | FA Amateur Cup | | | Match report |
| 20-11-1965 | Dagenham | 5-3 | Slough Town | League | | | Match report |
| 13-11-1965 | Slough Town | 3-0 | Walton & Hersham | League | | | Match report |
| 06-11-1965 | Chalfont St Peter | 0-1 | Slough Town | FA Amateur Cup | | | Match report |
| 27-10-1965 | Oxford City | 6-1 | Slough Town | Mithras Cup | | | Match report |
| 23-10-1965 | Wokingham Town | 0-3 | Slough Town | FA Amateur Cup | | | Match report |
| 19-10-1965 | Maidenhead United | 1-1 | Slough Town | Wycombe Floodlit League | | | Match report |
| 16-10-1965 | Slough Town | 0-1 | Finchley | League | | | Match report |
| 09-10-1965 | Wolverton | 0-4 | Slough Town | FA Amateur Cup | | | Match report |
| 02-10-1965 | Slough Town | 1-3 | Dagenham | League | | | Match report |
| 25-09-1965 | Hornchurch | 2-2 | Slough Town | League | | | Match report |
| 18-09-1965 | Slough Town | 0-1 | Metropolitan Police | FA Cup | | | Match report |
| 11-09-1965 | Grays Athletic | 2-1 | Slough Town | League | | | Match report |
| 04-09-1965 | Slough Town | 5-3 | Wembley | FA Cup | | | Match report |
| 30-08-1965 | Worthing | 3-2 | Slough Town | League | | | Match report |
| 28-08-1965 | Slough Town | 6-0 | Edgware | League | | | Match report |
| 26-08-1965 | Slough Town | 5-1 | Southall | League | | | Match report |
| 21-08-1965 | Carshalton Ath | 3-6 | Slough Town | League | | | Match report |
| 06-05-1965 | Slough Town | 1-2 | Chalfont St Peter | Benevolent Cup | | | Match report |
| 01-05-1965 | Slough Town | 5-0 | Eastbourne | League | | | Match report |
| 29-04-1965 | Tilbury | 1-1 | Slough Town | League | | | Match report |
| 24-04-1965 | Slough Town | 4-0 | Dorking | League | | | Match report |
| 21-04-1965 | Slough Town | 3-3 | Harrow Town | League | | | Match report |
| 19-04-1965 | Chesham United | 4-2 | Slough Town | B&B Senior Cup | | | Match report |
| 17-04-1965 | Horsham | 1-3 | Slough Town | League | | | Match report |
| 16-04-1965 | Hemel Hempstead Town | 0-1 | Slough Town | League | | | Match report |
| 10-04-1965 | Slough Town | 7-2 | Horsham | Memorial Shield | | | Match report |
| 07-04-1965 | Slough Town | 2-0 | Hertford Town | League | | | Match report |
| 03-04-1965 | Horsham | 1-0 | Slough Town | Memorial Shield | | | Match report |
| 31-03-1965 | Slough Town | 3-2 | Uxbridge | League | | | Match report |
| 29-03-1965 | Dorking | 0-3 | Slough Town | League | | | Match report |
| 27-03-1965 | Slough Town | 2-1 | Chesham United | Benevolent Cup | | | Match report |
| 20-03-1965 | Erith | 1-1 | Slough Town | League | | | Match report |
| 06-03-1965 | Slough Town | 4-1 | Epsom & Ewell | League | | | Match report |
| 27-02-1965 | Slough Town | 6-1 | Hertford Town | Memorial Shield | | | Match report |
| 20-02-1965 | Harlow Town | 0-2 | Slough Town | League | | | Match report |
| 13-02-1965 | Slough Town | 2-1 | Chesham United | Memorial Shield | | | Match report |
| 06-02-1965 | Hazells | 2-3 | Slough Town | B&B Senior Cup | | | Match report |
| 26-12-1964 | Chesham United | 2-2 | Slough Town | League | | | Match report |
| 19-12-1964 | Hertford Town | 2-1 | Slough Town | League | | | Match report |
| 12-12-1964 | Slough Town | 4-0 | Hemel Hempstead Town | League | | | Match report |
| 05-12-1964 | Epsom & Ewell | 2-4 | Slough Town | League | | | Match report |
| 28-11-1964 | Slough Town | 3-0 | Wokingham Town | League | | | Match report |
| 21-11-1964 | Letchworth | 2-5 | Slough Town | Memorial Shield | | | Match report |
| 07-11-1964 | Slough Town | 5-1 | Horsham | League | | | Match report |
| 31-10-1964 | Slough Town | 4-0 | Wembley | League | | | Match report |
| 24-10-1964 | Chalfont St Peter | 2-1 | Slough Town | FA Amateur Cup | | | Match report |
| 26-09-1964 | Slough Town | 14-1 | Hungerford Town | FA Amateur Cup | | | Match report |
| 19-09-1964 | Slough Town | 2-0 | Carshalton Ath | FA Cup | | | Match report |
| 12-09-1964 | Slough Town | 4-0 | Tilbury | League | | | Match report |
| 05-09-1964 | Slough Town | 4-1 | Metropolitan Police | FA Cup | | | Match report |
| 03-09-1964 | Uxbridge | 2-0 | Slough Town | League | | | Match report |
| 29-08-1964 | Harrow Town | 0-2 | Slough Town | League | | | Match report |
| 27-08-1964 | Wokingham Town | 1-1 | Slough Town | League | | | Match report |
| 22-08-1964 | Slough Town | 7-1 | Erith | League | | | Match report |
Slough Town FC is not responsible for content produced on external websites | Copyright Slough Town FC 2023