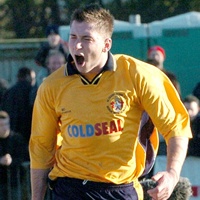 Position:
Forward
Achievements
2004/05 Isthmian League Cup Winner
2004/05 FA Cup win against Walsall
Bio
Signed from Hayes in 2003 in what turned out to be a masterstroke from then manager Steve Browne.
Whilst Hodges took some time to displace Sammy Winston from the side, Hodges settled in quickly and soon formed a devastating partnership with Tony Boot. Managed to notch 81 goals in his time with Slough which included a long spell covering at centre back.
Left the club in 2006 signing a very lucrative deal with Hampton and Richmond Borough where he enjoyed title winning success, ironically sealing the title with goals in a 4-2 win against Slough, into the Conference South before returning to Cornwall where he was born
Mens
| First Appearance | Appearances | First Goal | Goals |
| --- | --- | --- | --- |
| 15-02-2003 vs Barton Rovers | 151 | 22-03-2003 vs Tilbury | 81 |
History
| Match Date | Home | Score | Away | Competition | Goals | Cards | |
| --- | --- | --- | --- | --- | --- | --- | --- |
| 22-04-2006 | Harrow Borough | 2-1 | Slough Town | League | | | Match report |
| 17-04-2006 | Slough Town | 3-3 | Windsor & Eton | League | | | Match report |
| 25-03-2006 | Slough Town | 0-3 | Worthing | League | | | Match report |
| 22-03-2006 | Slough Town | 3-1 | Fisher Ath | Ryman League Cup | | | Match report |
| 18-03-2006 | Maldon Town | 0-2 | Slough Town | League | | | Match report |
| 13-03-2006 | Fisher Ath | 5-2 | Slough Town | Ryman League Cup | | | Match report |
| 04-03-2006 | Hendon | 1-1 | Slough Town | League | | | Match report |
| 28-02-2006 | MK Dons | 6-1 | Slough Town | B&B Senior Cup | | | Match report |
| 25-02-2006 | Chelmsford City | 2-0 | Slough Town | League | | | Match report |
| 18-02-2006 | Slough Town | 3-2 | Wealdstone | League | | | Match report |
| 11-02-2006 | Walton & Hersham | 0-1 | Slough Town | League | | | Match report |
| 04-02-2006 | Slough Town | 2-2 | Bromley | League | | | Match report |
| 28-01-2006 | AFC Wimbledon | 2-2 | Slough Town | League | | | Match report |
| 18-01-2006 | Slough Town | 1-1 | Chesham United | B&B Senior Cup | | | Match report |
| 07-01-2006 | Billericay Town | 0-2 | Slough Town | League | | | Match report |
| 02-01-2006 | Slough Town | 0-1 | Hampton & Richmond | League | | | Match report |
| 26-12-2005 | Windsor & Eton | 0-3 | Slough Town | League | | | Match report |
| 17-12-2005 | Heybridge Swifts | 1-0 | Slough Town | League | | | Match report |
| 10-12-2005 | Slough Town | 5-2 | Harrow Borough | League | | | Match report |
| 03-12-2005 | Bromley | 2-3 | Slough Town | League | | | Match report |
| 26-11-2005 | Slough Town | 0-2 | Walton & Hersham | League | | | Match report |
| 22-11-2005 | Slough Town | 1-2 | East Thurrock United | League | | | Match report |
| 19-11-2005 | Fisher Ath | 1-2 | Slough Town | League | | | Match report |
| 08-11-2005 | Slough Town | 3-2 | Redbridge | Ryman League Cup | | | Match report |
| 05-11-2005 | Slough Town | 0-2 | Hendon | League | | | Match report |
| 29-10-2005 | Wealdstone | 2-2 | Slough Town | League | | | Match report |
| 25-10-2005 | Redbridge | 1-4 | Slough Town | League | | | Match report |
| 22-10-2005 | Slough Town | 0-1 | Chelmsford City | League | | | Match report |
| 16-10-2005 | Slough Town | 1-3 | Croydon Athletic | FA Trophy | | | Match report |
| 11-10-2005 | Slough Town | 1-2 | Staines Town | League | | | Match report |
| 04-10-2005 | Worthing | 4-2 | Slough Town | League | | | Match report |
| 01-10-2005 | Slough Town | 4-1 | Maldon Town | League | | | Match report |
| 24-09-2005 | Wroxham | 2-0 | Slough Town | FA Cup | | | Match report |
| 20-09-2005 | East Thurrock United | 3-2 | Slough Town | League | | | Match report |
| 17-09-2005 | Margate | 2-2 | Slough Town | League | | | Match report |
| 10-09-2005 | Slough Town | 4-1 | Oxford City | FA Cup | | | Match report |
| 06-09-2005 | Slough Town | 3-2 | Redbridge | League | | | Match report |
| 03-09-2005 | Slough Town | 2-1 | Braintree Town | League | | | Match report |
| 29-08-2005 | Hampton & Richmond | 3-2 | Slough Town | League | | | Match report |
| 27-08-2005 | Slough Town | 0-2 | AFC Wimbledon | League | | | Match report |
| 23-08-2005 | Slough Town | 0-0 | Leyton | League | | | Match report |
| 20-08-2005 | Billericay Town | 3-1 | Slough Town | League | | | Match report |
| 30-04-2005 | Worthing | 1-4 | Slough Town | League | | | Match report |
| 28-04-2005 | Hampton & Richmond | 1-3 | Slough Town | Ryman League Cup | | | Match report |
| 26-04-2005 | Slough Town | 1-3 | Heybridge Swifts | League | | | Match report |
| 23-04-2005 | Slough Town | 1-1 | Northwood | League | | | Match report |
| 21-04-2005 | Folkestone Invicta | 3-1 | Slough Town | League | | | Match report |
| 09-04-2005 | Hendon | 0-0 | Slough Town | League | | | Match report |
| 07-04-2005 | Slough Town | 1-3 | Hendon | League | | | Match report |
| 05-04-2005 | Slough Town | 2-3 | Kingstonian | League | | | Match report |
| 26-03-2005 | Slough Town | 2-0 | Tonbridge Angels | League | | | Match report |
| 22-03-2005 | Slough Town | 2-1 | Heybridge Swifts | Ryman League Cup | | | Match report |
| 18-03-2005 | Wealdstone | 1-1 | Slough Town | League | | | Match report |
| 15-03-2005 | Heybridge Swifts | 1-2 | Slough Town | Ryman League Cup | | | Match report |
| 12-03-2005 | Slough Town | 0-2 | Chelmsford City | League | | | Match report |
| 08-03-2005 | Slough Town | 3-1 | Windsor & Eton | League | | | Match report |
| 26-02-2005 | Ebbsfleet United | 3-2 | Slough Town | FA Trophy | | | Match report |
| 22-02-2005 | Slough Town | 4-2 | AFC Wimbledon | Ryman League Cup | | | Match report |
| 12-02-2005 | Slough Town | 1-2 | Leyton | League | | | Match report |
| 06-02-2005 | Slough Town | 1-0 | Thurrock | FA Trophy | | | Match report |
| 01-02-2005 | Wycombe Wanderers | 3-0 | Slough Town | B&B Senior Cup | | | Match report |
| 29-01-2005 | Slough Town | 2-0 | Cheshunt | League | | | Match report |
| 22-01-2005 | Eastleigh | 0-4 | Slough Town | League | | | Match report |
| 18-01-2005 | Northwood | 1-0 | Slough Town | League | | | Match report |
| 15-01-2005 | Slough Town | 4-3 | Hendon | FA Trophy | | | Match report |
| 11-01-2005 | Slough Town | 1-0 | Cheshunt | Ryman League Cup | | | Match report |
| 08-01-2005 | Braintree Town | 2-1 | Slough Town | League | | | Match report |
| 01-01-2005 | Salisbury City | 0-0 | Slough Town | League | | | Match report |
| 21-12-2004 | Billericay Town | 2-0 | Slough Town | League | | | Match report |
| 18-12-2004 | Harrow Borough | 1-2 | Slough Town | League | | | Match report |
| 11-12-2004 | Slough Town | 3-2 | Dover Athletic | League | | | Match report |
| 04-12-2004 | Slough Town | 1-3 | Yeading | FA Cup | | | Match report |
| 27-11-2004 | Chelmsford City | 0-1 | Slough Town | FA Trophy | | | Match report |
| 20-11-2004 | Slough Town | 1-1 | Worthing | League | | | Match report |
| 13-11-2004 | Slough Town | 2-1 | Walsall | FA Cup | | | Match report |
| 07-11-2004 | Slough Town | 7-0 | Dorking | FA Trophy | | | Match report |
| 31-10-2004 | Slough Town | 3-2 | Salisbury City | FA Cup | | | Match report |
| 07-09-2004 | Staines Town | 4-0 | Slough Town | League | | | Match report |
| 04-09-2004 | Slough Town | 3-0 | Braintree Town | League | | | Match report |
| 30-08-2004 | Slough Town | 1-0 | Salisbury City | League | | | Match report |
| 28-08-2004 | Hampton & Richmond | 2-2 | Slough Town | League | | | Match report |
| 24-08-2004 | Tonbridge Angels | 2-2 | Slough Town | League | | | Match report |
| 21-08-2004 | Slough Town | 1-0 | Wealdstone | League | | | Match report |
| 18-08-2004 | Slough Town | 2-0 | Harrow Borough | League | | | Match report |
| 14-08-2004 | Dover Athletic | 3-1 | Slough Town | League | | | Match report |
| 01-05-2004 | Slough Town | 3-1 | Croydon | League | | | Match report |
| 27-04-2004 | Slough Town | 1-1 | Worthing | League | | | Match report |
| 24-04-2004 | Metropolitan Police | 1-3 | Slough Town | League | | | Match report |
| 20-04-2004 | Egham Town | 2-3 | Slough Town | League | | | Match report |
| 17-04-2004 | Slough Town | 3-1 | Whyteleafe | League | | | Match report |
| 12-04-2004 | Windsor & Eton | 1-4 | Slough Town | League | | | Match report |
| 10-04-2004 | Slough Town | 3-1 | Molesey | League | | | Match report |
| 03-04-2004 | Leatherhead | 2-3 | Slough Town | League | | | Match report |
| 27-03-2004 | Slough Town | 3-1 | Egham Town | League | | | Match report |
| 23-03-2004 | Corinthian Casuals | 4-1 | Slough Town | League | | | Match report |
| 20-03-2004 | Banstead Athletic | 1-2 | Slough Town | League | | | Match report |
| 13-03-2004 | Slough Town | 1-0 | Croydon Athletic | League | | | Match report |
| 06-03-2004 | Bracknell Town | 4-2 | Slough Town | League | | | Match report |
| 02-03-2004 | Slough Town | 1-1 | Walton & Hersham | League | | | Match report |
| 28-02-2004 | Dulwich Hamlet | 2-4 | Slough Town | League | | | Match report |
| 21-02-2004 | Slough Town | 1-0 | Lewes | League | | | Match report |
| 14-02-2004 | Staines Town | 1-3 | Slough Town | League | | | Match report |
| 10-02-2004 | Bromley | 0-4 | Slough Town | League | | | Match report |
| 07-02-2004 | Slough Town | 3-2 | Horsham | League | | | Match report |
| 24-01-2004 | Slough Town | 2-0 | Tooting & Mitcham Utd | League | | | Match report |
| 20-01-2004 | Maidenhead United | 1-2 | Slough Town | B&B Senior Cup | | | Match report |
| 17-01-2004 | Worthing | 2-0 | Slough Town | League | | | Match report |
| 10-01-2004 | Slough Town | 1-1 | Hampton & Richmond | League | | | Match report |
| 06-01-2004 | Walton & Hersham | 3-1 | Slough Town | League | | | Match report |
| 26-12-2003 | Slough Town | 1-3 | Windsor & Eton | League | | | Match report |
| 23-12-2003 | Ashford Town (Middx) | 1-2 | Slough Town | League | | | Match report |
| 20-12-2003 | Marlow | 0-0 | Slough Town | League | | | Match report |
| 13-12-2003 | Slough Town | 7-1 | Epsom & Ewell | League | | | Match report |
| 06-12-2003 | Slough Town | 3-0 | Metropolitan Police | League | | | Match report |
| 29-11-2003 | Croydon | 1-0 | Slough Town | League | | | Match report |
| 22-11-2003 | Slough Town | 1-2 | Dulwich Hamlet | League | | | Match report |
| 19-11-2003 | Slough Town | 1-4 | Cheshunt | Ryman League Cup | | | Match report |
| 15-11-2003 | Horsham | 1-4 | Slough Town | League | | | Match report |
| 11-11-2003 | Slough Town | 4-2 | Bromley | League | | | Match report |
| 08-11-2003 | Slough Town | 2-2 | Staines Town | League | | | Match report |
| 04-11-2003 | Bishop's Stortford | 2-1 | Slough Town | FA Trophy | | | Match report |
| 02-11-2003 | Slough Town | 2-2 | Bishop's Stortford | FA Trophy | | | Match report |
| 28-10-2003 | Slough Town | 5-1 | Banstead Athletic | League | | | Match report |
| 25-10-2003 | Lewes | 3-2 | Slough Town | League | | | Match report |
| 22-10-2003 | Slough Town | 2-1 | Corinthian Casuals | League | | | Match report |
| 18-10-2003 | Tooting & Mitcham Utd | 0-2 | Slough Town | League | | | Match report |
| 14-10-2003 | Hampton & Richmond | 4-0 | Slough Town | League | | | Match report |
| 30-09-2003 | Welling United | 4-1 | Slough Town | FA Cup | | | Match report |
| 27-09-2003 | Slough Town | 1-1 | Welling United | FA Cup | | | Match report |
| 23-09-2003 | Slough Town | 4-1 | Bracknell Town | League | | | Match report |
| 20-09-2003 | Croydon Athletic | 1-0 | Slough Town | League | | | Match report |
| 13-09-2003 | Slough Town | 2-0 | Godalming & Guildford | FA Cup | | | Match report |
| 09-09-2003 | Whyteleafe | 2-0 | Slough Town | League | | | Match report |
| 06-09-2003 | Slough Town | 3-1 | Leatherhead | League | | | Match report |
| 30-08-2003 | Slough Town | 5-0 | East Grinstead | FA Cup | | | Match report |
| 25-08-2003 | Molesey | 0-3 | Slough Town | League | | | Match report |
| 23-08-2003 | Slough Town | 1-1 | Ashford Town (Middx) | League | | | Match report |
| 19-08-2003 | Slough Town | 1-2 | Marlow | League | | | Match report |
| 16-08-2003 | Epsom & Ewell | 1-4 | Slough Town | League | | | Match report |
| 28-04-2003 | Slough Town | 2-1 | Wembley | League | | | Match report |
| 21-04-2003 | Slough Town | 0-2 | Yeading | League | | | Match report |
| 12-04-2003 | Slough Town | 1-1 | Uxbridge | League | | | Match report |
| 08-04-2003 | Wivenhoe Town | 1-2 | Slough Town | League | | | Match report |
| 05-04-2003 | Harlow Town | 2-2 | Slough Town | League | | | Match report |
| 01-04-2003 | Aveley | 1-1 | Slough Town | League | | | Match report |
| 29-03-2003 | Thame United | 1-1 | Slough Town | League | | | Match report |
| 22-03-2003 | Slough Town | 5-1 | Tilbury | League | | | Match report |
| 15-03-2003 | Hemel Hempstead Town | 2-2 | Slough Town | League | | | Match report |
| 08-03-2003 | Slough Town | 1-1 | Aveley | League | | | Match report |
| 01-03-2003 | Hertford Town | 1-3 | Slough Town | League | | | Match report |
| 15-02-2003 | Barton Rovers | 2-2 | Slough Town | League | | | Match report |
Slough Town FC is not responsible for content produced on external websites | Copyright Slough Town FC 2023