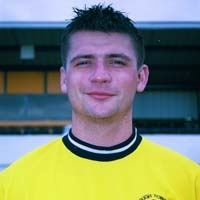 Stats
Position:
Striker
First Appearance:
22-08-1998 vs Sutton United
Appearances:
123
First Goal:
06-10-1998 vs Fleet Town
Goals:
24
Bio
Powerfully built front runner who was capable of scoring spectacular goals.

Was the son of chairman Martyn Deaner and joined the club when Martyn's consortium gained control of the club shortly before the start of the 1998/9 season. Chipped in with 20 goals during his time with the club.
History
| Match Date | Home | Score | Away | Competition | Goals | Cards | |
| --- | --- | --- | --- | --- | --- | --- | --- |
| 01-09-2007 | Slough Town | 1-4 | Fleet Town | FA Cup | | | Match report |
| 27-08-2007 | Paulton Rovers | 3-1 | Slough Town | League | | | Match report |
| 25-08-2007 | Marlow | 2-0 | Slough Town | League | | | Match report |
| 21-08-2007 | Thatcham Town | 2-0 | Slough Town | League | | | Match report |
| 21-04-2007 | Slough Town | 0-4 | Chelmsford City | League | | | Match report |
| 14-04-2007 | Slough Town | 0-8 | Bromley | League | | | Match report |
| 31-03-2007 | AFC Wimbledon | 9-0 | Slough Town | League | | | Match report |
| 27-03-2007 | Walton & Hersham | 3-0 | Slough Town | League | | | Match report |
| 06-03-2004 | Bracknell Town | 4-2 | Slough Town | League | | | Match report |
| 28-02-2004 | Dulwich Hamlet | 2-4 | Slough Town | League | | | Match report |
| 10-02-2004 | Bromley | 0-4 | Slough Town | League | | | Match report |
| 28-10-2003 | Slough Town | 5-1 | Banstead Athletic | League | | | Match report |
| 25-10-2003 | Lewes | 3-2 | Slough Town | League | | | Match report |
| 30-09-2003 | Welling United | 4-1 | Slough Town | FA Cup | | | Match report |
| 25-08-2003 | Molesey | 0-3 | Slough Town | League | | | Match report |
| 23-08-2003 | Slough Town | 1-1 | Ashford Town (Middx) | League | | | Match report |
| 19-08-2003 | Slough Town | 1-2 | Marlow | League | | | Match report |
| 18-03-2003 | Slough Town | 0-3 | Wingate & Finchley | League | | | Match report |
| 15-03-2003 | Hemel Hempstead Town | 2-2 | Slough Town | League | | | Match report |
| 08-03-2003 | Slough Town | 1-1 | Aveley | League | | | Match report |
| 25-02-2003 | Maidenhead United | 3-1 | Slough Town | B&B Senior Cup | | | Match report |
| 22-02-2003 | Slough Town | 3-1 | Barking & East Ham Utd | League | | | Match report |
| 30-11-2002 | Wembley | 2-2 | Slough Town | League | | | Match report |
| 26-11-2002 | Tilbury | 3-0 | Slough Town | League | | | Match report |
| 23-11-2002 | Slough Town | 4-0 | Great Wakering Rovers | League | | | Match report |
| 19-11-2002 | Slough Town | 1-3 | Kingstonian | Unknown Cup | | | Match report |
| 16-11-2002 | Slough Town | 1-2 | Harrogate Railway | FA Cup | | | Match report |
| 22-10-2002 | Slough Town | 4-0 | Wivenhoe Town | League | | | Match report |
| 26-08-2002 | Slough Town | 2-1 | Northwood | League | | | Match report |
| 24-08-2002 | Marlow | 2-3 | Slough Town | League | | | Match report |
| 20-08-2002 | East Thurrock United | 0-2 | Slough Town | League | | | Match report |
| 17-08-2002 | Slough Town | 1-1 | Hornchurch | League | | | Match report |
| 12-01-2002 | Slough Town | 6-0 | Wealdstone | League | | | Match report |
| 05-01-2002 | Worthing | 0-3 | Slough Town | League | | | Match report |
| 29-12-2001 | Slough Town | 1-2 | Oxford City | League | | | Match report |
| 22-12-2001 | Slough Town | 0-1 | Hitchin Town | Ryman League Cup | | | Match report |
| 15-12-2001 | Walton & Hersham | 1-1 | Slough Town | League | | | Match report |
| 11-12-2001 | Slough Town | 1-0 | Bracknell Town | B&B Senior Cup | | | Match report |
| 04-12-2001 | Bracknell Town | 1-1 | Slough Town | B&B Senior Cup | | | Match report |
| 21-08-2001 | Oxford City | 3-0 | Slough Town | League | | | Match report |
| 18-08-2001 | Slough Town | 0-3 | Walton & Hersham | League | | | Match report |
| 27-01-2001 | Hampton & Richmond Boro' | 2-0 | Slough Town | League | | | Match report |
| 16-12-2000 | Grays Athletic | 1-0 | Slough Town | League | | | Match report |
| 09-12-2000 | Slough Town | 0-2 | Chesham United | League | | | Match report |
| 05-12-2000 | Bromley | 1-0 | Slough Town | Full Members Cup | | | Match report |
| 02-12-2000 | Newport AFC | 2-1 | Slough Town | FA Trophy | | | Match report |
| 14-11-2000 | Marlow | 0-2 | Slough Town | League Cup | | | Match report |
| 11-11-2000 | Slough Town | 0-2 | Basingstoke Town | League | | | Match report |
| 24-10-2000 | Slough Town | 4-3 | Aldershot Town | Full Members Cup | | | Match report |
| 21-10-2000 | Hitchin Town | 3-0 | Slough Town | League | | | Match report |
| 30-09-2000 | Tonbridge Angels | 2-0 | Slough Town | FA Cup | | | Match report |
| 23-09-2000 | Slough Town | 1-0 | Croydon | League | | | Match report |
| 19-09-2000 | Sutton United | 1-1 | Slough Town | League | | | Match report |
| 16-09-2000 | Slough Town | 1-1 | Hampton & Richmond Boro' | League | | | Match report |
| 12-09-2000 | Flackwell Heath | 1-3 | Slough Town | League Cup | | | Match report |
| 09-09-2000 | Hendon | 2-1 | Slough Town | League | | | Match report |
| 05-09-2000 | Slough Town | 0-1 | Aldershot Town | League | | | Match report |
| 27-12-1999 | Slough Town | 1-4 | Basingstoke Town | League | | | Match report |
| 18-12-1999 | Harrow Borough | 0-1 | Slough Town | League | | | Match report |
| 04-12-1999 | Dulwich Hamlet | 2-3 | Slough Town | League | | | Match report |
| 20-11-1999 | Slough Town | 2-3 | Dagenham & R. | League | | | Match report |
| 16-11-1999 | Slough Town | 2-1 | Carshalton Ath | Full Members Cup | | | Match report |
| 13-11-1999 | Boreham Wood | 1-3 | Slough Town | League | | | Match report |
| 09-11-1999 | Slough Town | 0-1 | Carshalton Ath | Ryman League Cup | | | Match report |
| 06-11-1999 | Slough Town | 1-2 | Aylesbury United | League | | | Match report |
| 26-10-1999 | Slough Town | 4-1 | Staines Town | Full Members Cup | | | Match report |
| 23-10-1999 | Chesham United | 3-0 | Slough Town | League | | | Match report |
| 18-10-1999 | Cambridge City | 3-2 | Slough Town | FA Cup | | | Match report |
| 16-10-1999 | Slough Town | 1-1 | Cambridge City | FA Cup | | | Match report |
| 09-10-1999 | Slough Town | 0-2 | Hendon | FA Trophy | | | Match report |
| 05-10-1999 | Walton & Hersham | 2-2 | Slough Town | League | | | Match report |
| 02-10-1999 | Slough Town | 1-0 | Carshalton Ath | FA Cup | | | Match report |
| 25-09-1999 | Hampton & Richmond Boro' | 1-1 | Slough Town | League | | | Match report |
| 18-09-1999 | Slough Town | 3-1 | Cowes Sports | FA Cup | | | Match report |
| 14-09-1999 | Slough Town | 1-0 | Grays Athletic | Full Members Cup | | | Match report |
| 11-09-1999 | Slough Town | 1-2 | Canvey Island | League | | | Match report |
| 07-09-1999 | Farnborough Town | 0-1 | Slough Town | League | | | Match report |
| 04-09-1999 | Slough Town | 2-1 | Dulwich Hamlet | League | | | Match report |
| 30-08-1999 | Slough Town | 4-0 | Billericay Town | League | | | Match report |
| 01-05-1999 | Slough Town | 2-1 | Bromley | League | | | Match report |
| 13-04-1999 | Slough Town | 2-2 | Aldershot Town | League | | | Match report |
| 10-04-1999 | Enfield | 2-1 | Slough Town | League | | | Match report |
| 05-04-1999 | Slough Town | 1-0 | Dulwich Hamlet | League | | | Match report |
| 03-04-1999 | Heybridge Swifts | 2-1 | Slough Town | League | | | Match report |
| 27-03-1999 | Aldershot Town | 1-1 | Slough Town | League | | | Match report |
| 20-03-1999 | Slough Town | 1-1 | Hendon | League | | | Match report |
| 13-03-1999 | Billericay Town | 1-2 | Slough Town | League | | | Match report |
| 06-03-1999 | Slough Town | 0-1 | Dagenham & R. | League | | | Match report |
| 02-03-1999 | Boreham Wood | 1-0 | Slough Town | League | | | Match report |
| 27-02-1999 | Harrow Borough | 0-2 | Slough Town | League | | | Match report |
| 23-02-1999 | Maidenhead United | 4-2 | Slough Town | Isthmian Lge Cup | | | Match report |
| 20-02-1999 | Slough Town | 1-0 | St Albans City | League | | | Match report |
| 16-02-1999 | Carshalton Ath | 0-3 | Slough Town | League | | | Match report |
| 13-02-1999 | Slough Town | 3-0 | Hampton | League | | | Match report |
| 06-02-1999 | Purfleet | 0-4 | Slough Town | League | | | Match report |
| 30-01-1999 | Slough Town | 1-2 | Sutton United | League | | | Match report |
| 25-01-1999 | Slough Town | 1-2 | Rushden & Diamonds | FA Trophy | | | Match report |
| 09-01-1999 | Chesham United | 1-0 | Slough Town | League | | | Match report |
| 28-12-1998 | Dulwich Hamlet | 2-2 | Slough Town | League | | | Match report |
| 22-12-1998 | Walton & Hersham | 2-0 | Slough Town | Puma Cup | | | Match report |
| 19-12-1998 | Slough Town | 0-3 | Boreham Wood | League | | | Match report |
| 12-12-1998 | Aylesbury United | 0-0 | Slough Town | League | | | Match report |
| 08-12-1998 | Slough Town | 1-3 | Burnham | B&B Senior Cup | | | Match report |
| 05-12-1998 | Slough Town | 3-0 | Walton & Hersham | League | | | Match report |
| 01-12-1998 | Staines Town | 1-3 | Slough Town | Isthmian Lge Cup | | | Match report |
| 28-11-1998 | Bromley | 2-1 | Slough Town | League | | | Match report |
| 24-11-1998 | Slough Town | 1-1 | Macclesfield Town | FA Cup | | | Match report |
| 21-11-1998 | Slough Town | 3-1 | Baldock Town | FA Trophy | | | Match report |
| 17-11-1998 | Slough Town | 0-1 | Basingstoke Town | League | | | Match report |
| 14-11-1998 | Macclesfield Town | 2-2 | Slough Town | FA Cup | | | Match report |
| 09-11-1998 | Slough Town | 3-2 | Crawley Town | FA Cup | | | Match report |
| 07-11-1998 | Slough Town | 2-2 | Enfield | League | | | Match report |
| 12-10-1998 | St Albans City | 3-3 | Slough Town | League | | | Match report |
| 10-10-1998 | Slough Town | 0-3 | Harrow Borough | League | | | Match report |
| 06-10-1998 | Fleet Town | 0-2 | Slough Town | FA Cup | | | Match report |
| 03-10-1998 | Slough Town | 1-1 | Fleet Town | FA Cup | | | Match report |
| 26-09-1998 | Dagenham & R. | 3-0 | Slough Town | League | | | Match report |
| 22-09-1998 | Slough Town | 1-1 | Billericay Town | League | | | Match report |
| 05-09-1998 | Walton & Hersham | 2-0 | Slough Town | League | | | Match report |
| 01-09-1998 | Ebbsfleet United | 1-2 | Slough Town | League | | | Match report |
| 29-08-1998 | Slough Town | 3-1 | Chesham United | League | | | Match report |
| 25-08-1998 | Slough Town | 2-2 | Bishop's Stortford | League | | | Match report |
| 22-08-1998 | Sutton United | 0-1 | Slough Town | League | | | Match report |
Slough Town FC is not responsible for content produced on external websites | Copyright Slough Town FC 2021