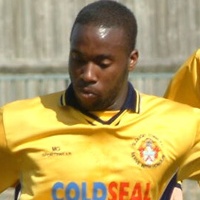 Position:
Defender
Achievements
2004/05 Isthmian League Cup Winner
Bio
Attack minded full back signed from Oxford United following a loan spell with the club.
Carbon was best deployed as a wing back and this was utilised to devastating effect when paired with Alex Haddow on the opposite flank. Had a great engine and was able to get up and down the flank and was also comfortable cutting in from the wing to pop up in goalscoring positions notching up 12 goals in his time with the club.
Mens
| First Appearance | Appearances | First Goal | Goals |
| --- | --- | --- | --- |
| 27-03-2004 vs Egham Town | 121 | 04-09-2004 vs Braintree Town | 16 |
History
| Match Date | Home | Score | Away | Competition | Goals | Cards | |
| --- | --- | --- | --- | --- | --- | --- | --- |
| 29-04-2006 | Slough Town | 1-2 | Heybridge Swifts | League | | | Match report |
| 22-04-2006 | Harrow Borough | 2-1 | Slough Town | League | | | Match report |
| 17-04-2006 | Slough Town | 3-3 | Windsor & Eton | League | | | Match report |
| 14-04-2006 | Braintree Town | 2-1 | Slough Town | League | | | Match report |
| 08-04-2006 | Slough Town | 2-0 | Folkestone Invicta | League | | | Match report |
| 01-04-2006 | Staines Town | 2-1 | Slough Town | League | | | Match report |
| 25-03-2006 | Slough Town | 0-3 | Worthing | League | | | Match report |
| 22-03-2006 | Slough Town | 3-1 | Fisher Ath | Ryman League Cup | | | Match report |
| 18-03-2006 | Maldon Town | 0-2 | Slough Town | League | | | Match report |
| 13-03-2006 | Fisher Ath | 5-2 | Slough Town | Ryman League Cup | | | Match report |
| 11-03-2006 | Slough Town | 0-4 | Fisher Ath | League | | | Match report |
| 04-03-2006 | Hendon | 1-1 | Slough Town | League | | | Match report |
| 28-02-2006 | MK Dons | 6-1 | Slough Town | B&B Senior Cup | | | Match report |
| 25-02-2006 | Chelmsford City | 2-0 | Slough Town | League | | | Match report |
| 18-02-2006 | Slough Town | 3-2 | Wealdstone | League | | | Match report |
| 11-02-2006 | Walton & Hersham | 0-1 | Slough Town | League | | | Match report |
| 04-02-2006 | Slough Town | 2-2 | Bromley | League | | | Match report |
| 31-01-2006 | Slough Town | 3-0 | Heybridge Swifts | Ryman League Cup | | | Match report |
| 28-01-2006 | AFC Wimbledon | 2-2 | Slough Town | League | | | Match report |
| 21-01-2006 | Slough Town | 2-2 | Margate | League | | | Match report |
| 18-01-2006 | Slough Town | 1-1 | Chesham United | B&B Senior Cup | | | Match report |
| 14-01-2006 | Leyton | 1-2 | Slough Town | League | | | Match report |
| 07-01-2006 | Billericay Town | 0-2 | Slough Town | League | | | Match report |
| 02-01-2006 | Slough Town | 0-1 | Hampton & Richmond Boro' | League | | | Match report |
| 26-12-2005 | Windsor & Eton | 0-3 | Slough Town | League | | | Match report |
| 19-12-2005 | Leatherhead | 0-2 | Slough Town | Ryman League Cup | | | Match report |
| 17-12-2005 | Heybridge Swifts | 1-0 | Slough Town | League | | | Match report |
| 10-12-2005 | Slough Town | 5-2 | Harrow Borough | League | | | Match report |
| 03-12-2005 | Bromley | 2-3 | Slough Town | League | | | Match report |
| 28-11-2005 | Folkestone Invicta | 3-0 | Slough Town | League | | | Match report |
| 26-11-2005 | Slough Town | 0-2 | Walton & Hersham | League | | | Match report |
| 22-11-2005 | Slough Town | 1-2 | East Thurrock United | League | | | Match report |
| 19-11-2005 | Fisher Ath | 1-2 | Slough Town | League | | | Match report |
| 08-11-2005 | Slough Town | 3-2 | Redbridge | Ryman League Cup | | | Match report |
| 05-11-2005 | Slough Town | 0-2 | Hendon | League | | | Match report |
| 29-10-2005 | Wealdstone | 2-2 | Slough Town | League | | | Match report |
| 25-10-2005 | Redbridge | 1-4 | Slough Town | League | | | Match report |
| 22-10-2005 | Slough Town | 0-1 | Chelmsford City | League | | | Match report |
| 16-10-2005 | Slough Town | 1-3 | Croydon Athletic | FA Trophy | | | Match report |
| 11-10-2005 | Slough Town | 1-2 | Staines Town | League | | | Match report |
| 04-10-2005 | Worthing | 4-2 | Slough Town | League | | | Match report |
| 01-10-2005 | Slough Town | 4-1 | Maldon Town | League | | | Match report |
| 24-09-2005 | Wroxham | 2-0 | Slough Town | FA Cup | | | Match report |
| 20-09-2005 | East Thurrock United | 3-2 | Slough Town | League | | | Match report |
| 17-09-2005 | Margate | 2-2 | Slough Town | League | | | Match report |
| 10-09-2005 | Slough Town | 4-1 | Oxford City | FA Cup | | | Match report |
| 06-09-2005 | Slough Town | 3-2 | Redbridge | League | | | Match report |
| 03-09-2005 | Slough Town | 2-1 | Braintree Town | League | | | Match report |
| 29-08-2005 | Hampton & Richmond Boro' | 3-2 | Slough Town | League | | | Match report |
| 27-08-2005 | Slough Town | 0-2 | AFC Wimbledon | League | | | Match report |
| 23-08-2005 | Slough Town | 0-0 | Leyton | League | | | Match report |
| 20-08-2005 | Billericay Town | 3-1 | Slough Town | League | | | Match report |
| 30-04-2005 | Worthing | 1-4 | Slough Town | League | | | Match report |
| 28-04-2005 | Hampton & Richmond Boro' | 1-3 | Slough Town | Ryman League Cup | | | Match report |
| 26-04-2005 | Slough Town | 1-3 | Heybridge Swifts | League | | | Match report |
| 23-04-2005 | Slough Town | 1-1 | Northwood | League | | | Match report |
| 21-04-2005 | Folkestone Invicta | 3-1 | Slough Town | League | | | Match report |
| 19-04-2005 | Yeading | 3-3 | Slough Town | League | | | Match report |
| 16-04-2005 | Slough Town | 0-6 | Billericay Town | League | | | Match report |
| 12-04-2005 | Slough Town | 1-0 | Staines Town | League | | | Match report |
| 09-04-2005 | Hendon | 0-0 | Slough Town | League | | | Match report |
| 07-04-2005 | Slough Town | 1-3 | Hendon | League | | | Match report |
| 05-04-2005 | Slough Town | 2-3 | Kingstonian | League | | | Match report |
| 02-04-2005 | Slough Town | 0-1 | Hampton & Richmond Boro' | League | | | Match report |
| 28-03-2005 | Windsor & Eton | 0-4 | Slough Town | League | | | Match report |
| 26-03-2005 | Slough Town | 2-0 | Tonbridge Angels | League | | | Match report |
| 22-03-2005 | Slough Town | 2-1 | Heybridge Swifts | Ryman League Cup | | | Match report |
| 18-03-2005 | Wealdstone | 1-1 | Slough Town | League | | | Match report |
| 15-03-2005 | Heybridge Swifts | 1-2 | Slough Town | Ryman League Cup | | | Match report |
| 12-03-2005 | Slough Town | 0-2 | Chelmsford City | League | | | Match report |
| 08-03-2005 | Slough Town | 3-1 | Windsor & Eton | League | | | Match report |
| 26-02-2005 | Ebbsfleet United | 3-2 | Slough Town | FA Trophy | | | Match report |
| 22-02-2005 | Slough Town | 4-2 | AFC Wimbledon | Ryman League Cup | | | Match report |
| 19-02-2005 | Heybridge Swifts | 5-2 | Slough Town | League | | | Match report |
| 12-02-2005 | Slough Town | 1-2 | Leyton | League | | | Match report |
| 08-02-2005 | Slough Town | 3-0 | Salisbury City | Ryman League Cup | | | Match report |
| 06-02-2005 | Slough Town | 1-0 | Thurrock | FA Trophy | | | Match report |
| 01-02-2005 | Wycombe Wanderers | 3-0 | Slough Town | B&B Senior Cup | | | Match report |
| 29-01-2005 | Slough Town | 2-0 | Cheshunt | League | | | Match report |
| 22-01-2005 | Eastleigh | 0-4 | Slough Town | League | | | Match report |
| 18-01-2005 | Northwood | 1-0 | Slough Town | League | | | Match report |
| 15-01-2005 | Slough Town | 4-3 | Hendon | FA Trophy | | | Match report |
| 11-01-2005 | Slough Town | 1-0 | Cheshunt | Ryman League Cup | | | Match report |
| 08-01-2005 | Braintree Town | 2-1 | Slough Town | League | | | Match report |
| 01-01-2005 | Salisbury City | 0-0 | Slough Town | League | | | Match report |
| 21-12-2004 | Billericay Town | 2-0 | Slough Town | League | | | Match report |
| 18-12-2004 | Harrow Borough | 1-2 | Slough Town | League | | | Match report |
| 11-12-2004 | Slough Town | 3-2 | Dover Athletic | League | | | Match report |
| 04-12-2004 | Slough Town | 1-3 | Yeading | FA Cup | | | Match report |
| 27-11-2004 | Chelmsford City | 0-1 | Slough Town | FA Trophy | | | Match report |
| 20-11-2004 | Slough Town | 1-1 | Worthing | League | | | Match report |
| 13-11-2004 | Slough Town | 2-1 | Walsall | FA Cup | | | Match report |
| 07-11-2004 | Slough Town | 7-0 | Dorking | FA Trophy | | | Match report |
| 31-10-2004 | Slough Town | 3-2 | Salisbury City | FA Cup | | | Match report |
| 23-10-2004 | Chelmsford City | 3-0 | Slough Town | League | | | Match report |
| 20-10-2004 | Slough Town | 1-1 | Folkestone Invicta | League | | | Match report |
| 16-10-2004 | Slough Town | 4-0 | Cheshunt | FA Cup | | | Match report |
| 11-10-2004 | Kingstonian | 0-4 | Slough Town | League | | | Match report |
| 09-10-2004 | Leyton | 0-1 | Slough Town | League | | | Match report |
| 02-10-2004 | Slough Town | 4-1 | Welling United | FA Cup | | | Match report |
| 25-09-2004 | Slough Town | 2-2 | Yeading | League | | | Match report |
| 18-09-2004 | Croydon Athletic | 0-1 | Slough Town | FA Cup | | | Match report |
| 14-09-2004 | Slough Town | 1-4 | Eastleigh | League | | | Match report |
| 11-09-2004 | Cheshunt | 1-0 | Slough Town | League | | | Match report |
| 07-09-2004 | Staines Town | 4-0 | Slough Town | League | | | Match report |
| 04-09-2004 | Slough Town | 3-0 | Braintree Town | League | | | Match report |
| 30-08-2004 | Slough Town | 1-0 | Salisbury City | League | | | Match report |
| 28-08-2004 | Hampton & Richmond Boro' | 2-2 | Slough Town | League | | | Match report |
| 24-08-2004 | Tonbridge Angels | 2-2 | Slough Town | League | | | Match report |
| 21-08-2004 | Slough Town | 1-0 | Wealdstone | League | | | Match report |
| 18-08-2004 | Slough Town | 2-0 | Harrow Borough | League | | | Match report |
| 14-08-2004 | Dover Athletic | 3-1 | Slough Town | League | | | Match report |
| 01-05-2004 | Slough Town | 3-1 | Croydon | League | | | Match report |
| 24-04-2004 | Metropolitan Police | 1-3 | Slough Town | League | | | Match report |
| 20-04-2004 | Egham Town | 2-3 | Slough Town | League | | | Match report |
| 17-04-2004 | Slough Town | 3-1 | Whyteleafe | League | | | Match report |
| 14-04-2004 | Slough Town | 0-1 | Bracknell Town | B&B Senior Cup | | | Match report |
| 12-04-2004 | Windsor & Eton | 1-4 | Slough Town | League | | | Match report |
| 10-04-2004 | Slough Town | 3-1 | Molesey | League | | | Match report |
| 03-04-2004 | Leatherhead | 2-3 | Slough Town | League | | | Match report |
| 27-03-2004 | Slough Town | 3-1 | Egham Town | League | | | Match report |
Slough Town FC is not responsible for content produced on external websites | Copyright Slough Town FC 2023