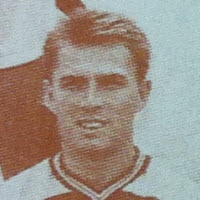 Position:
Midfielder
Bio
Legendary midfielder.
A former Bristol City player who has also non-league experience with Saltash United. Steve has represented the Combined Services and the Vauxhall League. Thompson joined the Royal Air Force from school and played for Saltash United in the Western League. He progressed to be a Fitness Instructor in the RAF, but continued his football career, joining Bristol City in July 1981 and making his League debut the following season. He joined Torquay United in February 1983 on a free transfer, but made just one appearance, as a substitute, before being released and rejoining Saltash United. In 1987 he was on the verge of joining Yeovil Town, but the RAF posted him to West London and he joined Slough Town instead. He joined Martin O'Neill's Wycombe Wanderers in February 1992 for a fee of £15,000 and was part of the Conference and FA Trophy double-winning side. The following season, Wycombe's first as Football League side, Thompson played in the victorious Division Three Play-Off final at Wembley. He moved to Woking in August 1996, winning a second FA Trophy winners medal and scored in Woking's surprise draw with Premiership side Coventry City in the FA Cup.
He joined Yeovil Town in March 1998, playing in the side while also acting as the club's fitness coach and working part time in the postal service. When Yeovil manager Colin Lippiatt resigned at the end of September 1999, Thompson took over, initially as caretaker, but was awarded the job permanently on November 10, 1999. In March 2000, David Webb took over as manager, with Thompson becoming player-assistant manager. He remained as assistant manager after Webb left, working under Colin Addison and Gary Johnson. Johnson left to manage Bristol City in September 2005 and Thompson was appointed as manager for a second time the following month. In May 2006, Thompson reverted to his first team coaching role at Yeovil and was replaced as manager by Russell Slade.
Mens
| First Appearance | Appearances | First Goal | Goals |
| --- | --- | --- | --- |
| 05-03-1988 vs Kingstonian | 195 | 26-03-1988 vs St Albans City | 64 |
History
| Match Date | Home | Score | Away | Competition | Goals | Cards | |
| --- | --- | --- | --- | --- | --- | --- | --- |
| 15-02-1992 | Boston Utd | 3-1 | Slough Town | League | | | Match report |
| 08-02-1992 | Slough Town | 2-3 | Altrincham | League | | | Match report |
| 31-01-1992 | Slough Town | 3-1 | Boston Utd | League | | | Match report |
| 25-01-1992 | Witton Albion | 2-1 | Slough Town | League | | | Match report |
| 18-01-1992 | Slough Town | 2-0 | Gateshead | League | | | Match report |
| 11-01-1992 | Enfield | 4-0 | Slough Town | FA Trophy | | | Match report |
| 07-01-1992 | Slough Town | 5-2 | Flackwell Heath | B&B Senior Cup | | | Match report |
| 04-01-1992 | Redbridge Forest | 4-0 | Slough Town | League | | | Match report |
| 01-01-1992 | Wycombe Wanderers | 3-0 | Slough Town | League | | | Match report |
| 26-12-1991 | Slough Town | 0-1 | Wycombe Wanderers | League | | | Match report |
| 21-12-1991 | Slough Town | 2-2 | Bath City | League | | | Match report |
| 17-12-1991 | Slough Town | 0-1 | Kidderminster Harriers | Bob Lord Trophy | | | Match report |
| 14-12-1991 | Merthyr Tydfil | 1-2 | Slough Town | League | | | Match report |
| 03-12-1991 | Margate | 1-2 | Slough Town | FA Trophy | | | Match report |
| 30-11-1991 | Slough Town | 0-0 | Margate | FA Trophy | | | Match report |
| 27-11-1991 | Reading | 2-1 | Slough Town | FA Cup | | | Match report |
| 23-11-1991 | Kettering Town | 2-3 | Slough Town | League | | | Match report |
| 16-11-1991 | Slough Town | 3-3 | Reading | FA Cup | | | Match report |
| 09-11-1991 | Slough Town | 0-3 | Welling United | League | | | Match report |
| 02-11-1991 | Slough Town | 2-1 | Witton Albion | League | | | Match report |
| 26-10-1991 | Slough Town | 2-1 | Kingstonian | FA Cup | | | Match report |
| 22-10-1991 | Slough Town | 4-0 | Redbridge Forest | League | | | Match report |
| 19-10-1991 | Altrincham | 3-7 | Slough Town | League | | | Match report |
| 15-10-1991 | Bath City | 2-1 | Slough Town | League | | | Match report |
| 12-10-1991 | Berkhamsted Town | 1-4 | Slough Town | FA Cup | | | Match report |
| 01-10-1991 | Slough Town | 1-0 | Yeading | FA Cup | | | Match report |
| 28-09-1991 | Yeading | 0-0 | Slough Town | FA Cup | | | Match report |
| 24-09-1991 | Slough Town | 2-0 | Bath City | Bob Lord Trophy | | | Match report |
| 21-09-1991 | Stafford Rangers | 1-1 | Slough Town | League | | | Match report |
| 16-09-1991 | Croydon | 0-3 | Slough Town | FA Cup | | | Match report |
| 14-09-1991 | Slough Town | 2-2 | Croydon | FA Cup | | | Match report |
| 11-09-1991 | Cheltenham Town | 1-0 | Slough Town | League | | | Match report |
| 07-09-1991 | Slough Town | 0-3 | Telford Utd | League | | | Match report |
| 03-09-1991 | Bath City | 2-1 | Slough Town | Bob Lord Trophy | | | Match report |
| 31-08-1991 | Slough Town | 1-0 | Runcorn | League | | | Match report |
| 26-08-1991 | Slough Town | 2-4 | Colchester Utd | League | | | Match report |
| 24-08-1991 | Macclesfield Town | 0-1 | Slough Town | League | | | Match report |
| 17-08-1991 | Slough Town | 3-1 | Kidderminster Harriers | League | | | Match report |
| 04-05-1991 | Telford Utd | 2-1 | Slough Town | League | | | Match report |
| 30-04-1991 | Slough Town | 3-3 | Altrincham | League | | | Match report |
| 27-04-1991 | Boston Utd | 0-1 | Slough Town | League | | | Match report |
| 23-04-1991 | Northwich Victoria | 1-0 | Slough Town | League | | | Match report |
| 19-04-1991 | Slough Town | 1-3 | Barnet | League | | | Match report |
| 06-04-1991 | Yeovil Town | 7-2 | Slough Town | League | | | Match report |
| 01-04-1991 | Slough Town | 0-3 | Cheltenham Town | League | | | Match report |
| 30-03-1991 | Runcorn | 3-1 | Slough Town | League | | | Match report |
| 23-03-1991 | Kidderminster Harriers | 1-2 | Slough Town | League | | | Match report |
| 12-03-1991 | Slough Town | 3-0 | Welling United | League | | | Match report |
| 09-03-1991 | Wycombe Wanderers | 2-1 | Slough Town | League | | | Match report |
| 05-03-1991 | Slough Town | 0-2 | Colchester Utd | League | | | Match report |
| 19-01-1991 | Slough Town | 2-1 | Stafford Rangers | League | | | Match report |
| 12-01-1991 | Slough Town | 2-4 | Bath City | FA Trophy | | | Match report |
| 05-01-1991 | Colchester Utd | 2-1 | Slough Town | League | | | Match report |
| 01-01-1991 | Slough Town | 1-2 | Sutton United | League | | | Match report |
| 29-12-1990 | Slough Town | 1-2 | Merthyr Tydfil | League | | | Match report |
| 26-12-1990 | Sutton United | 5-2 | Slough Town | League | | | Match report |
| 22-12-1990 | Slough Town | 1-0 | Fisher Ath | League | | | Match report |
| 18-12-1990 | Cheltenham Town | 2-0 | Slough Town | League | | | Match report |
| 15-12-1990 | Slough Town | 2-0 | Yeovil Town | League | | | Match report |
| 01-12-1990 | Slough Town | 2-0 | Bath City | League | | | Match report |
| 24-11-1990 | Slough Town | 0-0 | Kidderminster Harriers | League | | | Match report |
| 17-11-1990 | Slough Town | 0-1 | Macclesfield Town | League | | | Match report |
| 10-11-1990 | Stafford Rangers | 3-4 | Slough Town | League | | | Match report |
| 20-10-1990 | Slough Town | 3-0 | Barrow | League | | | Match report |
| 16-10-1990 | Slough Town | 3-3 | Wycombe Wanderers | League | | | Match report |
| 13-10-1990 | Fisher Ath | 1-1 | Slough Town | League | | | Match report |
| 06-10-1990 | Slough Town | 2-4 | Northwich Victoria | League | | | Match report |
| 02-10-1990 | Kettering Town | 0-0 | Slough Town | League | | | Match report |
| 29-09-1990 | Slough Town | 2-3 | Farnborough Town | FA Cup | | | Match report |
| 24-09-1990 | Fisher Ath | 2-1 | Slough Town | Bob Lord Trophy | | | Match report |
| 22-09-1990 | Macclesfield Town | 1-2 | Slough Town | League | | | Match report |
| 19-09-1990 | Welling United | 2-0 | Slough Town | League | | | Match report |
| 15-09-1990 | Slough Town | 8-0 | Feltham | FA Cup | | | Match report |
| 11-09-1990 | Slough Town | 0-3 | Kettering Town | League | | | Match report |
| 08-09-1990 | Altrincham | 3-0 | Slough Town | League | | | Match report |
| 04-09-1990 | Slough Town | 2-4 | Fisher Ath | Bob Lord Trophy | | | Match report |
| 01-09-1990 | Gateshead | 1-0 | Slough Town | League | | | Match report |
| 27-08-1990 | Merthyr Tydfil | 3-0 | Slough Town | League | | | Match report |
| 25-08-1990 | Slough Town | 2-1 | Runcorn | League | | | Match report |
| 21-08-1990 | Barnet | 6-1 | Slough Town | League | | | Match report |
| 18-08-1990 | Slough Town | 2-0 | Boston Utd | League | | | Match report |
| 13-08-1990 | Aveley | 0-2 | Slough Town | Unknown Cup | | | Match report |
| 05-05-1990 | Bromley | 0-1 | Slough Town | League | | | Match report |
| 28-04-1990 | Slough Town | 3-0 | Marlow | League | | | Match report |
| 21-04-1990 | Hendon | 1-1 | Slough Town | League | | | Match report |
| 14-04-1990 | Slough Town | 1-0 | Hayes | League | | | Match report |
| 10-04-1990 | Slough Town | 2-1 | Kingstonian | League | | | Match report |
| 07-04-1990 | Carshalton Ath | 4-4 | Slough Town | League | | | Match report |
| 04-04-1990 | Redbridge Forest | 2-0 | Slough Town | League | | | Match report |
| 31-03-1990 | Slough Town | 3-2 | Leyton Wingate | League | | | Match report |
| 24-03-1990 | Slough Town | 2-0 | Dulwich Hamlet | League | | | Match report |
| 20-03-1990 | Slough Town | 3-1 | Hendon | League | | | Match report |
| 17-03-1990 | Bishop's Stortford | 0-1 | Slough Town | League | | | Match report |
| 06-03-1990 | Slough Town | 4-0 | Harrow Borough | League | | | Match report |
| 03-03-1990 | Wokingham Town | 1-1 | Slough Town | League | | | Match report |
| 27-02-1990 | Slough Town | 3-0 | Abingdon Utd | B&B Senior Cup | | | Match report |
| 24-02-1990 | Slough Town | 0-1 | Dagenham | League | | | Match report |
| 20-02-1990 | Harrow Borough | 1-5 | Slough Town | League | | | Match report |
| 17-02-1990 | Aylesbury United | 3-1 | Slough Town | League | | | Match report |
| 10-02-1990 | Slough Town | 2-1 | Basingstoke Town | League | | | Match report |
| 05-02-1990 | Slough Town | 4-1 | Buckingham Town | B&B Senior Cup | | | Match report |
| 27-01-1990 | Slough Town | 2-0 | Grays Athletic | League | | | Match report |
| 20-01-1990 | Barking | 1-1 | Slough Town | League | | | Match report |
| 17-01-1990 | Redbridge Forest | 3-0 | Slough Town | FA Trophy | | | Match report |
| 06-01-1990 | Bognor Regis Town | 1-3 | Slough Town | League | | | Match report |
| 01-01-1990 | Slough Town | 1-1 | Windsor & Eton | League | | | Match report |
| 30-12-1989 | Staines Town | 0-4 | Slough Town | League | | | Match report |
| 26-12-1989 | Windsor & Eton | 0-1 | Slough Town | League | | | Match report |
| 16-12-1989 | Slough Town | 3-2 | Carshalton Ath | League | | | Match report |
| 12-12-1989 | Basingstoke Town | 1-3 | Slough Town | League | | | Match report |
| 09-12-1989 | St Albans City | 0-3 | Slough Town | League | | | Match report |
| 05-12-1989 | Slough Town | 1-0 | Bromley | League | | | Match report |
| 02-12-1989 | Stroud | 1-10 | Slough Town | FA Trophy | | | Match report |
| 25-11-1989 | Marlow | 0-0 | Slough Town | League | | | Match report |
| 20-11-1989 | Dagenham | 0-3 | Slough Town | League | | | Match report |
| 18-11-1989 | Slough Town | 1-2 | Woking | FA Cup | | | Match report |
| 14-11-1989 | Bishop's Stortford | 2-0 | Slough Town | AC Delco Cup | | | Match report |
| 11-11-1989 | Hayes | 1-1 | Slough Town | League | | | Match report |
| 07-11-1989 | Slough Town | 1-0 | Staines Town | League | | | Match report |
| 04-11-1989 | Slough Town | 1-1 | Bishop's Stortford | League | | | Match report |
| 28-10-1989 | Abingdon Town | 0-3 | Slough Town | FA Cup | | | Match report |
| 21-10-1989 | Slough Town | 1-2 | Aylesbury United | League | | | Match report |
| 17-10-1989 | Uxbridge | 1-2 | Slough Town | FA Cup | | | Match report |
| 14-10-1989 | Slough Town | 0-0 | Uxbridge | FA Cup | | | Match report |
| 07-10-1989 | Slough Town | 2-0 | Wokingham Town | League | | | Match report |
| 30-09-1989 | Carshalton Ath | 0-2 | Slough Town | FA Cup | | | Match report |
| 23-09-1989 | Slough Town | 5-0 | Redbridge Forest | League | | | Match report |
| 16-09-1989 | Slough Town | 5-1 | Walthamstow Pennant | FA Cup | | | Match report |
| 12-09-1989 | Slough Town | 2-1 | Lewes | AC Delco Cup | | | Match report |
| 09-09-1989 | Slough Town | 0-0 | Bognor Regis Town | League | | | Match report |
| 02-09-1989 | Grays Athletic | 1-1 | Slough Town | League | | | Match report |
| 29-08-1989 | Leyton Wingate | 1-2 | Slough Town | League | | | Match report |
| 26-08-1989 | Slough Town | 4-2 | Barking | League | | | Match report |
| 22-08-1989 | Slough Town | 3-3 | St Albans City | League | | | Match report |
| 19-08-1989 | Kingstonian | 1-2 | Slough Town | League | | | Match report |
| 06-05-1989 | Slough Town | 4-1 | Tooting | League | | | Match report |
| 29-04-1989 | St Albans City | 1-4 | Slough Town | League | | | Match report |
| 22-04-1989 | Slough Town | 4-0 | Hendon | League | | | Match report |
| 08-04-1989 | Slough Town | 1-1 | Carshalton Ath | League | | | Match report |
| 01-04-1989 | Farnborough Town | 2-6 | Slough Town | League | | | Match report |
| 28-03-1989 | Leyton Wingate | 1-1 | Slough Town | League | | | Match report |
| 25-03-1989 | Slough Town | 2-0 | Kingstonian | League | | | Match report |
| 18-03-1989 | Dulwich Hamlet | 1-0 | Slough Town | League | | | Match report |
| 11-03-1989 | Slough Town | 2-0 | Grays Athletic | League | | | Match report |
| 04-03-1989 | Harrow Borough | 1-2 | Slough Town | League | | | Match report |
| 28-02-1989 | Barking | 1-0 | Slough Town | League | | | Match report |
| 25-02-1989 | Slough Town | 1-3 | Leyton Wingate | League | | | Match report |
| 18-02-1989 | Wokingham Town | 1-1 | Slough Town | League | | | Match report |
| 11-02-1989 | Marlow | 0-2 | Slough Town | League | | | Match report |
| 07-02-1989 | Grays Athletic | 2-1 | Slough Town | League | | | Match report |
| 04-02-1989 | Slough Town | 4-0 | Croydon | League | | | Match report |
| 31-01-1989 | Slough Town | 1-2 | Burnham | B&B Senior Cup | | | Match report |
| 28-01-1989 | Leytonstone Ilford | 1-0 | Slough Town | League | | | Match report |
| 24-01-1989 | Hendon | 1-1 | Slough Town | League | | | Match report |
| 21-01-1989 | Slough Town | 4-1 | Bromley | League | | | Match report |
| 17-01-1989 | Burnham | 3-3 | Slough Town | B&B Senior Cup | | | Match report |
| 14-01-1989 | Welling United | 4-0 | Slough Town | FA Trophy | | | Match report |
| 07-01-1989 | Slough Town | 0-2 | Bishop's Stortford | League | | | Match report |
| 02-01-1989 | Windsor & Eton | 3-2 | Slough Town | League | | | Match report |
| 30-12-1988 | Slough Town | 3-0 | Bognor Regis Town | League | | | Match report |
| 27-12-1988 | Slough Town | 0-3 | Farnborough Town | League | | | Match report |
| 17-12-1988 | Carshalton Ath | 0-0 | Slough Town | League | | | Match report |
| 10-12-1988 | Slough Town | 2-0 | Hayes | League | | | Match report |
| 03-12-1988 | Ashford | 0-3 | Slough Town | FA Trophy | | | Match report |
| 26-11-1988 | Slough Town | 4-3 | St Albans City | League | | | Match report |
| 15-11-1988 | Slough Town | 2-0 | Marlow | League | | | Match report |
| 12-11-1988 | Slough Town | 0-2 | Dagenham | League | | | Match report |
| 08-11-1988 | Bognor Regis Town | 1-0 | Slough Town | League | | | Match report |
| 05-11-1988 | Slough Town | 3-2 | Dulwich Hamlet | League | | | Match report |
| 01-11-1988 | Kingstonian | 0-1 | Slough Town | League | | | Match report |
| 29-10-1988 | Slough Town | 1-2 | Dartford | FA Cup | | | Match report |
| 22-10-1988 | Slough Town | 3-0 | Wokingham Town | League | | | Match report |
| 15-10-1988 | Tooting | 2-3 | Slough Town | League | | | Match report |
| 11-10-1988 | Hayes | 5-1 | Slough Town | Premier Interleague Cup | | | Match report |
| 08-10-1988 | Slough Town | 1-1 | Harrow Borough | League | | | Match report |
| 04-10-1988 | Slough Town | 2-2 | Hayes | Premier Interleague Cup | | | Match report |
| 01-10-1988 | Slough Town | 2-1 | Aylesbury United | B&B Senior Cup | | | Match report |
| 26-09-1988 | Croydon | 0-2 | Slough Town | League | | | Match report |
| 17-09-1988 | Dagenham | 0-1 | Slough Town | League | | | Match report |
| 13-09-1988 | Barking | 3-0 | Slough Town | AC Delco Cup | | | Match report |
| 10-09-1988 | Slough Town | 2-0 | Leytonstone Ilford | League | | | Match report |
| 03-09-1988 | Bromley | 0-1 | Slough Town | League | | | Match report |
| 30-08-1988 | Windsor & Eton | 0-1 | Slough Town | League | | | Match report |
| 27-08-1988 | Bishop's Stortford | 4-0 | Slough Town | League | | | Match report |
| 23-08-1988 | Hayes | 0-1 | Slough Town | League | | | Match report |
| 20-08-1988 | Slough Town | 1-0 | Barking | League | | | Match report |
| 30-04-1988 | Slough Town | 1-0 | Croydon | League | | | Match report |
| 23-04-1988 | Slough Town | 1-0 | Bromley | League | | | Match report |
| 16-04-1988 | Barking | 1-0 | Slough Town | League | | | Match report |
| 12-04-1988 | Bishop's Stortford | 1-1 | Slough Town | League | | | Match report |
| 28-03-1988 | Bognor Regis Town | 0-2 | Slough Town | League | | | Match report |
| 26-03-1988 | Slough Town | 3-0 | St Albans City | League | | | Match report |
| 12-03-1988 | Slough Town | 1-1 | Leyton Wingate | League | | | Match report |
| 08-03-1988 | St Albans City | 1-3 | Slough Town | League | | | Match report |
| 05-03-1988 | Kingstonian | 1-0 | Slough Town | League | | | Match report |
Slough Town FC is not responsible for content produced on external websites | Copyright Slough Town FC 2023