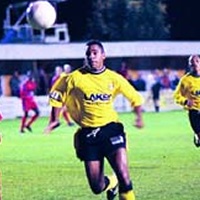 Position:
Midfielder
Bio
Central midfield player who was signed from an Essex club to form part of a squad which was expected to challenge for the title in the 99/00 season.
Capable of passing the ball over a variation of distances and also of scoring from long distance, Rainford struck up a midfield partnership with Mark Hawthorne at the club. Was quite often the centre of debate amongst supporters about his inclusion in the Slough side, but was also capable of playing on the right hand side of defence. Once scored all five goals in a 5-5 reserve team game at Croydon.
Came back for a short second spell before joining Bishops Stortford and then onto Dagenham & Redbridge where he captained them into the Football League and survival in their first season in professional football. Decided to return to part time football ahead of the 2008/9 season to concentrate on his teaching career and joined Chelmsford City in the Conference South division.
Scored ten times in his time with Slough with a single goal coming from his nine appearances in his second spell at the club.
Mens
| First Appearance | Appearances | First Goal | Goals |
| --- | --- | --- | --- |
| 14-08-1999 vs St Albans City | 96 | 07-09-1999 vs Farnborough Town | 11 |
History
| Match Date | Home | Score | Away | Competition | Goals | Cards | |
| --- | --- | --- | --- | --- | --- | --- | --- |
| 18-01-2003 | Wealdstone | 3-2 | Slough Town | League | | | Match report |
| 14-01-2003 | Great Wakering Rovers | 2-2 | Slough Town | League | | | Match report |
| 04-01-2003 | Northwood | 5-1 | Slough Town | League | | | Match report |
| 28-12-2002 | Slough Town | 2-0 | Marlow | League | | | Match report |
| 26-12-2002 | Yeading | 0-2 | Slough Town | League | | | Match report |
| 21-12-2002 | Slough Town | 5-1 | Leyton Pennant | League | | | Match report |
| 14-12-2002 | Hornchurch | 3-2 | Slough Town | League | | | Match report |
| 07-12-2002 | Slough Town | 3-2 | Berkhamsted Town | League | | | Match report |
| 30-11-2002 | Wembley | 2-2 | Slough Town | League | | | Match report |
| 05-05-2001 | Chesham United | 2-0 | Slough Town | League | | | Match report |
| 28-04-2001 | Slough Town | 3-1 | Carshalton Ath | League | | | Match report |
| 24-04-2001 | Slough Town | 2-0 | Ebbsfleet United | League | | | Match report |
| 21-04-2001 | Harrow Borough | 1-0 | Slough Town | League | | | Match report |
| 19-04-2001 | Slough Town | 0-1 | Canvey Island | League | | | Match report |
| 16-04-2001 | Slough Town | 1-0 | Maidenhead United | League | | | Match report |
| 14-04-2001 | Farnborough Town | 1-1 | Slough Town | League | | | Match report |
| 10-04-2001 | Slough Town | 2-3 | Billericay Town | League | | | Match report |
| 02-04-2001 | Croydon | 4-1 | Slough Town | League | | | Match report |
| 31-03-2001 | Slough Town | 0-3 | Hitchin Town | League | | | Match report |
| 24-03-2001 | Billericay Town | 0-0 | Slough Town | League | | | Match report |
| 03-02-2001 | Slough Town | 3-1 | Enfield | League | | | Match report |
| 30-01-2001 | Carshalton Ath | 0-1 | Slough Town | League | | | Match report |
| 13-01-2001 | Purfleet | 2-0 | Slough Town | League | | | Match report |
| 06-01-2001 | Basingstoke Town | 3-2 | Slough Town | League | | | Match report |
| 26-12-2000 | Maidenhead United | 1-0 | Slough Town | League | | | Match report |
| 23-12-2000 | Slough Town | 0-2 | Farnborough Town | League | | | Match report |
| 16-12-2000 | Grays Athletic | 1-0 | Slough Town | League | | | Match report |
| 09-12-2000 | Slough Town | 0-2 | Chesham United | League | | | Match report |
| 05-12-2000 | Bromley | 1-0 | Slough Town | Full Members Cup | | | Match report |
| 02-12-2000 | Newport AFC | 2-1 | Slough Town | FA Trophy | | | Match report |
| 28-11-2000 | Slough Town | 1-2 | Harrow Borough | League | | | Match report |
| 18-11-2000 | Dulwich Hamlet | 2-2 | Slough Town | League | | | Match report |
| 21-10-2000 | Hitchin Town | 3-0 | Slough Town | League | | | Match report |
| 14-10-2000 | Slough Town | 1-2 | St Albans City | League | | | Match report |
| 07-10-2000 | Heybridge Swifts | 3-2 | Slough Town | League | | | Match report |
| 30-09-2000 | Tonbridge Angels | 2-0 | Slough Town | FA Cup | | | Match report |
| 23-09-2000 | Slough Town | 1-0 | Croydon | League | | | Match report |
| 19-09-2000 | Sutton United | 1-1 | Slough Town | League | | | Match report |
| 16-09-2000 | Slough Town | 1-1 | Hampton & Richmond | League | | | Match report |
| 12-09-2000 | Flackwell Heath | 1-3 | Slough Town | League Cup | | | Match report |
| 06-05-2000 | Dagenham & R. | 2-1 | Slough Town | League | | | Match report |
| 02-05-2000 | Slough Town | 0-0 | Aldershot Town | League | | | Match report |
| 29-04-2000 | Slough Town | 2-1 | Heybridge Swifts | League | | | Match report |
| 24-04-2000 | Basingstoke Town | 1-0 | Slough Town | League | | | Match report |
| 22-04-2000 | Slough Town | 2-3 | Boreham Wood | League | | | Match report |
| 18-04-2000 | Heybridge Swifts | 1-1 | Slough Town | League | | | Match report |
| 15-04-2000 | Enfield | 1-3 | Slough Town | League | | | Match report |
| 10-04-2000 | Purfleet | 2-0 | Slough Town | League | | | Match report |
| 08-04-2000 | Slough Town | 2-3 | Harrow Borough | League | | | Match report |
| 01-04-2000 | Slough Town | 2-0 | Chesham United | League | | | Match report |
| 28-03-2000 | Aylesbury United | 4-2 | Slough Town | B&B Senior Cup | | | Match report |
| 25-03-2000 | Aldershot Town | 2-0 | Slough Town | League | | | Match report |
| 21-03-2000 | Slough Town | 2-1 | Enfield | League | | | Match report |
| 18-03-2000 | Canvey Island | 2-0 | Slough Town | League | | | Match report |
| 11-03-2000 | Slough Town | 1-1 | Hampton & Richmond | League | | | Match report |
| 07-03-2000 | Ebbsfleet United | 3-2 | Slough Town | Full Members Cup | | | Match report |
| 04-03-2000 | Slough Town | 3-1 | Walton & Hersham | League | | | Match report |
| 26-02-2000 | Hitchin Town | 1-2 | Slough Town | League | | | Match report |
| 22-02-2000 | Slough Town | 3-0 | Hungerford Town | B&B Senior Cup | | | Match report |
| 19-02-2000 | Slough Town | 2-1 | Ebbsfleet United | League | | | Match report |
| 15-02-2000 | Leatherhead | 0-3 | Slough Town | Full Members Cup | | | Match report |
| 12-02-2000 | Billericay Town | 3-1 | Slough Town | League | | | Match report |
| 05-02-2000 | Slough Town | 2-1 | Carshalton Ath | League | | | Match report |
| 29-01-2000 | Hendon | 1-1 | Slough Town | League | | | Match report |
| 22-01-2000 | Slough Town | 0-3 | St Albans City | League | | | Match report |
| 18-01-2000 | Slough Town | 1-0 | Maidenhead United | B&B Senior Cup | | | Match report |
| 15-01-2000 | Slough Town | 3-0 | Hitchin Town | League | | | Match report |
| 11-01-2000 | Maidenhead United | 1-1 | Slough Town | B&B Senior Cup | | | Match report |
| 08-01-2000 | Slough Town | 1-2 | Farnborough Town | League | | | Match report |
| 03-01-2000 | Aylesbury United | 2-2 | Slough Town | League | | | Match report |
| 27-12-1999 | Slough Town | 1-4 | Basingstoke Town | League | | | Match report |
| 18-12-1999 | Harrow Borough | 0-1 | Slough Town | League | | | Match report |
| 04-12-1999 | Dulwich Hamlet | 2-3 | Slough Town | League | | | Match report |
| 20-11-1999 | Slough Town | 2-3 | Dagenham & R. | League | | | Match report |
| 16-11-1999 | Slough Town | 2-1 | Carshalton Ath | Full Members Cup | | | Match report |
| 13-11-1999 | Boreham Wood | 1-3 | Slough Town | League | | | Match report |
| 09-11-1999 | Slough Town | 0-1 | Carshalton Ath | Ryman League Cup | | | Match report |
| 06-11-1999 | Slough Town | 1-2 | Aylesbury United | League | | | Match report |
| 26-10-1999 | Slough Town | 4-1 | Staines Town | Full Members Cup | | | Match report |
| 23-10-1999 | Chesham United | 3-0 | Slough Town | League | | | Match report |
| 18-10-1999 | Cambridge City | 3-2 | Slough Town | FA Cup | | | Match report |
| 16-10-1999 | Slough Town | 1-1 | Cambridge City | FA Cup | | | Match report |
| 05-10-1999 | Walton & Hersham | 2-2 | Slough Town | League | | | Match report |
| 02-10-1999 | Slough Town | 1-0 | Carshalton Ath | FA Cup | | | Match report |
| 25-09-1999 | Hampton & Richmond | 1-1 | Slough Town | League | | | Match report |
| 18-09-1999 | Slough Town | 3-1 | Cowes Sports | FA Cup | | | Match report |
| 14-09-1999 | Slough Town | 1-0 | Grays Athletic | Full Members Cup | | | Match report |
| 11-09-1999 | Slough Town | 1-2 | Canvey Island | League | | | Match report |
| 07-09-1999 | Farnborough Town | 0-1 | Slough Town | League | | | Match report |
| 04-09-1999 | Slough Town | 2-1 | Dulwich Hamlet | League | | | Match report |
| 30-08-1999 | Slough Town | 4-0 | Billericay Town | League | | | Match report |
| 28-08-1999 | Ebbsfleet United | 1-0 | Slough Town | League | | | Match report |
| 23-08-1999 | Carshalton Ath | 1-1 | Slough Town | League | | | Match report |
| 21-08-1999 | Slough Town | 3-0 | Purfleet | League | | | Match report |
| 17-08-1999 | Slough Town | 1-1 | Hendon | League | | | Match report |
| 14-08-1999 | St Albans City | 0-1 | Slough Town | League | | | Match report |
Slough Town FC is not responsible for content produced on external websites | Copyright Slough Town FC 2023