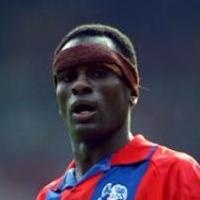 Position:
Defender
Achievements
1980/81 Isthmian League, Premier Division - winner
1980/81 Berks & Bucks Senior Cup - winner
1980/81 Isthmian League Cup - winner
Bio
Eric Young is a retired footballer, who was a strong, commanding 6ft 2 centre half nicknamed "Ninja" due to his ever-present brown headband.
Young started his career at non-league Southall and then moved to Slough Town where his commanding style was noticed by a number of league clubs; he played for Slough for 3 seasons.
Young was eventually signed by Brighton & Hove Albion in 1982. During the period in non league football Young continued with his accountancy training.
He made his league debut in the first match of the 1982/83 season and went on to make 126 appearances for the club, scoring 10 goals before transferring to Wimbledon for £70,000 on the eve of the 1987/88 season. He became a firm favourite at Wimbledon and had a formidable central defensive partnership with Andy Thorn.
After 99 appearances and 9 goals for the club he was sold to Crystal Palace for £850,000. At Palace he played some of the best football of his career, and resumed the Thorn/Young defensive partnership that had been so successful with Wimbledon. Eric was a mainstay in the team that finished 3rd in the old first division (now the Premiership) and kept his place in the side until a public fall out with manager Alan Smith at the beginning of the ill fated 1994/1995 season that saw him dropped until the final five matches of that campaign.
After 161 appearances and 15 goals for Palace he then joined Wolverhampton Wanderers on a free transfer, where he played 4 league games scoring 2 goals before retiring, and is now working as an Accountant in Slough.
Eric qualified to play for Wales due to being born in Singapore but holding a British passport. He opted to represent Wales, despite having no family connection to that country. He made his début for Wales aged 30 versus Costa Rica in a friendly game at Ninian Park in 1990, alongside fellow débutantes Gary Speed and Paul Bodin. Despite his late start, Eric won 21 caps.
Young remains a fans favourite, appreciated by those who followed his clubs and Wales for his committed, no-holds-barred approach to football.
Mens
| First Appearance | Appearances | First Goal | Goals |
| --- | --- | --- | --- |
| 27-03-1979 vs Hendon | 144 | 31-03-1979 vs Tooting | 23 |
History
| Match Date | Home | Score | Away | Competition | Goals | Cards | |
| --- | --- | --- | --- | --- | --- | --- | --- |
| 23-10-1982 | Slough Town | 0-0 | Dulwich Hamlet | League | | | Match report |
| 19-10-1982 | Staines Town | 0-2 | Slough Town | League | | | Match report |
| 16-10-1982 | Slough Town | 3-0 | Frome Town | FA Cup | | | Match report |
| 12-10-1982 | Slough Town | 2-0 | Bognor Regis Town | League | | | Match report |
| 09-10-1982 | Walthamstow | 0-1 | Slough Town | League | | | Match report |
| 05-10-1982 | Slough Town | 2-0 | Basingstoke Town | FA Cup | | | Match report |
| 02-10-1982 | Basingstoke Town | 2-2 | Slough Town | FA Cup | | | Match report |
| 28-09-1982 | Slough Town | 2-1 | Aylesbury United | B&B Senior Cup | | | Match report |
| 25-09-1982 | Woking | 1-1 | Slough Town | League | | | Match report |
| 18-09-1982 | Slough Town | 2-0 | Salisbury City | FA Cup | | | Match report |
| 14-09-1982 | Leatherhead | 0-1 | Slough Town | League | | | Match report |
| 11-09-1982 | Slough Town | 5-0 | Tooting | League | | | Match report |
| 04-09-1982 | Slough Town | 2-0 | Bishop's Stortford | League | | | Match report |
| 30-08-1982 | Tooting | 1-0 | Slough Town | Hennessey Cup | | | Match report |
| 28-08-1982 | Slough Town | 4-2 | Harrow Borough | League | | | Match report |
| 24-08-1982 | Slough Town | 6-0 | Hendon | League | | | Match report |
| 21-08-1982 | Slough Town | 2-1 | Billericay Town | League | | | Match report |
| 01-05-1982 | Tooting | 3-0 | Slough Town | League | | | Match report |
| 24-04-1982 | Bromley | 4-0 | Slough Town | League | | | Match report |
| 20-04-1982 | Slough Town | 0-2 | Hendon | League | | | Match report |
| 17-04-1982 | Leytonstone Ilford | 2-1 | Slough Town | League | | | Match report |
| 15-04-1982 | Slough Town | 2-0 | Sutton United | League | | | Match report |
| 10-04-1982 | Harlow Town | 1-1 | Slough Town | League | | | Match report |
| 16-03-1982 | Wycombe Wanderers | 3-2 | Slough Town | League | | | Match report |
| 13-03-1982 | Slough Town | 0-1 | Billericay Town | League | | | Match report |
| 16-02-1982 | Slough Town | 4-1 | Hayes | League | | | Match report |
| 13-02-1982 | Slough Town | 2-0 | Harlow Town | League | | | Match report |
| 08-02-1982 | Harrow Borough | 2-2 | Slough Town | League | | | Match report |
| 06-02-1982 | Slough Town | 1-0 | Rossendale | FA Trophy | | | Match report |
| 02-02-1982 | Slough Town | 2-0 | Aylesbury United | B&B Senior Cup | | | Match report |
| 03-11-1981 | Hayes | 2-1 | Slough Town | League | | | Match report |
| 31-10-1981 | Sutton United | 2-1 | Slough Town | League | | | Match report |
| 27-10-1981 | Slough Town | 3-3 | Wycombe Wanderers | League | | | Match report |
| 24-10-1981 | Slough Town | 1-0 | Leatherhead | League | | | Match report |
| 20-10-1981 | Woking | 1-1 | Slough Town | League | | | Match report |
| 06-10-1981 | Leatherhead | 0-0 | Slough Town | League | | | Match report |
| 03-10-1981 | Slough Town | 1-5 | Wokingham Town | FA Cup | | | Match report |
| 29-09-1981 | Slough Town | 3-0 | Windsor & Eton | Hennessey Cup | | | Match report |
| 22-09-1981 | Slough Town | 1-1 | Harrow Borough | League | | | Match report |
| 19-09-1981 | Slough Town | 2-1 | Chalfont St Peter | FA Cup | | | Match report |
| 15-09-1981 | Hitchin Town | 0-4 | Slough Town | League | | | Match report |
| 12-09-1981 | Slough Town | 1-3 | Bromley | League | | | Match report |
| 08-09-1981 | Slough Town | 4-2 | Wootton BC | FA Cup | | | Match report |
| 05-09-1981 | Wootton BC | 2-2 | Slough Town | FA Cup | | | Match report |
| 31-08-1981 | Harwich | 0-1 | Slough Town | Hennessey Cup | | | Match report |
| 29-08-1981 | Slough Town | 0-0 | Barking | League | | | Match report |
| 07-05-1981 | Sutton United | 1-2 | Slough Town | League | | | Match report |
| 04-05-1981 | Walthamstow | 2-4 | Slough Town | Isthmian Lge Cup | | | Match report |
| 28-04-1981 | Slough Town | 3-2 | Sutton United | League | | | Match report |
| 25-04-1981 | Slough Town | 6-0 | Carshalton Ath | League | | | Match report |
| 22-04-1981 | Slough Town | 3-0 | Walthamstow | League | | | Match report |
| 20-04-1981 | Milton Keynes City | 0-2 | Slough Town | B&B Senior Cup | | | Match report |
| 18-04-1981 | Slough Town | 1-2 | Hendon | League | | | Match report |
| 14-04-1981 | Hitchin Town | 1-0 | Slough Town | League | | | Match report |
| 11-04-1981 | Enfield | 0-0 | Slough Town | League | | | Match report |
| 04-04-1981 | Slough Town | 4-0 | Croydon | League | | | Match report |
| 31-03-1981 | Slough Town | 2-1 | Bishop's Stortford | Isthmian Lge Cup | | | Match report |
| 28-03-1981 | Slough Town | 0-0 | Enfield | League | | | Match report |
| 24-03-1981 | Bishop's Stortford | 1-1 | Slough Town | Isthmian Lge Cup | | | Match report |
| 21-03-1981 | Slough Town | 2-1 | Aylesbury United | B&B Senior Cup | | | Match report |
| 07-03-1981 | Hendon | 1-1 | Slough Town | League | | | Match report |
| 21-02-1981 | Barking | 1-1 | Slough Town | League | | | Match report |
| 17-02-1981 | Slough Town | 1-0 | Enfield | Isthmian Lge Cup | | | Match report |
| 14-02-1981 | Slough Town | 5-1 | Dulwich Hamlet | League | | | Match report |
| 07-02-1981 | Leatherhead | 0-2 | Slough Town | League | | | Match report |
| 31-01-1981 | Didcot Town | 1-3 | Slough Town | B&B Senior Cup | | | Match report |
| 24-01-1981 | Dagenham | 0-2 | Slough Town | League | | | Match report |
| 10-01-1981 | Dartford | 4-1 | Slough Town | FA Trophy | | | Match report |
| 01-01-1981 | Slough Town | 2-1 | Wycombe Wanderers | League | | | Match report |
| 27-12-1980 | Wycombe Wanderers | 1-4 | Slough Town | League | | | Match report |
| 23-12-1980 | Slough Town | 3-1 | Staines Town | League | | | Match report |
| 16-12-1980 | Boreham Wood | 1-0 | Slough Town | League | | | Match report |
| 13-12-1980 | Slough Town | 2-1 | Bromley | League | | | Match report |
| 09-12-1980 | Leytonstone Ilford | 3-3 | Slough Town | League | | | Match report |
| 06-12-1980 | Slough Town | 1-0 | Barking | League | | | Match report |
| 29-11-1980 | Slough Town | 6-0 | Wokingham Town | FA Trophy | | | Match report |
| 26-11-1980 | Newbury Town | 0-3 | Slough Town | B&B Senior Cup | | | Match report |
| 22-11-1980 | Croydon | 1-1 | Slough Town | League | | | Match report |
| 18-11-1980 | Slough Town | 3-1 | Barton Rovers | Isthmian Lge Cup | | | Match report |
| 11-11-1980 | Woking | 2-0 | Slough Town | League | | | Match report |
| 08-11-1980 | Slough Town | 1-0 | Leatherhead | League | | | Match report |
| 03-11-1980 | Harrow Borough | 2-0 | Slough Town | League | | | Match report |
| 01-11-1980 | Walthamstow | 0-2 | Slough Town | League | | | Match report |
| 28-10-1980 | Slough Town | 3-0 | Hayes | League | | | Match report |
| 25-10-1980 | Dulwich Hamlet | 0-1 | Slough Town | League | | | Match report |
| 21-10-1980 | Staines Town | 0-2 | Slough Town | League | | | Match report |
| 18-10-1980 | Slough Town | 0-1 | Barton Rovers | FA Cup | | | Match report |
| 11-10-1980 | Slough Town | 2-0 | Wantage Town | B&B Senior Cup | | | Match report |
| 04-10-1980 | Hounslow | 1-3 | Slough Town | FA Cup | | | Match report |
| 30-09-1980 | Slough Town | 0-0 | Hitchin Town | League | | | Match report |
| 27-09-1980 | Slough Town | 2-1 | Leytonstone Ilford | League | | | Match report |
| 23-09-1980 | Slough Town | 3-1 | Dagenham | Isthmian Lge Cup | | | Match report |
| 20-09-1980 | Slough Town | 2-1 | Tooting | League | | | Match report |
| 13-09-1980 | Slough Town | 5-1 | Ware | FA Cup | | | Match report |
| 09-09-1980 | Slough Town | 1-1 | Woking | League | | | Match report |
| 30-08-1980 | Bromley | 1-1 | Slough Town | League | | | Match report |
| 23-08-1980 | Carshalton Ath | 0-3 | Slough Town | League | | | Match report |
| 19-08-1980 | Hayes | 0-0 | Slough Town | League | | | Match report |
| 16-08-1980 | Slough Town | 3-3 | Dagenham | League | | | Match report |
| 26-04-1980 | Slough Town | 2-2 | Woking | League | | | Match report |
| 21-04-1980 | Harrow Borough | 1-1 | Slough Town | League | | | Match report |
| 19-04-1980 | Hayes | 0-1 | Slough Town | League | | | Match report |
| 07-04-1980 | Walthamstow | 3-0 | Slough Town | League | | | Match report |
| 05-04-1980 | Slough Town | 10-0 | Hitchin Town | League | | | Match report |
| 29-03-1980 | Hitchin Town | 1-1 | Slough Town | League | | | Match report |
| 22-03-1980 | Slough Town | 0-1 | Walthamstow | League | | | Match report |
| 15-03-1980 | Hendon | 0-1 | Slough Town | League | | | Match report |
| 11-03-1980 | Staines Town | 2-0 | Slough Town | League | | | Match report |
| 08-03-1980 | Slough Town | 2-1 | Carshalton Ath | League | | | Match report |
| 04-03-1980 | Carshalton Ath | 1-1 | Slough Town | League | | | Match report |
| 26-02-1980 | Slough Town | 0-1 | Aylesbury United | B&B Senior Cup | | | Match report |
| 23-02-1980 | Slough Town | 2-1 | Barking | League | | | Match report |
| 16-02-1980 | Dagenham | 0-2 | Slough Town | League | | | Match report |
| 02-02-1980 | Slough Town | 2-1 | Boreham Wood | League | | | Match report |
| 26-01-1980 | Slough Town | 1-0 | Chesham United | B&B Senior Cup | | | Match report |
| 19-01-1980 | Tilbury | 1-3 | Slough Town | League | | | Match report |
| 12-01-1980 | Hertford Town | 3-0 | Slough Town | FA Trophy | | | Match report |
| 05-01-1980 | Slough Town | 2-1 | Wycombe Wanderers | League | | | Match report |
| 29-12-1979 | Harlow Town | 2-1 | Slough Town | League | | | Match report |
| 26-12-1979 | Slough Town | 2-1 | Hayes | League | | | Match report |
| 18-12-1979 | Dulwich Hamlet | 5-2 | Slough Town | Isthmian Lge Cup | | | Match report |
| 15-12-1979 | Yeovil Town | 1-0 | Slough Town | FA Cup | | | Match report |
| 08-12-1979 | Sutton United | 3-1 | Slough Town | League | | | Match report |
| 04-12-1979 | Slough Town | 2-2 | Leatherhead | League | | | Match report |
| 01-12-1979 | Slough Town | 1-2 | Tooting | League | | | Match report |
| 24-11-1979 | Slough Town | 3-1 | Hungerford Town | FA Cup | | | Match report |
| 21-11-1979 | Oxford City | 0-0 | Slough Town | League | | | Match report |
| 17-11-1979 | Slough Town | 2-1 | Croydon | League | | | Match report |
| 13-11-1979 | Slough Town | 3-1 | Wycombe Wanderers | B&B Senior Cup | | | Match report |
| 10-11-1979 | Dulwich Hamlet | 1-1 | Slough Town | League | | | Match report |
| 06-11-1979 | Enfield | 5-0 | Slough Town | League | | | Match report |
| 03-11-1979 | Slough Town | 4-0 | Tooting | FA Cup | | | Match report |
| 30-10-1979 | Slough Town | 4-0 | Chesham United | Isthmian Lge Cup | | | Match report |
| 27-10-1979 | Slough Town | 2-1 | Hendon | League | | | Match report |
| 23-10-1979 | Slough Town | 1-3 | Tilbury | League | | | Match report |
| 20-10-1979 | Walton & Hersham | 0-2 | Slough Town | FA Cup | | | Match report |
| 21-08-1979 | Slough Town | 1-1 | Oxford City | League | | | Match report |
| 18-08-1979 | Slough Town | 0-2 | Enfield | League | | | Match report |
| 01-05-1979 | Hendon | 3-2 | Slough Town | League | | | Match report |
| 24-04-1979 | Slough Town | 1-1 | Staines Town | League | | | Match report |
| 12-04-1979 | Enfield | 0-1 | Slough Town | League | | | Match report |
| 07-04-1979 | Hayes | 1-1 | Slough Town | League | | | Match report |
| 31-03-1979 | Slough Town | 5-0 | Tooting | League | | | Match report |
| 27-03-1979 | Slough Town | 2-1 | Hendon | League | | | Match report |
Slough Town FC is not responsible for content produced on external websites | Copyright Slough Town FC 2023