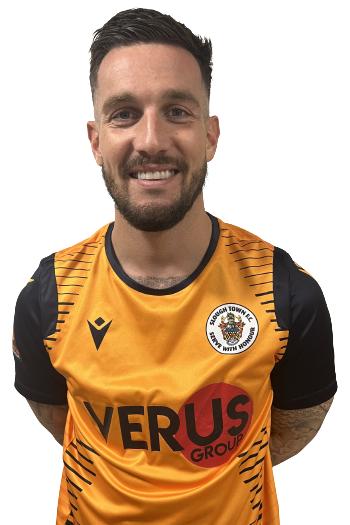 Position:
Midfielder
Achievements
2013/14 Won promotion to Southern League, Premier Division
2016/17 Golden Boot
2016/17 Slough Town Supporters Trust Player of the Season (jointly won with Simon Dunn)
2017/18 Won promotion to National League South
2017/18 Golden Boot
2017/18 Goal of the Season – vs Chesham United
Bio
Left sided midfielder James Dobson joined Slough from North Leigh in March 2014.
'Dobbo' joined the Rebels at the back end of season 2013/14 from North Leigh in time for the club's promotion-winning run in. He was a player that Neil Baker and Jon Underwood liked from his days at Burnham.
He is a quick 26-year old who has good work rate and a lovely left foot. He integrated well into the squad, and went on to make 46 appearances for the club, scoring 4 goals (with another two at Edgar Street expunged from the records after Hereford United were wound up).
James rejoined Slough in the summer of 2016 after having spells with Harrow Borough and Aylesbury. He felt he had unfinished business with the club, and started the 2016/17 season in fantastic goal scoring form. He maintained this form over the course of the season and won the Golden Boot award for top goalscorer, after netting 21 times.
He has picked up where he left off in the 2017/18 season, leading the goal charts early on finishing again with the golden boot.
Previous clubs include Oxford United, Oxford City, Witney Town, Burnham, North Leigh, Harrow Borough and Aylesbury.
Mens
| First Appearance | Appearances | First Goal | Goals |
| --- | --- | --- | --- |
| 25-03-2014 vs North Greenford Utd | 190 | 09-09-2014 vs Poole Town | 62 |
History
| Match Date | Home | Score | Away | Competition | Goals | Cards | |
| --- | --- | --- | --- | --- | --- | --- | --- |
| 11-03-2023 | Slough Town | 4-0 | Hungerford Town | League | | | Match report |
| 18-02-2023 | Slough Town | 0-3 | Welling United | League | | | Match report |
| 11-02-2023 | Hampton & Richmond | 0-1 | Slough Town | League | | | Match report |
| 17-09-2022 | Slough Town | 1-3 | Worthing | FA Cup | | | Match report |
| 03-09-2022 | Slough Town | 2-1 | Hampton & Richmond | League | | | Match report |
| 05-01-2019 | Torquay United | 4-0 | Slough Town | League | | | Match report |
| 01-01-2019 | Slough Town | 0-1 | Wealdstone | League | | | Match report |
| 29-12-2018 | Dulwich Hamlet | 0-1 | Slough Town | League | | | Match report |
| 22-12-2018 | Slough Town | 3-1 | East Thurrock United | League | | | Match report |
| 11-12-2018 | Slough Town | 1-2 | Truro City | League | | | Match report |
| 08-12-2018 | Dartford | 1-1 | Slough Town | League | | | Match report |
| 02-12-2018 | Slough Town | 0-1 | Gillingham | FA Cup | | | Match report |
| 24-11-2018 | Slough Town | 2-3 | Weston-super-Mare | FA Trophy | | | Match report |
| 20-11-2018 | Slough Town | 1-1 | Sutton United | FA Cup | | | Match report |
| 13-11-2018 | Slough Town | 6-3 | Chalfont St Peter | B&B Senior Cup | | | Match report |
| 10-11-2018 | Sutton United | 0-0 | Slough Town | FA Cup | | | Match report |
| 03-11-2018 | Slough Town | 1-0 | Concord Rangers | League | | | Match report |
| 27-10-2018 | St Albans City | 3-2 | Slough Town | League | | | Match report |
| 20-10-2018 | Eastbourne Borough | 1-2 | Slough Town | FA Cup | | | Match report |
| 13-10-2018 | Welling United | 2-1 | Slough Town | League | | | Match report |
| 09-10-2018 | Bristol Manor Farm | 0-4 | Slough Town | FA Cup | | | Match report |
| 06-10-2018 | Slough Town | 2-2 | Bristol Manor Farm | FA Cup | | | Match report |
| 29-09-2018 | Slough Town | 2-0 | Hungerford Town | League | | | Match report |
| 25-09-2018 | Sholing | 0-3 | Slough Town | FA Cup | | | Match report |
| 22-09-2018 | Slough Town | 2-2 | Sholing | FA Cup | | | Match report |
| 15-09-2018 | Eastbourne Borough | 2-4 | Slough Town | League | | | Match report |
| 08-09-2018 | Slough Town | 2-0 | Oxford City | League | | | Match report |
| 01-09-2018 | Chelmsford City | 0-1 | Slough Town | League | | | Match report |
| 27-08-2018 | Slough Town | 1-2 | Dulwich Hamlet | League | | | Match report |
| 25-08-2018 | East Thurrock United | 1-0 | Slough Town | League | | | Match report |
| 18-08-2018 | Slough Town | 0-0 | Torquay United | League | | | Match report |
| 14-08-2018 | Slough Town | 2-1 | Weston-super-Mare | League | | | Match report |
| 04-08-2018 | Slough Town | 1-1 | Hampton & Richmond | League | | | Match report |
| 07-05-2018 | King's Lynn Town | 1-2 | Slough Town | Play Off | | | Match report |
| 02-05-2018 | Slough Town | 3-1 | Kettering Town | Play Off | | | Match report |
| 28-04-2018 | Slough Town | 2-1 | Royston Town | League | | | Match report |
| 24-04-2018 | Royston Town | 0-4 | Slough Town | League | | | Match report |
| 21-04-2018 | Dorchester Town | 0-1 | Slough Town | League | | | Match report |
| 18-04-2018 | Slough Town | 1-4 | MK Dons | B&B Senior Cup | | | Match report |
| 16-04-2018 | Hitchin Town | 0-1 | Slough Town | League | | | Match report |
| 14-04-2018 | Slough Town | 2-2 | King's Lynn Town | League | | | Match report |
| 10-04-2018 | Biggleswade Town | 3-5 | Slough Town | League | | | Match report |
| 07-04-2018 | Stratford Town | 0-1 | Slough Town | League | | | Match report |
| 04-04-2018 | Frome Town | 0-4 | Slough Town | League | | | Match report |
| 02-04-2018 | Slough Town | 2-1 | Chesham United | League | | | Match report |
| 27-03-2018 | Weymouth | 1-0 | Slough Town | League | | | Match report |
| 24-03-2018 | Basingstoke Town | 1-4 | Slough Town | League | | | Match report |
| 20-03-2018 | St Ives Town | 1-4 | Slough Town | League | | | Match report |
| 17-03-2018 | Bishop's Stortford | 2-2 | Slough Town | League | | | Match report |
| 13-03-2018 | King's Lynn Town | 1-0 | Slough Town | League | | | Match report |
| 10-03-2018 | Slough Town | 2-1 | Frome Town | League | | | Match report |
| 06-03-2018 | Slough Town | 1-1 | Basingstoke Town | League | | | Match report |
| 24-02-2018 | Slough Town | 2-1 | St Neots Town | League | | | Match report |
| 17-02-2018 | Kings Langley | 0-2 | Slough Town | League | | | Match report |
| 10-02-2018 | Slough Town | 0-1 | Banbury United | League | | | Match report |
| 06-02-2018 | Slough Town | 4-0 | Redditch United | League | | | Match report |
| 03-02-2018 | Tiverton Town | 3-0 | Slough Town | League | | | Match report |
| 30-01-2018 | Slough Town | 1-1 | Kings Langley | League | | | Match report |
| 27-01-2018 | Slough Town | 3-2 | Merthyr Town | League | | | Match report |
| 16-01-2018 | Slough Town | 2-0 | Dorchester Town | League | | | Match report |
| 06-01-2018 | Slough Town | 2-2 | Hereford | League | | | Match report |
| 26-12-2017 | Slough Town | 5-1 | Farnborough | League | | | Match report |
| 23-12-2017 | Slough Town | 1-1 | Stratford Town | League | | | Match report |
| 09-12-2017 | Slough Town | 2-4 | Bishop's Stortford | League | | | Match report |
| 04-12-2017 | Slough Town | 0-4 | Rochdale | FA Cup | | | Match report |
| 28-11-2017 | Slough Town | 1-1 | Hendon | FA Trophy | | | Match report |
| 25-11-2017 | Hendon | 1-1 | Slough Town | FA Trophy | | | Match report |
| 21-11-2017 | Banbury United | 2-2 | Slough Town | League | | | Match report |
| 18-11-2017 | Slough Town | 3-0 | Weymouth | League | | | Match report |
| 11-11-2017 | Maldon & Tiptree | 1-4 | Slough Town | FA Trophy | | | Match report |
| 04-11-2017 | Gainsborough Trinity | 0-6 | Slough Town | FA Cup | | | Match report |
| 28-10-2017 | Kidlington | 1-4 | Slough Town | FA Trophy | | | Match report |
| 24-10-2017 | Slough Town | 5-1 | Gosport Borough | League | | | Match report |
| 21-10-2017 | Kettering Town | 0-0 | Slough Town | League | | | Match report |
| 17-10-2017 | Slough Town | 2-0 | Tiverton Town | League | | | Match report |
| 14-10-2017 | Slough Town | 1-0 | Folkestone Invicta | FA Cup | | | Match report |
| 10-10-2017 | Merthyr Town | 4-5 | Slough Town | League | | | Match report |
| 07-10-2017 | Slough Town | 2-1 | Biggleswade Town | League | | | Match report |
| 30-09-2017 | Slough Town | 2-1 | Poole Town | FA Cup | | | Match report |
| 26-09-2017 | Redditch United | 1-4 | Slough Town | League | | | Match report |
| 23-09-2017 | St Neots Town | 3-1 | Slough Town | League | | | Match report |
| 16-09-2017 | Slough Town | 3-2 | Dulwich Hamlet | FA Cup | | | Match report |
| 12-09-2017 | Slough Town | 4-0 | Hitchin Town | League | | | Match report |
| 09-09-2017 | Slough Town | 8-1 | Dunstable Town | League | | | Match report |
| 28-08-2017 | Farnborough | 1-2 | Slough Town | League | | | Match report |
| 26-08-2017 | Slough Town | 3-0 | St Ives Town | League | | | Match report |
| 19-08-2017 | Hereford | 0-1 | Slough Town | League | | | Match report |
| 15-08-2017 | Gosport Borough | 1-5 | Slough Town | League | | | Match report |
| 12-08-2017 | Slough Town | 1-2 | Kettering Town | League | | | Match report |
| 26-04-2017 | Leamington | 1-0 | Slough Town | Play Off | | | Match report |
| 17-04-2017 | Chesham United | 1-1 | Slough Town | League | | | Match report |
| 14-04-2017 | Slough Town | 0-2 | Cirencester Town | League | | | Match report |
| 08-04-2017 | Kettering Town | 3-0 | Slough Town | League | | | Match report |
| 01-04-2017 | Slough Town | 3-0 | King's Lynn Town | League | | | Match report |
| 25-03-2017 | Frome Town | 1-0 | Slough Town | League | | | Match report |
| 18-03-2017 | Slough Town | 4-1 | Cinderford Town | League | | | Match report |
| 14-03-2017 | St Neots Town | 1-1 | Slough Town | League | | | Match report |
| 11-03-2017 | Hitchin Town | 2-3 | Slough Town | League | | | Match report |
| 08-03-2017 | Biggleswade Town | 3-0 | Slough Town | League | | | Match report |
| 04-03-2017 | Slough Town | 3-2 | Basingstoke Town | League | | | Match report |
| 25-02-2017 | Dorchester Town | 0-4 | Slough Town | League | | | Match report |
| 21-02-2017 | Cinderford Town | 2-1 | Slough Town | League | | | Match report |
| 18-02-2017 | Slough Town | 1-0 | Merthyr Town | League | | | Match report |
| 11-02-2017 | Cambridge City | 3-4 | Slough Town | League | | | Match report |
| 07-02-2017 | Slough Town | 3-0 | Weymouth | League | | | Match report |
| 04-02-2017 | Slough Town | 1-0 | Dunstable Town | League | | | Match report |
| 28-01-2017 | Leamington | 0-6 | Slough Town | League | | | Match report |
| 21-01-2017 | Slough Town | 0-1 | Chippenham Town | League | | | Match report |
| 17-01-2017 | Maidenhead United | 4-2 | Slough Town | B&B Senior Cup | | | Match report |
| 07-01-2017 | St Ives Town | 2-0 | Slough Town | League | | | Match report |
| 02-01-2017 | Slough Town | 1-2 | Chesham United | League | | | Match report |
| 27-12-2016 | Hayes & Yeading United | 2-3 | Slough Town | League | | | Match report |
| 20-12-2016 | Slough Town | 3-0 | MK Dons | B&B Senior Cup | | | Match report |
| 17-12-2016 | Slough Town | 3-2 | Kettering Town | League | | | Match report |
| 06-12-2016 | Chippenham Town | 3-3 | Slough Town | League | | | Match report |
| 03-12-2016 | Slough Town | 1-2 | Frome Town | League | | | Match report |
| 29-11-2016 | Slough Town | 2-0 | Banbury United | League | | | Match report |
| 23-11-2016 | Northwood | 1-0 | Slough Town | League Cup | | | Match report |
| 22-11-2016 | Stratford Town | 1-2 | Slough Town | League | | | Match report |
| 19-11-2016 | Slough Town | 2-2 | Kings Langley | League | | | Match report |
| 15-11-2016 | Slough Town | 2-0 | Merthyr Town | FA Trophy | | | Match report |
| 12-11-2016 | Merthyr Town | 2-2 | Slough Town | FA Trophy | | | Match report |
| 05-11-2016 | Slough Town | 0-1 | Hitchin Town | League | | | Match report |
| 29-10-2016 | Slough Town | 4-1 | Bognor Regis Town | FA Trophy | | | Match report |
| 25-10-2016 | Slough Town | 2-1 | Dorchester Town | League | | | Match report |
| 22-10-2016 | Basingstoke Town | 4-1 | Slough Town | League | | | Match report |
| 18-10-2016 | Slough Town | 7-4 | Beaconsfield Town | B&B Senior Cup | | | Match report |
| 15-10-2016 | Merthyr Town | 1-1 | Slough Town | League | | | Match report |
| 11-10-2016 | Dunstable Town | 0-1 | Slough Town | League | | | Match report |
| 08-10-2016 | Slough Town | 1-0 | Cambridge City | League | | | Match report |
| 04-10-2016 | Slough Town | 9-2 | Ashford Town (Middx) | League Cup | | | Match report |
| 01-10-2016 | Slough Town | 2-3 | Dartford | FA Cup | | | Match report |
| 27-09-2016 | Slough Town | 2-0 | Leamington | League | | | Match report |
| 24-09-2016 | Slough Town | 3-0 | Biggleswade Town | League | | | Match report |
| 17-09-2016 | Cambridge City | 1-3 | Slough Town | FA Cup | | | Match report |
| 13-09-2016 | Weymouth | 0-1 | Slough Town | League | | | Match report |
| 10-09-2016 | Redditch United | 0-4 | Slough Town | League | | | Match report |
| 03-09-2016 | Slough Town | 6-1 | Chipstead | FA Cup | | | Match report |
| 29-08-2016 | Slough Town | 2-1 | Hayes & Yeading United | League | | | Match report |
| 20-08-2016 | Slough Town | 3-0 | St Ives Town | League | | | Match report |
| 16-08-2016 | Slough Town | 0-0 | Stratford Town | League | | | Match report |
| 13-08-2016 | Kings Langley | 2-3 | Slough Town | League | | | Match report |
| 09-08-2016 | Banbury United | 1-0 | Slough Town | League | | | Match report |
| 06-08-2016 | Slough Town | 2-0 | St Neots Town | League | | | Match report |
| 07-03-2015 | Slough Town | 0-4 | Cambridge City | League | | | Match report |
| 28-02-2015 | Redditch United | 4-0 | Slough Town | League | | | Match report |
| 14-02-2015 | Slough Town | 1-0 | Arlesey Town | League | | | Match report |
| 10-02-2015 | Histon | 0-0 | Slough Town | League | | | Match report |
| 31-01-2015 | Bideford | 2-0 | Slough Town | League | | | Match report |
| 24-01-2015 | Slough Town | 0-4 | Poole Town | League | | | Match report |
| 20-01-2015 | Slough Town | 2-2 | Burnham | League | | | Match report |
| 17-01-2015 | Slough Town | 3-0 | Weymouth | League | | | Match report |
| 01-01-2015 | Slough Town | 1-2 | Hungerford Town | League | | | Match report |
| 26-12-2014 | Chesham United | 0-0 | Slough Town | League | | | Match report |
| 13-12-2014 | Frome Town | 1-1 | Slough Town | League | | | Match report |
| 09-12-2014 | St Neots Town | 0-3 | Slough Town | League | | | Match report |
| 06-12-2014 | Slough Town | 0-3 | Dunstable Town | League | | | Match report |
| 02-12-2014 | Slough Town | 1-2 | Cirencester Town | League | | | Match report |
| 25-11-2014 | Slough Town | 2-2 | Chippenham Town | League | | | Match report |
| 22-11-2014 | Slough Town | 2-1 | Hitchin Town | League | | | Match report |
| 18-11-2014 | Merthyr Town | 3-2 | Slough Town | FA Trophy | | | Match report |
| 15-11-2014 | Slough Town | 1-1 | Merthyr Town | FA Trophy | | | Match report |
| 28-10-2014 | Biggleswade Town | 3-3 | Slough Town | League | | | Match report |
| 18-10-2014 | Cambridge City | 3-3 | Slough Town | League | | | Match report |
| 14-10-2014 | Egham Town | 4-2 | Slough Town | League Cup | | | Match report |
| 11-10-2014 | Slough Town | 1-7 | Redditch United | League | | | Match report |
| 07-10-2014 | Hungerford Town | 2-1 | Slough Town | B&B Senior Cup | | | Match report |
| 04-10-2014 | Arlesey Town | 1-0 | Slough Town | League | | | Match report |
| 01-10-2014 | Corby Town | 1-2 | Slough Town | League | | | Match report |
| 27-09-2014 | Truro City | 1-2 | Slough Town | League | | | Match report |
| 20-09-2014 | Slough Town | 4-1 | Bideford | League | | | Match report |
| 13-09-2014 | Slough Town | 1-2 | Ardley United | FA Cup | | | Match report |
| 09-09-2014 | Poole Town | 2-1 | Slough Town | League | | | Match report |
| 06-09-2014 | Weymouth | 3-2 | Slough Town | League | | | Match report |
| 30-08-2014 | Slough Town | 1-1 | Histon | League | | | Match report |
| 25-08-2014 | Slough Town | 0-3 | Chesham United | League | | | Match report |
| 23-08-2014 | Paulton Rovers | 2-2 | Slough Town | League | | | Match report |
| 19-08-2014 | Slough Town | 1-1 | Biggleswade Town | League | | | Match report |
| 16-08-2014 | Slough Town | 2-1 | Banbury United | League | | | Match report |
| 09-08-2014 | Burnham | 0-2 | Slough Town | League | | | Match report |
| 05-05-2014 | Kettering Town | 2-3 | Slough Town | Play Off | | | Match report |
| 29-04-2014 | Rugby Town | 0-3 | Slough Town | Play Off | | | Match report |
| 26-04-2014 | Slough Town | 1-0 | Chertsey Town | League | | | Match report |
| 21-04-2014 | Aylesbury | 3-1 | Slough Town | League | | | Match report |
| 19-04-2014 | Slough Town | 1-2 | Rugby Town | League | | | Match report |
| 12-04-2014 | Ashford Town (Middx) | 0-5 | Slough Town | League | | | Match report |
| 05-04-2014 | AFC Hayes | 0-1 | Slough Town | League | | | Match report |
| 03-04-2014 | Barton Rovers | 1-2 | Slough Town | League | | | Match report |
| 29-03-2014 | Slough Town | 2-1 | Royston Town | League | | | Match report |
| 25-03-2014 | North Greenford Utd | 1-7 | Slough Town | League | | | Match report |
Slough Town FC is not responsible for content produced on external websites | Copyright Slough Town FC 2023