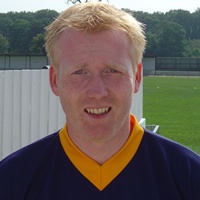 Position:
Management
Achievements
2004/05 Isthmian League Cup Winner
Bio
Versatile player who signed for the club from Oxford City.
Made 75 appearances in his time for the club and in the process moved onto the coaching staff. Eddie moved into the management side of the club with the departure of Graham Roberts when he became assistant manager to Steve Browne.
During this time, Eddie managed to find his feet on the coaching side and often took charge of the Capital League side. Following Browne's depature in the summer of 2003, Eddie took over as acting manager of the club and was confirmed as manager later in the season.
A successful 03/04 season under Eddie's leadership saw the club 'promoted' to the Ryman Premier Division, and in the following season, the club lifted the Bryco Cup and got through to the Second Round of the FA Cup, masterminding a victory over League One Walsall en-route.
Stood down from his position due to increasing work commitments.
Mens
| First Appearance | Appearances | First Goal | Goals |
| --- | --- | --- | --- |
| 01-09-1998 vs Ebbsfleet United | 75 | 08-09-1998 vs Abingdon | 4 |
History
| Match Date | Home | Score | Away | Competition | Goals | Cards | |
| --- | --- | --- | --- | --- | --- | --- | --- |
| 03-05-2003 | Berkhamsted Town | 3-1 | Slough Town | League | | | Match report |
| 30-11-2002 | Wembley | 2-2 | Slough Town | League | | | Match report |
| 27-04-2002 | Slough Town | 0-1 | Bognor Regis Town | League | | | Match report |
| 13-04-2002 | Slough Town | 0-1 | Bishop's Stortford | League | | | Match report |
| 25-08-2001 | Bromley | 0-3 | Slough Town | League | | | Match report |
| 21-08-2001 | Oxford City | 3-0 | Slough Town | League | | | Match report |
| 21-04-2001 | Harrow Borough | 1-0 | Slough Town | League | | | Match report |
| 19-04-2001 | Slough Town | 0-1 | Canvey Island | League | | | Match report |
| 28-08-2000 | Enfield | 1-1 | Slough Town | League | | | Match report |
| 29-04-2000 | Slough Town | 2-1 | Heybridge Swifts | League | | | Match report |
| 24-04-2000 | Basingstoke Town | 1-0 | Slough Town | League | | | Match report |
| 26-10-1999 | Slough Town | 4-1 | Staines Town | Full Members Cup | | | Match report |
| 23-10-1999 | Chesham United | 3-0 | Slough Town | League | | | Match report |
| 18-10-1999 | Cambridge City | 3-2 | Slough Town | FA Cup | | | Match report |
| 16-10-1999 | Slough Town | 1-1 | Cambridge City | FA Cup | | | Match report |
| 09-10-1999 | Slough Town | 0-2 | Hendon | FA Trophy | | | Match report |
| 05-10-1999 | Walton & Hersham | 2-2 | Slough Town | League | | | Match report |
| 02-10-1999 | Slough Town | 1-0 | Carshalton Ath | FA Cup | | | Match report |
| 14-09-1999 | Slough Town | 1-0 | Grays Athletic | Full Members Cup | | | Match report |
| 11-09-1999 | Slough Town | 1-2 | Canvey Island | League | | | Match report |
| 07-09-1999 | Farnborough Town | 0-1 | Slough Town | League | | | Match report |
| 30-08-1999 | Slough Town | 4-0 | Billericay Town | League | | | Match report |
| 28-08-1999 | Ebbsfleet United | 1-0 | Slough Town | League | | | Match report |
| 23-08-1999 | Carshalton Ath | 1-1 | Slough Town | League | | | Match report |
| 21-08-1999 | Slough Town | 3-0 | Purfleet | League | | | Match report |
| 17-08-1999 | Slough Town | 1-1 | Hendon | League | | | Match report |
| 14-08-1999 | St Albans City | 0-1 | Slough Town | League | | | Match report |
| 01-05-1999 | Slough Town | 2-1 | Bromley | League | | | Match report |
| 27-04-1999 | Slough Town | 4-0 | Ebbsfleet United | League | | | Match report |
| 24-04-1999 | Basingstoke Town | 0-2 | Slough Town | League | | | Match report |
| 17-04-1999 | Slough Town | 1-1 | Carshalton Ath | League | | | Match report |
| 10-04-1999 | Enfield | 2-1 | Slough Town | League | | | Match report |
| 03-04-1999 | Heybridge Swifts | 2-1 | Slough Town | League | | | Match report |
| 27-03-1999 | Aldershot Town | 1-1 | Slough Town | League | | | Match report |
| 20-03-1999 | Slough Town | 1-1 | Hendon | League | | | Match report |
| 13-03-1999 | Billericay Town | 1-2 | Slough Town | League | | | Match report |
| 06-03-1999 | Slough Town | 0-1 | Dagenham & R. | League | | | Match report |
| 02-03-1999 | Boreham Wood | 1-0 | Slough Town | League | | | Match report |
| 27-02-1999 | Harrow Borough | 0-2 | Slough Town | League | | | Match report |
| 23-02-1999 | Maidenhead United | 4-2 | Slough Town | Isthmian Lge Cup | | | Match report |
| 20-02-1999 | Slough Town | 1-0 | St Albans City | League | | | Match report |
| 16-02-1999 | Carshalton Ath | 0-3 | Slough Town | League | | | Match report |
| 13-02-1999 | Slough Town | 3-0 | Hampton | League | | | Match report |
| 06-02-1999 | Purfleet | 0-4 | Slough Town | League | | | Match report |
| 30-01-1999 | Slough Town | 1-2 | Sutton United | League | | | Match report |
| 25-01-1999 | Slough Town | 1-2 | Rushden & Diamonds | FA Trophy | | | Match report |
| 23-01-1999 | Bishop's Stortford | 0-1 | Slough Town | League | | | Match report |
| 09-01-1999 | Chesham United | 1-0 | Slough Town | League | | | Match report |
| 02-01-1999 | Slough Town | 0-1 | Heybridge Swifts | League | | | Match report |
| 28-12-1998 | Dulwich Hamlet | 2-2 | Slough Town | League | | | Match report |
| 19-12-1998 | Slough Town | 0-3 | Boreham Wood | League | | | Match report |
| 12-12-1998 | Aylesbury United | 0-0 | Slough Town | League | | | Match report |
| 08-12-1998 | Slough Town | 1-3 | Burnham | B&B Senior Cup | | | Match report |
| 01-12-1998 | Staines Town | 1-3 | Slough Town | Isthmian Lge Cup | | | Match report |
| 28-11-1998 | Bromley | 2-1 | Slough Town | League | | | Match report |
| 24-11-1998 | Slough Town | 1-1 | Macclesfield Town | FA Cup | | | Match report |
| 21-11-1998 | Slough Town | 3-1 | Baldock Town | FA Trophy | | | Match report |
| 17-11-1998 | Slough Town | 0-1 | Basingstoke Town | League | | | Match report |
| 14-11-1998 | Macclesfield Town | 2-2 | Slough Town | FA Cup | | | Match report |
| 09-11-1998 | Slough Town | 3-2 | Crawley Town | FA Cup | | | Match report |
| 07-11-1998 | Slough Town | 2-2 | Enfield | League | | | Match report |
| 03-11-1998 | Crawley Town | 0-0 | Slough Town | FA Cup | | | Match report |
| 24-10-1998 | Hendon | 5-2 | Slough Town | League | | | Match report |
| 17-10-1998 | Slough Town | 3-1 | Halstead Town | FA Cup | | | Match report |
| 10-10-1998 | Slough Town | 0-3 | Harrow Borough | League | | | Match report |
| 06-10-1998 | Fleet Town | 0-2 | Slough Town | FA Cup | | | Match report |
| 03-10-1998 | Slough Town | 1-1 | Fleet Town | FA Cup | | | Match report |
| 26-09-1998 | Dagenham & R. | 3-0 | Slough Town | League | | | Match report |
| 22-09-1998 | Slough Town | 1-1 | Billericay Town | League | | | Match report |
| 19-09-1998 | Slough Town | 2-3 | Purfleet | League | | | Match report |
| 15-09-1998 | Hampton | 2-2 | Slough Town | League | | | Match report |
| 12-09-1998 | Slough Town | 1-0 | Aylesbury United | League | | | Match report |
| 08-09-1998 | Abingdon | 0-1 | Slough Town | Isthmian Lge Cup | | | Match report |
| 05-09-1998 | Walton & Hersham | 2-0 | Slough Town | League | | | Match report |
| 01-09-1998 | Ebbsfleet United | 1-2 | Slough Town | League | | | Match report |
Slough Town FC is not responsible for content produced on external websites | Copyright Slough Town FC 2023