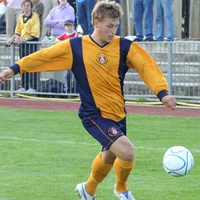 Position:
Midfielder
Bio
Creative and hard working midfielder who caught the eye in a series of Capital League reserve matches before joining up with the first team from Flackwell Heath.
Mason's best position was in the middle of the park in an attacking role, but was also capable of playing on either flank. Following three seasons with Slough, moved to Staines Town.
Netted seven times in his spell with the club. Has since featured for Burnham and Marlow, where he was club captain.
Mens
| First Appearance | Appearances | First Goal | Goals |
| --- | --- | --- | --- |
| 29-01-2005 vs Cheshunt | 83 | 19-04-2005 vs Yeading | 7 |
History
| Match Date | Home | Score | Away | Competition | Goals | Cards | |
| --- | --- | --- | --- | --- | --- | --- | --- |
| 04-09-2012 | Slough Town | 4-0 | Woodford United | League | | | Match report |
| 27-08-2012 | Slough Town | 1-1 | Beaconsfield Town | League | | | Match report |
| 25-08-2012 | Slough Town | 4-2 | Corinthian | FA Cup | | | Match report |
| 22-11-2006 | Slough Town | 1-2 | Aylesbury United | B&B Senior Cup | | | Match report |
| 18-11-2006 | Worthing | 2-2 | Slough Town | League | | | Match report |
| 11-11-2006 | Slough Town | 0-2 | Heybridge Swifts | League | | | Match report |
| 28-10-2006 | Boreham Wood | 6-0 | Slough Town | League | | | Match report |
| 21-10-2006 | Leighton Town | 4-1 | Slough Town | FA Trophy | | | Match report |
| 17-10-2006 | Staines Town | 1-2 | Slough Town | League | | | Match report |
| 14-10-2006 | Slough Town | 2-0 | Billericay Town | League | | | Match report |
| 10-10-2006 | Slough Town | 0-4 | Ashford Town (Middx) | Ryman League Cup | | | Match report |
| 07-10-2006 | Ramsgate | 2-1 | Slough Town | League | | | Match report |
| 30-09-2006 | Farnborough Town | 2-0 | Slough Town | FA Cup | | | Match report |
| 26-09-2006 | Slough Town | 0-2 | Carshalton Ath | League | | | Match report |
| 23-09-2006 | Slough Town | 0-2 | Folkestone Invicta | League | | | Match report |
| 16-09-2006 | Cobham | 1-2 | Slough Town | FA Cup | | | Match report |
| 12-09-2006 | Arlesey Town | 1-3 | Slough Town | Ryman League Cup | | | Match report |
| 09-09-2006 | Tonbridge Angels | 3-2 | Slough Town | League | | | Match report |
| 05-09-2006 | Slough Town | 0-0 | AFC Wimbledon | League | | | Match report |
| 02-09-2006 | Bromley | 4-0 | Slough Town | League | | | Match report |
| 28-08-2006 | Slough Town | 1-3 | Horsham | League | | | Match report |
| 26-08-2006 | Margate | 2-1 | Slough Town | League | | | Match report |
| 22-08-2006 | Harrow Borough | 0-2 | Slough Town | League | | | Match report |
| 19-08-2006 | Slough Town | 0-1 | Leyton | League | | | Match report |
| 29-04-2006 | Slough Town | 1-2 | Heybridge Swifts | League | | | Match report |
| 22-04-2006 | Harrow Borough | 2-1 | Slough Town | League | | | Match report |
| 17-04-2006 | Slough Town | 3-3 | Windsor & Eton | League | | | Match report |
| 14-04-2006 | Braintree Town | 2-1 | Slough Town | League | | | Match report |
| 08-04-2006 | Slough Town | 2-0 | Folkestone Invicta | League | | | Match report |
| 01-04-2006 | Staines Town | 2-1 | Slough Town | League | | | Match report |
| 25-03-2006 | Slough Town | 0-3 | Worthing | League | | | Match report |
| 22-03-2006 | Slough Town | 3-1 | Fisher Ath | Ryman League Cup | | | Match report |
| 18-03-2006 | Maldon Town | 0-2 | Slough Town | League | | | Match report |
| 13-03-2006 | Fisher Ath | 5-2 | Slough Town | Ryman League Cup | | | Match report |
| 11-03-2006 | Slough Town | 0-4 | Fisher Ath | League | | | Match report |
| 04-03-2006 | Hendon | 1-1 | Slough Town | League | | | Match report |
| 28-02-2006 | MK Dons | 6-1 | Slough Town | B&B Senior Cup | | | Match report |
| 25-02-2006 | Chelmsford City | 2-0 | Slough Town | League | | | Match report |
| 18-02-2006 | Slough Town | 3-2 | Wealdstone | League | | | Match report |
| 11-02-2006 | Walton & Hersham | 0-1 | Slough Town | League | | | Match report |
| 28-01-2006 | AFC Wimbledon | 2-2 | Slough Town | League | | | Match report |
| 21-01-2006 | Slough Town | 2-2 | Margate | League | | | Match report |
| 18-01-2006 | Slough Town | 1-1 | Chesham United | B&B Senior Cup | | | Match report |
| 14-01-2006 | Leyton | 1-2 | Slough Town | League | | | Match report |
| 07-01-2006 | Billericay Town | 0-2 | Slough Town | League | | | Match report |
| 02-01-2006 | Slough Town | 0-1 | Hampton & Richmond | League | | | Match report |
| 26-12-2005 | Windsor & Eton | 0-3 | Slough Town | League | | | Match report |
| 19-12-2005 | Leatherhead | 0-2 | Slough Town | Ryman League Cup | | | Match report |
| 17-12-2005 | Heybridge Swifts | 1-0 | Slough Town | League | | | Match report |
| 10-12-2005 | Slough Town | 5-2 | Harrow Borough | League | | | Match report |
| 03-12-2005 | Bromley | 2-3 | Slough Town | League | | | Match report |
| 28-11-2005 | Folkestone Invicta | 3-0 | Slough Town | League | | | Match report |
| 26-11-2005 | Slough Town | 0-2 | Walton & Hersham | League | | | Match report |
| 19-11-2005 | Fisher Ath | 1-2 | Slough Town | League | | | Match report |
| 08-11-2005 | Slough Town | 3-2 | Redbridge | Ryman League Cup | | | Match report |
| 05-11-2005 | Slough Town | 0-2 | Hendon | League | | | Match report |
| 29-10-2005 | Wealdstone | 2-2 | Slough Town | League | | | Match report |
| 25-10-2005 | Redbridge | 1-4 | Slough Town | League | | | Match report |
| 22-10-2005 | Slough Town | 0-1 | Chelmsford City | League | | | Match report |
| 16-10-2005 | Slough Town | 1-3 | Croydon Athletic | FA Trophy | | | Match report |
| 11-10-2005 | Slough Town | 1-2 | Staines Town | League | | | Match report |
| 04-10-2005 | Worthing | 4-2 | Slough Town | League | | | Match report |
| 01-10-2005 | Slough Town | 4-1 | Maldon Town | League | | | Match report |
| 24-09-2005 | Wroxham | 2-0 | Slough Town | FA Cup | | | Match report |
| 30-04-2005 | Worthing | 1-4 | Slough Town | League | | | Match report |
| 26-04-2005 | Slough Town | 1-3 | Heybridge Swifts | League | | | Match report |
| 23-04-2005 | Slough Town | 1-1 | Northwood | League | | | Match report |
| 21-04-2005 | Folkestone Invicta | 3-1 | Slough Town | League | | | Match report |
| 19-04-2005 | Yeading | 3-3 | Slough Town | League | | | Match report |
| 16-04-2005 | Slough Town | 0-6 | Billericay Town | League | | | Match report |
| 12-04-2005 | Slough Town | 1-0 | Staines Town | League | | | Match report |
| 09-04-2005 | Hendon | 0-0 | Slough Town | League | | | Match report |
| 07-04-2005 | Slough Town | 1-3 | Hendon | League | | | Match report |
| 05-04-2005 | Slough Town | 2-3 | Kingstonian | League | | | Match report |
| 02-04-2005 | Slough Town | 0-1 | Hampton & Richmond | League | | | Match report |
| 28-03-2005 | Windsor & Eton | 0-4 | Slough Town | League | | | Match report |
| 26-03-2005 | Slough Town | 2-0 | Tonbridge Angels | League | | | Match report |
| 18-03-2005 | Wealdstone | 1-1 | Slough Town | League | | | Match report |
| 15-03-2005 | Heybridge Swifts | 1-2 | Slough Town | Ryman League Cup | | | Match report |
| 12-03-2005 | Slough Town | 0-2 | Chelmsford City | League | | | Match report |
| 08-03-2005 | Slough Town | 3-1 | Windsor & Eton | League | | | Match report |
| 01-02-2005 | Wycombe Wanderers | 3-0 | Slough Town | B&B Senior Cup | | | Match report |
| 29-01-2005 | Slough Town | 2-0 | Cheshunt | League | | | Match report |
Slough Town FC is not responsible for content produced on external websites | Copyright Slough Town FC 2023