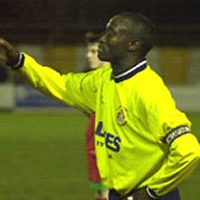 Position:
Defender
Bio
Veteran defender who joined the club from league football.
Had previous playing experience with Reading and Brighton before dropping into non-league football. One of a number of Rebels players with links to Reading and was part of the Reading side which was nearly shocked by Slough in the FA Cup match in the early nineties.
Played alongside by Steve Daly and Steve Stott during his time at Slough and also chipped in with a number of vital goals over his two seasons with the club. Netted eight times in his seventy five appearances.
Only 5 ft 11in, but McPherson made up for his lack of height with athleticism and was good in the air. McPherson was signed for Northampton Town from West Ham United, where he started as an apprentice, for £15,000 in January 1986. He made 216 appearances for the Cobblers before leaving in August 1990, to join first division side Reading where he played for nine years. He ended his career at Brighton & Hove Albion and was player with Slough Town before returning to Reading as a coach.
Mens
| First Appearance | Appearances | First Goal | Goals |
| --- | --- | --- | --- |
| 19-08-2000 vs Ebbsfleet United | 75 | 12-09-2000 vs Flackwell Heath | 8 |
History
| Match Date | Home | Score | Away | Competition | Goals | Cards | |
| --- | --- | --- | --- | --- | --- | --- | --- |
| 27-04-2002 | Slough Town | 0-1 | Bognor Regis Town | League | | | Match report |
| 20-04-2002 | Staines Town | 0-1 | Slough Town | League | | | Match report |
| 13-04-2002 | Slough Town | 0-1 | Bishop's Stortford | League | | | Match report |
| 06-04-2002 | Dulwich Hamlet | 0-0 | Slough Town | League | | | Match report |
| 01-04-2002 | Windsor & Eton | 3-3 | Slough Town | League | | | Match report |
| 30-03-2002 | Slough Town | 3-0 | Bromley | League | | | Match report |
| 23-03-2002 | Slough Town | 1-2 | Ford Utd | League | | | Match report |
| 19-03-2002 | Maidenhead United | 3-2 | Slough Town | B&B Senior Cup | | | Match report |
| 16-03-2002 | Aylesbury United | 4-0 | Slough Town | League | | | Match report |
| 09-03-2002 | Slough Town | 0-0 | Whyteleafe | League | | | Match report |
| 23-02-2002 | Slough Town | 3-0 | Uxbridge | League | | | Match report |
| 19-02-2002 | Slough Town | 4-1 | Abingdon Town | B&B Senior Cup | | | Match report |
| 16-02-2002 | Harlow Town | 1-4 | Slough Town | League | | | Match report |
| 02-02-2002 | Northwood | 1-1 | Slough Town | League | | | Match report |
| 22-01-2002 | Slough Town | 3-0 | Windsor & Eton | League | | | Match report |
| 19-01-2002 | Carshalton Ath | 2-1 | Slough Town | League | | | Match report |
| 12-01-2002 | Slough Town | 6-0 | Wealdstone | League | | | Match report |
| 05-01-2002 | Worthing | 0-3 | Slough Town | League | | | Match report |
| 01-01-2002 | Yeading | 0-0 | Slough Town | League | | | Match report |
| 29-12-2001 | Slough Town | 1-2 | Oxford City | League | | | Match report |
| 22-12-2001 | Slough Town | 0-1 | Hitchin Town | Ryman League Cup | | | Match report |
| 15-12-2001 | Walton & Hersham | 1-1 | Slough Town | League | | | Match report |
| 11-12-2001 | Slough Town | 1-0 | Bracknell Town | B&B Senior Cup | | | Match report |
| 08-12-2001 | Slough Town | 2-1 | Northwood | League | | | Match report |
| 27-11-2001 | Wembley | 4-6 | Slough Town | Ryman League Cup | | | Match report |
| 24-11-2001 | Tooting & Mitcham Utd | 1-1 | Slough Town | League | | | Match report |
| 27-10-2001 | Slough Town | 3-2 | Dulwich Hamlet | League | | | Match report |
| 23-10-2001 | Slough Town | 4-0 | Harlow Town | League | | | Match report |
| 20-10-2001 | Bishop's Stortford | 3-2 | Slough Town | League | | | Match report |
| 16-10-2001 | Slough Town | 3-4 | Aylesbury United | League | | | Match report |
| 13-10-2001 | Ford Utd | 0-2 | Slough Town | League | | | Match report |
| 02-10-2001 | Slough Town | 1-1 | Thame United | League | | | Match report |
| 29-09-2001 | Whyteleafe | 0-2 | Slough Town | League | | | Match report |
| 25-09-2001 | Uxbridge | 3-1 | Slough Town | League | | | Match report |
| 22-09-2001 | Slough Town | 1-1 | Carshalton Ath | League | | | Match report |
| 08-09-2001 | Wealdstone | 2-1 | Slough Town | League | | | Match report |
| 04-09-2001 | Slough Town | 0-1 | Worthing | League | | | Match report |
| 01-09-2001 | Lewes | 3-0 | Slough Town | FA Cup | | | Match report |
| 27-08-2001 | Slough Town | 3-3 | Yeading | League | | | Match report |
| 18-08-2001 | Slough Town | 0-3 | Walton & Hersham | League | | | Match report |
| 05-05-2001 | Chesham United | 2-0 | Slough Town | League | | | Match report |
| 28-04-2001 | Slough Town | 3-1 | Carshalton Ath | League | | | Match report |
| 24-04-2001 | Slough Town | 2-0 | Ebbsfleet United | League | | | Match report |
| 19-04-2001 | Slough Town | 0-1 | Canvey Island | League | | | Match report |
| 16-04-2001 | Slough Town | 1-0 | Maidenhead United | League | | | Match report |
| 14-04-2001 | Farnborough Town | 1-1 | Slough Town | League | | | Match report |
| 10-04-2001 | Slough Town | 2-3 | Billericay Town | League | | | Match report |
| 07-04-2001 | Slough Town | 1-1 | Dulwich Hamlet | League | | | Match report |
| 02-04-2001 | Croydon | 4-1 | Slough Town | League | | | Match report |
| 24-02-2001 | St Albans City | 1-0 | Slough Town | League | | | Match report |
| 20-02-2001 | Maidenhead United | 2-0 | Slough Town | B&B Senior Cup | | | Match report |
| 17-02-2001 | Slough Town | 1-0 | Hendon | League | | | Match report |
| 10-02-2001 | Aldershot Town | 1-0 | Slough Town | League | | | Match report |
| 03-02-2001 | Slough Town | 3-1 | Enfield | League | | | Match report |
| 30-01-2001 | Carshalton Ath | 0-1 | Slough Town | League | | | Match report |
| 13-01-2001 | Purfleet | 2-0 | Slough Town | League | | | Match report |
| 06-01-2001 | Basingstoke Town | 3-2 | Slough Town | League | | | Match report |
| 26-12-2000 | Maidenhead United | 1-0 | Slough Town | League | | | Match report |
| 23-12-2000 | Slough Town | 0-2 | Farnborough Town | League | | | Match report |
| 16-12-2000 | Grays Athletic | 1-0 | Slough Town | League | | | Match report |
| 21-10-2000 | Hitchin Town | 3-0 | Slough Town | League | | | Match report |
| 14-10-2000 | Slough Town | 1-2 | St Albans City | League | | | Match report |
| 07-10-2000 | Heybridge Swifts | 3-2 | Slough Town | League | | | Match report |
| 30-09-2000 | Tonbridge Angels | 2-0 | Slough Town | FA Cup | | | Match report |
| 23-09-2000 | Slough Town | 1-0 | Croydon | League | | | Match report |
| 19-09-2000 | Sutton United | 1-1 | Slough Town | League | | | Match report |
| 16-09-2000 | Slough Town | 1-1 | Hampton & Richmond | League | | | Match report |
| 12-09-2000 | Flackwell Heath | 1-3 | Slough Town | League Cup | | | Match report |
| 09-09-2000 | Hendon | 2-1 | Slough Town | League | | | Match report |
| 05-09-2000 | Slough Town | 0-1 | Aldershot Town | League | | | Match report |
| 02-09-2000 | Canvey Island | 1-0 | Slough Town | League | | | Match report |
| 28-08-2000 | Enfield | 1-1 | Slough Town | League | | | Match report |
| 26-08-2000 | Slough Town | 3-2 | Purfleet | League | | | Match report |
| 22-08-2000 | Slough Town | 1-0 | Grays Athletic | League | | | Match report |
| 19-08-2000 | Ebbsfleet United | 1-2 | Slough Town | League | | | Match report |
Slough Town FC is not responsible for content produced on external websites | Copyright Slough Town FC 2023