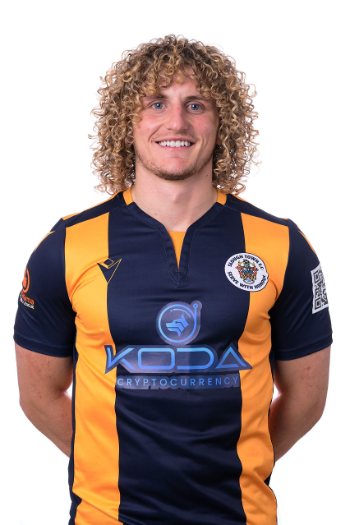 Position:
Midfielder
Achievements
2021/22 Players' Player of the Season
2021/22 Slough Town Supporters Trust Player of the Season
Bio
Aaron is a 25-year-old midfielder who signed for the Rebels in November 2019 after a spell at Basingstoke Town.
He was a member of the Reading academy and played in the Championship for the Royals as an 18-year-old, at the time representing England at U19 and U20 level, and was tipped for a move to the very top level.
Loan spells at Dundee United and Boreham Wood followed, before Aaron ruptured the medial collateral ligament in his left knee whilst on trial with Aldershot Town.
He is now back to full fitness and will be an important member of the squad this season.
Mens
| First Appearance | Appearances | First Goal | Goals |
| --- | --- | --- | --- |
| 16-11-2019 vs Chippenham Town | 78 | 04-09-2021 vs Welling United | 8 |
History
| Match Date | Home | Score | Away | Competition | Goals | Cards | |
| --- | --- | --- | --- | --- | --- | --- | --- |
| 01-01-2023 | Slough Town | 2-2 | Oxford City | League | | | Match report |
| 26-12-2022 | Oxford City | 1-3 | Slough Town | League | | | Match report |
| 20-12-2022 | Slough Town | 0-1 | Taunton Town | FA Trophy | | | Match report |
| 10-12-2022 | Slough Town | 1-3 | Havant & Waterlooville | League | | | Match report |
| 06-12-2022 | Slough Town | 0-0 | Concord Rangers | League | | | Match report |
| 03-12-2022 | Ebbsfleet United | 2-0 | Slough Town | League | | | Match report |
| 26-11-2022 | Slough Town | 1-5 | Eastbourne Borough | League | | | Match report |
| 29-10-2022 | Worthing | 2-2 | Slough Town | League | | | Match report |
| 25-10-2022 | Slough Town | 1-2 | Dartford | League | | | Match report |
| 22-10-2022 | Slough Town | 2-3 | Weymouth | League | | | Match report |
| 15-10-2022 | Dover Athletic | 3-0 | Slough Town | League | | | Match report |
| 08-10-2022 | Slough Town | 0-2 | Hemel Hempstead Town | League | | | Match report |
| 27-09-2022 | Chippenham Town | 0-1 | Slough Town | League | | | Match report |
| 24-09-2022 | Braintree Town | 1-1 | Slough Town | League | | | Match report |
| 17-09-2022 | Slough Town | 1-3 | Worthing | FA Cup | | | Match report |
| 13-09-2022 | Slough Town | 1-0 | Taunton Town | League | | | Match report |
| 03-09-2022 | Slough Town | 2-1 | Hampton & Richmond | League | | | Match report |
| 29-08-2022 | Bath City | 5-1 | Slough Town | League | | | Match report |
| 27-08-2022 | Slough Town | 3-1 | Cheshunt | League | | | Match report |
| 20-08-2022 | Dulwich Hamlet | 1-2 | Slough Town | League | | | Match report |
| 16-08-2022 | Slough Town | 0-2 | Chelmsford City | League | | | Match report |
| 13-08-2022 | Slough Town | 1-1 | Tonbridge Angels | League | | | Match report |
| 06-08-2022 | Havant & Waterlooville | 3-1 | Slough Town | League | | | Match report |
| 02-05-2022 | Hampton & Richmond | 3-1 | Slough Town | League | | | Match report |
| 26-04-2022 | Concord Rangers | 1-1 | Slough Town | League | | | Match report |
| 23-04-2022 | Chelmsford City | 1-1 | Slough Town | League | | | Match report |
| 18-04-2022 | Slough Town | 2-0 | Hemel Hempstead Town | League | | | Match report |
| 15-04-2022 | Tonbridge Angels | 0-1 | Slough Town | League | | | Match report |
| 09-04-2022 | Slough Town | 2-2 | Eastbourne Borough | League | | | Match report |
| 02-04-2022 | Dorking Wanderers | 5-0 | Slough Town | League | | | Match report |
| 26-03-2022 | Slough Town | 0-2 | Braintree Town | League | | | Match report |
| 19-03-2022 | Dulwich Hamlet | 1-1 | Slough Town | League | | | Match report |
| 12-03-2022 | Slough Town | 2-1 | Maidstone United | League | | | Match report |
| 26-02-2022 | Slough Town | 1-1 | Havant & Waterlooville | League | | | Match report |
| 19-02-2022 | Slough Town | 2-1 | Welling United | League | | | Match report |
| 12-02-2022 | Ebbsfleet United | 1-2 | Slough Town | League | | | Match report |
| 08-02-2022 | Slough Town | 1-2 | Dulwich Hamlet | League | | | Match report |
| 05-02-2022 | Slough Town | 2-2 | Hungerford Town | League | | | Match report |
| 29-01-2022 | St Albans City | 1-0 | Slough Town | League | | | Match report |
| 25-01-2022 | Slough Town | 1-1 | Billericay Town | League | | | Match report |
| 15-01-2022 | York City | 1-0 | Slough Town | FA Trophy | | | Match report |
| 08-01-2022 | Chippenham Town | 6-1 | Slough Town | League | | | Match report |
| 02-01-2022 | Slough Town | 2-2 | Oxford City | League | | | Match report |
| 28-12-2021 | Slough Town | 4-1 | Hampton & Richmond | League | | | Match report |
| 26-12-2021 | Oxford City | 3-2 | Slough Town | League | | | Match report |
| 18-12-2021 | Slough Town | 3-1 | Eastbourne Borough | FA Trophy | | | Match report |
| 11-12-2021 | Hemel Hempstead Town | 2-2 | Slough Town | League | | | Match report |
| 04-12-2021 | Slough Town | 2-1 | Tonbridge Angels | League | | | Match report |
| 27-11-2021 | Slough Town | 1-0 | Havant & Waterlooville | FA Trophy | | | Match report |
| 20-11-2021 | Eastbourne Borough | 3-1 | Slough Town | League | | | Match report |
| 13-11-2021 | Slough Town | 2-1 | Dorking Wanderers | League | | | Match report |
| 06-11-2021 | Maidstone United | 0-1 | Slough Town | League | | | Match report |
| 30-10-2021 | Slough Town | 1-1 | Concord Rangers | League | | | Match report |
| 26-10-2021 | Slough Town | 2-0 | Bath City | League | | | Match report |
| 23-10-2021 | Havant & Waterlooville | 1-2 | Slough Town | League | | | Match report |
| 16-10-2021 | Billericay Town | 2-1 | Slough Town | League | | | Match report |
| 09-10-2021 | Slough Town | 1-3 | Ebbsfleet United | League | | | Match report |
| 25-09-2021 | Hungerford Town | 1-1 | Slough Town | League | | | Match report |
| 18-09-2021 | Slough Town | 1-3 | Whitehawk | FA Cup | | | Match report |
| 11-09-2021 | Slough Town | 2-3 | St Albans City | League | | | Match report |
| 04-09-2021 | Welling United | 2-2 | Slough Town | League | | | Match report |
| 19-01-2021 | Slough Town | 0-2 | Ebbsfleet United | League | | | Match report |
| 16-01-2021 | Slough Town | 3-2 | Braintree Town | League | | | Match report |
| 15-12-2020 | Slough Town | 2-2 | Dartford | FA Trophy | | | Match report |
| 09-12-2020 | Havant & Waterlooville | 0-0 | Slough Town | League | | | Match report |
| 21-11-2020 | Dartford | 2-0 | Slough Town | League | | | Match report |
| 17-11-2020 | Slough Town | 1-3 | Hungerford Town | League | | | Match report |
| 14-11-2020 | Billericay Town | 2-0 | Slough Town | League | | | Match report |
| 07-11-2020 | Slough Town | 2-3 | Maidstone United | League | | | Match report |
| 31-10-2020 | Slough Town | 2-1 | Bath City | League | | | Match report |
| 17-10-2020 | Slough Town | 4-4 | Welling United | League | | | Match report |
| 13-10-2020 | Slough Town | 0-1 | Bath City | FA Cup | | | Match report |
| 10-10-2020 | Dorking Wanderers | 3-1 | Slough Town | League | | | Match report |
| 06-10-2020 | Slough Town | 1-0 | Hemel Hempstead Town | League | | | Match report |
| 03-10-2020 | Dartford | 0-1 | Slough Town | FA Cup | | | Match report |
| 19-07-2020 | Slough Town | 0-3 | Dartford | Play Off | | | Match report |
| 10-03-2020 | Slough Town | 2-2 | MK Dons | B&B Senior Cup | | | Match report |
| 16-11-2019 | Chippenham Town | 0-3 | Slough Town | League | | | Match report |
Slough Town FC is not responsible for content produced on external websites | Copyright Slough Town FC 2023