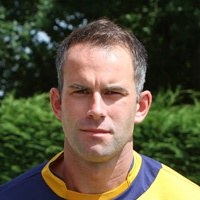 Position:
Defender
Achievements
2012/13, 2011/12 Players' Player of the Season
2012/13 Manager's Player of the Season
2012/13 Supporters' Player of the Season
2013/14 Supporters' Player of the Season runner-up
2013/14 Won promotion to Southern League, Premier Division
Bio
Defender David Woozley joined in February 2011 following the demise of local rivals Windsor & Eton, where he was club captain.
David signed for Windsor & Eton in the 2009/10 season and helped them to win promotion to the Zamaretto Premier Division. He later became club captain and played 33 games this season before the Royalists' demise which saw the club wound up.
Woozley began his career as a trainee with Crystal Palace, turning professional in August 1997. He played 22 times in the league and six times in cup games the following season. He then had spells at various other Football League clubs, most notably Torquay United, where he played 60 games.
In 2006, he became joint manager of Crawley Town after a spell at Oxford United, but the following year, he announced that he was to leave Crawley and retire from professional football, aged 27, to take up a job with the Fire Service. Woozley then continued his non-league football career with Farnborough, before spells with Staines Town and Carshalton Athletic.
He has now played over 150 games for the club and played a vital role in the club winning promotion last season.
Mens
| First Appearance | Appearances | First Goal | Goals |
| --- | --- | --- | --- |
| 08-02-2011 vs Cambridge City | 155 | 01-11-2011 vs Chesham United | 6 |
History
| Match Date | Home | Score | Away | Competition | Goals | Cards | |
| --- | --- | --- | --- | --- | --- | --- | --- |
| 05-05-2014 | Kettering Town | 2-3 | Slough Town | Play Off | | | Match report |
| 29-04-2014 | Rugby Town | 0-3 | Slough Town | Play Off | | | Match report |
| 26-04-2014 | Slough Town | 1-0 | Chertsey Town | League | | | Match report |
| 12-04-2014 | Ashford Town (Middx) | 0-5 | Slough Town | League | | | Match report |
| 05-04-2014 | AFC Hayes | 0-1 | Slough Town | League | | | Match report |
| 03-04-2014 | Barton Rovers | 1-2 | Slough Town | League | | | Match report |
| 29-03-2014 | Slough Town | 2-1 | Royston Town | League | | | Match report |
| 25-03-2014 | North Greenford Utd | 1-7 | Slough Town | League | | | Match report |
| 22-03-2014 | Slough Town | 4-1 | Leighton Town | League | | | Match report |
| 15-03-2014 | Daventry Town | 2-2 | Slough Town | League | | | Match report |
| 08-03-2014 | Slough Town | 1-0 | St Ives Town | League | | | Match report |
| 04-03-2014 | Slough Town | 1-3 | Egham Town | League | | | Match report |
| 01-03-2014 | Potters Bar Town | 0-3 | Slough Town | League | | | Match report |
| 22-02-2014 | Slough Town | 4-0 | Dunstable Town | League | | | Match report |
| 15-02-2014 | Slough Town | 5-3 | Aylesbury United | League | | | Match report |
| 04-02-2014 | Slough Town | 2-0 | Aylesbury | League | | | Match report |
| 28-01-2014 | Northwood | 0-2 | Slough Town | League | | | Match report |
| 18-01-2014 | Slough Town | 5-1 | Chalfont St Peter | League | | | Match report |
| 11-01-2014 | Marlow | 2-2 | Slough Town | League | | | Match report |
| 07-01-2014 | Burnham | 3-3 | Slough Town | League Cup | | | Match report |
| 30-11-2013 | Royston Town | 0-1 | Slough Town | League | | | Match report |
| 23-11-2013 | Slough Town | 3-1 | Daventry Town | League | | | Match report |
| 19-11-2013 | Slough Town | 3-0 | North Greenford Utd | League | | | Match report |
| 16-11-2013 | St Ives Town | 0-3 | Slough Town | League | | | Match report |
| 09-11-2013 | Slough Town | 4-3 | Potters Bar Town | League | | | Match report |
| 02-11-2013 | Leighton Town | 1-0 | Slough Town | League | | | Match report |
| 29-10-2013 | Chalfont St Peter | 0-1 | Slough Town | League | | | Match report |
| 26-10-2013 | Aylesbury United | 3-3 | Slough Town | League | | | Match report |
| 22-10-2013 | Slough Town | 2-1 | Marlow | League | | | Match report |
| 19-10-2013 | Slough Town | 1-2 | Merthyr Town | FA Trophy | | | Match report |
| 12-10-2013 | Maidenhead United | 1-3 | Slough Town | B&B Senior Cup | | | Match report |
| 05-10-2013 | Godalming Town | 1-2 | Slough Town | FA Trophy | | | Match report |
| 28-09-2013 | Egham Town | 2-2 | Slough Town | League | | | Match report |
| 24-09-2013 | Slough Town | 4-2 | Ashford Town (Middx) | League | | | Match report |
| 21-09-2013 | Slough Town | 4-0 | Barton Rovers | League | | | Match report |
| 07-09-2013 | Rugby Town | 0-4 | Slough Town | League | | | Match report |
| 03-09-2013 | Cirencester Town | 1-0 | Slough Town | FA Cup | | | Match report |
| 01-09-2013 | Slough Town | 1-1 | Cirencester Town | FA Cup | | | Match report |
| 26-08-2013 | Slough Town | 1-3 | Beaconsfield Town | League | | | Match report |
| 24-08-2013 | Kettering Town | 1-5 | Slough Town | League | | | Match report |
| 17-08-2013 | Slough Town | 0-1 | Northwood | League | | | Match report |
| 23-04-2013 | Thatcham Town | 0-2 | Slough Town | League | | | Match report |
| 20-04-2013 | North Greenford Utd | 1-3 | Slough Town | League | | | Match report |
| 18-04-2013 | Rugby Town | 0-4 | Slough Town | League | | | Match report |
| 16-04-2013 | Godalming Town | 1-2 | Slough Town | League | | | Match report |
| 13-04-2013 | Slough Town | 2-3 | Godalming Town | League | | | Match report |
| 11-04-2013 | Aylesbury | 1-4 | Slough Town | League | | | Match report |
| 09-04-2013 | Biggleswade Town | 2-1 | Slough Town | League | | | Match report |
| 06-04-2013 | Royston Town | 2-0 | Slough Town | League | | | Match report |
| 03-04-2013 | Northwood | 2-1 | Slough Town | League | | | Match report |
| 01-04-2013 | Burnham | 1-0 | Slough Town | League | | | Match report |
| 30-03-2013 | Slough Town | 5-1 | Leighton Town | League | | | Match report |
| 28-03-2013 | Barton Rovers | 2-2 | Slough Town | League | | | Match report |
| 26-03-2013 | Slough Town | 3-1 | Biggleswade Town | League | | | Match report |
| 16-03-2013 | Slough Town | 4-3 | Aylesbury | League | | | Match report |
| 12-03-2013 | Daventry Town | 3-1 | Slough Town | League | | | Match report |
| 09-03-2013 | Fleet Town | 2-5 | Slough Town | League | | | Match report |
| 06-03-2013 | Frome Town | 2-1 | Slough Town | Red Insure Cup | | | Match report |
| 02-03-2013 | Slough Town | 1-1 | Daventry Town | League | | | Match report |
| 26-02-2013 | AFC Hayes | 0-3 | Slough Town | League | | | Match report |
| 23-02-2013 | Ashford Town (Middx) | 0-1 | Slough Town | League | | | Match report |
| 21-02-2013 | Slough Town | 2-1 | Northwood | Red Insure Cup | | | Match report |
| 19-02-2013 | Slough Town | 3-0 | North Greenford Utd | League | | | Match report |
| 16-02-2013 | Slough Town | 0-1 | Chalfont St Peter | League | | | Match report |
| 12-01-2013 | Woodford United | 1-4 | Slough Town | League | | | Match report |
| 05-01-2013 | Slough Town | 1-3 | Uxbridge | League | | | Match report |
| 01-01-2013 | Beaconsfield Town | 1-1 | Slough Town | League | | | Match report |
| 26-12-2012 | Slough Town | 2-0 | Burnham | League | | | Match report |
| 08-12-2012 | Chertsey Town | 1-3 | Slough Town | League | | | Match report |
| 04-12-2012 | Aylesbury | 0-1 | Slough Town | Red Insure Cup | | | Match report |
| 20-11-2012 | Maidenhead United | 4-1 | Slough Town | B&B Senior Cup | | | Match report |
| 17-11-2012 | Chalfont St Peter | 1-2 | Slough Town | League | | | Match report |
| 13-11-2012 | Slough Town | 1-1 | Mansfield Town | FA Cup | | | Match report |
| 10-11-2012 | Slough Town | 6-1 | Ashford Town (Middx) | League | | | Match report |
| 06-11-2012 | Slough Town | 2-3 | Rugby Town | League | | | Match report |
| 03-11-2012 | Mansfield Town | 0-0 | Slough Town | FA Cup | | | Match report |
| 30-10-2012 | Leighton Town | 0-3 | Slough Town | League | | | Match report |
| 27-10-2012 | Slough Town | 3-1 | Fleet Town | League | | | Match report |
| 23-10-2012 | Gosport Borough | 1-2 | Slough Town | FA Cup | | | Match report |
| 21-10-2012 | Slough Town | 0-0 | Gosport Borough | FA Cup | | | Match report |
| 16-10-2012 | Chalfont St Peter | 0-1 | Slough Town | Red Insure Cup | | | Match report |
| 13-10-2012 | Slough Town | 3-1 | Barton Rovers | League | | | Match report |
| 09-10-2012 | Slough Town | 4-1 | Thatcham Town | League | | | Match report |
| 06-10-2012 | Margate | 0-1 | Slough Town | FA Cup | | | Match report |
| 29-09-2012 | Slough Town | 0-4 | Gosport Borough | FA Trophy | | | Match report |
| 23-09-2012 | Slough Town | 5-1 | Eastbourne Town | FA Cup | | | Match report |
| 08-09-2012 | Slough Town | 4-1 | Lingfield | FA Cup | | | Match report |
| 04-09-2012 | Slough Town | 4-0 | Woodford United | League | | | Match report |
| 01-09-2012 | Uxbridge | 3-2 | Slough Town | League | | | Match report |
| 27-08-2012 | Slough Town | 1-1 | Beaconsfield Town | League | | | Match report |
| 25-08-2012 | Slough Town | 4-2 | Corinthian | FA Cup | | | Match report |
| 21-08-2012 | Slough Town | 1-2 | Guildford City | League | | | Match report |
| 18-08-2012 | Slough Town | 5-0 | Northwood | League | | | Match report |
| 07-05-2012 | Woodford United | 1-2 | Slough Town | League | | | Match report |
| 03-05-2012 | Slough Town | 1-2 | Beaconsfield Town | Play Off | | | Match report |
| 21-04-2012 | Slough Town | 0-3 | Leighton Town | League | | | Match report |
| 14-04-2012 | Bedworth United | 5-3 | Slough Town | League | | | Match report |
| 09-04-2012 | Slough Town | 1-1 | Beaconsfield Town | League | | | Match report |
| 07-04-2012 | Bedfont Town | 1-2 | Slough Town | League | | | Match report |
| 31-03-2012 | Slough Town | 1-1 | Chalfont St Peter | League | | | Match report |
| 24-03-2012 | Ashford Town (Middx) | 1-2 | Slough Town | League | | | Match report |
| 17-03-2012 | Slough Town | 2-1 | Biggleswade Town | League | | | Match report |
| 13-03-2012 | Slough Town | 0-2 | North Greenford Utd | League | | | Match report |
| 10-03-2012 | St Neots Town | 0-1 | Slough Town | League | | | Match report |
| 06-03-2012 | Barton Rovers | 0-3 | Slough Town | League | | | Match report |
| 03-03-2012 | Slough Town | 1-0 | Northwood | League | | | Match report |
| 25-02-2012 | Daventry Town | 1-1 | Slough Town | League | | | Match report |
| 28-01-2012 | Slough Town | 3-0 | Chertsey Town | League | | | Match report |
| 24-01-2012 | Chesham United | 3-1 | Slough Town | B&B Senior Cup | | | Match report |
| 21-01-2012 | Aylesbury | 2-0 | Slough Town | League | | | Match report |
| 14-01-2012 | Slough Town | 2-0 | Uxbridge | League | | | Match report |
| 07-01-2012 | Burnham | 1-1 | Slough Town | League | | | Match report |
| 02-01-2012 | Slough Town | 3-0 | Marlow | League | | | Match report |
| 31-12-2011 | Fleet Town | 0-1 | Slough Town | League | | | Match report |
| 26-12-2011 | Beaconsfield Town | 0-2 | Slough Town | League | | | Match report |
| 17-12-2011 | Slough Town | 2-1 | Bedworth United | League | | | Match report |
| 10-12-2011 | Chalfont St Peter | 2-1 | Slough Town | League | | | Match report |
| 03-12-2011 | Slough Town | 2-1 | Bedfont Town | League | | | Match report |
| 26-11-2011 | Slough Town | 4-3 | Ashford Town (Middx) | League | | | Match report |
| 19-11-2011 | Biggleswade Town | 1-1 | Slough Town | League | | | Match report |
| 15-11-2011 | Northwood | 2-4 | Slough Town | League | | | Match report |
| 12-11-2011 | Slough Town | 2-0 | St Neots Town | League | | | Match report |
| 08-11-2011 | AFC Hayes | 1-1 | Slough Town | League | | | Match report |
| 05-11-2011 | Slough Town | 2-1 | Woodford United | League | | | Match report |
| 01-11-2011 | Slough Town | 1-2 | Chesham United | Red Insure Cup | | | Match report |
| 29-10-2011 | Leighton Town | 0-1 | Slough Town | League | | | Match report |
| 22-10-2011 | Slough Town | 4-0 | Rugby Town | League | | | Match report |
| 18-10-2011 | Hanworth Villa | 3-1 | Slough Town | FA Cup | | | Match report |
| 15-10-2011 | Slough Town | 2-2 | Hanworth Villa | FA Cup | | | Match report |
| 08-10-2011 | Gosport Borough | 3-0 | Slough Town | FA Trophy | | | Match report |
| 04-10-2011 | North Greenford Utd | 0-0 | Slough Town | League | | | Match report |
| 01-10-2011 | Slough Town | 3-2 | Boreham Wood | FA Cup | | | Match report |
| 24-09-2011 | Slough Town | 2-1 | Daventry Town | League | | | Match report |
| 17-09-2011 | Banbury United | 1-3 | Slough Town | FA Cup | | | Match report |
| 13-09-2011 | Slough Town | 2-1 | Barton Rovers | League | | | Match report |
| 10-09-2011 | Rugby Town | 2-0 | Slough Town | League | | | Match report |
| 20-08-2011 | Chertsey Town | 3-5 | Slough Town | League | | | Match report |
| 16-08-2011 | Uxbridge | 0-2 | Slough Town | League | | | Match report |
| 13-08-2011 | Slough Town | 0-0 | Aylesbury | League | | | Match report |
| 28-04-2011 | Hitchin Town | 4-1 | Slough Town | Play Off | | | Match report |
| 23-04-2011 | Slough Town | 3-2 | Biggleswade Town | League | | | Match report |
| 19-04-2011 | Slough Town | 2-0 | Ashford Town (Middx) | League | | | Match report |
| 16-04-2011 | Leighton Town | 3-1 | Slough Town | League | | | Match report |
| 09-04-2011 | Slough Town | 4-3 | Northwood | League | | | Match report |
| 05-04-2011 | Daventry Town | 1-2 | Slough Town | League | | | Match report |
| 02-04-2011 | Burnham | 0-2 | Slough Town | League | | | Match report |
| 26-03-2011 | Slough Town | 2-1 | Bedworth United | League | | | Match report |
| 22-03-2011 | Barton Rovers | 2-0 | Slough Town | League | | | Match report |
| 19-03-2011 | Slough Town | 2-1 | North Greenford Utd | League | | | Match report |
| 15-03-2011 | Woodford United | 1-3 | Slough Town | League | | | Match report |
| 12-03-2011 | Rugby Town | 1-0 | Slough Town | League | | | Match report |
| 08-03-2011 | AFC Hayes | 2-4 | Slough Town | League | | | Match report |
| 05-03-2011 | Slough Town | 2-1 | Soham Town Rangers | League | | | Match report |
| 12-02-2011 | Slough Town | 3-2 | Aylesbury | League | | | Match report |
| 08-02-2011 | Cambridge City | 3-2 | Slough Town | Red Insure Cup | | | Match report |
Slough Town FC is not responsible for content produced on external websites | Copyright Slough Town FC 2023