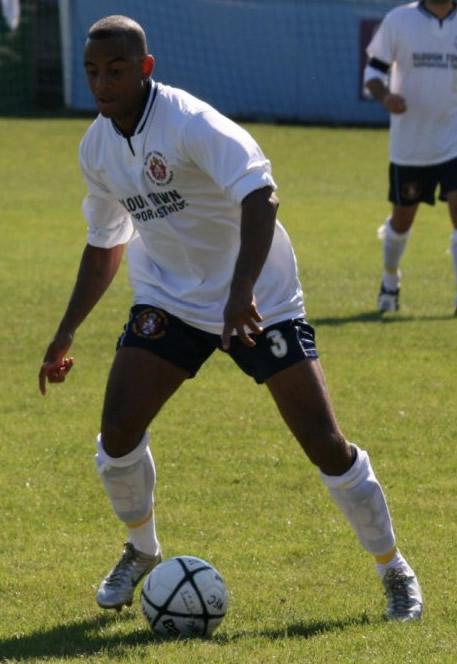 Position:
Midfielder
Bio
Left sided player who originally joined the club from Brentford in September 2000 following fellow Bee Leon Townley to the club.
Initially joined on loan and made four apperances for Slough in his opening spell with the club. Returned on a permanent basis in 2001 during which he made 24 appearances but an injury ruled him out for much of the 2002/3 campaign before CJ left the club to join Staines Town.
Had a third stint with the club under Darron Wilkinson in the 2007/8 season, but added just four appearances to his total before moving on.
James started his career at Brentford, making his debut in the Second Division against Stoke City in the 1–0 away loss on 8 April 2000, replacing Lloyd Owusu as a substitute. He left Brentford and joined Slough Town in 2000, where he stayed until 2003.
Whilst at Slough in 2002, James suffered a ruptured anterior cruciate ligament in pre-season friendly match with Maidenhead United. In June 2003, he joined former Slough manager Steve Browne and players Sammy Winston and Ryan Williams at Boreham Wood.
He left Boreham Wood along Veli Hakki and Dean Palmer in January 2004, when manager Steve Browne was sacked. James then moved to Burnham in March 2004, before moving to Conference South club Hayes where he was released in September 2004.
A move to Staines Town in February 2005 followed. James then played for Enfield Town, before moving to Kingstonian in early 2009. He played seven games for Kingstonian before leaving on 27 July 2009.
Mens
| First Appearance | Appearances | First Goal | Goals |
| --- | --- | --- | --- |
| 23-09-2000 vs Croydon | 46 | 24-10-2000 vs Aldershot Town | 4 |
History
| Match Date | Home | Score | Away | Competition | Goals | Cards | |
| --- | --- | --- | --- | --- | --- | --- | --- |
| 08-09-2007 | Slough Town | 2-1 | Andover | League | | | Match report |
| 25-08-2007 | Marlow | 2-0 | Slough Town | League | | | Match report |
| 21-08-2007 | Thatcham Town | 2-0 | Slough Town | League | | | Match report |
| 18-08-2007 | Slough Town | 1-2 | Taunton Town | League | | | Match report |
| 28-04-2003 | Slough Town | 2-1 | Wembley | League | | | Match report |
| 27-04-2002 | Slough Town | 0-1 | Bognor Regis Town | League | | | Match report |
| 20-04-2002 | Staines Town | 0-1 | Slough Town | League | | | Match report |
| 13-04-2002 | Slough Town | 0-1 | Bishop's Stortford | League | | | Match report |
| 06-04-2002 | Dulwich Hamlet | 0-0 | Slough Town | League | | | Match report |
| 30-03-2002 | Slough Town | 3-0 | Bromley | League | | | Match report |
| 09-03-2002 | Slough Town | 0-0 | Whyteleafe | League | | | Match report |
| 19-02-2002 | Slough Town | 4-1 | Abingdon Town | B&B Senior Cup | | | Match report |
| 16-02-2002 | Harlow Town | 1-4 | Slough Town | League | | | Match report |
| 12-02-2002 | Slough Town | 2-1 | Barking & East Ham Utd | League | | | Match report |
| 09-02-2002 | Slough Town | 3-1 | Tooting & Mitcham Utd | League | | | Match report |
| 02-02-2002 | Northwood | 1-1 | Slough Town | League | | | Match report |
| 22-01-2002 | Slough Town | 3-0 | Windsor & Eton | League | | | Match report |
| 19-01-2002 | Carshalton Ath | 2-1 | Slough Town | League | | | Match report |
| 01-01-2002 | Yeading | 0-0 | Slough Town | League | | | Match report |
| 29-12-2001 | Slough Town | 1-2 | Oxford City | League | | | Match report |
| 22-12-2001 | Slough Town | 0-1 | Hitchin Town | Ryman League Cup | | | Match report |
| 15-12-2001 | Walton & Hersham | 1-1 | Slough Town | League | | | Match report |
| 08-12-2001 | Slough Town | 2-1 | Northwood | League | | | Match report |
| 04-12-2001 | Bracknell Town | 1-1 | Slough Town | B&B Senior Cup | | | Match report |
| 27-11-2001 | Wembley | 4-6 | Slough Town | Ryman League Cup | | | Match report |
| 24-11-2001 | Tooting & Mitcham Utd | 1-1 | Slough Town | League | | | Match report |
| 17-11-2001 | Slough Town | 2-0 | Staines Town | League | | | Match report |
| 10-11-2001 | Bognor Regis Town | 0-0 | Slough Town | League | | | Match report |
| 03-11-2001 | Slough Town | 0-2 | Aylesbury United | FA Trophy | | | Match report |
| 27-10-2001 | Slough Town | 3-2 | Dulwich Hamlet | League | | | Match report |
| 23-10-2001 | Slough Town | 4-0 | Harlow Town | League | | | Match report |
| 20-10-2001 | Bishop's Stortford | 3-2 | Slough Town | League | | | Match report |
| 16-10-2001 | Slough Town | 3-4 | Aylesbury United | League | | | Match report |
| 13-10-2001 | Ford Utd | 0-2 | Slough Town | League | | | Match report |
| 02-10-2001 | Slough Town | 1-1 | Thame United | League | | | Match report |
| 29-09-2001 | Whyteleafe | 0-2 | Slough Town | League | | | Match report |
| 22-09-2001 | Slough Town | 1-1 | Carshalton Ath | League | | | Match report |
| 08-09-2001 | Wealdstone | 2-1 | Slough Town | League | | | Match report |
| 04-09-2001 | Slough Town | 0-1 | Worthing | League | | | Match report |
| 01-09-2001 | Lewes | 3-0 | Slough Town | FA Cup | | | Match report |
| 27-08-2001 | Slough Town | 3-3 | Yeading | League | | | Match report |
| 25-08-2001 | Bromley | 0-3 | Slough Town | League | | | Match report |
| 14-11-2000 | Marlow | 0-2 | Slough Town | League Cup | | | Match report |
| 04-11-2000 | Slough Town | 5-0 | Bishop's Stortford | FA Trophy | | | Match report |
| 24-10-2000 | Slough Town | 4-3 | Aldershot Town | Full Members Cup | | | Match report |
| 23-09-2000 | Slough Town | 1-0 | Croydon | League | | | Match report |
Slough Town FC is not responsible for content produced on external websites | Copyright Slough Town FC 2023