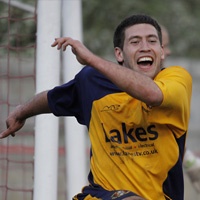 Position:
Forward
Achievements
2011/12, 2010/11 Golden Boot winner
2010/11 Players' Player of the Season
2010/11 Manager's Player of the Season
Bio
Electrician Danny Burnell joined Slough Town in September 2010 from Ryman Premier Wealdstone.
He wasted little time making an impact at Slough, scoring 28 times in his 40 appearances in season 2010/11, a total which included two hat-tricks and one four-goal haul against Beaconsfield. He finished the season as the club's top scorer, earning him the Golden Boot, Manager's player of the season, and Players' player of the season awards.
In 2011/12, Danny was part of the Slough team which ran St Neots Town close to the Southern League Division One Central title, scoring 24 goals in all competitions, a haul which again won him the club's Golden Boot award.
In 2012/13, he was part of the team which reached the FA Cup First Round. In January 2013 he broke into the top 20 all-time Rebels goalscorers, scoring his 73rd and 74th goals against Beaconsfield and Uxbridge respectively.
Before joining Slough, Danny was well-known for his exploits at Chesham United, having scored 90 goals in 150 matches for "The Generals". He was the joint winner of the Zamaretto Midland Division Golden Boot in 2008 after netting 27 goals.
Danny has previously played for Wealdstone, Maidenhead United and Beaconsfield SYCOB.
He made a brief return in October 2013 after a spell at Burnham to cover for injuries in Neil Baker and Jon Underwood's Rebels squad.
Mens
| First Appearance | Appearances | First Goal | Goals |
| --- | --- | --- | --- |
| 25-09-2010 vs Daventry Town | 141 | 02-10-2010 vs Marlow | 80 |
History
| Match Date | Home | Score | Away | Competition | Goals | Cards | |
| --- | --- | --- | --- | --- | --- | --- | --- |
| 02-11-2013 | Leighton Town | 1-0 | Slough Town | League | | | Match report |
| 29-10-2013 | Chalfont St Peter | 0-1 | Slough Town | League | | | Match report |
| 26-10-2013 | Aylesbury United | 3-3 | Slough Town | League | | | Match report |
| 09-04-2013 | Biggleswade Town | 2-1 | Slough Town | League | | | Match report |
| 06-04-2013 | Royston Town | 2-0 | Slough Town | League | | | Match report |
| 03-04-2013 | Northwood | 2-1 | Slough Town | League | | | Match report |
| 01-04-2013 | Burnham | 1-0 | Slough Town | League | | | Match report |
| 30-03-2013 | Slough Town | 5-1 | Leighton Town | League | | | Match report |
| 28-03-2013 | Barton Rovers | 2-2 | Slough Town | League | | | Match report |
| 26-03-2013 | Slough Town | 3-1 | Biggleswade Town | League | | | Match report |
| 16-03-2013 | Slough Town | 4-3 | Aylesbury | League | | | Match report |
| 12-03-2013 | Daventry Town | 3-1 | Slough Town | League | | | Match report |
| 09-03-2013 | Fleet Town | 2-5 | Slough Town | League | | | Match report |
| 06-03-2013 | Frome Town | 2-1 | Slough Town | Red Insure Cup | | | Match report |
| 02-03-2013 | Slough Town | 1-1 | Daventry Town | League | | | Match report |
| 26-02-2013 | AFC Hayes | 0-3 | Slough Town | League | | | Match report |
| 23-02-2013 | Ashford Town (Middx) | 0-1 | Slough Town | League | | | Match report |
| 21-02-2013 | Slough Town | 2-1 | Northwood | Red Insure Cup | | | Match report |
| 19-02-2013 | Slough Town | 3-0 | North Greenford Utd | League | | | Match report |
| 16-02-2013 | Slough Town | 0-1 | Chalfont St Peter | League | | | Match report |
| 09-02-2013 | Slough Town | 2-1 | AFC Hayes | League | | | Match report |
| 06-02-2013 | Guildford City | 1-1 | Slough Town | League | | | Match report |
| 12-01-2013 | Woodford United | 1-4 | Slough Town | League | | | Match report |
| 08-01-2013 | Slough Town | 3-1 | AFC Hayes | Red Insure Cup | | | Match report |
| 05-01-2013 | Slough Town | 1-3 | Uxbridge | League | | | Match report |
| 01-01-2013 | Beaconsfield Town | 1-1 | Slough Town | League | | | Match report |
| 26-12-2012 | Slough Town | 2-0 | Burnham | League | | | Match report |
| 08-12-2012 | Chertsey Town | 1-3 | Slough Town | League | | | Match report |
| 01-12-2012 | Slough Town | 3-1 | Royston Town | League | | | Match report |
| 17-11-2012 | Chalfont St Peter | 1-2 | Slough Town | League | | | Match report |
| 13-11-2012 | Slough Town | 1-1 | Mansfield Town | FA Cup | | | Match report |
| 10-11-2012 | Slough Town | 6-1 | Ashford Town (Middx) | League | | | Match report |
| 06-11-2012 | Slough Town | 2-3 | Rugby Town | League | | | Match report |
| 03-11-2012 | Mansfield Town | 0-0 | Slough Town | FA Cup | | | Match report |
| 30-10-2012 | Leighton Town | 0-3 | Slough Town | League | | | Match report |
| 27-10-2012 | Slough Town | 3-1 | Fleet Town | League | | | Match report |
| 23-10-2012 | Gosport Borough | 1-2 | Slough Town | FA Cup | | | Match report |
| 21-10-2012 | Slough Town | 0-0 | Gosport Borough | FA Cup | | | Match report |
| 13-10-2012 | Slough Town | 3-1 | Barton Rovers | League | | | Match report |
| 09-10-2012 | Slough Town | 4-1 | Thatcham Town | League | | | Match report |
| 06-10-2012 | Margate | 0-1 | Slough Town | FA Cup | | | Match report |
| 29-09-2012 | Slough Town | 0-4 | Gosport Borough | FA Trophy | | | Match report |
| 23-09-2012 | Slough Town | 5-1 | Eastbourne Town | FA Cup | | | Match report |
| 16-09-2012 | Slough Town | 2-1 | Hungerford Town | FA Trophy | | | Match report |
| 08-09-2012 | Slough Town | 4-1 | Lingfield | FA Cup | | | Match report |
| 04-09-2012 | Slough Town | 4-0 | Woodford United | League | | | Match report |
| 01-09-2012 | Uxbridge | 3-2 | Slough Town | League | | | Match report |
| 27-08-2012 | Slough Town | 1-1 | Beaconsfield Town | League | | | Match report |
| 25-08-2012 | Slough Town | 4-2 | Corinthian | FA Cup | | | Match report |
| 21-08-2012 | Slough Town | 1-2 | Guildford City | League | | | Match report |
| 18-08-2012 | Slough Town | 5-0 | Northwood | League | | | Match report |
| 07-05-2012 | Woodford United | 1-2 | Slough Town | League | | | Match report |
| 03-05-2012 | Slough Town | 1-2 | Beaconsfield Town | Play Off | | | Match report |
| 21-04-2012 | Slough Town | 0-3 | Leighton Town | League | | | Match report |
| 14-04-2012 | Bedworth United | 5-3 | Slough Town | League | | | Match report |
| 09-04-2012 | Slough Town | 1-1 | Beaconsfield Town | League | | | Match report |
| 07-04-2012 | Bedfont Town | 1-2 | Slough Town | League | | | Match report |
| 31-03-2012 | Slough Town | 1-1 | Chalfont St Peter | League | | | Match report |
| 24-03-2012 | Ashford Town (Middx) | 1-2 | Slough Town | League | | | Match report |
| 17-03-2012 | Slough Town | 2-1 | Biggleswade Town | League | | | Match report |
| 13-03-2012 | Slough Town | 0-2 | North Greenford Utd | League | | | Match report |
| 10-03-2012 | St Neots Town | 0-1 | Slough Town | League | | | Match report |
| 06-03-2012 | Barton Rovers | 0-3 | Slough Town | League | | | Match report |
| 03-03-2012 | Slough Town | 1-0 | Northwood | League | | | Match report |
| 25-02-2012 | Daventry Town | 1-1 | Slough Town | League | | | Match report |
| 18-02-2012 | Slough Town | 1-1 | AFC Hayes | League | | | Match report |
| 28-01-2012 | Slough Town | 3-0 | Chertsey Town | League | | | Match report |
| 24-01-2012 | Chesham United | 3-1 | Slough Town | B&B Senior Cup | | | Match report |
| 21-01-2012 | Aylesbury | 2-0 | Slough Town | League | | | Match report |
| 14-01-2012 | Slough Town | 2-0 | Uxbridge | League | | | Match report |
| 07-01-2012 | Burnham | 1-1 | Slough Town | League | | | Match report |
| 02-01-2012 | Slough Town | 3-0 | Marlow | League | | | Match report |
| 31-12-2011 | Fleet Town | 0-1 | Slough Town | League | | | Match report |
| 26-12-2011 | Beaconsfield Town | 0-2 | Slough Town | League | | | Match report |
| 17-12-2011 | Slough Town | 2-1 | Bedworth United | League | | | Match report |
| 03-12-2011 | Slough Town | 2-1 | Bedfont Town | League | | | Match report |
| 26-11-2011 | Slough Town | 4-3 | Ashford Town (Middx) | League | | | Match report |
| 19-11-2011 | Biggleswade Town | 1-1 | Slough Town | League | | | Match report |
| 15-11-2011 | Northwood | 2-4 | Slough Town | League | | | Match report |
| 12-11-2011 | Slough Town | 2-0 | St Neots Town | League | | | Match report |
| 08-11-2011 | AFC Hayes | 1-1 | Slough Town | League | | | Match report |
| 05-11-2011 | Slough Town | 2-1 | Woodford United | League | | | Match report |
| 01-11-2011 | Slough Town | 1-2 | Chesham United | Red Insure Cup | | | Match report |
| 29-10-2011 | Leighton Town | 0-1 | Slough Town | League | | | Match report |
| 18-10-2011 | Hanworth Villa | 3-1 | Slough Town | FA Cup | | | Match report |
| 15-10-2011 | Slough Town | 2-2 | Hanworth Villa | FA Cup | | | Match report |
| 08-10-2011 | Gosport Borough | 3-0 | Slough Town | FA Trophy | | | Match report |
| 04-10-2011 | North Greenford Utd | 0-0 | Slough Town | League | | | Match report |
| 01-10-2011 | Slough Town | 3-2 | Boreham Wood | FA Cup | | | Match report |
| 24-09-2011 | Slough Town | 2-1 | Daventry Town | League | | | Match report |
| 17-09-2011 | Banbury United | 1-3 | Slough Town | FA Cup | | | Match report |
| 13-09-2011 | Slough Town | 2-1 | Barton Rovers | League | | | Match report |
| 10-09-2011 | Rugby Town | 2-0 | Slough Town | League | | | Match report |
| 04-09-2011 | Slough Town | 3-1 | Binfield | FA Cup | | | Match report |
| 29-08-2011 | Marlow | 0-3 | Slough Town | League | | | Match report |
| 27-08-2011 | Slough Town | 3-0 | Fleet Town | League | | | Match report |
| 23-08-2011 | Slough Town | 1-2 | Burnham | League | | | Match report |
| 20-08-2011 | Chertsey Town | 3-5 | Slough Town | League | | | Match report |
| 16-08-2011 | Uxbridge | 0-2 | Slough Town | League | | | Match report |
| 13-08-2011 | Slough Town | 0-0 | Aylesbury | League | | | Match report |
| 28-04-2011 | Hitchin Town | 4-1 | Slough Town | Play Off | | | Match report |
| 23-04-2011 | Slough Town | 3-2 | Biggleswade Town | League | | | Match report |
| 19-04-2011 | Slough Town | 2-0 | Ashford Town (Middx) | League | | | Match report |
| 16-04-2011 | Leighton Town | 3-1 | Slough Town | League | | | Match report |
| 12-04-2011 | Arlesey Town | 2-1 | Slough Town | League | | | Match report |
| 09-04-2011 | Slough Town | 4-3 | Northwood | League | | | Match report |
| 05-04-2011 | Daventry Town | 1-2 | Slough Town | League | | | Match report |
| 02-04-2011 | Burnham | 0-2 | Slough Town | League | | | Match report |
| 26-03-2011 | Slough Town | 2-1 | Bedworth United | League | | | Match report |
| 22-03-2011 | Barton Rovers | 2-0 | Slough Town | League | | | Match report |
| 19-03-2011 | Slough Town | 2-1 | North Greenford Utd | League | | | Match report |
| 15-03-2011 | Woodford United | 1-3 | Slough Town | League | | | Match report |
| 12-03-2011 | Rugby Town | 1-0 | Slough Town | League | | | Match report |
| 08-03-2011 | AFC Hayes | 2-4 | Slough Town | League | | | Match report |
| 05-03-2011 | Slough Town | 2-1 | Soham Town Rangers | League | | | Match report |
| 12-02-2011 | Slough Town | 3-2 | Aylesbury | League | | | Match report |
| 08-02-2011 | Cambridge City | 3-2 | Slough Town | Red Insure Cup | | | Match report |
| 01-02-2011 | Northwood | 1-5 | Slough Town | League | | | Match report |
| 29-01-2011 | Slough Town | 3-0 | Atherstone Town | League | | | Match report |
| 25-01-2011 | Slough Town | 3-3 | Woodford United | League | | | Match report |
| 18-01-2011 | Slough Town | 0-3 | Arlesey Town | League | | | Match report |
| 15-01-2011 | Marlow | 1-4 | Slough Town | League | | | Match report |
| 11-01-2011 | Ashford Town (Middx) | 1-2 | Slough Town | Red Insure Cup | | | Match report |
| 08-01-2011 | Slough Town | 1-1 | Hitchin Town | League | | | Match report |
| 03-01-2011 | Uxbridge | 2-1 | Slough Town | League | | | Match report |
| 30-12-2010 | Slough Town | 6-4 | Beaconsfield Town | League | | | Match report |
| 11-12-2010 | Slough Town | 1-1 | Bedfont Town | League | | | Match report |
| 04-12-2010 | Ashford Town (Middx) | 1-2 | Slough Town | League | | | Match report |
| 23-11-2010 | Marlow | 3-2 | Slough Town | B&B Senior Cup | | | Match report |
| 20-11-2010 | Aylesbury | 1-2 | Slough Town | League | | | Match report |
| 16-11-2010 | Slough Town | 5-0 | AFC Hayes | League | | | Match report |
| 06-11-2010 | Slough Town | 1-3 | Rugby Town | League | | | Match report |
| 30-10-2010 | Soham Town Rangers | 1-0 | Slough Town | League | | | Match report |
| 27-10-2010 | Leighton Town | 1-3 | Slough Town | Red Insure Cup | | | Match report |
| 23-10-2010 | Slough Town | 0-1 | Leighton Town | League | | | Match report |
| 19-10-2010 | Chippenham Town | 4-1 | Slough Town | FA Trophy | | | Match report |
| 16-10-2010 | Slough Town | 1-1 | Chippenham Town | FA Trophy | | | Match report |
| 09-10-2010 | Bedworth United | 1-1 | Slough Town | League | | | Match report |
| 05-10-2010 | Marlow | 0-3 | Slough Town | FA Trophy | | | Match report |
| 02-10-2010 | Slough Town | 2-2 | Marlow | FA Trophy | | | Match report |
| 25-09-2010 | Slough Town | 1-3 | Daventry Town | League | | | Match report |
Slough Town FC is not responsible for content produced on external websites | Copyright Slough Town FC 2023