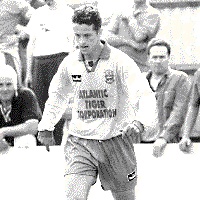 Stats
Position:
Defender
First Appearance:
07-11-1998 vs Enfield
Appearances:
61
First Goal:
23-01-1999 vs Bishop's Stortford
Goals:
2
Bio
Accomplished left sided defender who joined the club shortly after the appointment of Graham Roberts from Chesham United.

Excellent set piece taker although only scored twice for Slough. Left soon after Roberts departure.
History
| Match Date | Home | Score | Away | Competition | Goals | Cards | |
| --- | --- | --- | --- | --- | --- | --- | --- |
| 26-02-2000 | Hitchin Town | 1-2 | Slough Town | League | | | Match report |
| 22-02-2000 | Slough Town | 3-0 | Hungerford Town | B&B Senior Cup | | | Match report |
| 19-02-2000 | Slough Town | 2-1 | Ebbsfleet United | League | | | Match report |
| 15-02-2000 | Leatherhead | 0-3 | Slough Town | Full Members Cup | | | Match report |
| 12-02-2000 | Billericay Town | 3-1 | Slough Town | League | | | Match report |
| 05-02-2000 | Slough Town | 2-1 | Carshalton Ath | League | | | Match report |
| 29-01-2000 | Hendon | 1-1 | Slough Town | League | | | Match report |
| 18-01-2000 | Slough Town | 1-0 | Maidenhead United | B&B Senior Cup | | | Match report |
| 27-12-1999 | Slough Town | 1-4 | Basingstoke Town | League | | | Match report |
| 18-12-1999 | Harrow Borough | 0-1 | Slough Town | League | | | Match report |
| 04-12-1999 | Dulwich Hamlet | 2-3 | Slough Town | League | | | Match report |
| 20-11-1999 | Slough Town | 2-3 | Dagenham & R. | League | | | Match report |
| 16-11-1999 | Slough Town | 2-1 | Carshalton Ath | Full Members Cup | | | Match report |
| 13-11-1999 | Boreham Wood | 1-3 | Slough Town | League | | | Match report |
| 09-11-1999 | Slough Town | 0-1 | Carshalton Ath | Ryman League Cup | | | Match report |
| 06-11-1999 | Slough Town | 1-2 | Aylesbury United | League | | | Match report |
| 26-10-1999 | Slough Town | 4-1 | Staines Town | Full Members Cup | | | Match report |
| 23-10-1999 | Chesham United | 3-0 | Slough Town | League | | | Match report |
| 18-10-1999 | Cambridge City | 3-2 | Slough Town | FA Cup | | | Match report |
| 16-10-1999 | Slough Town | 1-1 | Cambridge City | FA Cup | | | Match report |
| 09-10-1999 | Slough Town | 0-2 | Hendon | FA Trophy | | | Match report |
| 05-10-1999 | Walton & Hersham | 2-2 | Slough Town | League | | | Match report |
| 02-10-1999 | Slough Town | 1-0 | Carshalton Ath | FA Cup | | | Match report |
| 25-09-1999 | Hampton & Richmond Boro' | 1-1 | Slough Town | League | | | Match report |
| 18-09-1999 | Slough Town | 3-1 | Cowes Sports | FA Cup | | | Match report |
| 14-09-1999 | Slough Town | 1-0 | Grays Athletic | Full Members Cup | | | Match report |
| 11-09-1999 | Slough Town | 1-2 | Canvey Island | League | | | Match report |
| 30-08-1999 | Slough Town | 4-0 | Billericay Town | League | | | Match report |
| 28-08-1999 | Ebbsfleet United | 1-0 | Slough Town | League | | | Match report |
| 23-08-1999 | Carshalton Ath | 1-1 | Slough Town | League | | | Match report |
| 21-08-1999 | Slough Town | 3-0 | Purfleet | League | | | Match report |
| 17-08-1999 | Slough Town | 1-1 | Hendon | League | | | Match report |
| 14-08-1999 | St Albans City | 0-1 | Slough Town | League | | | Match report |
| 01-05-1999 | Slough Town | 2-1 | Bromley | League | | | Match report |
| 27-04-1999 | Slough Town | 4-0 | Ebbsfleet United | League | | | Match report |
| 24-04-1999 | Basingstoke Town | 0-2 | Slough Town | League | | | Match report |
| 17-04-1999 | Slough Town | 1-1 | Carshalton Ath | League | | | Match report |
| 13-04-1999 | Slough Town | 2-2 | Aldershot Town | League | | | Match report |
| 05-04-1999 | Slough Town | 1-0 | Dulwich Hamlet | League | | | Match report |
| 03-04-1999 | Heybridge Swifts | 2-1 | Slough Town | League | | | Match report |
| 27-03-1999 | Aldershot Town | 1-1 | Slough Town | League | | | Match report |
| 20-03-1999 | Slough Town | 1-1 | Hendon | League | | | Match report |
| 13-03-1999 | Billericay Town | 1-2 | Slough Town | League | | | Match report |
| 06-03-1999 | Slough Town | 0-1 | Dagenham & R. | League | | | Match report |
| 02-03-1999 | Boreham Wood | 1-0 | Slough Town | League | | | Match report |
| 27-02-1999 | Harrow Borough | 0-2 | Slough Town | League | | | Match report |
| 20-02-1999 | Slough Town | 1-0 | St Albans City | League | | | Match report |
| 06-02-1999 | Purfleet | 0-4 | Slough Town | League | | | Match report |
| 30-01-1999 | Slough Town | 1-2 | Sutton United | League | | | Match report |
| 25-01-1999 | Slough Town | 1-2 | Rushden & Diamonds | FA Trophy | | | Match report |
| 23-01-1999 | Bishop's Stortford | 0-1 | Slough Town | League | | | Match report |
| 09-01-1999 | Chesham United | 1-0 | Slough Town | League | | | Match report |
| 28-12-1998 | Dulwich Hamlet | 2-2 | Slough Town | League | | | Match report |
| 22-12-1998 | Walton & Hersham | 2-0 | Slough Town | Puma Cup | | | Match report |
| 19-12-1998 | Slough Town | 0-3 | Boreham Wood | League | | | Match report |
| 12-12-1998 | Aylesbury United | 0-0 | Slough Town | League | | | Match report |
| 05-12-1998 | Slough Town | 3-0 | Walton & Hersham | League | | | Match report |
| 28-11-1998 | Bromley | 2-1 | Slough Town | League | | | Match report |
| 21-11-1998 | Slough Town | 3-1 | Baldock Town | FA Trophy | | | Match report |
| 17-11-1998 | Slough Town | 0-1 | Basingstoke Town | League | | | Match report |
| 07-11-1998 | Slough Town | 2-2 | Enfield | League | | | Match report |
Slough Town FC is not responsible for content produced on external websites | Copyright Slough Town FC 2021