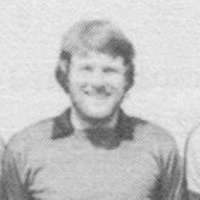 Position:
Goalkeeper
Bio
Born in Amersham on 29th October 1947, Frank was one of the most experienced keepers in non- league football. He had football league experience first in the mid-sixties with Crystal Palace (4 matches) before joining Cardiff in 1970 and then Fulham in early 1974 where he had a short spell in their Reserves.
His next move was to Reading before he had a two year spell with Staines, between 1975 and 1977. There then followed a spell with Woking during which he picked u a "Player of the Year" award before joining the Wexham Park brigade in 1980 for £3,000. Frank is 6 feet tall. He has represented Wales Under 23 and the Isthmian League.
He scored the winning goal in Slough Town's win over Hampton in the Third Qualifying Round of the F.A. Cup with a fly-kick of 105 yards! Married with two children and lives in Eton, where he owned a newsagents.
Mens
| First Appearance | Appearances | First Goal | Goals | Clean Sheets |
| --- | --- | --- | --- | --- |
| 18-10-1980 vs Barton Rovers | 127 | 15-10-1983 vs Hampton | 1 | 50 |
History
| Match Date | Home | Score | Away | Competition | Goals | Cards | |
| --- | --- | --- | --- | --- | --- | --- | --- |
| 26-11-1983 | Slough Town | 0-2 | Harrow Borough | League | | | Match report |
| 22-11-1983 | Slough Town | 1-2 | Chalfont St Peter | B&B Senior Cup | | | Match report |
| 19-11-1983 | Bognor Regis Town | 2-2 | Slough Town | League | | | Match report |
| 15-11-1983 | Worthing | 2-1 | Slough Town | League | | | Match report |
| 12-11-1983 | Slough Town | 5-1 | Croydon | League | | | Match report |
| 08-11-1983 | Dulwich Hamlet | 4-6 | Slough Town | League | | | Match report |
| 05-11-1983 | Bromley | 3-3 | Slough Town | League | | | Match report |
| 01-11-1983 | Carshalton Ath | 1-2 | Slough Town | League | | | Match report |
| 29-10-1983 | Poole Town | 3-0 | Slough Town | FA Cup | | | Match report |
| 22-10-1983 | Slough Town | 3-1 | Hendon | League | | | Match report |
| 18-10-1983 | Slough Town | 2-1 | Wolverton | B&B Senior Cup | | | Match report |
| 15-10-1983 | Slough Town | 3-2 | Hampton | FA Cup | | | Match report |
| 11-10-1983 | Wokingham Town | 0-0 | Slough Town | League | | | Match report |
| 08-10-1983 | Walthamstow | 0-2 | Slough Town | League | | | Match report |
| 04-10-1983 | Slough Town | 5-1 | Hitchin Town | League | | | Match report |
| 01-10-1983 | Whyteleafe | 0-5 | Slough Town | FA Cup | | | Match report |
| 27-09-1983 | Clapton | 1-0 | Slough Town | Hennessey Cup | | | Match report |
| 24-09-1983 | Slough Town | 1-0 | Sutton United | League | | | Match report |
| 17-09-1983 | Hounslow | 0-3 | Slough Town | FA Cup | | | Match report |
| 13-09-1983 | Slough Town | 1-0 | Hayes | League | | | Match report |
| 10-09-1983 | Billericay Town | 0-3 | Slough Town | League | | | Match report |
| 06-09-1983 | Slough Town | 2-4 | Worthing | League | | | Match report |
| 03-09-1983 | Slough Town | 2-1 | Leytonstone Ilford | League | | | Match report |
| 29-08-1983 | Tilbury | 0-4 | Slough Town | Hennessey Cup | | | Match report |
| 27-08-1983 | Bishop's Stortford | 2-1 | Slough Town | League | | | Match report |
| 23-08-1983 | Staines Town | 2-3 | Slough Town | League | | | Match report |
| 20-08-1983 | Slough Town | 1-1 | Barking | League | | | Match report |
| 30-04-1983 | Dulwich Hamlet | 1-0 | Slough Town | League | | | Match report |
| 26-04-1983 | Sutton United | 0-2 | Slough Town | League | | | Match report |
| 19-04-1983 | Slough Town | 1-2 | Bromley | League | | | Match report |
| 16-04-1983 | Croydon | 1-1 | Slough Town | League | | | Match report |
| 14-04-1983 | Slough Town | 6-0 | Sutton United | League | | | Match report |
| 11-04-1983 | Bognor Regis Town | 2-0 | Slough Town | League | | | Match report |
| 09-04-1983 | Slough Town | 1-1 | Barking | League | | | Match report |
| 02-04-1983 | Slough Town | 1-0 | Leytonstone Ilford | League | | | Match report |
| 29-03-1983 | Tooting | 2-1 | Slough Town | League | | | Match report |
| 26-03-1983 | Hitchin Town | 1-3 | Slough Town | League | | | Match report |
| 19-03-1983 | Slough Town | 0-1 | Hayes | League | | | Match report |
| 15-03-1983 | Slough Town | 4-0 | Carshalton Ath | League | | | Match report |
| 12-03-1983 | Bromley | 0-0 | Slough Town | League | | | Match report |
| 08-03-1983 | Billericay Town | 0-0 | Slough Town | League | | | Match report |
| 26-02-1983 | Bishop's Stortford | 0-0 | Slough Town | League | | | Match report |
| 19-02-1983 | Slough Town | 7-2 | Walthamstow | League | | | Match report |
| 08-02-1983 | Slough Town | 1-1 | Staines Town | League | | | Match report |
| 29-01-1983 | Slough Town | 0-0 | Croydon | League | | | Match report |
| 22-01-1983 | Slough Town | 3-0 | Woking | League | | | Match report |
| 20-11-1982 | Slough Town | 1-0 | Millwall | FA Cup | | | Match report |
| 16-11-1982 | Hungerford Town | 3-1 | Slough Town | B&B Senior Cup | | | Match report |
| 13-11-1982 | Barking | 1-1 | Slough Town | League | | | Match report |
| 09-11-1982 | Slough Town | 5-1 | Leatherhead | League | | | Match report |
| 06-11-1982 | Hayes | 2-1 | Slough Town | League | | | Match report |
| 02-11-1982 | Hendon | 3-0 | Slough Town | League | | | Match report |
| 30-10-1982 | Slough Town | 7-1 | Bideford | FA Cup | | | Match report |
| 23-10-1982 | Slough Town | 0-0 | Dulwich Hamlet | League | | | Match report |
| 19-10-1982 | Staines Town | 0-2 | Slough Town | League | | | Match report |
| 16-10-1982 | Slough Town | 3-0 | Frome Town | FA Cup | | | Match report |
| 12-10-1982 | Slough Town | 2-0 | Bognor Regis Town | League | | | Match report |
| 09-10-1982 | Walthamstow | 0-1 | Slough Town | League | | | Match report |
| 05-10-1982 | Slough Town | 2-0 | Basingstoke Town | FA Cup | | | Match report |
| 02-10-1982 | Basingstoke Town | 2-2 | Slough Town | FA Cup | | | Match report |
| 28-09-1982 | Slough Town | 2-1 | Aylesbury United | B&B Senior Cup | | | Match report |
| 25-09-1982 | Woking | 1-1 | Slough Town | League | | | Match report |
| 18-09-1982 | Slough Town | 2-0 | Salisbury City | FA Cup | | | Match report |
| 14-09-1982 | Leatherhead | 0-1 | Slough Town | League | | | Match report |
| 11-09-1982 | Slough Town | 5-0 | Tooting | League | | | Match report |
| 04-09-1982 | Slough Town | 2-0 | Bishop's Stortford | League | | | Match report |
| 30-08-1982 | Tooting | 1-0 | Slough Town | Hennessey Cup | | | Match report |
| 28-08-1982 | Slough Town | 4-2 | Harrow Borough | League | | | Match report |
| 24-08-1982 | Slough Town | 6-0 | Hendon | League | | | Match report |
| 21-08-1982 | Slough Town | 2-1 | Billericay Town | League | | | Match report |
| 17-04-1982 | Leytonstone Ilford | 2-1 | Slough Town | League | | | Match report |
| 15-04-1982 | Slough Town | 2-0 | Sutton United | League | | | Match report |
| 10-04-1982 | Harlow Town | 1-1 | Slough Town | League | | | Match report |
| 03-04-1982 | Slough Town | 1-0 | Staines Town | League | | | Match report |
| 01-04-1982 | Bishop's Stortford | 1-2 | Slough Town | League | | | Match report |
| 30-03-1982 | Slough Town | 3-2 | Carshalton Ath | League | | | Match report |
| 27-03-1982 | Walthamstow | 4-1 | Slough Town | League | | | Match report |
| 20-03-1982 | Slough Town | 4-1 | Walthamstow | League | | | Match report |
| 16-03-1982 | Wycombe Wanderers | 3-2 | Slough Town | League | | | Match report |
| 13-03-1982 | Slough Town | 0-1 | Billericay Town | League | | | Match report |
| 06-03-1982 | Slough Town | 0-1 | Hungerford Town | B&B Senior Cup | | | Match report |
| 02-03-1982 | Slough Town | 1-2 | Scarborough | FA Trophy | | | Match report |
| 27-02-1982 | Scarborough | 1-1 | Slough Town | FA Trophy | | | Match report |
| 16-02-1982 | Slough Town | 4-1 | Hayes | League | | | Match report |
| 13-02-1982 | Slough Town | 2-0 | Harlow Town | League | | | Match report |
| 08-02-1982 | Harrow Borough | 2-2 | Slough Town | League | | | Match report |
| 06-02-1982 | Slough Town | 1-0 | Rossendale | FA Trophy | | | Match report |
| 02-02-1982 | Slough Town | 2-0 | Aylesbury United | B&B Senior Cup | | | Match report |
| 30-01-1982 | Barking | 0-0 | Slough Town | League | | | Match report |
| 26-01-1982 | Aylesbury United | 0-0 | Slough Town | B&B Senior Cup | | | Match report |
| 23-01-1982 | Slough Town | 0-0 | Croydon | League | | | Match report |
| 19-01-1982 | Slough Town | 4-2 | Bath City | FA Trophy | | | Match report |
| 05-01-1982 | Slough Town | 2-3 | Wycombe Wanderers | Hennessey Cup | | | Match report |
| 02-01-1982 | Staines Town | 2-4 | Slough Town | League | | | Match report |
| 05-12-1981 | Billericay Town | 0-1 | Slough Town | League | | | Match report |
| 28-11-1981 | Slough Town | 0-1 | Dulwich Hamlet | League | | | Match report |
| 24-11-1981 | Slough Town | 6-0 | Didcot Town | B&B Senior Cup | | | Match report |
| 21-11-1981 | Dulwich Hamlet | 2-4 | Slough Town | League | | | Match report |
| 17-11-1981 | Hendon | 0-0 | Slough Town | League | | | Match report |
| 14-11-1981 | Slough Town | 4-0 | Bishop's Stortford | League | | | Match report |
| 07-11-1981 | Slough Town | 0-3 | Hitchin Town | League | | | Match report |
| 03-11-1981 | Hayes | 2-1 | Slough Town | League | | | Match report |
| 31-10-1981 | Sutton United | 2-1 | Slough Town | League | | | Match report |
| 27-10-1981 | Slough Town | 3-3 | Wycombe Wanderers | League | | | Match report |
| 24-10-1981 | Slough Town | 1-0 | Leatherhead | League | | | Match report |
| 20-10-1981 | Woking | 1-1 | Slough Town | League | | | Match report |
| 17-10-1981 | Croydon | 1-1 | Slough Town | League | | | Match report |
| 13-10-1981 | Slough Town | 3-2 | Boreham Wood | League | | | Match report |
| 10-10-1981 | Slough Town | 1-0 | Leytonstone Ilford | League | | | Match report |
| 06-10-1981 | Leatherhead | 0-0 | Slough Town | League | | | Match report |
| 03-10-1981 | Slough Town | 1-5 | Wokingham Town | FA Cup | | | Match report |
| 29-09-1981 | Slough Town | 3-0 | Windsor & Eton | Hennessey Cup | | | Match report |
| 22-09-1981 | Slough Town | 1-1 | Harrow Borough | League | | | Match report |
| 19-09-1981 | Slough Town | 2-1 | Chalfont St Peter | FA Cup | | | Match report |
| 15-09-1981 | Hitchin Town | 0-4 | Slough Town | League | | | Match report |
| 12-09-1981 | Slough Town | 1-3 | Bromley | League | | | Match report |
| 08-09-1981 | Slough Town | 4-2 | Wootton BC | FA Cup | | | Match report |
| 05-09-1981 | Wootton BC | 2-2 | Slough Town | FA Cup | | | Match report |
| 31-08-1981 | Harwich | 0-1 | Slough Town | Hennessey Cup | | | Match report |
| 29-08-1981 | Slough Town | 0-0 | Barking | League | | | Match report |
| 25-08-1981 | Boreham Wood | 1-1 | Slough Town | League | | | Match report |
| 22-08-1981 | Slough Town | 5-2 | Tooting | League | | | Match report |
| 18-08-1981 | Slough Town | 0-0 | Woking | League | | | Match report |
| 15-08-1981 | Carshalton Ath | 1-2 | Slough Town | League | | | Match report |
| 08-08-1981 | Slough Town | 1-3 | Wycombe Wanderers | Drinkwise Trophy | | | Match report |
| 21-10-1980 | Staines Town | 0-2 | Slough Town | League | | | Match report |
| 18-10-1980 | Slough Town | 0-1 | Barton Rovers | FA Cup | | | Match report |
Slough Town FC is not responsible for content produced on external websites | Copyright Slough Town FC 2023