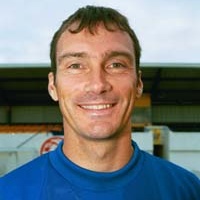 Position:
Midfielder
Bio
Accompllished midifleder who joined the club from Woking following many successful years at Yeovil Town.
Linked up with Steve Browne and was moved from midfield to defence in his time with the Rebels. Formed a good partnership with Keith McPherson and utilised his ball playing skills at the back to retain possession for the Rebels where possible.
Went on to become Browne's assistant before leaving the club.
Mens
| First Appearance | Appearances | First Goal | Goals |
| --- | --- | --- | --- |
| 09-09-2000 vs Hendon | 54 | N/A | 0 |
History
| Match Date | Home | Score | Away | Competition | Goals | Cards | |
| --- | --- | --- | --- | --- | --- | --- | --- |
| 30-03-2002 | Slough Town | 3-0 | Bromley | League | | | Match report |
| 23-03-2002 | Slough Town | 1-2 | Ford Utd | League | | | Match report |
| 19-03-2002 | Maidenhead United | 3-2 | Slough Town | B&B Senior Cup | | | Match report |
| 16-03-2002 | Aylesbury United | 4-0 | Slough Town | League | | | Match report |
| 09-03-2002 | Slough Town | 0-0 | Whyteleafe | League | | | Match report |
| 02-03-2002 | Thame United | 3-0 | Slough Town | League | | | Match report |
| 23-02-2002 | Slough Town | 3-0 | Uxbridge | League | | | Match report |
| 19-02-2002 | Slough Town | 4-1 | Abingdon Town | B&B Senior Cup | | | Match report |
| 16-02-2002 | Harlow Town | 1-4 | Slough Town | League | | | Match report |
| 09-02-2002 | Slough Town | 3-1 | Tooting & Mitcham Utd | League | | | Match report |
| 02-02-2002 | Northwood | 1-1 | Slough Town | League | | | Match report |
| 05-01-2002 | Worthing | 0-3 | Slough Town | League | | | Match report |
| 01-01-2002 | Yeading | 0-0 | Slough Town | League | | | Match report |
| 29-12-2001 | Slough Town | 1-2 | Oxford City | League | | | Match report |
| 08-12-2001 | Slough Town | 2-1 | Northwood | League | | | Match report |
| 04-12-2001 | Bracknell Town | 1-1 | Slough Town | B&B Senior Cup | | | Match report |
| 27-11-2001 | Wembley | 4-6 | Slough Town | Ryman League Cup | | | Match report |
| 24-11-2001 | Tooting & Mitcham Utd | 1-1 | Slough Town | League | | | Match report |
| 17-11-2001 | Slough Town | 2-0 | Staines Town | League | | | Match report |
| 10-11-2001 | Bognor Regis Town | 0-0 | Slough Town | League | | | Match report |
| 03-11-2001 | Slough Town | 0-2 | Aylesbury United | FA Trophy | | | Match report |
| 27-10-2001 | Slough Town | 3-2 | Dulwich Hamlet | League | | | Match report |
| 16-10-2001 | Slough Town | 3-4 | Aylesbury United | League | | | Match report |
| 13-10-2001 | Ford Utd | 0-2 | Slough Town | League | | | Match report |
| 02-10-2001 | Slough Town | 1-1 | Thame United | League | | | Match report |
| 29-09-2001 | Whyteleafe | 0-2 | Slough Town | League | | | Match report |
| 11-09-2001 | Barking & East Ham Utd | 0-1 | Slough Town | League | | | Match report |
| 08-09-2001 | Wealdstone | 2-1 | Slough Town | League | | | Match report |
| 01-09-2001 | Lewes | 3-0 | Slough Town | FA Cup | | | Match report |
| 27-08-2001 | Slough Town | 3-3 | Yeading | League | | | Match report |
| 25-08-2001 | Bromley | 0-3 | Slough Town | League | | | Match report |
| 21-08-2001 | Oxford City | 3-0 | Slough Town | League | | | Match report |
| 18-08-2001 | Slough Town | 0-3 | Walton & Hersham | League | | | Match report |
| 05-05-2001 | Chesham United | 2-0 | Slough Town | League | | | Match report |
| 28-04-2001 | Slough Town | 3-1 | Carshalton Ath | League | | | Match report |
| 24-04-2001 | Slough Town | 2-0 | Ebbsfleet United | League | | | Match report |
| 19-04-2001 | Slough Town | 0-1 | Canvey Island | League | | | Match report |
| 16-04-2001 | Slough Town | 1-0 | Maidenhead United | League | | | Match report |
| 14-04-2001 | Farnborough Town | 1-1 | Slough Town | League | | | Match report |
| 10-04-2001 | Slough Town | 2-3 | Billericay Town | League | | | Match report |
| 07-04-2001 | Slough Town | 1-1 | Dulwich Hamlet | League | | | Match report |
| 02-04-2001 | Croydon | 4-1 | Slough Town | League | | | Match report |
| 31-03-2001 | Slough Town | 0-3 | Hitchin Town | League | | | Match report |
| 10-03-2001 | Slough Town | 4-4 | Sutton United | League | | | Match report |
| 03-03-2001 | Slough Town | 1-1 | Heybridge Swifts | League | | | Match report |
| 24-02-2001 | St Albans City | 1-0 | Slough Town | League | | | Match report |
| 20-02-2001 | Maidenhead United | 2-0 | Slough Town | B&B Senior Cup | | | Match report |
| 17-02-2001 | Slough Town | 1-0 | Hendon | League | | | Match report |
| 10-02-2001 | Aldershot Town | 1-0 | Slough Town | League | | | Match report |
| 03-02-2001 | Slough Town | 3-1 | Enfield | League | | | Match report |
| 30-01-2001 | Carshalton Ath | 0-1 | Slough Town | League | | | Match report |
| 27-01-2001 | Hampton & Richmond | 2-0 | Slough Town | League | | | Match report |
| 13-01-2001 | Purfleet | 2-0 | Slough Town | League | | | Match report |
| 09-09-2000 | Hendon | 2-1 | Slough Town | League | | | Match report |
Slough Town FC is not responsible for content produced on external websites | Copyright Slough Town FC 2023