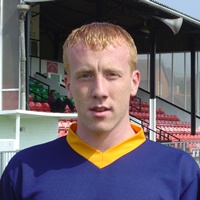 Position:
Midfielder
Bio
Versatile player who was comfortable in defence or midfield. Enjoyed the physical side to the game following signing from Oxford City.
Upon joining the Rebels, Ballard had to sit out the opening five games, serving a suspension from his time with City. Started with a bang scoring the opening goal for Slough against much fancied Braintree Town and chipped in with a number of goals in his season with the club including a hat-trick in the league cup. Utilised his long throw as a weapon to the sides advantage as he was able to launch the ball well into the box for the strikers to gain opportunities from.
Left the club to join Eastbourne Borough in the Conference South.
Mens
| First Appearance | Appearances | First Goal | Goals |
| --- | --- | --- | --- |
| 03-09-2005 vs Braintree Town | 44 | 03-09-2005 vs Braintree Town | 6 |
History
| Match Date | Home | Score | Away | Competition | Goals | Cards | |
| --- | --- | --- | --- | --- | --- | --- | --- |
| 29-04-2006 | Slough Town | 1-2 | Heybridge Swifts | League | | | Match report |
| 22-04-2006 | Harrow Borough | 2-1 | Slough Town | League | | | Match report |
| 17-04-2006 | Slough Town | 3-3 | Windsor & Eton | League | | | Match report |
| 14-04-2006 | Braintree Town | 2-1 | Slough Town | League | | | Match report |
| 08-04-2006 | Slough Town | 2-0 | Folkestone Invicta | League | | | Match report |
| 01-04-2006 | Staines Town | 2-1 | Slough Town | League | | | Match report |
| 25-03-2006 | Slough Town | 0-3 | Worthing | League | | | Match report |
| 22-03-2006 | Slough Town | 3-1 | Fisher Ath | Ryman League Cup | | | Match report |
| 18-03-2006 | Maldon Town | 0-2 | Slough Town | League | | | Match report |
| 13-03-2006 | Fisher Ath | 5-2 | Slough Town | Ryman League Cup | | | Match report |
| 11-03-2006 | Slough Town | 0-4 | Fisher Ath | League | | | Match report |
| 04-03-2006 | Hendon | 1-1 | Slough Town | League | | | Match report |
| 28-02-2006 | MK Dons | 6-1 | Slough Town | B&B Senior Cup | | | Match report |
| 25-02-2006 | Chelmsford City | 2-0 | Slough Town | League | | | Match report |
| 18-02-2006 | Slough Town | 3-2 | Wealdstone | League | | | Match report |
| 11-02-2006 | Walton & Hersham | 0-1 | Slough Town | League | | | Match report |
| 31-01-2006 | Slough Town | 3-0 | Heybridge Swifts | Ryman League Cup | | | Match report |
| 21-01-2006 | Slough Town | 2-2 | Margate | League | | | Match report |
| 18-01-2006 | Slough Town | 1-1 | Chesham United | B&B Senior Cup | | | Match report |
| 14-01-2006 | Leyton | 1-2 | Slough Town | League | | | Match report |
| 07-01-2006 | Billericay Town | 0-2 | Slough Town | League | | | Match report |
| 02-01-2006 | Slough Town | 0-1 | Hampton & Richmond | League | | | Match report |
| 26-12-2005 | Windsor & Eton | 0-3 | Slough Town | League | | | Match report |
| 19-12-2005 | Leatherhead | 0-2 | Slough Town | Ryman League Cup | | | Match report |
| 17-12-2005 | Heybridge Swifts | 1-0 | Slough Town | League | | | Match report |
| 10-12-2005 | Slough Town | 5-2 | Harrow Borough | League | | | Match report |
| 03-12-2005 | Bromley | 2-3 | Slough Town | League | | | Match report |
| 28-11-2005 | Folkestone Invicta | 3-0 | Slough Town | League | | | Match report |
| 26-11-2005 | Slough Town | 0-2 | Walton & Hersham | League | | | Match report |
| 22-11-2005 | Slough Town | 1-2 | East Thurrock United | League | | | Match report |
| 19-11-2005 | Fisher Ath | 1-2 | Slough Town | League | | | Match report |
| 08-11-2005 | Slough Town | 3-2 | Redbridge | Ryman League Cup | | | Match report |
| 05-11-2005 | Slough Town | 0-2 | Hendon | League | | | Match report |
| 29-10-2005 | Wealdstone | 2-2 | Slough Town | League | | | Match report |
| 25-10-2005 | Redbridge | 1-4 | Slough Town | League | | | Match report |
| 22-10-2005 | Slough Town | 0-1 | Chelmsford City | League | | | Match report |
| 16-10-2005 | Slough Town | 1-3 | Croydon Athletic | FA Trophy | | | Match report |
| 11-10-2005 | Slough Town | 1-2 | Staines Town | League | | | Match report |
| 04-10-2005 | Worthing | 4-2 | Slough Town | League | | | Match report |
| 01-10-2005 | Slough Town | 4-1 | Maldon Town | League | | | Match report |
| 24-09-2005 | Wroxham | 2-0 | Slough Town | FA Cup | | | Match report |
| 10-09-2005 | Slough Town | 4-1 | Oxford City | FA Cup | | | Match report |
| 06-09-2005 | Slough Town | 3-2 | Redbridge | League | | | Match report |
| 03-09-2005 | Slough Town | 2-1 | Braintree Town | League | | | Match report |
Slough Town FC is not responsible for content produced on external websites | Copyright Slough Town FC 2023