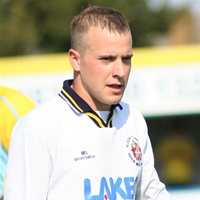 Position:
Midfielder
Bio
Joined Slough Town on work experience forms from Brentford early 2006. Released from Brentford in January 2005 whilst on loan with Slough, prompting the Rebels to sign him up until the end of the season.
Combatative, tireless midfielder and a true box to box style player. Despite being involved with the Brentford first team squad on a number of occasions management chose not to renew his deal and instead invite him back for pre-season training for the 2006/2007 season.
Until then he instead continued to play for Slough in central-midfield and has been consistently noted for his performances being full of heart and drive.
Mens
| First Appearance | Appearances | First Goal | Goals |
| --- | --- | --- | --- |
| 04-02-2006 vs Bromley | 52 | 10-03-2007 vs Tonbridge Angels | 1 |
History
| Match Date | Home | Score | Away | Competition | Goals | Cards | |
| --- | --- | --- | --- | --- | --- | --- | --- |
| 01-12-2007 | Slough Town | 4-1 | Abingdon Utd | League | | | Match report |
| 08-09-2007 | Slough Town | 2-1 | Andover | League | | | Match report |
| 01-09-2007 | Slough Town | 1-4 | Fleet Town | FA Cup | | | Match report |
| 27-08-2007 | Paulton Rovers | 3-1 | Slough Town | League | | | Match report |
| 25-08-2007 | Marlow | 2-0 | Slough Town | League | | | Match report |
| 21-08-2007 | Thatcham Town | 2-0 | Slough Town | League | | | Match report |
| 18-08-2007 | Slough Town | 1-2 | Taunton Town | League | | | Match report |
| 14-04-2007 | Slough Town | 0-8 | Bromley | League | | | Match report |
| 09-04-2007 | Ashford Town (Middx) | 1-1 | Slough Town | League | | | Match report |
| 07-04-2007 | Slough Town | 2-2 | Margate | League | | | Match report |
| 31-03-2007 | AFC Wimbledon | 9-0 | Slough Town | League | | | Match report |
| 27-03-2007 | Walton & Hersham | 3-0 | Slough Town | League | | | Match report |
| 24-03-2007 | Slough Town | 0-3 | Ramsgate | League | | | Match report |
| 19-03-2007 | Slough Town | 0-4 | Boreham Wood | League | | | Match report |
| 17-03-2007 | Billericay Town | 5-0 | Slough Town | League | | | Match report |
| 13-03-2007 | Slough Town | 0-5 | Walton & Hersham | League | | | Match report |
| 10-03-2007 | Slough Town | 2-3 | Tonbridge Angels | League | | | Match report |
| 05-03-2007 | Hendon | 2-0 | Slough Town | League | | | Match report |
| 03-03-2007 | Folkestone Invicta | 0-0 | Slough Town | League | | | Match report |
| 24-02-2007 | East Thurrock United | 4-1 | Slough Town | League | | | Match report |
| 17-02-2007 | Slough Town | 0-1 | Hendon | League | | | Match report |
| 06-02-2007 | Slough Town | 0-5 | East Thurrock United | League | | | Match report |
| 27-01-2007 | Heybridge Swifts | 2-3 | Slough Town | League | | | Match report |
| 23-01-2007 | Slough Town | 0-5 | Harrow Borough | League | | | Match report |
| 13-01-2007 | Leyton | 1-0 | Slough Town | League | | | Match report |
| 09-01-2007 | Carshalton Ath | 5-1 | Slough Town | League | | | Match report |
| 26-12-2006 | Slough Town | 0-2 | Ashford Town (Middx) | League | | | Match report |
| 23-12-2006 | Chelmsford City | 5-0 | Slough Town | League | | | Match report |
| 16-12-2006 | Slough Town | 0-3 | Hampton & Richmond | League | | | Match report |
| 22-11-2006 | Slough Town | 1-2 | Aylesbury United | B&B Senior Cup | | | Match report |
| 11-11-2006 | Slough Town | 0-2 | Heybridge Swifts | League | | | Match report |
| 28-10-2006 | Boreham Wood | 6-0 | Slough Town | League | | | Match report |
| 21-10-2006 | Leighton Town | 4-1 | Slough Town | FA Trophy | | | Match report |
| 17-10-2006 | Staines Town | 1-2 | Slough Town | League | | | Match report |
| 14-10-2006 | Slough Town | 2-0 | Billericay Town | League | | | Match report |
| 10-10-2006 | Slough Town | 0-4 | Ashford Town (Middx) | Ryman League Cup | | | Match report |
| 07-10-2006 | Ramsgate | 2-1 | Slough Town | League | | | Match report |
| 09-09-2006 | Tonbridge Angels | 3-2 | Slough Town | League | | | Match report |
| 29-04-2006 | Slough Town | 1-2 | Heybridge Swifts | League | | | Match report |
| 22-04-2006 | Harrow Borough | 2-1 | Slough Town | League | | | Match report |
| 17-04-2006 | Slough Town | 3-3 | Windsor & Eton | League | | | Match report |
| 14-04-2006 | Braintree Town | 2-1 | Slough Town | League | | | Match report |
| 08-04-2006 | Slough Town | 2-0 | Folkestone Invicta | League | | | Match report |
| 25-03-2006 | Slough Town | 0-3 | Worthing | League | | | Match report |
| 22-03-2006 | Slough Town | 3-1 | Fisher Ath | Ryman League Cup | | | Match report |
| 11-03-2006 | Slough Town | 0-4 | Fisher Ath | League | | | Match report |
| 04-03-2006 | Hendon | 1-1 | Slough Town | League | | | Match report |
| 28-02-2006 | MK Dons | 6-1 | Slough Town | B&B Senior Cup | | | Match report |
| 25-02-2006 | Chelmsford City | 2-0 | Slough Town | League | | | Match report |
| 18-02-2006 | Slough Town | 3-2 | Wealdstone | League | | | Match report |
| 11-02-2006 | Walton & Hersham | 0-1 | Slough Town | League | | | Match report |
| 04-02-2006 | Slough Town | 2-2 | Bromley | League | | | Match report |
Slough Town FC is not responsible for content produced on external websites | Copyright Slough Town FC 2023