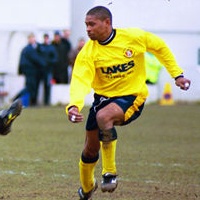 Position:
Forward
Bio
Pacy, intelligent striker signed for the club following a lengthy pursuit from Kingstonian.
Made his name playing for Luton before a leg break cut short his football league career as he struggled to regain his form. Scored 21 times for the Rebels in difficult circumstances and had a good partnership upfront with Mark Hall.
As a schoolboy, Marshall attended Holloway Boys School in North London, and was one of the most gifted right-wingers of his day, making many appearances for Islington schools. As a professional, Marshall was an attacking left-winger or striker who featured for Plymouth Argyle, Middlesbrough and Luton Town. He also appeared for a number of non-league sides during his career. In total, Dwight made 129 league appearances for Argyle, scoring 40 goals. His time at Luton was also successful as he played in 128 league games and scored 28 goals for the Hatters.
Dwight unfortunately broke his leg during the 1995-96 season, which ended with Luton being relegated from what is now the Championship. After this he never really regained his place or his form, and he eventually left for a brief spell back at Plymouth. He then drifted into non-league football, playing at Kenilworth Road again for Kingstonian against Luton in an FA Cup tie during the 1999–2000 season.
Dwight Marshall now works as a Human Resources Manager for a North London college.
Mens
| First Appearance | Appearances | First Goal | Goals |
| --- | --- | --- | --- |
| 20-11-1999 vs Dagenham & R. | 56 | 04-12-1999 vs Dulwich Hamlet | 21 |
History
| Match Date | Home | Score | Away | Competition | Goals | Cards | |
| --- | --- | --- | --- | --- | --- | --- | --- |
| 05-05-2001 | Chesham United | 2-0 | Slough Town | League | | | Match report |
| 10-04-2001 | Slough Town | 2-3 | Billericay Town | League | | | Match report |
| 07-04-2001 | Slough Town | 1-1 | Dulwich Hamlet | League | | | Match report |
| 24-03-2001 | Billericay Town | 0-0 | Slough Town | League | | | Match report |
| 10-03-2001 | Slough Town | 4-4 | Sutton United | League | | | Match report |
| 03-03-2001 | Slough Town | 1-1 | Heybridge Swifts | League | | | Match report |
| 23-12-2000 | Slough Town | 0-2 | Farnborough Town | League | | | Match report |
| 16-12-2000 | Grays Athletic | 1-0 | Slough Town | League | | | Match report |
| 09-12-2000 | Slough Town | 0-2 | Chesham United | League | | | Match report |
| 05-12-2000 | Bromley | 1-0 | Slough Town | Full Members Cup | | | Match report |
| 02-12-2000 | Newport AFC | 2-1 | Slough Town | FA Trophy | | | Match report |
| 28-11-2000 | Slough Town | 1-2 | Harrow Borough | League | | | Match report |
| 18-11-2000 | Dulwich Hamlet | 2-2 | Slough Town | League | | | Match report |
| 14-11-2000 | Marlow | 0-2 | Slough Town | League Cup | | | Match report |
| 11-11-2000 | Slough Town | 0-2 | Basingstoke Town | League | | | Match report |
| 04-11-2000 | Slough Town | 5-0 | Bishop's Stortford | FA Trophy | | | Match report |
| 21-10-2000 | Hitchin Town | 3-0 | Slough Town | League | | | Match report |
| 14-10-2000 | Slough Town | 1-2 | St Albans City | League | | | Match report |
| 07-10-2000 | Heybridge Swifts | 3-2 | Slough Town | League | | | Match report |
| 30-09-2000 | Tonbridge Angels | 2-0 | Slough Town | FA Cup | | | Match report |
| 19-09-2000 | Sutton United | 1-1 | Slough Town | League | | | Match report |
| 16-09-2000 | Slough Town | 1-1 | Hampton & Richmond | League | | | Match report |
| 05-09-2000 | Slough Town | 0-1 | Aldershot Town | League | | | Match report |
| 02-09-2000 | Canvey Island | 1-0 | Slough Town | League | | | Match report |
| 28-08-2000 | Enfield | 1-1 | Slough Town | League | | | Match report |
| 26-08-2000 | Slough Town | 3-2 | Purfleet | League | | | Match report |
| 22-08-2000 | Slough Town | 1-0 | Grays Athletic | League | | | Match report |
| 19-08-2000 | Ebbsfleet United | 1-2 | Slough Town | League | | | Match report |
| 06-05-2000 | Dagenham & R. | 2-1 | Slough Town | League | | | Match report |
| 02-05-2000 | Slough Town | 0-0 | Aldershot Town | League | | | Match report |
| 29-04-2000 | Slough Town | 2-1 | Heybridge Swifts | League | | | Match report |
| 22-04-2000 | Slough Town | 2-3 | Boreham Wood | League | | | Match report |
| 18-04-2000 | Heybridge Swifts | 1-1 | Slough Town | League | | | Match report |
| 15-04-2000 | Enfield | 1-3 | Slough Town | League | | | Match report |
| 10-04-2000 | Purfleet | 2-0 | Slough Town | League | | | Match report |
| 08-04-2000 | Slough Town | 2-3 | Harrow Borough | League | | | Match report |
| 01-04-2000 | Slough Town | 2-0 | Chesham United | League | | | Match report |
| 28-03-2000 | Aylesbury United | 4-2 | Slough Town | B&B Senior Cup | | | Match report |
| 25-03-2000 | Aldershot Town | 2-0 | Slough Town | League | | | Match report |
| 21-03-2000 | Slough Town | 2-1 | Enfield | League | | | Match report |
| 18-03-2000 | Canvey Island | 2-0 | Slough Town | League | | | Match report |
| 11-03-2000 | Slough Town | 1-1 | Hampton & Richmond | League | | | Match report |
| 07-03-2000 | Ebbsfleet United | 3-2 | Slough Town | Full Members Cup | | | Match report |
| 04-03-2000 | Slough Town | 3-1 | Walton & Hersham | League | | | Match report |
| 26-02-2000 | Hitchin Town | 1-2 | Slough Town | League | | | Match report |
| 22-02-2000 | Slough Town | 3-0 | Hungerford Town | B&B Senior Cup | | | Match report |
| 19-02-2000 | Slough Town | 2-1 | Ebbsfleet United | League | | | Match report |
| 15-02-2000 | Leatherhead | 0-3 | Slough Town | Full Members Cup | | | Match report |
| 12-02-2000 | Billericay Town | 3-1 | Slough Town | League | | | Match report |
| 05-02-2000 | Slough Town | 2-1 | Carshalton Ath | League | | | Match report |
| 15-01-2000 | Slough Town | 3-0 | Hitchin Town | League | | | Match report |
| 08-01-2000 | Slough Town | 1-2 | Farnborough Town | League | | | Match report |
| 03-01-2000 | Aylesbury United | 2-2 | Slough Town | League | | | Match report |
| 27-12-1999 | Slough Town | 1-4 | Basingstoke Town | League | | | Match report |
| 04-12-1999 | Dulwich Hamlet | 2-3 | Slough Town | League | | | Match report |
| 20-11-1999 | Slough Town | 2-3 | Dagenham & R. | League | | | Match report |
Slough Town FC is not responsible for content produced on external websites | Copyright Slough Town FC 2023