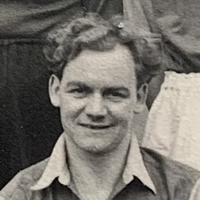 Position:
Unknown
Bio
Leslie Brown was in the little village of Gelli, Ystrath, in South Wales. As a youngster, he showed no signed of becoming the footballer he has sinve proved to be. As a schoolboy, the game didn't interest him, and it wasn't until 1935, when at the age of fourteen he came to Slough, that he had any desire this direction.
Since these days, Leslie has gone from strength to strength. At fifteen, he played for G.W.Z. in the Windsor and District Junior League and he came the proud possessor of the League medal whilst playing for Hampshire Hall.
On joining the firm of H.D.A. he hwas one of the eleven who made up a first class works team. Joining Slough United in 1942, he was elected skipper in 1944, and has held that office ever since, except for the period when the Army claimed his services.
In 1943/44 he was selected to play for the Herts and Middlesex League, and again in 1944/45. In 1949/50 he was chosen as Captain of the Berks & Bucks Eleven, and has been offered that honour each season since. He represented the Town Club in the Corinthian League Team in 1949/50. His proudest moment must have been when he was invited by the Welsh Amateur Football Association to captain the side in the Amateur trial held at the Dolphin Stadium in 1950/51. The weather was the deciding factor in this game. The ground was covered in snow and the lines had to be marked out in red. It is generally believed that, had conditions been at all favourable, he would have got that coveted "cap". Season 1950/51 provided him with some compensation however. It was the Club's Jubilee and skipper Brown led his team to victory to become champions of the Corinthian League, thereby creating a record by winning a senior league championship for the first time in fifty years – an honour that many former captains would have given much to achieve.
Mens
| First Appearance | Appearances | First Goal | Goals |
| --- | --- | --- | --- |
| 11-09-1943 vs Tuffnell Park | 299 | 10-02-1945 vs Wealdstone | 12 |
History
| Match Date | Home | Score | Away | Competition | Goals | Cards | |
| --- | --- | --- | --- | --- | --- | --- | --- |
| 03-04-1954 | Slough Town | 2-2 | Grays Athletic | League | | | Match report |
| 27-02-1954 | Slough Town | 1-2 | Slough Centre | B&B Senior Cup | | | Match report |
| 19-12-1953 | Dulwich Hamlet | 3-1 | Slough Town | FA Amateur Cup | | | Match report |
| 05-12-1953 | Slough Town | 2-4 | Hounslow | League | | | Match report |
| 21-11-1953 | Maidstone United | 2-1 | Slough Town | League | | | Match report |
| 14-11-1953 | Slough Town | 3-3 | Carshalton Ath | League | | | Match report |
| 07-11-1953 | Carshalton Ath | 5-3 | Slough Town | League | | | Match report |
| 31-10-1953 | Uxbridge | 2-1 | Slough Town | League | | | Match report |
| 24-10-1953 | Slough Town | 3-3 | Tilbury | League | | | Match report |
| 17-10-1953 | Slough Town | 1-1 | Worthing | League | | | Match report |
| 10-10-1953 | Worthing | 4-1 | Slough Town | League | | | Match report |
| 26-09-1953 | Slough Town | 3-2 | Edgware | League | | | Match report |
| 19-09-1953 | Slough Town | 2-4 | Maidstone United | League | | | Match report |
| 12-09-1953 | Slough Centre | 4-1 | Slough Town | FA Cup | | | Match report |
| 05-09-1953 | Slough Town | 0-4 | Eastbourne | League | | | Match report |
| 29-08-1953 | Erith | 3-2 | Slough Town | League | | | Match report |
| 22-08-1953 | Epsom | 2-0 | Slough Town | League | | | Match report |
| 18-04-1953 | Slough Town | 2-5 | Grays Athletic | League | | | Match report |
| 15-04-1953 | Hounslow | 1-1 | Slough Town | League | | | Match report |
| 11-04-1953 | Slough Centre | 1-2 | Slough Town | B&B Senior Cup | | | Match report |
| 06-04-1953 | Slough Centre | 2-2 | Slough Town | B&B Senior Cup | | | Match report |
| 04-04-1953 | Uxbridge | 0-1 | Slough Town | League | | | Match report |
| 28-03-1953 | Slough Town | 0-0 | Maidstone United | League | | | Match report |
| 14-03-1953 | Wycombe Wanderers | 0-2 | Slough Town | B&B Senior Cup | | | Match report |
| 09-03-1953 | Worthing | 1-0 | Slough Town | League | | | Match report |
| 28-02-1953 | Slough Town | 4-1 | Bletchley | B&B Senior Cup | | | Match report |
| 21-02-1953 | Slough Town | 0-2 | Pegasus | FA Amateur Cup | | | Match report |
| 14-02-1953 | Slough Town | 3-2 | Willington | FA Amateur Cup | | | Match report |
| 07-02-1953 | Willington | 1-1 | Slough Town | FA Amateur Cup | | | Match report |
| 31-01-1953 | Newbury Town | 0-2 | Slough Town | Benevolent Cup | | | Match report |
| 24-01-1953 | Slough Town | 2-1 | Barking | FA Amateur Cup | | | Match report |
| 17-01-1953 | Stokenchurch | 4-8 | Slough Town | B&B Senior Cup | | | Match report |
| 10-01-1953 | Slough Town | 0-0 | Uxbridge | League | | | Match report |
| 03-01-1953 | Maidstone United | 3-2 | Slough Town | League | | | Match report |
| 27-12-1952 | Slough Town | 3-2 | Maidenhead United | League | | | Match report |
| 26-12-1952 | Maidenhead United | 3-2 | Slough Town | League | | | Match report |
| 20-12-1952 | Slough Town | 2-1 | Worthing | League | | | Match report |
| 13-12-1952 | Eastbourne | 1-4 | Slough Town | FA Amateur Cup | | | Match report |
| 29-11-1952 | Slough Town | 2-2 | Chesham United | League | | | Match report |
| 22-11-1952 | Chesham United | 3-1 | Slough Town | League | | | Match report |
| 08-11-1952 | Slough Town | 1-0 | Tilbury | League | | | Match report |
| 01-11-1952 | Tilbury | 4-5 | Slough Town | League | | | Match report |
| 25-10-1952 | Slough Town | 0-1 | Hounslow | League | | | Match report |
| 18-10-1952 | Eastbourne | 6-1 | Slough Town | League | | | Match report |
| 04-10-1952 | Slough Town | 1-2 | Eastbourne | League | | | Match report |
| 27-09-1952 | Erith | 1-1 | Slough Town | League | | | Match report |
| 20-09-1952 | Hounslow | 2-0 | Slough Town | Memorial Shield | | | Match report |
| 13-09-1952 | Slough Centre | 2-1 | Slough Town | FA Cup | | | Match report |
| 06-09-1952 | Slough Town | 4-2 | Carshalton Ath | League | | | Match report |
| 30-08-1952 | Slough Town | 2-1 | Erith | League | | | Match report |
| 23-08-1952 | Epsom | 2-1 | Slough Town | League | | | Match report |
| 03-05-1952 | Slough Town | 1-2 | Erith | League | | | Match report |
| 01-05-1952 | Slough Town | 4-2 | Uxbridge | League | | | Match report |
| 29-04-1952 | Grays Athletic | 3-1 | Slough Town | League | | | Match report |
| 26-04-1952 | Eastbourne | 2-3 | Slough Town | League | | | Match report |
| 21-04-1952 | Epsom | 1-2 | Slough Town | League | | | Match report |
| 19-04-1952 | Slough Town | 1-1 | Slough Centre | Benevolent Cup | | | Match report |
| 22-03-1952 | Slough Town | 4-2 | Windsor & Eton | Benevolent Cup | | | Match report |
| 15-03-1952 | Hounslow | 2-0 | Slough Town | Memorial Shield | | | Match report |
| 01-03-1952 | Slough Town | 1-1 | Hounslow | Memorial Shield | | | Match report |
| 23-02-1952 | Slough Town | 4-1 | Erith | Memorial Shield | | | Match report |
| 16-02-1952 | Wolverton | 2-1 | Slough Town | B&B Senior Cup | | | Match report |
| 02-02-1952 | Erith | 2-1 | Slough Town | League | | | Match report |
| 26-01-1952 | Slough Town | 3-3 | Carshalton Ath | League | | | Match report |
| 19-01-1952 | Slough Town | 1-2 | Chesham United | League | | | Match report |
| 12-01-1952 | Uxbridge | 1-5 | Slough Town | League | | | Match report |
| 29-12-1951 | Slough Town | 1-0 | Eastbourne | League | | | Match report |
| 26-12-1951 | Slough Town | 2-1 | Maidenhead United | League | | | Match report |
| 25-12-1951 | Maidenhead United | 1-4 | Slough Town | League | | | Match report |
| 22-12-1951 | Chesham United | 1-4 | Slough Town | League | | | Match report |
| 15-12-1951 | Slough Town | 2-3 | Hendon | FA Amateur Cup | | | Match report |
| 08-12-1951 | Slough Town | 6-2 | Maidstone United | League | | | Match report |
| 01-12-1951 | Worthing | 1-4 | Slough Town | League | | | Match report |
| 24-11-1951 | Carshalton Ath | 2-3 | Slough Town | League | | | Match report |
| 17-11-1951 | Slough Town | 4-3 | Hounslow | League | | | Match report |
| 10-11-1951 | Slough Town | 11-1 | Worthing | League | | | Match report |
| 03-11-1951 | Slough Town | 4-0 | Edgware | League | | | Match report |
| 27-10-1951 | Wealdstone | 5-0 | Slough Town | FA Cup | | | Match report |
| 20-10-1951 | Maidstone United | 3-3 | Slough Town | League | | | Match report |
| 17-10-1951 | Slough Town | 4-0 | St Albans City | FA Cup | | | Match report |
| 13-10-1951 | St Albans City | 1-1 | Slough Town | FA Cup | | | Match report |
| 06-10-1951 | Tilbury | 0-2 | Slough Town | League | | | Match report |
| 04-10-1951 | Barnet | 1-6 | Slough Town | FA Cup | | | Match report |
| 29-09-1951 | Slough Town | 2-2 | Barnet | FA Cup | | | Match report |
| 15-09-1951 | Slough Town | 5-1 | Grays Athletic | League | | | Match report |
| 08-09-1951 | Tilbury | 1-3 | Slough Town | Memorial Shield | | | Match report |
| 01-09-1951 | Slough Town | 2-1 | Epsom | League | | | Match report |
| 25-08-1951 | Slough Town | 6-0 | Tilbury | League | | | Match report |
| 18-08-1951 | Hounslow | 0-1 | Slough Town | League | | | Match report |
| 19-05-1951 | Maidenhead United | 1-2 | Slough Town | Benevolent Cup | | | Match report |
| 10-05-1951 | Slough Town | 2-0 | Hounslow | League | | | Match report |
| 07-05-1951 | Grays Athletic | 2-1 | Slough Town | League | | | Match report |
| 02-05-1951 | Hounslow | 1-0 | Slough Town | League | | | Match report |
| 28-04-1951 | Slough Town | 2-0 | Worthing | League | | | Match report |
| 26-04-1951 | Slough Town | 4-3 | Eastbourne | League | | | Match report |
| 21-04-1951 | Worthing | 2-2 | Slough Town | League | | | Match report |
| 18-04-1951 | Slough Town | 1-0 | Carshalton Ath | League | | | Match report |
| 14-04-1951 | Slough Town | 8-1 | Aylesbury United | Benevolent Cup | | | Match report |
| 11-04-1951 | Slough Town | 2-0 | Chesham United | League | | | Match report |
| 07-04-1951 | Slough Town | 1-3 | Tilbury | League | | | Match report |
| 31-03-1951 | Uxbridge | 2-0 | Slough Town | Memorial Shield | | | Match report |
| 26-03-1951 | Chesham United | 2-1 | Slough Town | B&B Senior Cup | | | Match report |
| 24-03-1951 | Slough Town | 4-0 | Edgware | League | | | Match report |
| 23-03-1951 | Slough Town | 5-1 | Grays Athletic | League | | | Match report |
| 17-03-1951 | Slough Town | 2-1 | Wolverton | Benevolent Cup | | | Match report |
| 10-03-1951 | Wycombe Wanderers | 1-0 | Slough Town | B&B Senior Cup | | | Match report |
| 03-03-1951 | Slough Town | 2-2 | Uxbridge | League | | | Match report |
| 24-02-1951 | Tilbury | 1-3 | Slough Town | League | | | Match report |
| 17-02-1951 | Slough Town | 4-3 | Maidenhead United | B&B Senior Cup | | | Match report |
| 10-02-1951 | Slough Town | 5-1 | Tilbury | Memorial Shield | | | Match report |
| 03-02-1951 | Slough Town | 8-2 | Maidstone United | League | | | Match report |
| 27-01-1951 | Slough Town | 1-3 | Pegasus | FA Amateur Cup | | | Match report |
| 20-01-1951 | Eastbourne | 1-2 | Slough Town | League | | | Match report |
| 13-01-1951 | Slough Town | 4-1 | Poole Town | FA Amateur Cup | | | Match report |
| 30-12-1950 | Maidstone United | 2-0 | Slough Town | League | | | Match report |
| 26-12-1950 | Maidenhead United | 1-4 | Slough Town | League | | | Match report |
| 25-12-1950 | Slough Town | 1-0 | Maidenhead United | League | | | Match report |
| 23-12-1950 | Slough Town | 6-2 | Chesham United | Memorial Shield | | | Match report |
| 09-12-1950 | Erith | 2-3 | Slough Town | League | | | Match report |
| 18-11-1950 | Slough Town | 1-0 | Haywards Heath | FA Amateur Cup | | | Match report |
| 11-11-1950 | Maidenhead United | 0-3 | Slough Town | FA Amateur Cup | | | Match report |
| 04-11-1950 | Slough Town | 2-2 | Maidenhead United | FA Amateur Cup | | | Match report |
| 01-11-1950 | Wycombe Wanderers | 2-0 | Slough Town | FA Cup | | | Match report |
| 28-10-1950 | Slough Town | 1-1 | Wycombe Wanderers | FA Cup | | | Match report |
| 21-10-1950 | Slough Town | 2-1 | Slough Centre | FA Amateur Cup | | | Match report |
| 18-10-1950 | Slough Town | 5-1 | Banbury Spencer | FA Cup | | | Match report |
| 14-10-1950 | Banbury Spencer | 1-1 | Slough Town | FA Cup | | | Match report |
| 07-10-1950 | Slough Town | 2-0 | Amersham Town | FA Amateur Cup | | | Match report |
| 04-10-1950 | Oxford City | 1-2 | Slough Town | FA Cup | | | Match report |
| 30-09-1950 | Slough Town | 2-2 | Oxford City | FA Cup | | | Match report |
| 23-09-1950 | Slough Town | 3-0 | Kidlington | FA Amateur Cup | | | Match report |
| 16-09-1950 | Headington | 3-4 | Slough Town | FA Cup | | | Match report |
| 09-09-1950 | Osberton Rad | 0-3 | Slough Town | FA Amateur Cup | | | Match report |
| 02-09-1950 | Edgware | 3-3 | Slough Town | League | | | Match report |
| 26-08-1950 | Slough Town | 2-1 | Epsom | League | | | Match report |
| 19-08-1950 | Carshalton Ath | 2-3 | Slough Town | League | | | Match report |
| 19-04-1950 | Slough Town | 2-4 | Hounslow | League | | | Match report |
| 21-01-1950 | Slough Town | 3-1 | Slough Centre | B&B Senior Cup | | | Match report |
| 14-01-1950 | Slough Town | 1-1 | Epsom | League | | | Match report |
| 07-01-1950 | Slough Town | 6-3 | Chesham United | League | | | Match report |
| 31-12-1949 | Slough Town | 3-1 | Windsor & Eton | League | | | Match report |
| 27-12-1949 | Maidenhead United | 0-0 | Slough Town | League | | | Match report |
| 26-12-1949 | Slough Town | 1-1 | Maidenhead United | League | | | Match report |
| 10-12-1949 | Slough Town | 4-1 | Carshalton Ath | League | | | Match report |
| 03-12-1949 | Hounslow | 2-1 | Slough Town | League | | | Match report |
| 26-11-1949 | Slough Town | 2-2 | Walton & Hersham | League | | | Match report |
| 12-11-1949 | Epsom | 2-3 | Slough Town | League | | | Match report |
| 05-11-1949 | Walton & Hersham | 1-0 | Slough Town | League | | | Match report |
| 22-10-1949 | Erith | 4-0 | Slough Town | League | | | Match report |
| 15-10-1949 | Slough Town | 1-2 | Hayes | FA Cup | | | Match report |
| 08-10-1949 | Slough Town | 4-2 | Oxford City | FA Cup | | | Match report |
| 01-10-1949 | Oxford City | 1-1 | Slough Town | FA Cup | | | Match report |
| 24-09-1949 | Slough Centre | 2-1 | Slough Town | FA Amateur Cup | | | Match report |
| 17-09-1949 | Slough Town | 3-2 | Aylesbury United | FA Cup | | | Match report |
| 10-09-1949 | Thame United | 1-3 | Slough Town | FA Amateur Cup | | | Match report |
| 03-09-1949 | Slough Town | 1-0 | Slough Centre | FA Cup | | | Match report |
| 27-08-1949 | Slough Town | 1-0 | Eastbourne | League | | | Match report |
| 14-05-1949 | Maidenhead United | 0-1 | Slough Town | Benevolent Cup | | | Match report |
| 07-05-1949 | Worthing | 2-2 | Slough Town | League | | | Match report |
| 05-05-1949 | Slough Town | 1-2 | Worthing | League | | | Match report |
| 03-05-1949 | Slough Town | 1-2 | Hounslow | League | | | Match report |
| 02-05-1949 | Uxbridge | 1-1 | Slough Town | League | | | Match report |
| 26-04-1949 | Slough Town | 3-4 | Erith | League | | | Match report |
| 23-04-1949 | Wycombe Wanderers | 2-1 | Slough Town | B&B Senior Cup | | | Match report |
| 18-04-1949 | Wycombe Wanderers | 0-0 | Slough Town | B&B Senior Cup | | | Match report |
| 16-04-1949 | Slough Town | 2-2 | Grays Athletic | League | | | Match report |
| 09-04-1949 | Hounslow | 2-1 | Slough Town | League | | | Match report |
| 02-04-1949 | Slough Town | 2-0 | Aylesbury United | Benevolent Cup | | | Match report |
| 26-03-1949 | Grays Athletic | 0-4 | Slough Town | League | | | Match report |
| 19-03-1949 | Carshalton Ath | 3-5 | Slough Town | League | | | Match report |
| 12-03-1949 | Slough Town | 0-1 | Carshalton Ath | League | | | Match report |
| 05-03-1949 | Abingdon | 0-5 | Slough Town | B&B Senior Cup | | | Match report |
| 26-02-1949 | Slough Town | 2-0 | Windsor & Eton | League | | | Match report |
| 19-02-1949 | Marlow | 3-5 | Slough Town | Benevolent Cup | | | Match report |
| 12-02-1949 | Slough Town | 6-1 | Eastbourne | League | | | Match report |
| 05-02-1949 | Erith | 2-2 | Slough Town | League | | | Match report |
| 29-01-1949 | Chesham United | 2-2 | Slough Town | League | | | Match report |
| 22-01-1949 | Wolverton | 1-2 | Slough Town | B&B Senior Cup | | | Match report |
| 15-01-1949 | Windsor & Eton | 0-2 | Slough Town | League | | | Match report |
| 08-01-1949 | Slough Town | 5-0 | Chesham United | League | | | Match report |
| 01-01-1949 | Slough Town | 0-4 | Walton & Hersham | League | | | Match report |
| 26-12-1948 | Maidenhead United | 4-2 | Slough Town | League | | | Match report |
| 25-12-1948 | Slough Town | 3-0 | Maidenhead United | League | | | Match report |
| 18-12-1948 | Walton & Hersham | 1-2 | Slough Town | League | | | Match report |
| 11-12-1948 | Slough Town | 0-4 | Erith | Memorial Shield | | | Match report |
| 04-12-1948 | Slough Town | 2-1 | Maidenhead United | B&B Senior Cup | | | Match report |
| 20-11-1948 | Edgware | 1-1 | Slough Town | League | | | Match report |
| 06-11-1948 | Slough Town | 0-2 | Maidenhead United | FA Amateur Cup | | | Match report |
| 30-10-1948 | Slough Town | 3-0 | Windsor & Eton | Memorial Shield | | | Match report |
| 23-10-1948 | Aylesbury United | 1-3 | Slough Town | FA Amateur Cup | | | Match report |
| 16-10-1948 | Headington | 1-4 | Slough Town | FA Amateur Cup | | | Match report |
| 02-10-1948 | Eastbourne | 2-5 | Slough Town | League | | | Match report |
| 25-09-1948 | Metal Recovery | 1-4 | Slough Town | FA Amateur Cup | | | Match report |
| 18-09-1948 | Berkhamsted Town | 3-1 | Slough Town | FA Cup | | | Match report |
| 11-09-1948 | Slough Town | 3-2 | Chesham United | FA Amateur Cup | | | Match report |
| 04-09-1948 | Slough Town | 2-1 | Hayes | FA Cup | | | Match report |
| 28-08-1948 | Slough Town | 2-0 | Edgware | League | | | Match report |
| 08-05-1948 | Slough Town | 2-1 | Wealdstone | Unknown Cup | | | Match report |
| 29-04-1948 | Slough Town | 0-0 | Edgware | League | | | Match report |
| 17-04-1948 | Erith | 2-1 | Slough Town | League | | | Match report |
| 10-04-1948 | Slough Town | 1-2 | Hastings United | League | | | Match report |
| 29-03-1948 | Grays Athletic | 0-2 | Slough Town | League | | | Match report |
| 26-03-1948 | Slough Town | 2-1 | Grays Athletic | League | | | Match report |
| 20-03-1948 | Walton & Hersham | 3-2 | Slough Town | League | | | Match report |
| 13-03-1948 | Wolverton | 1-0 | Slough Town | Benevolent Cup | | | Match report |
| 28-02-1948 | Windsor & Eton | 1-4 | Slough Town | League | | | Match report |
| 21-02-1948 | Slough Town | 4-0 | Uxbridge | League | | | Match report |
| 14-02-1948 | Marlow | 0-3 | Slough Town | Benevolent Cup | | | Match report |
| 07-02-1948 | Slough Town | 1-2 | Hounslow | League | | | Match report |
| 24-01-1948 | Slough Town | 2-3 | Carshalton Ath | League | | | Match report |
| 17-01-1948 | Slough Town | 1-2 | Maidenhead United | League | | | Match report |
| 10-01-1948 | Uxbridge | 1-4 | Slough Town | League | | | Match report |
| 03-01-1948 | Slough Town | 5-0 | Bedford Avenue | League | | | Match report |
| 27-12-1947 | Bedford Avenue | 5-2 | Slough Town | League | | | Match report |
| 26-12-1947 | Maidenhead United | 2-1 | Slough Town | League | | | Match report |
| 30-03-1946 | Epsom Town | 0-3 | Slough Town | Benevolent Cup | | | Match report |
| 23-02-1946 | Wycombe Wanderers | 6-1 | Slough Town | League | | | Match report |
| 02-02-1946 | Oxford City | 2-3 | Slough Town | FA Amateur Cup | | | Match report |
| 26-12-1945 | Windsor & Eton | 2-6 | Slough Town | Corinthian Lge. | | | Match report |
| 25-12-1945 | Slough Town | 4-2 | Windsor & Eton | League | | | Match report |
| 01-12-1945 | Chesham United | 1-13 | Slough Town | B&B Senior Cup | | | Match report |
| 24-11-1945 | Slough Town | 1-0 | Bromley | FA Cup | | | Match report |
| 20-11-1945 | Bromley | 6-1 | Slough Town | FA Cup | | | Match report |
| 10-11-1945 | Slough Town | 4-2 | Marlow | FA Amateur Cup | | | Match report |
| 03-11-1945 | Leytonstone | 3-3 | Slough Town | FA Cup | | | Match report |
| 27-10-1945 | Slough Town | 6-4 | Twickenham | League | | | Match report |
| 20-10-1945 | Slough Town | 3-1 | Oxford City | FA Cup | | | Match report |
| 13-10-1945 | Maidenhead United | 1-0 | Slough Town | Memorial Shield | | | Match report |
| 06-10-1945 | Banbury Spencer | 2-5 | Slough Town | FA Cup | | | Match report |
| 29-09-1945 | Slough Town | 4-0 | Walton & Hersham | League | | | Match report |
| 25-09-1945 | Slough Town | 2-0 | Yiewsley | FA Cup | | | Match report |
| 22-09-1945 | Yiewsley | 2-2 | Slough Town | FA Cup | | | Match report |
| 15-09-1945 | Erith | 0-2 | Slough Town | League | | | Match report |
| 13-09-1945 | Slough Town | 3-1 | Hounslow | FA Cup | | | Match report |
| 08-09-1945 | Hounslow | 4-4 | Slough Town | FA Cup | | | Match report |
| 01-09-1945 | Slough Town | 3-2 | Erith | League | | | Match report |
| 05-05-1945 | Windsor & Eton | 0-2 | Slough Town | Red Cross Cup | | | Match report |
| 28-04-1945 | Slough Town | 1-3 | Windsor & Eton | Red Cross Cup | | | Match report |
| 14-04-1945 | Slough Town | 4-1 | Clapton | League | | | Match report |
| 31-03-1945 | Slough Town | 1-0 | Tuffnell Park | League | | | Match report |
| 24-03-1945 | Slough Town | 2-5 | Golders Green | League | | | Match report |
| 17-03-1945 | Wycombe Wanderers | 1-2 | Slough Town | Red Cross Cup | | | Match report |
| 10-03-1945 | Barnet | 1-0 | Slough Town | League | | | Match report |
| 03-03-1945 | Slough Town | 0-1 | Golders Green | League Cup | | | Match report |
| 24-02-1945 | Slough Town | 3-0 | Windsor Works | Red Cross Cup | | | Match report |
| 17-02-1945 | Wealdstone | 1-3 | Slough Town | League | | | Match report |
| 10-02-1945 | Slough Town | 3-0 | Wealdstone | League Cup | | | Match report |
| 03-02-1945 | Slough Town | 4-3 | Barnet | League | | | Match report |
| 20-01-1945 | Slough Town | 1-1 | Hitchin Town | League | | | Match report |
| 06-01-1945 | Hitchin Town | 4-1 | Slough Town | League | | | Match report |
| 30-12-1944 | Slough Town | 4-2 | Wood Green | League | | | Match report |
| 25-12-1944 | Slough Town | 4-1 | Southall | League | | | Match report |
| 23-12-1944 | Golders Green | 1-1 | Slough Town | League | | | Match report |
| 16-12-1944 | Slough Town | 2-0 | St Albans City | League | | | Match report |
| 09-12-1944 | St Albans City | 2-4 | Slough Town | League | | | Match report |
| 02-12-1944 | Wood Green | 2-6 | Slough Town | League | | | Match report |
| 25-11-1944 | Slough Town | 2-1 | Wealdstone | League | | | Match report |
| 18-11-1944 | Tuffnell Park | 3-0 | Slough Town | League | | | Match report |
| 04-11-1944 | Clapton | 1-2 | Slough Town | League | | | Match report |
| 28-10-1944 | Slough Town | 3-2 | Finchley | League | | | Match report |
| 21-10-1944 | Grays Athletic | 3-3 | Slough Town | League | | | Match report |
| 14-10-1944 | Slough Town | 1-0 | Grays Athletic | League | | | Match report |
| 07-10-1944 | Leyton | 2-3 | Slough Town | League | | | Match report |
| 30-09-1944 | Slough Town | 0-2 | Walthamstow | League | | | Match report |
| 23-09-1944 | Finchley | 1-3 | Slough Town | League | | | Match report |
| 16-09-1944 | Slough Town | 7-0 | Leyton | League | | | Match report |
| 09-09-1944 | Walthamstow | 7-0 | Slough Town | League | | | Match report |
| 13-05-1944 | RAF HW | 4-2 | Slough Town | Red Cross Cup | | | Match report |
| 06-05-1944 | Slough Town | 4-1 | RAF HW | Red Cross Cup | | | Match report |
| 15-04-1944 | Slough Town | 2-2 | Finchley | League | | | Match report |
| 10-04-1944 | Slough Town | 1-2 | Wealdstone | League Cup | | | Match report |
| 08-04-1944 | Golders Green | 0-3 | Slough Town | League | | | Match report |
| 01-04-1944 | Clapton | 2-2 | Slough Town | League | | | Match report |
| 18-03-1944 | Wealdstone | 2-1 | Slough Town | League | | | Match report |
| 04-03-1944 | Slough Town | 1-5 | Walthamstow | League | | | Match report |
| 26-02-1944 | Leyton | 1-2 | Slough Town | League | | | Match report |
| 19-02-1944 | Slough Town | 4-1 | Windsor Works | Red Cross Cup | | | Match report |
| 12-02-1944 | Slough Town | 1-0 | Golders Green | League | | | Match report |
| 05-02-1944 | Slough Town | 6-1 | Wood Green | League | | | Match report |
| 29-01-1944 | Slough Town | 2-1 | Leyton | League Cup | | | Match report |
| 08-01-1944 | Finchley | 1-3 | Slough Town | League | | | Match report |
| 01-01-1944 | Slough Town | 4-2 | Wealdstone | League | | | Match report |
| 27-12-1943 | Southall | 3-4 | Slough Town | League | | | Match report |
| 25-12-1943 | Slough Town | 6-1 | Southall | League | | | Match report |
| 18-12-1943 | Slough Town | 1-1 | Clapton | League | | | Match report |
| 11-12-1943 | St Albans City | 2-1 | Slough Town | League | | | Match report |
| 04-12-1943 | Slough Town | 1-2 | Tuffnell Park | League | | | Match report |
| 27-11-1943 | Slough Town | 1-0 | Hitchin Town | League | | | Match report |
| 20-11-1943 | Hitchin Town | 2-2 | Slough Town | League | | | Match report |
| 13-11-1943 | Windsor & Eton | 5-2 | Slough Town | B&B Senior Emergency Cup | | | Match report |
| 06-11-1943 | Barnet | 0-2 | Slough Town | League | | | Match report |
| 30-10-1943 | Slough Town | 1-4 | Barnet | League | | | Match report |
| 23-10-1943 | Wood Green | 1-9 | Slough Town | League | | | Match report |
| 16-10-1943 | Slough Town | 7-0 | H D A | B&B Senior Emergency Cup | | | Match report |
| 09-10-1943 | Grays Athletic | 2-4 | Slough Town | League | | | Match report |
| 02-10-1943 | Slough Town | 3-1 | Leyton | League | | | Match report |
| 25-09-1943 | Walthamstow | 6-1 | Slough Town | League | | | Match report |
| 18-09-1943 | Slough Town | 2-0 | Grays Athletic | League | | | Match report |
| 11-09-1943 | Tuffnell Park | 0-5 | Slough Town | League | | | Match report |
Slough Town FC is not responsible for content produced on external websites | Copyright Slough Town FC 2023