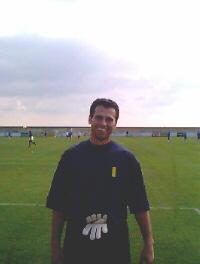 Position:
Goalkeeper
Bio
After fulfilling a scholarship with the Australian Institute of Sport, Steve's professional career began obscurely in 1989, when as an 18-year-old he made eight appearances for Blacktown City in the National Soccer League as an understudy to Bill Londos.
He made the switch to Parramatta Eagles the following season, serving another apprenticeship to Alex McPherson. Mautone returned to regional Victoria in 1992, taking up a contract with Morwell Falcons, firstly in the Victorian Premier League in 1992, and ultimately securing the first team spot in the senior squad for the club's inaugral season in the National Soccer League. In two seasons with the Gippsland based club, Mautone proved outstanding, not missing a single league game, and his performances led to a move to Victorian rivals South Melbourne. The following season Mautone signed for the newly formed Canberra Cosmos, where he played 20 of 24 league games before a move to London-based English Premier League outfit West Ham United beckoned. Following a loan spell with Crewe Alexandria, he made his League debut for the Hammers in September 1996, keeping a clean sheet against Nottingham Forest. He was then loaned out to Reading, where he became a fans favourite, eventually signing for the club in March 1997 in a deal worth £250,000. He made 34 appearances in all competitions for Reading before eventually being released from his contract. Mautone spent the 1999/00 season making a handful of appearances.at various clubs, including Wolverhampton, Crystal Palace and Gillingham.
He eventually moved to non-league Slough Town FC where he spent a couple of seasons and made over 50 appearances before eventually returning to Australia to pursue a coaching career.
In 2008–09 and 2009-10 season, Mautone was assistant coach with Melbourne Victory's National Youth League team, working alongside Mehmet Durakovic. Mautone has recently relinquished this position to concentrate on the Victory's senior goalkeepers and to develop his own goalkeeping academy, 1st Choice Keeper.
Mens
| First Appearance | Appearances | First Goal | Goals | Clean Sheets |
| --- | --- | --- | --- | --- |
| 19-08-2000 vs Ebbsfleet United | 53 | N/A | 0 | 16 |
History
| Match Date | Home | Score | Away | Competition | Goals | Cards | |
| --- | --- | --- | --- | --- | --- | --- | --- |
| 27-04-2002 | Slough Town | 0-1 | Bognor Regis Town | League | | | Match report |
| 13-04-2002 | Slough Town | 0-1 | Bishop's Stortford | League | | | Match report |
| 19-03-2002 | Maidenhead United | 3-2 | Slough Town | B&B Senior Cup | | | Match report |
| 12-02-2002 | Slough Town | 2-1 | Barking & East Ham Utd | League | | | Match report |
| 09-02-2002 | Slough Town | 3-1 | Tooting & Mitcham Utd | League | | | Match report |
| 02-02-2002 | Northwood | 1-1 | Slough Town | League | | | Match report |
| 22-01-2002 | Slough Town | 3-0 | Windsor & Eton | League | | | Match report |
| 19-01-2002 | Carshalton Ath | 2-1 | Slough Town | League | | | Match report |
| 12-01-2002 | Slough Town | 6-0 | Wealdstone | League | | | Match report |
| 05-01-2002 | Worthing | 0-3 | Slough Town | League | | | Match report |
| 01-01-2002 | Yeading | 0-0 | Slough Town | League | | | Match report |
| 29-12-2001 | Slough Town | 1-2 | Oxford City | League | | | Match report |
| 11-12-2001 | Slough Town | 1-0 | Bracknell Town | B&B Senior Cup | | | Match report |
| 04-12-2001 | Bracknell Town | 1-1 | Slough Town | B&B Senior Cup | | | Match report |
| 03-11-2001 | Slough Town | 0-2 | Aylesbury United | FA Trophy | | | Match report |
| 13-10-2001 | Ford Utd | 0-2 | Slough Town | League | | | Match report |
| 02-10-2001 | Slough Town | 1-1 | Thame United | League | | | Match report |
| 29-09-2001 | Whyteleafe | 0-2 | Slough Town | League | | | Match report |
| 25-09-2001 | Uxbridge | 3-1 | Slough Town | League | | | Match report |
| 22-09-2001 | Slough Town | 1-1 | Carshalton Ath | League | | | Match report |
| 11-09-2001 | Barking & East Ham Utd | 0-1 | Slough Town | League | | | Match report |
| 08-09-2001 | Wealdstone | 2-1 | Slough Town | League | | | Match report |
| 04-09-2001 | Slough Town | 0-1 | Worthing | League | | | Match report |
| 01-09-2001 | Lewes | 3-0 | Slough Town | FA Cup | | | Match report |
| 27-08-2001 | Slough Town | 3-3 | Yeading | League | | | Match report |
| 25-08-2001 | Bromley | 0-3 | Slough Town | League | | | Match report |
| 28-04-2001 | Slough Town | 3-1 | Carshalton Ath | League | | | Match report |
| 24-04-2001 | Slough Town | 2-0 | Ebbsfleet United | League | | | Match report |
| 21-04-2001 | Harrow Borough | 1-0 | Slough Town | League | | | Match report |
| 19-04-2001 | Slough Town | 0-1 | Canvey Island | League | | | Match report |
| 16-04-2001 | Slough Town | 1-0 | Maidenhead United | League | | | Match report |
| 14-04-2001 | Farnborough Town | 1-1 | Slough Town | League | | | Match report |
| 02-04-2001 | Croydon | 4-1 | Slough Town | League | | | Match report |
| 31-03-2001 | Slough Town | 0-3 | Hitchin Town | League | | | Match report |
| 24-03-2001 | Billericay Town | 0-0 | Slough Town | League | | | Match report |
| 10-03-2001 | Slough Town | 4-4 | Sutton United | League | | | Match report |
| 03-03-2001 | Slough Town | 1-1 | Heybridge Swifts | League | | | Match report |
| 24-02-2001 | St Albans City | 1-0 | Slough Town | League | | | Match report |
| 20-02-2001 | Maidenhead United | 2-0 | Slough Town | B&B Senior Cup | | | Match report |
| 17-02-2001 | Slough Town | 1-0 | Hendon | League | | | Match report |
| 10-02-2001 | Aldershot Town | 1-0 | Slough Town | League | | | Match report |
| 03-02-2001 | Slough Town | 3-1 | Enfield | League | | | Match report |
| 30-01-2001 | Carshalton Ath | 0-1 | Slough Town | League | | | Match report |
| 28-11-2000 | Slough Town | 1-2 | Harrow Borough | League | | | Match report |
| 18-11-2000 | Dulwich Hamlet | 2-2 | Slough Town | League | | | Match report |
| 14-11-2000 | Marlow | 0-2 | Slough Town | League Cup | | | Match report |
| 09-09-2000 | Hendon | 2-1 | Slough Town | League | | | Match report |
| 05-09-2000 | Slough Town | 0-1 | Aldershot Town | League | | | Match report |
| 02-09-2000 | Canvey Island | 1-0 | Slough Town | League | | | Match report |
| 28-08-2000 | Enfield | 1-1 | Slough Town | League | | | Match report |
| 26-08-2000 | Slough Town | 3-2 | Purfleet | League | | | Match report |
| 22-08-2000 | Slough Town | 1-0 | Grays Athletic | League | | | Match report |
| 19-08-2000 | Ebbsfleet United | 1-2 | Slough Town | League | | | Match report |
Slough Town FC is not responsible for content produced on external websites | Copyright Slough Town FC 2023