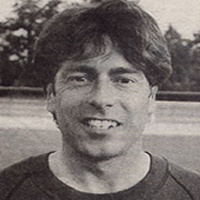 Position:
Defender
Bio
Experienced left back who joined the club towards the end of the 1996/7 season.
Quality addition to the squad who had also appeared for Portsmouth and appeared for Sunderland in the 1992 FA Cup Final as the north east side lost to Liverpool. Was one of only six players to remain with the squad following the problems in 1998 and took over the management position for a short time before being replaced by Graham Roberts as the new consortium looked to more high profile signings.
Paul George Hardyman was a left back for Portsmouth, Sunderland, Bristol Rovers, Barnet, Wycombe and Slough Town.
He is now youth team coach for his former club Portsmouth. Signed by Portsmouth manager Bobby Campbell when playing for Waterlooville, Hardyman made his debut in a 1–0 defeat to Crystal Palace wearing the number three shirt.
During the 1985–86 season also saw Paul represent his country for the second and final time at U21 level in the European Championship quarter-final against Denmark in Copenhagen. Although England returned victorious, Hardyman lost his place for the semi-final as Mitchell Thomas of Spurs (whom he had replaced) had recovered from injury. After this foray into International football, Hardyman was transferred to Sunderland for a fee of £130,000. Whilst at Sunderland, he played in the 1992 FA Cup Final as a substitute where they lost to Liverpool.
With his playing career over, Paul returned to his hometown and began work, alongside Guy Whittingham as a match day summariser on BBC Radio Solent. Until being made redundant by Portsmouth in October 2009 Hardyman, again together with Whittingham, Rod Ruddick and former Nottingham Forest winger Ian Woan, coached Pompey youngsters between the ages of 8 & 18.
Paul recently became manager at New Milton Town and is hoping to turn round the fortunes of the Sydenhams Football League (Wessex) club that has been through some rough times of late.
Mens
| First Appearance | Appearances | First Goal | Goals |
| --- | --- | --- | --- |
| 01-03-1997 vs Rushden & Diamonds | 75 | 08-03-1997 vs Telford Utd | 4 |
History
| Match Date | Home | Score | Away | Competition | Goals | Cards | |
| --- | --- | --- | --- | --- | --- | --- | --- |
| 23-02-1999 | Maidenhead United | 4-2 | Slough Town | Isthmian Lge Cup | | | Match report |
| 25-01-1999 | Slough Town | 1-2 | Rushden & Diamonds | FA Trophy | | | Match report |
| 02-01-1999 | Slough Town | 0-1 | Heybridge Swifts | League | | | Match report |
| 22-12-1998 | Walton & Hersham | 2-0 | Slough Town | Puma Cup | | | Match report |
| 08-12-1998 | Slough Town | 1-3 | Burnham | B&B Senior Cup | | | Match report |
| 01-12-1998 | Staines Town | 1-3 | Slough Town | Isthmian Lge Cup | | | Match report |
| 24-11-1998 | Slough Town | 1-1 | Macclesfield Town | FA Cup | | | Match report |
| 14-11-1998 | Macclesfield Town | 2-2 | Slough Town | FA Cup | | | Match report |
| 07-11-1998 | Slough Town | 2-2 | Enfield | League | | | Match report |
| 03-11-1998 | Crawley Town | 0-0 | Slough Town | FA Cup | | | Match report |
| 24-10-1998 | Hendon | 5-2 | Slough Town | League | | | Match report |
| 17-10-1998 | Slough Town | 3-1 | Halstead Town | FA Cup | | | Match report |
| 12-10-1998 | St Albans City | 3-3 | Slough Town | League | | | Match report |
| 10-10-1998 | Slough Town | 0-3 | Harrow Borough | League | | | Match report |
| 06-10-1998 | Fleet Town | 0-2 | Slough Town | FA Cup | | | Match report |
| 03-10-1998 | Slough Town | 1-1 | Fleet Town | FA Cup | | | Match report |
| 22-09-1998 | Slough Town | 1-1 | Billericay Town | League | | | Match report |
| 19-09-1998 | Slough Town | 2-3 | Purfleet | League | | | Match report |
| 08-09-1998 | Abingdon | 0-1 | Slough Town | Isthmian Lge Cup | | | Match report |
| 29-08-1998 | Slough Town | 3-1 | Chesham United | League | | | Match report |
| 02-05-1998 | Kidderminster Harriers | 0-1 | Slough Town | League | | | Match report |
| 30-04-1998 | Slough Town | 4-0 | Stalybridge Celtic | League | | | Match report |
| 28-04-1998 | Slough Town | 1-1 | Leek Town | League | | | Match report |
| 23-04-1998 | Slough Town | 1-1 | Kettering Town | League | | | Match report |
| 21-04-1998 | Dover Athletic | 2-1 | Slough Town | League | | | Match report |
| 18-04-1998 | Gateshead | 5-1 | Slough Town | League | | | Match report |
| 14-03-1998 | Stevenage Borough | 0-1 | Slough Town | FA Trophy | | | Match report |
| 03-03-1998 | Slough Town | 1-0 | Telford Utd | League | | | Match report |
| 28-02-1998 | Morecambe | 2-1 | Slough Town | League | | | Match report |
| 24-02-1998 | Boreham Wood | 1-2 | Slough Town | FA Trophy | | | Match report |
| 21-02-1998 | Slough Town | 1-1 | Boreham Wood | FA Trophy | | | Match report |
| 18-02-1998 | Farnborough Town | 1-0 | Slough Town | League | | | Match report |
| 14-02-1998 | Northwich Victoria | 0-1 | Slough Town | League | | | Match report |
| 07-02-1998 | Slough Town | 3-0 | Hereford United | League | | | Match report |
| 03-02-1998 | Slough Town | 2-0 | Halifax Town | FA Trophy | | | Match report |
| 31-01-1998 | Halifax Town | 1-1 | Slough Town | FA Trophy | | | Match report |
| 13-01-1998 | Slough Town | 2-1 | Welling United | FA Trophy | | | Match report |
| 10-01-1998 | Welling United | 1-1 | Slough Town | FA Trophy | | | Match report |
| 01-01-1998 | Hayes | 0-1 | Slough Town | League | | | Match report |
| 29-12-1997 | Slough Town | 1-0 | Farnborough Town | League | | | Match report |
| 26-12-1997 | Slough Town | 0-0 | Hayes | League | | | Match report |
| 20-12-1997 | Yeovil Town | 2-1 | Slough Town | League | | | Match report |
| 13-12-1997 | Slough Town | 2-0 | Kidderminster Harriers | League | | | Match report |
| 06-12-1997 | Welling United | 1-1 | Slough Town | League | | | Match report |
| 29-11-1997 | Slough Town | 1-0 | Southport | League | | | Match report |
| 25-11-1997 | Cardiff City | 3-2 | Slough Town | FA Cup | | | Match report |
| 22-11-1997 | Hednesford Town | 2-1 | Slough Town | League | | | Match report |
| 18-11-1997 | Hayes | 2-0 | Slough Town | Isthmian Lge Sub. Cup | | | Match report |
| 15-11-1997 | Slough Town | 1-1 | Cardiff City | FA Cup | | | Match report |
| 08-11-1997 | Slough Town | 1-2 | Cheltenham Town | League | | | Match report |
| 01-11-1997 | Rushden & Diamonds | 0-1 | Slough Town | League | | | Match report |
| 25-10-1997 | Slough Town | 2-1 | Kingstonian | FA Cup | | | Match report |
| 18-10-1997 | Slough Town | 3-3 | Morecambe | League | | | Match report |
| 11-10-1997 | Slough Town | 6-1 | Tilbury | FA Cup | | | Match report |
| 07-10-1997 | Slough Town | 1-0 | Welling United | Isthmian Lge Sub. Cup | | | Match report |
| 04-10-1997 | Leek Town | 0-2 | Slough Town | League | | | Match report |
| 30-09-1997 | Slough Town | 0-0 | Walton & Hersham | FA Cup | | | Match report |
| 23-09-1997 | Cheltenham Town | 1-1 | Slough Town | League | | | Match report |
| 20-09-1997 | Slough Town | 3-0 | Northwich Victoria | League | | | Match report |
| 16-09-1997 | Slough Town | 5-0 | Baldock Town | FA Cup | | | Match report |
| 13-09-1997 | Baldock Town | 0-0 | Slough Town | FA Cup | | | Match report |
| 10-09-1997 | Slough Town | 1-2 | Welling United | League | | | Match report |
| 25-08-1997 | Woking | 2-1 | Slough Town | League | | | Match report |
| 23-08-1997 | Slough Town | 1-1 | Halifax Town | League | | | Match report |
| 16-08-1997 | Kettering Town | 3-3 | Slough Town | League | | | Match report |
| 03-05-1997 | Stalybridge Celtic | 2-2 | Slough Town | League | | | Match report |
| 26-04-1997 | Morecambe | 0-0 | Slough Town | League | | | Match report |
| 19-04-1997 | Hednesford Town | 2-1 | Slough Town | League | | | Match report |
| 05-04-1997 | Slough Town | 1-0 | Halifax Town | League | | | Match report |
| 31-03-1997 | Slough Town | 2-2 | Dover Athletic | League | | | Match report |
| 29-03-1997 | Bath City | 0-0 | Slough Town | League | | | Match report |
| 22-03-1997 | Slough Town | 1-1 | Southport | League | | | Match report |
| 15-03-1997 | Slough Town | 1-3 | Hayes | League | | | Match report |
| 08-03-1997 | Telford Utd | 0-2 | Slough Town | League | | | Match report |
| 01-03-1997 | Rushden & Diamonds | 2-2 | Slough Town | League | | | Match report |
Slough Town FC is not responsible for content produced on external websites | Copyright Slough Town FC 2023