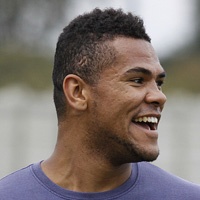 Position:
Defender
Bio
Central defender who originally signed for the club in the summer of 2009 from Football Conference side Histon.
Nathan quickly established himself as a key member of the Rebels backline, and also proved a menace in the opposition's penalty area at set plays, chipping in with nine goals in his 42 appearances in season 2009/10, including the opener at Sutton Coldfield on the opening day.
Nathan signed for Scottish side Pollok following the end of that season after he relocated to Glasgow due to work, turning down an offer from a Scottish League Division Two side in the process. However a move back south of the border has seen him become available to play for the Rebels again in season 2011/12.
Bowden-Haase has also played for Hemel Hempstead, Yeading and Chesham United. He was named Hemel's player of the season in 2008-09, which led to his move to Histon.
Mens
| First Appearance | Appearances | First Goal | Goals |
| --- | --- | --- | --- |
| 15-08-2009 vs Sutton Coldfield Town | 117 | 15-08-2009 vs Sutton Coldfield Town | 21 |
History
| Match Date | Home | Score | Away | Competition | Goals | Cards | |
| --- | --- | --- | --- | --- | --- | --- | --- |
| 12-01-2013 | Woodford United | 1-4 | Slough Town | League | | | Match report |
| 08-01-2013 | Slough Town | 3-1 | AFC Hayes | Red Insure Cup | | | Match report |
| 05-01-2013 | Slough Town | 1-3 | Uxbridge | League | | | Match report |
| 01-01-2013 | Beaconsfield Town | 1-1 | Slough Town | League | | | Match report |
| 26-12-2012 | Slough Town | 2-0 | Burnham | League | | | Match report |
| 08-12-2012 | Chertsey Town | 1-3 | Slough Town | League | | | Match report |
| 04-12-2012 | Aylesbury | 0-1 | Slough Town | Red Insure Cup | | | Match report |
| 01-12-2012 | Slough Town | 3-1 | Royston Town | League | | | Match report |
| 20-11-2012 | Maidenhead United | 4-1 | Slough Town | B&B Senior Cup | | | Match report |
| 17-11-2012 | Chalfont St Peter | 1-2 | Slough Town | League | | | Match report |
| 13-11-2012 | Slough Town | 1-1 | Mansfield Town | FA Cup | | | Match report |
| 10-11-2012 | Slough Town | 6-1 | Ashford Town (Middx) | League | | | Match report |
| 03-11-2012 | Mansfield Town | 0-0 | Slough Town | FA Cup | | | Match report |
| 27-10-2012 | Slough Town | 3-1 | Fleet Town | League | | | Match report |
| 23-10-2012 | Gosport Borough | 1-2 | Slough Town | FA Cup | | | Match report |
| 21-10-2012 | Slough Town | 0-0 | Gosport Borough | FA Cup | | | Match report |
| 16-10-2012 | Chalfont St Peter | 0-1 | Slough Town | Red Insure Cup | | | Match report |
| 13-10-2012 | Slough Town | 3-1 | Barton Rovers | League | | | Match report |
| 09-10-2012 | Slough Town | 4-1 | Thatcham Town | League | | | Match report |
| 06-10-2012 | Margate | 0-1 | Slough Town | FA Cup | | | Match report |
| 29-09-2012 | Slough Town | 0-4 | Gosport Borough | FA Trophy | | | Match report |
| 23-09-2012 | Slough Town | 5-1 | Eastbourne Town | FA Cup | | | Match report |
| 16-09-2012 | Slough Town | 2-1 | Hungerford Town | FA Trophy | | | Match report |
| 08-09-2012 | Slough Town | 4-1 | Lingfield | FA Cup | | | Match report |
| 04-09-2012 | Slough Town | 4-0 | Woodford United | League | | | Match report |
| 01-09-2012 | Uxbridge | 3-2 | Slough Town | League | | | Match report |
| 27-08-2012 | Slough Town | 1-1 | Beaconsfield Town | League | | | Match report |
| 25-08-2012 | Slough Town | 4-2 | Corinthian | FA Cup | | | Match report |
| 21-08-2012 | Slough Town | 1-2 | Guildford City | League | | | Match report |
| 18-08-2012 | Slough Town | 5-0 | Northwood | League | | | Match report |
| 07-05-2012 | Woodford United | 1-2 | Slough Town | League | | | Match report |
| 03-05-2012 | Slough Town | 1-2 | Beaconsfield Town | Play Off | | | Match report |
| 14-04-2012 | Bedworth United | 5-3 | Slough Town | League | | | Match report |
| 09-04-2012 | Slough Town | 1-1 | Beaconsfield Town | League | | | Match report |
| 07-04-2012 | Bedfont Town | 1-2 | Slough Town | League | | | Match report |
| 31-03-2012 | Slough Town | 1-1 | Chalfont St Peter | League | | | Match report |
| 24-03-2012 | Ashford Town (Middx) | 1-2 | Slough Town | League | | | Match report |
| 17-03-2012 | Slough Town | 2-1 | Biggleswade Town | League | | | Match report |
| 13-03-2012 | Slough Town | 0-2 | North Greenford Utd | League | | | Match report |
| 10-03-2012 | St Neots Town | 0-1 | Slough Town | League | | | Match report |
| 06-03-2012 | Barton Rovers | 0-3 | Slough Town | League | | | Match report |
| 03-03-2012 | Slough Town | 1-0 | Northwood | League | | | Match report |
| 25-02-2012 | Daventry Town | 1-1 | Slough Town | League | | | Match report |
| 18-02-2012 | Slough Town | 1-1 | AFC Hayes | League | | | Match report |
| 28-01-2012 | Slough Town | 3-0 | Chertsey Town | League | | | Match report |
| 14-01-2012 | Slough Town | 2-0 | Uxbridge | League | | | Match report |
| 07-01-2012 | Burnham | 1-1 | Slough Town | League | | | Match report |
| 02-01-2012 | Slough Town | 3-0 | Marlow | League | | | Match report |
| 31-12-2011 | Fleet Town | 0-1 | Slough Town | League | | | Match report |
| 26-12-2011 | Beaconsfield Town | 0-2 | Slough Town | League | | | Match report |
| 17-12-2011 | Slough Town | 2-1 | Bedworth United | League | | | Match report |
| 10-12-2011 | Chalfont St Peter | 2-1 | Slough Town | League | | | Match report |
| 03-12-2011 | Slough Town | 2-1 | Bedfont Town | League | | | Match report |
| 26-11-2011 | Slough Town | 4-3 | Ashford Town (Middx) | League | | | Match report |
| 19-11-2011 | Biggleswade Town | 1-1 | Slough Town | League | | | Match report |
| 15-11-2011 | Northwood | 2-4 | Slough Town | League | | | Match report |
| 12-11-2011 | Slough Town | 2-0 | St Neots Town | League | | | Match report |
| 08-11-2011 | AFC Hayes | 1-1 | Slough Town | League | | | Match report |
| 05-11-2011 | Slough Town | 2-1 | Woodford United | League | | | Match report |
| 01-11-2011 | Slough Town | 1-2 | Chesham United | Red Insure Cup | | | Match report |
| 22-10-2011 | Slough Town | 4-0 | Rugby Town | League | | | Match report |
| 18-10-2011 | Hanworth Villa | 3-1 | Slough Town | FA Cup | | | Match report |
| 15-10-2011 | Slough Town | 2-2 | Hanworth Villa | FA Cup | | | Match report |
| 08-10-2011 | Gosport Borough | 3-0 | Slough Town | FA Trophy | | | Match report |
| 04-10-2011 | North Greenford Utd | 0-0 | Slough Town | League | | | Match report |
| 01-10-2011 | Slough Town | 3-2 | Boreham Wood | FA Cup | | | Match report |
| 24-09-2011 | Slough Town | 2-1 | Daventry Town | League | | | Match report |
| 17-09-2011 | Banbury United | 1-3 | Slough Town | FA Cup | | | Match report |
| 04-09-2011 | Slough Town | 3-1 | Binfield | FA Cup | | | Match report |
| 29-08-2011 | Marlow | 0-3 | Slough Town | League | | | Match report |
| 27-08-2011 | Slough Town | 3-0 | Fleet Town | League | | | Match report |
| 23-08-2011 | Slough Town | 1-2 | Burnham | League | | | Match report |
| 20-08-2011 | Chertsey Town | 3-5 | Slough Town | League | | | Match report |
| 16-08-2011 | Uxbridge | 0-2 | Slough Town | League | | | Match report |
| 13-08-2011 | Slough Town | 0-0 | Aylesbury | League | | | Match report |
| 24-04-2010 | Romulus | 1-4 | Slough Town | League | | | Match report |
| 16-03-2010 | Slough Town | 0-1 | Wycombe Wanderers | B&B Senior Cup | | | Match report |
| 13-03-2010 | Biggleswade Town | 1-0 | Slough Town | League | | | Match report |
| 09-03-2010 | Slough Town | 3-1 | Leighton Town | League | | | Match report |
| 06-03-2010 | Slough Town | 2-0 | Soham Town Rangers | League | | | Match report |
| 02-03-2010 | Slough Town | 1-3 | Chesham United | League | | | Match report |
| 20-02-2010 | Slough Town | 2-2 | Sutton Coldfield Town | League | | | Match report |
| 15-02-2010 | Beaconsfield Town | 1-4 | Slough Town | League | | | Match report |
| 13-02-2010 | Slough Town | 0-1 | AFC Sudbury | League | | | Match report |
| 09-02-2010 | Slough Town | 1-1 | Marlow | League | | | Match report |
| 06-02-2010 | Woodford United | 0-1 | Slough Town | League | | | Match report |
| 02-02-2010 | Bedworth United | 2-4 | Slough Town | League | | | Match report |
| 23-01-2010 | Stourport Swifts | 1-4 | Slough Town | League | | | Match report |
| 12-12-2009 | Slough Town | 2-2 | Romulus | League | | | Match report |
| 08-12-2009 | Arlesey Town | 1-2 | Slough Town | League | | | Match report |
| 05-12-2009 | Slough Town | 0-1 | Bury Town | League | | | Match report |
| 01-12-2009 | AFC Sudbury | 1-2 | Slough Town | League | | | Match report |
| 28-11-2009 | Aylesbury United | 2-5 | Slough Town | League | | | Match report |
| 21-11-2009 | Slough Town | 2-0 | Bedworth United | League | | | Match report |
| 17-11-2009 | Slough Town | 3-2 | Bromsgrove Rovers | League | | | Match report |
| 14-11-2009 | Atherstone Town | 2-0 | Slough Town | League | | | Match report |
| 07-11-2009 | Slough Town | 4-1 | Rothwell Town | League | | | Match report |
| 03-11-2009 | Slough Town | 1-0 | Woodford United | League | | | Match report |
| 31-10-2009 | Boreham Wood | 3-2 | Slough Town | FA Trophy | | | Match report |
| 27-10-2009 | Slough Town | 1-2 | Chesham United | Red Insure Cup | | | Match report |
| 24-10-2009 | Slough Town | 3-2 | Stourport Swifts | League | | | Match report |
| 20-10-2009 | Slough Town | 2-0 | Uxbridge | FA Trophy | | | Match report |
| 17-10-2009 | Uxbridge | 1-1 | Slough Town | FA Trophy | | | Match report |
| 13-10-2009 | Hitchin Town | 3-2 | Slough Town | League | | | Match report |
| 10-10-2009 | Tooting & Mitcham Utd | 3-2 | Slough Town | FA Cup | | | Match report |
| 06-10-2009 | Mangotsfield Utd | 0-1 | Slough Town | FA Trophy | | | Match report |
| 04-10-2009 | Slough Town | 1-1 | Mangotsfield Utd | FA Trophy | | | Match report |
| 26-09-2009 | Slough Town | 2-0 | Concord Rangers | FA Cup | | | Match report |
| 19-09-2009 | Soham Town Rangers | 0-2 | Slough Town | League | | | Match report |
| 15-09-2009 | Slough Town | 2-1 | Hemel Hempstead Town | FA Cup | | | Match report |
| 12-09-2009 | Hemel Hempstead Town | 1-1 | Slough Town | FA Cup | | | Match report |
| 05-09-2009 | Slough Town | 4-2 | Biggleswade Town | League | | | Match report |
| 29-08-2009 | Tring Athletic | 0-4 | Slough Town | FA Cup | | | Match report |
| 25-08-2009 | Leighton Town | 0-1 | Slough Town | League | | | Match report |
| 22-08-2009 | Slough Town | 5-1 | Barton Rovers | League | | | Match report |
| 18-08-2009 | Slough Town | 0-2 | Burnham | League | | | Match report |
| 15-08-2009 | Sutton Coldfield Town | 2-2 | Slough Town | League | | | Match report |
Slough Town FC is not responsible for content produced on external websites | Copyright Slough Town FC 2023