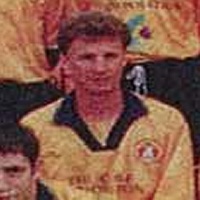 Stats
Position:
Defender
First Appearance:
23-03-1996 vs Stalybridge Celtic
Appearances:
113
First Goal:
02-05-1996 vs Macclesfield Town
Goals:
3
Bio
Accomplished full back who won a number of man of the match awards during his time with the club.

Scored three times during his one hundred and thirteen appearances for the Rebels. Having started out as a PE teacher, he played in the Wokingham team that reached the 1987–88 FA Trophy semi final, before signing for Oxford United in July 1988. He remained with Oxford United until 1994, making a total of 204 appearances in all competitions, without scoring once. He then dropped down into non-league football. He went to play with Stevenage Borough, Chertsey Town, Chesham United, Hayes F.C., Slough Town, Aldershot Town and Oxford City.
History
| Match Date | Home | Score | Away | Competition | Goals | Cards | |
| --- | --- | --- | --- | --- | --- | --- | --- |
| 02-05-1998 | Kidderminster Harriers | 0-1 | Slough Town | League | | | Match report |
| 30-04-1998 | Slough Town | 4-0 | Stalybridge Celtic | League | | | Match report |
| 28-04-1998 | Slough Town | 1-1 | Leek Town | League | | | Match report |
| 23-04-1998 | Slough Town | 1-1 | Kettering Town | League | | | Match report |
| 21-04-1998 | Dover Athletic | 2-1 | Slough Town | League | | | Match report |
| 18-04-1998 | Gateshead | 5-1 | Slough Town | League | | | Match report |
| 13-04-1998 | Slough Town | 1-1 | Yeovil Town | League | | | Match report |
| 07-04-1998 | Slough Town | 3-1 | Stevenage Borough | League | | | Match report |
| 05-04-1998 | Southport | 1-1 | Slough Town | FA Trophy | | | Match report |
| 31-03-1998 | Slough Town | 1-0 | Gateshead | League | | | Match report |
| 28-03-1998 | Slough Town | 0-1 | Southport | FA Trophy | | | Match report |
| 21-03-1998 | Hereford United | 1-1 | Slough Town | League | | | Match report |
| 16-03-1998 | Stevenage Borough | 4-2 | Slough Town | League | | | Match report |
| 14-03-1998 | Stevenage Borough | 0-1 | Slough Town | FA Trophy | | | Match report |
| 10-03-1998 | Slough Town | 1-3 | Woking | League | | | Match report |
| 07-03-1998 | Slough Town | 2-0 | Hednesford Town | League | | | Match report |
| 03-03-1998 | Slough Town | 1-0 | Telford Utd | League | | | Match report |
| 28-02-1998 | Morecambe | 2-1 | Slough Town | League | | | Match report |
| 18-02-1998 | Farnborough Town | 1-0 | Slough Town | League | | | Match report |
| 14-02-1998 | Northwich Victoria | 0-1 | Slough Town | League | | | Match report |
| 07-02-1998 | Slough Town | 3-0 | Hereford United | League | | | Match report |
| 03-02-1998 | Slough Town | 2-0 | Halifax Town | FA Trophy | | | Match report |
| 31-01-1998 | Halifax Town | 1-1 | Slough Town | FA Trophy | | | Match report |
| 24-01-1998 | Halifax Town | 1-0 | Slough Town | League | | | Match report |
| 17-01-1998 | Telford Utd | 0-1 | Slough Town | League | | | Match report |
| 13-01-1998 | Slough Town | 2-1 | Welling United | FA Trophy | | | Match report |
| 10-01-1998 | Welling United | 1-1 | Slough Town | FA Trophy | | | Match report |
| 01-01-1998 | Hayes | 0-1 | Slough Town | League | | | Match report |
| 29-12-1997 | Slough Town | 1-0 | Farnborough Town | League | | | Match report |
| 26-12-1997 | Slough Town | 0-0 | Hayes | League | | | Match report |
| 20-12-1997 | Yeovil Town | 2-1 | Slough Town | League | | | Match report |
| 13-12-1997 | Slough Town | 2-0 | Kidderminster Harriers | League | | | Match report |
| 06-12-1997 | Welling United | 1-1 | Slough Town | League | | | Match report |
| 29-11-1997 | Slough Town | 1-0 | Southport | League | | | Match report |
| 25-11-1997 | Cardiff City | 3-2 | Slough Town | FA Cup | | | Match report |
| 22-11-1997 | Hednesford Town | 2-1 | Slough Town | League | | | Match report |
| 18-11-1997 | Hayes | 2-0 | Slough Town | Isthmian Lge Sub. Cup | | | Match report |
| 15-11-1997 | Slough Town | 1-1 | Cardiff City | FA Cup | | | Match report |
| 08-11-1997 | Slough Town | 1-2 | Cheltenham Town | League | | | Match report |
| 01-11-1997 | Rushden & Diamonds | 0-1 | Slough Town | League | | | Match report |
| 25-10-1997 | Slough Town | 2-1 | Kingstonian | FA Cup | | | Match report |
| 18-10-1997 | Slough Town | 3-3 | Morecambe | League | | | Match report |
| 11-10-1997 | Slough Town | 6-1 | Tilbury | FA Cup | | | Match report |
| 07-10-1997 | Slough Town | 1-0 | Welling United | Isthmian Lge Sub. Cup | | | Match report |
| 04-10-1997 | Leek Town | 0-2 | Slough Town | League | | | Match report |
| 30-09-1997 | Slough Town | 0-0 | Walton & Hersham | FA Cup | | | Match report |
| 27-09-1997 | Walton & Hersham | 0-0 | Slough Town | FA Cup | | | Match report |
| 23-09-1997 | Cheltenham Town | 1-1 | Slough Town | League | | | Match report |
| 20-09-1997 | Slough Town | 3-0 | Northwich Victoria | League | | | Match report |
| 16-09-1997 | Slough Town | 5-0 | Baldock Town | FA Cup | | | Match report |
| 13-09-1997 | Baldock Town | 0-0 | Slough Town | FA Cup | | | Match report |
| 10-09-1997 | Slough Town | 1-2 | Welling United | League | | | Match report |
| 07-09-1997 | Southport | 1-2 | Slough Town | League | | | Match report |
| 02-09-1997 | Slough Town | 1-2 | Rushden & Diamonds | League | | | Match report |
| 30-08-1997 | Stalybridge Celtic | 0-1 | Slough Town | League | | | Match report |
| 25-08-1997 | Woking | 2-1 | Slough Town | League | | | Match report |
| 23-08-1997 | Slough Town | 1-1 | Halifax Town | League | | | Match report |
| 19-08-1997 | Slough Town | 2-4 | Dover Athletic | League | | | Match report |
| 16-08-1997 | Kettering Town | 3-3 | Slough Town | League | | | Match report |
| 03-05-1997 | Stalybridge Celtic | 2-2 | Slough Town | League | | | Match report |
| 26-04-1997 | Morecambe | 0-0 | Slough Town | League | | | Match report |
| 19-04-1997 | Hednesford Town | 2-1 | Slough Town | League | | | Match report |
| 05-04-1997 | Slough Town | 1-0 | Halifax Town | League | | | Match report |
| 31-03-1997 | Slough Town | 2-2 | Dover Athletic | League | | | Match report |
| 29-03-1997 | Bath City | 0-0 | Slough Town | League | | | Match report |
| 22-03-1997 | Slough Town | 1-1 | Southport | League | | | Match report |
| 15-03-1997 | Slough Town | 1-3 | Hayes | League | | | Match report |
| 11-03-1997 | Wycombe Wanderers | 3-2 | Slough Town | B&B Senior Cup | | | Match report |
| 08-03-1997 | Telford Utd | 0-2 | Slough Town | League | | | Match report |
| 01-03-1997 | Rushden & Diamonds | 2-2 | Slough Town | League | | | Match report |
| 22-02-1997 | Hayes | 5-0 | Slough Town | League | | | Match report |
| 15-02-1997 | Slough Town | 3-4 | Northwich Victoria | League | | | Match report |
| 01-02-1997 | Slough Town | 0-1 | Gateshead | League | | | Match report |
| 27-01-1997 | Slough Town | 1-2 | Dorchester Town | FA Trophy | | | Match report |
| 25-01-1997 | Macclesfield Town | 2-0 | Slough Town | League | | | Match report |
| 21-01-1997 | Dorchester Town | 1-1 | Slough Town | FA Trophy | | | Match report |
| 18-01-1997 | Slough Town | 2-2 | Dorchester Town | FA Trophy | | | Match report |
| 14-01-1997 | Slough Town | 6-0 | Buckingham Town | B&B Senior Cup | | | Match report |
| 26-12-1996 | Stevenage Borough | 2-2 | Slough Town | League | | | Match report |
| 21-12-1996 | Slough Town | 3-3 | Welling United | League | | | Match report |
| 14-12-1996 | Farnborough Town | 2-1 | Slough Town | League | | | Match report |
| 07-12-1996 | Kettering Town | 0-0 | Slough Town | League | | | Match report |
| 30-11-1996 | Slough Town | 0-0 | Macclesfield Town | League | | | Match report |
| 26-11-1996 | Northwich Victoria | 0-1 | Slough Town | League | | | Match report |
| 16-11-1996 | Gateshead | 2-1 | Slough Town | League | | | Match report |
| 09-11-1996 | Slough Town | 0-2 | Kidderminster Harriers | League | | | Match report |
| 02-11-1996 | Altrincham | 0-1 | Slough Town | League | | | Match report |
| 26-10-1996 | Hayes | 1-0 | Slough Town | FA Cup | | | Match report |
| 19-10-1996 | Slough Town | 6-0 | Telford Utd | League | | | Match report |
| 08-10-1996 | Kettering Town | 1-0 | Slough Town | Isthmian Lge Sub. Cup | | | Match report |
| 05-10-1996 | Slough Town | 1-2 | Morecambe | League | | | Match report |
| 01-10-1996 | Slough Town | 3-0 | Woking | League | | | Match report |
| 28-09-1996 | Bromsgrove Rovers | 4-1 | Slough Town | League | | | Match report |
| 24-09-1996 | Slough Town | 1-1 | Kettering Town | League | | | Match report |
| 21-09-1996 | Slough Town | 2-2 | Hednesford Town | League | | | Match report |
| 17-09-1996 | Dover Athletic | 0-0 | Slough Town | League | | | Match report |
| 14-09-1996 | Slough Town | 2-0 | Bromsgrove Rovers | League | | | Match report |
| 10-09-1996 | Welling United | 3-2 | Slough Town | League | | | Match report |
| 07-09-1996 | Southport | 0-1 | Slough Town | League | | | Match report |
| 03-09-1996 | Slough Town | 5-2 | Bath City | League | | | Match report |
| 31-08-1996 | Slough Town | 0-1 | Altrincham | League | | | Match report |
| 26-08-1996 | Kidderminster Harriers | 1-2 | Slough Town | League | | | Match report |
| 24-08-1996 | Halifax Town | 4-1 | Slough Town | League | | | Match report |
| 20-08-1996 | Slough Town | 5-0 | Rushden & Diamonds | League | | | Match report |
| 17-08-1996 | Slough Town | 4-1 | Stalybridge Celtic | League | | | Match report |
| 04-05-1996 | Slough Town | 0-1 | Runcorn | League | | | Match report |
| 02-05-1996 | Macclesfield Town | 1-1 | Slough Town | League | | | Match report |
| 27-04-1996 | Hednesford Town | 3-1 | Slough Town | League | | | Match report |
| 20-04-1996 | Slough Town | 1-1 | Morecambe | League | | | Match report |
| 08-04-1996 | Southport | 2-0 | Slough Town | League | | | Match report |
| 03-04-1996 | Bath City | 3-1 | Slough Town | League | | | Match report |
| 30-03-1996 | Bromsgrove Rovers | 0-0 | Slough Town | League | | | Match report |
| 23-03-1996 | Slough Town | 2-1 | Stalybridge Celtic | League | | | Match report |
Slough Town FC is not responsible for content produced on external websites | Copyright Slough Town FC 2021