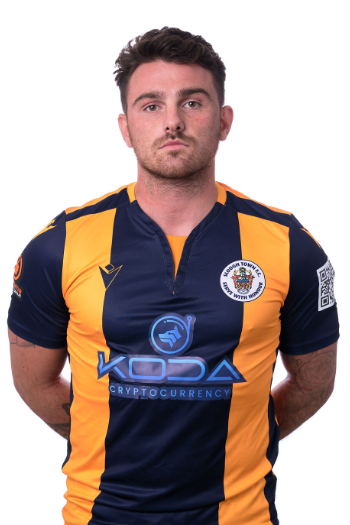 Position:
Midfielder
Bio
Max joined the Rebels in the summer of 2019 and has been a consistent performer over the past two interrupted seasons.
He is a hard-working left sided player, very strong in the air and possesses a great delivery from wide areas.
He arrived at the club from Maidenhead United, having played for the Magpies in two spells. He initially joined on loan from Aldershot Town before signing permanently in the summer of 2018.
After leaving Aldershot, Max went onto play for Dorchester Town, Hayes & Yeading United and most notably Staines Town where he was their club captain.
EDS
| First Appearance | Appearances | First Goal | Goals |
| --- | --- | --- | --- |
| 02-11-2021 vs AFC Dunstable Development | 1 | N/A | 0 |
Mens
| First Appearance | Appearances | First Goal | Goals |
| --- | --- | --- | --- |
| 03-08-2019 vs Dorking Wanderers | 80 | 03-09-2019 vs Hemel Hempstead Town | 8 |
History
| Match Date | Home | Score | Away | Competition | Goals | Cards | |
| --- | --- | --- | --- | --- | --- | --- | --- |
| 02-11-2021 | AFC Dunstable Development | 2-4 | Slough Town EDS | League | | | Match report |
| Match Date | Home | Score | Away | Competition | Goals | Cards | |
| --- | --- | --- | --- | --- | --- | --- | --- |
| 01-03-2022 | Braintree Town | 1-0 | Slough Town | League | | | Match report |
| 26-02-2022 | Slough Town | 1-1 | Havant & Waterlooville | League | | | Match report |
| 19-02-2022 | Slough Town | 2-1 | Welling United | League | | | Match report |
| 12-02-2022 | Ebbsfleet United | 1-2 | Slough Town | League | | | Match report |
| 08-02-2022 | Slough Town | 1-2 | Dulwich Hamlet | League | | | Match report |
| 05-02-2022 | Slough Town | 2-2 | Hungerford Town | League | | | Match report |
| 29-01-2022 | St Albans City | 1-0 | Slough Town | League | | | Match report |
| 25-01-2022 | Slough Town | 1-1 | Billericay Town | League | | | Match report |
| 15-01-2022 | York City | 1-0 | Slough Town | FA Trophy | | | Match report |
| 08-01-2022 | Chippenham Town | 6-1 | Slough Town | League | | | Match report |
| 02-01-2022 | Slough Town | 2-2 | Oxford City | League | | | Match report |
| 26-12-2021 | Oxford City | 3-2 | Slough Town | League | | | Match report |
| 18-12-2021 | Slough Town | 3-1 | Eastbourne Borough | FA Trophy | | | Match report |
| 11-12-2021 | Hemel Hempstead Town | 2-2 | Slough Town | League | | | Match report |
| 04-12-2021 | Slough Town | 2-1 | Tonbridge Angels | League | | | Match report |
| 29-11-2021 | Beaconsfield Town | 5-1 | Slough Town | B&B Senior Cup | | | Match report |
| 27-11-2021 | Slough Town | 1-0 | Havant & Waterlooville | FA Trophy | | | Match report |
| 20-11-2021 | Eastbourne Borough | 3-1 | Slough Town | League | | | Match report |
| 13-11-2021 | Slough Town | 2-1 | Dorking Wanderers | League | | | Match report |
| 30-10-2021 | Slough Town | 1-1 | Concord Rangers | League | | | Match report |
| 26-10-2021 | Slough Town | 2-0 | Bath City | League | | | Match report |
| 16-10-2021 | Billericay Town | 2-1 | Slough Town | League | | | Match report |
| 09-10-2021 | Slough Town | 1-3 | Ebbsfleet United | League | | | Match report |
| 25-09-2021 | Hungerford Town | 1-1 | Slough Town | League | | | Match report |
| 18-09-2021 | Slough Town | 1-3 | Whitehawk | FA Cup | | | Match report |
| 11-09-2021 | Slough Town | 2-3 | St Albans City | League | | | Match report |
| 04-09-2021 | Welling United | 2-2 | Slough Town | League | | | Match report |
| 28-08-2021 | Slough Town | 0-1 | Chippenham Town | League | | | Match report |
| 21-08-2021 | Dartford | 3-0 | Slough Town | League | | | Match report |
| 14-08-2021 | Slough Town | 1-0 | Chelmsford City | League | | | Match report |
| 16-01-2021 | Slough Town | 3-2 | Braintree Town | League | | | Match report |
| 05-12-2020 | Chippenham Town | 2-2 | Slough Town | League | | | Match report |
| 21-11-2020 | Dartford | 2-0 | Slough Town | League | | | Match report |
| 17-11-2020 | Slough Town | 1-3 | Hungerford Town | League | | | Match report |
| 14-11-2020 | Billericay Town | 2-0 | Slough Town | League | | | Match report |
| 07-11-2020 | Slough Town | 2-3 | Maidstone United | League | | | Match report |
| 31-10-2020 | Slough Town | 2-1 | Bath City | League | | | Match report |
| 17-10-2020 | Slough Town | 4-4 | Welling United | League | | | Match report |
| 13-10-2020 | Slough Town | 0-1 | Bath City | FA Cup | | | Match report |
| 10-10-2020 | Dorking Wanderers | 3-1 | Slough Town | League | | | Match report |
| 03-10-2020 | Dartford | 0-1 | Slough Town | FA Cup | | | Match report |
| 19-07-2020 | Slough Town | 0-3 | Dartford | Play Off | | | Match report |
| 14-03-2020 | Weymouth | 2-0 | Slough Town | League | | | Match report |
| 10-03-2020 | Slough Town | 2-2 | MK Dons | B&B Senior Cup | | | Match report |
| 07-03-2020 | Slough Town | 0-2 | Hungerford Town | League | | | Match report |
| 29-02-2020 | Dorking Wanderers | 3-5 | Slough Town | League | | | Match report |
| 26-02-2020 | Havant & Waterlooville | 1-0 | Slough Town | League | | | Match report |
| 22-02-2020 | Chelmsford City | 1-1 | Slough Town | League | | | Match report |
| 15-02-2020 | Slough Town | 1-1 | Havant & Waterlooville | League | | | Match report |
| 01-02-2020 | Slough Town | 0-1 | Oxford City | League | | | Match report |
| 28-01-2020 | Hampton & Richmond | 1-2 | Slough Town | League | | | Match report |
| 25-01-2020 | Braintree Town | 0-1 | Slough Town | League | | | Match report |
| 18-01-2020 | Slough Town | 1-0 | Dartford | League | | | Match report |
| 11-01-2020 | Billericay Town | 2-2 | Slough Town | League | | | Match report |
| 01-01-2020 | Wealdstone | 2-1 | Slough Town | League | | | Match report |
| 28-12-2019 | Hemel Hempstead Town | 1-1 | Slough Town | League | | | Match report |
| 26-12-2019 | Slough Town | 2-1 | Wealdstone | League | | | Match report |
| 07-12-2019 | Slough Town | 1-0 | Braintree Town | League | | | Match report |
| 30-11-2019 | Slough Town | 0-0 | Tonbridge Angels | League | | | Match report |
| 26-11-2019 | Slough Town | 2-3 | Concord Rangers | FA Trophy | | | Match report |
| 23-11-2019 | Concord Rangers | 0-0 | Slough Town | FA Trophy | | | Match report |
| 16-11-2019 | Chippenham Town | 0-3 | Slough Town | League | | | Match report |
| 02-11-2019 | Slough Town | 2-1 | Chelmsford City | League | | | Match report |
| 29-10-2019 | Slough Town | 1-0 | Welling United | League | | | Match report |
| 26-10-2019 | Oxford City | 2-1 | Slough Town | League | | | Match report |
| 12-10-2019 | Slough Town | 3-1 | Billericay Town | League | | | Match report |
| 08-10-2019 | Slough Town | 2-3 | Chippenham Town | FA Cup | | | Match report |
| 05-10-2019 | Chippenham Town | 3-3 | Slough Town | FA Cup | | | Match report |
| 28-09-2019 | Dartford | 2-3 | Slough Town | League | | | Match report |
| 21-09-2019 | Flackwell Heath | 0-3 | Slough Town | FA Cup | | | Match report |
| 14-09-2019 | Slough Town | 3-1 | Hampton & Richmond | League | | | Match report |
| 07-09-2019 | Eastbourne Borough | 0-2 | Slough Town | League | | | Match report |
| 03-09-2019 | Slough Town | 2-0 | Hemel Hempstead Town | League | | | Match report |
| 31-08-2019 | Slough Town | 1-1 | St Albans City | League | | | Match report |
| 26-08-2019 | Dulwich Hamlet | 2-3 | Slough Town | League | | | Match report |
| 24-08-2019 | Slough Town | 3-2 | Bath City | League | | | Match report |
| 17-08-2019 | Maidstone United | 1-1 | Slough Town | League | | | Match report |
| 10-08-2019 | Concord Rangers | 2-1 | Slough Town | League | | | Match report |
| 06-08-2019 | Hungerford Town | 1-0 | Slough Town | League | | | Match report |
| 03-08-2019 | Slough Town | 0-1 | Dorking Wanderers | League | | | Match report |
Slough Town FC is not responsible for content produced on external websites | Copyright Slough Town FC 2023