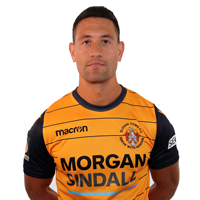 Position:
Defender
Achievements
2017/18 Won promotion to National League South
2018/19 Berks & Bucks FA Senior Cup
Bio
32-year-old right back Nathan Smart joined the Rebels early in the 2016/17 season and played a number of games for the club, providing cover for injuries before excelling at centre-back.
Smart went on to feature regularly in the team, and become an integral part of the squad which won promotion to National League South and enjoyed runs to the Second Round of the FA Cup in successive seasons.
Nathan spent the majority of the 2018/19 season at Hartley Wintney, where he was made club captain, but helped the Rebels to success in the Berks & Bucks FA Senior Cup. After playing in the Slough side which defeated Reading in the final, he left the club having made 75 appearances.
Nathan's previous clubs include Cheltenham Town, Fleet Town and more recently, Basingstoke Town.
Mens
| First Appearance | Appearances | First Goal | Goals |
| --- | --- | --- | --- |
| 04-10-2016 vs Ashford Town (Middx) | 75 | 02-10-2017 vs Beaconsfield Town | 2 |
History
| Match Date | Home | Score | Away | Competition | Goals | Cards | |
| --- | --- | --- | --- | --- | --- | --- | --- |
| 06-05-2019 | Reading | 1-3 | Slough Town | B&B Senior Cup | | | Match report |
| 15-01-2019 | Hungerford Town | 1-2 | Slough Town | B&B Senior Cup | | | Match report |
| 13-11-2018 | Slough Town | 6-3 | Chalfont St Peter | B&B Senior Cup | | | Match report |
| 24-04-2018 | Royston Town | 0-4 | Slough Town | League | | | Match report |
| 18-04-2018 | Slough Town | 1-4 | MK Dons | B&B Senior Cup | | | Match report |
| 14-04-2018 | Slough Town | 2-2 | King's Lynn Town | League | | | Match report |
| 07-04-2018 | Stratford Town | 0-1 | Slough Town | League | | | Match report |
| 04-04-2018 | Frome Town | 0-4 | Slough Town | League | | | Match report |
| 30-03-2018 | Dunstable Town | 0-3 | Slough Town | League | | | Match report |
| 20-03-2018 | St Ives Town | 1-4 | Slough Town | League | | | Match report |
| 17-03-2018 | Bishop's Stortford | 2-2 | Slough Town | League | | | Match report |
| 13-03-2018 | King's Lynn Town | 1-0 | Slough Town | League | | | Match report |
| 10-03-2018 | Slough Town | 2-1 | Frome Town | League | | | Match report |
| 06-02-2018 | Slough Town | 4-0 | Redditch United | League | | | Match report |
| 30-01-2018 | Slough Town | 1-1 | Kings Langley | League | | | Match report |
| 23-01-2018 | Bracknell Town | 2-3 | Slough Town | B&B Senior Cup | | | Match report |
| 16-01-2018 | Slough Town | 2-0 | Dorchester Town | League | | | Match report |
| 06-01-2018 | Slough Town | 2-2 | Hereford | League | | | Match report |
| 01-01-2018 | Chesham United | 1-1 | Slough Town | League | | | Match report |
| 26-12-2017 | Slough Town | 5-1 | Farnborough | League | | | Match report |
| 09-12-2017 | Slough Town | 2-4 | Bishop's Stortford | League | | | Match report |
| 04-12-2017 | Slough Town | 0-4 | Rochdale | FA Cup | | | Match report |
| 28-11-2017 | Slough Town | 1-1 | Hendon | FA Trophy | | | Match report |
| 25-11-2017 | Hendon | 1-1 | Slough Town | FA Trophy | | | Match report |
| 21-11-2017 | Banbury United | 2-2 | Slough Town | League | | | Match report |
| 18-11-2017 | Slough Town | 3-0 | Weymouth | League | | | Match report |
| 14-11-2017 | Hayes & Yeading United | 3-1 | Slough Town | League Cup | | | Match report |
| 11-11-2017 | Maldon & Tiptree | 1-4 | Slough Town | FA Trophy | | | Match report |
| 04-11-2017 | Gainsborough Trinity | 0-6 | Slough Town | FA Cup | | | Match report |
| 28-10-2017 | Kidlington | 1-4 | Slough Town | FA Trophy | | | Match report |
| 24-10-2017 | Slough Town | 5-1 | Gosport Borough | League | | | Match report |
| 17-10-2017 | Slough Town | 2-0 | Tiverton Town | League | | | Match report |
| 14-10-2017 | Slough Town | 1-0 | Folkestone Invicta | FA Cup | | | Match report |
| 10-10-2017 | Merthyr Town | 4-5 | Slough Town | League | | | Match report |
| 02-10-2017 | Beaconsfield Town | 2-2 | Slough Town | League Cup | | | Match report |
| 30-09-2017 | Slough Town | 2-1 | Poole Town | FA Cup | | | Match report |
| 26-09-2017 | Redditch United | 1-4 | Slough Town | League | | | Match report |
| 28-08-2017 | Farnborough | 1-2 | Slough Town | League | | | Match report |
| 26-08-2017 | Slough Town | 3-0 | St Ives Town | League | | | Match report |
| 12-08-2017 | Slough Town | 1-2 | Kettering Town | League | | | Match report |
| 26-04-2017 | Leamington | 1-0 | Slough Town | Play Off | | | Match report |
| 22-04-2017 | Slough Town | 1-1 | Redditch United | League | | | Match report |
| 17-04-2017 | Chesham United | 1-1 | Slough Town | League | | | Match report |
| 14-04-2017 | Slough Town | 0-2 | Cirencester Town | League | | | Match report |
| 08-04-2017 | Kettering Town | 3-0 | Slough Town | League | | | Match report |
| 01-04-2017 | Slough Town | 3-0 | King's Lynn Town | League | | | Match report |
| 25-03-2017 | Frome Town | 1-0 | Slough Town | League | | | Match report |
| 18-03-2017 | Slough Town | 4-1 | Cinderford Town | League | | | Match report |
| 14-03-2017 | St Neots Town | 1-1 | Slough Town | League | | | Match report |
| 11-03-2017 | Hitchin Town | 2-3 | Slough Town | League | | | Match report |
| 08-03-2017 | Biggleswade Town | 3-0 | Slough Town | League | | | Match report |
| 04-03-2017 | Slough Town | 3-2 | Basingstoke Town | League | | | Match report |
| 25-02-2017 | Dorchester Town | 0-4 | Slough Town | League | | | Match report |
| 21-02-2017 | Cinderford Town | 2-1 | Slough Town | League | | | Match report |
| 18-02-2017 | Slough Town | 1-0 | Merthyr Town | League | | | Match report |
| 07-02-2017 | Slough Town | 3-0 | Weymouth | League | | | Match report |
| 04-02-2017 | Slough Town | 1-0 | Dunstable Town | League | | | Match report |
| 31-01-2017 | King's Lynn Town | 5-2 | Slough Town | League | | | Match report |
| 28-01-2017 | Leamington | 0-6 | Slough Town | League | | | Match report |
| 21-01-2017 | Slough Town | 0-1 | Chippenham Town | League | | | Match report |
| 17-01-2017 | Maidenhead United | 4-2 | Slough Town | B&B Senior Cup | | | Match report |
| 20-12-2016 | Slough Town | 3-0 | MK Dons | B&B Senior Cup | | | Match report |
| 17-12-2016 | Slough Town | 3-2 | Kettering Town | League | | | Match report |
| 06-12-2016 | Chippenham Town | 3-3 | Slough Town | League | | | Match report |
| 03-12-2016 | Slough Town | 1-2 | Frome Town | League | | | Match report |
| 29-11-2016 | Slough Town | 2-0 | Banbury United | League | | | Match report |
| 26-11-2016 | Slough Town | 2-4 | Wingate & Finchley | FA Trophy | | | Match report |
| 23-11-2016 | Northwood | 1-0 | Slough Town | League Cup | | | Match report |
| 19-11-2016 | Slough Town | 2-2 | Kings Langley | League | | | Match report |
| 12-11-2016 | Merthyr Town | 2-2 | Slough Town | FA Trophy | | | Match report |
| 29-10-2016 | Slough Town | 4-1 | Bognor Regis Town | FA Trophy | | | Match report |
| 25-10-2016 | Slough Town | 2-1 | Dorchester Town | League | | | Match report |
| 11-10-2016 | Dunstable Town | 0-1 | Slough Town | League | | | Match report |
| 08-10-2016 | Slough Town | 1-0 | Cambridge City | League | | | Match report |
| 04-10-2016 | Slough Town | 9-2 | Ashford Town (Middx) | League Cup | | | Match report |
Slough Town FC is not responsible for content produced on external websites | Copyright Slough Town FC 2023