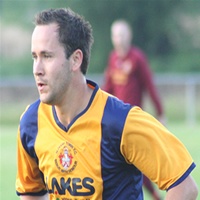 Position:
Forward
Bio
Striker signed ahead of season 2008/09.
Jordan had been a long time target of Slough and following his scoring exploits with AFC Hayes, where he finished as the division's top scorer (with a total of 25 league and league cup goals), Jordan's signing was seen as a real coup for the club.
Danny started well in pre-season with a hat-trick in his opening game for the club at Penn. But after breaking his scoring duck in his seventh appearance, at Taunton Town, Danny often found goals hard to come by, and endured a run of 18 games without a goal. He scored 7 times in season 2008/09 and a further three at the start of season 2009/10, but departed after the arrival of new manager Steve Bateman.
Whilst not living up to the reputation he had made for himself as a prolific goalscorer at AFC Hayes, Jordan had a sublime first touch and ball control, and often linked up superbly with strike partner Matthew Platt in a time of promise for Slough.
Mens
| First Appearance | Appearances | First Goal | Goals |
| --- | --- | --- | --- |
| 16-08-2008 vs Burnham | 58 | 06-09-2008 vs Taunton Town | 10 |
History
| Match Date | Home | Score | Away | Competition | Goals | Cards | |
| --- | --- | --- | --- | --- | --- | --- | --- |
| 21-11-2009 | Slough Town | 2-0 | Bedworth United | League | | | Match report |
| 17-11-2009 | Slough Town | 3-2 | Bromsgrove Rovers | League | | | Match report |
| 10-11-2009 | Chesham United | 1-0 | Slough Town | League | | | Match report |
| 03-11-2009 | Slough Town | 1-0 | Woodford United | League | | | Match report |
| 27-10-2009 | Slough Town | 1-2 | Chesham United | Red Insure Cup | | | Match report |
| 24-10-2009 | Slough Town | 3-2 | Stourport Swifts | League | | | Match report |
| 20-10-2009 | Slough Town | 2-0 | Uxbridge | FA Trophy | | | Match report |
| 26-09-2009 | Slough Town | 2-0 | Concord Rangers | FA Cup | | | Match report |
| 15-09-2009 | Slough Town | 2-1 | Hemel Hempstead Town | FA Cup | | | Match report |
| 12-09-2009 | Hemel Hempstead Town | 1-1 | Slough Town | FA Cup | | | Match report |
| 05-09-2009 | Slough Town | 4-2 | Biggleswade Town | League | | | Match report |
| 29-08-2009 | Tring Athletic | 0-4 | Slough Town | FA Cup | | | Match report |
| 25-08-2009 | Leighton Town | 0-1 | Slough Town | League | | | Match report |
| 25-04-2009 | Slough Town | 2-1 | Bridgwater Town | League | | | Match report |
| 21-04-2009 | Slough Town | 2-1 | Gosport Borough | League | | | Match report |
| 18-04-2009 | Didcot Town | 2-0 | Slough Town | League | | | Match report |
| 13-04-2009 | Beaconsfield Town | 0-0 | Slough Town | League | | | Match report |
| 11-04-2009 | Slough Town | 2-2 | Taunton Town | League | | | Match report |
| 04-04-2009 | Winchester City | 3-1 | Slough Town | League | | | Match report |
| 28-03-2009 | Slough Town | 1-0 | Paulton Rovers | League | | | Match report |
| 26-03-2009 | Bridgwater Town | 6-0 | Slough Town | League | | | Match report |
| 24-03-2009 | Burnham | 3-0 | Slough Town | League | | | Match report |
| 21-03-2009 | AFC Totton | 4-2 | Slough Town | League | | | Match report |
| 14-03-2009 | Slough Town | 0-0 | Bracknell Town | League | | | Match report |
| 10-03-2009 | Slough Town | 0-3 | Abingdon Utd | League | | | Match report |
| 07-03-2009 | Bishops Cleeve | 0-4 | Slough Town | League | | | Match report |
| 03-03-2009 | Slough Town | 2-3 | Cinderford Town | League | | | Match report |
| 28-02-2009 | Uxbridge | 4-0 | Slough Town | League | | | Match report |
| 21-02-2009 | Slough Town | 4-3 | Andover | League | | | Match report |
| 14-02-2009 | AFC Hayes | 2-1 | Slough Town | League | | | Match report |
| 31-01-2009 | Truro City | 2-1 | Slough Town | League | | | Match report |
| 27-01-2009 | Marlow | 1-0 | Slough Town | B&B Senior Cup | | | Match report |
| 24-01-2009 | Slough Town | 3-2 | Windsor & Eton | League | | | Match report |
| 20-01-2009 | Slough Town | 1-1 | North Leigh | League | | | Match report |
| 17-01-2009 | Cirencester Town | 4-1 | Slough Town | League | | | Match report |
| 01-01-2009 | Slough Town | 2-2 | Beaconsfield Town | League | | | Match report |
| 27-12-2008 | Thatcham Town | 3-1 | Slough Town | League | | | Match report |
| 20-12-2008 | Slough Town | 2-3 | Didcot Town | League | | | Match report |
| 16-12-2008 | Slough Town | 0-0 | AFC Totton | League | | | Match report |
| 06-12-2008 | Paulton Rovers | 1-2 | Slough Town | League | | | Match report |
| 29-11-2008 | Slough Town | 4-0 | Winchester City | League | | | Match report |
| 11-11-2008 | Abingdon Utd | 1-1 | Slough Town | League | | | Match report |
| 08-11-2008 | Slough Town | 1-1 | Bishops Cleeve | League | | | Match report |
| 28-10-2008 | Leighton Town | 3-0 | Slough Town | Red Insure Cup | | | Match report |
| 25-10-2008 | Slough Town | 3-3 | Truro City | League | | | Match report |
| 18-10-2008 | Thatcham Town | 5-4 | Slough Town | FA Trophy | | | Match report |
| 14-10-2008 | Windsor & Eton | 6-2 | Slough Town | League | | | Match report |
| 11-10-2008 | Slough Town | 1-2 | Uxbridge | League | | | Match report |
| 27-09-2008 | Andover | 1-2 | Slough Town | League | | | Match report |
| 20-09-2008 | Slough Town | 3-2 | Cirencester Town | League | | | Match report |
| 13-09-2008 | Farnborough | 1-0 | Slough Town | FA Cup | | | Match report |
| 06-09-2008 | Taunton Town | 2-3 | Slough Town | League | | | Match report |
| 02-09-2008 | Slough Town | 5-2 | Abingdon Utd | FA Cup | | | Match report |
| 30-08-2008 | Abingdon Utd | 1-1 | Slough Town | FA Cup | | | Match report |
| 25-08-2008 | Slough Town | 1-1 | Thatcham Town | League | | | Match report |
| 23-08-2008 | Cinderford Town | 4-1 | Slough Town | League | | | Match report |
| 19-08-2008 | North Leigh | 6-1 | Slough Town | League | | | Match report |
| 16-08-2008 | Slough Town | 2-2 | Burnham | League | | | Match report |
Slough Town FC is not responsible for content produced on external websites | Copyright Slough Town FC 2023