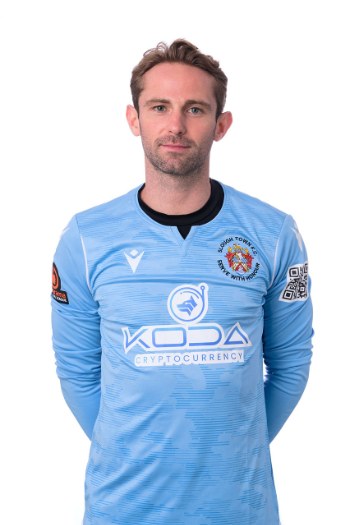 Position:
Goalkeeper
Bio
Jonathan is a highly respected keeper who joined Slough in the summer of 2021.
'Northy' is best known for his long and successful spell with Wealdstone, where he made just under 400 appearances in 10 seasons. He was rightly considered a legend there and was rewarded with a testimonial game in August 2021.
He has appeared for Wales at U21 level and has also played for Chesham United and Hendon.
Mens
| First Appearance | Appearances | First Goal | Goals | Clean Sheets |
| --- | --- | --- | --- | --- |
| 14-08-2021 vs Chelmsford City | 48 | N/A | 0 | 6 |
History
| Match Date | Home | Score | Away | Competition | Goals | Cards | |
| --- | --- | --- | --- | --- | --- | --- | --- |
| 17-09-2022 | Slough Town | 1-3 | Worthing | FA Cup | | | Match report |
| 29-08-2022 | Bath City | 5-1 | Slough Town | League | | | Match report |
| 27-08-2022 | Slough Town | 3-1 | Cheshunt | League | | | Match report |
| 20-08-2022 | Dulwich Hamlet | 1-2 | Slough Town | League | | | Match report |
| 16-08-2022 | Slough Town | 0-2 | Chelmsford City | League | | | Match report |
| 13-08-2022 | Slough Town | 1-1 | Tonbridge Angels | League | | | Match report |
| 06-08-2022 | Havant & Waterlooville | 3-1 | Slough Town | League | | | Match report |
| 02-05-2022 | Hampton & Richmond Boro' | 3-1 | Slough Town | League | | | Match report |
| 30-04-2022 | Slough Town | 0-6 | Dartford | League | | | Match report |
| 26-04-2022 | Concord Rangers | 1-1 | Slough Town | League | | | Match report |
| 23-04-2022 | Chelmsford City | 1-1 | Slough Town | League | | | Match report |
| 18-04-2022 | Slough Town | 2-0 | Hemel Hempstead Town | League | | | Match report |
| 15-04-2022 | Tonbridge Angels | 0-1 | Slough Town | League | | | Match report |
| 09-04-2022 | Slough Town | 2-2 | Eastbourne Borough | League | | | Match report |
| 02-04-2022 | Dorking Wanderers | 5-0 | Slough Town | League | | | Match report |
| 26-03-2022 | Slough Town | 0-2 | Braintree Town | League | | | Match report |
| 19-03-2022 | Dulwich Hamlet | 1-1 | Slough Town | League | | | Match report |
| 15-03-2022 | Bath City | 1-1 | Slough Town | League | | | Match report |
| 12-03-2022 | Slough Town | 2-1 | Maidstone United | League | | | Match report |
| 01-03-2022 | Braintree Town | 1-0 | Slough Town | League | | | Match report |
| 26-02-2022 | Slough Town | 1-1 | Havant & Waterlooville | League | | | Match report |
| 19-02-2022 | Slough Town | 2-1 | Welling United | League | | | Match report |
| 12-02-2022 | Ebbsfleet United | 1-2 | Slough Town | League | | | Match report |
| 08-02-2022 | Slough Town | 1-2 | Dulwich Hamlet | League | | | Match report |
| 05-02-2022 | Slough Town | 2-2 | Hungerford Town | League | | | Match report |
| 29-01-2022 | St Albans City | 1-0 | Slough Town | League | | | Match report |
| 25-01-2022 | Slough Town | 1-1 | Billericay Town | League | | | Match report |
| 15-01-2022 | York City | 1-0 | Slough Town | FA Trophy | | | Match report |
| 08-01-2022 | Chippenham Town | 6-1 | Slough Town | League | | | Match report |
| 02-01-2022 | Slough Town | 2-2 | Oxford City | League | | | Match report |
| 28-12-2021 | Slough Town | 4-1 | Hampton & Richmond Boro' | League | | | Match report |
| 11-12-2021 | Hemel Hempstead Town | 2-2 | Slough Town | League | | | Match report |
| 04-12-2021 | Slough Town | 2-1 | Tonbridge Angels | League | | | Match report |
| 27-11-2021 | Slough Town | 1-0 | Havant & Waterlooville | FA Trophy | | | Match report |
| 20-11-2021 | Eastbourne Borough | 3-1 | Slough Town | League | | | Match report |
| 13-11-2021 | Slough Town | 2-1 | Dorking Wanderers | League | | | Match report |
| 06-11-2021 | Maidstone United | 0-1 | Slough Town | League | | | Match report |
| 30-10-2021 | Slough Town | 1-1 | Concord Rangers | League | | | Match report |
| 26-10-2021 | Slough Town | 2-0 | Bath City | League | | | Match report |
| 23-10-2021 | Havant & Waterlooville | 1-2 | Slough Town | League | | | Match report |
| 16-10-2021 | Billericay Town | 2-1 | Slough Town | League | | | Match report |
| 09-10-2021 | Slough Town | 1-3 | Ebbsfleet United | League | | | Match report |
| 18-09-2021 | Slough Town | 1-3 | Whitehawk | FA Cup | | | Match report |
| 11-09-2021 | Slough Town | 2-3 | St Albans City | League | | | Match report |
| 04-09-2021 | Welling United | 2-2 | Slough Town | League | | | Match report |
| 28-08-2021 | Slough Town | 0-1 | Chippenham Town | League | | | Match report |
| 21-08-2021 | Dartford | 3-0 | Slough Town | League | | | Match report |
| 14-08-2021 | Slough Town | 1-0 | Chelmsford City | League | | | Match report |
Slough Town FC is not responsible for content produced on external websites | Copyright Slough Town FC 2022