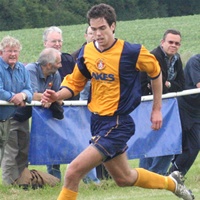 Position:
Forward
Achievements
2008/09 Golden Boot Winner
Bio
Striker Matthew Platt joined Slough in the summer of 2008.
He was part of the youth academy setup at Crewe Alexandra before spending time in Iceland with IBV Vestmannaeyjar, where he played in the first qualifying round of the UEFA Cup.
Matthew won the FA Vase with Nantwich and also played for Biddulph Victoria where he scored 24 goals in 2007/08.
Platt's movement off the ball and intelligence with it, coupled with being a lethal finisher made him an excellent partner for any striker. He scored on his competitive debut for the club in a 2-2 draw with Burnham on the first day of the 2008/09 season.
Mens
| First Appearance | Appearances | First Goal | Goals |
| --- | --- | --- | --- |
| 16-08-2008 vs Burnham | 44 | 16-08-2008 vs Burnham | 17 |
History
| Match Date | Home | Score | Away | Competition | Goals | Cards | |
| --- | --- | --- | --- | --- | --- | --- | --- |
| 25-04-2009 | Slough Town | 2-1 | Bridgwater Town | League | | | Match report |
| 21-04-2009 | Slough Town | 2-1 | Gosport Borough | League | | | Match report |
| 18-04-2009 | Didcot Town | 2-0 | Slough Town | League | | | Match report |
| 13-04-2009 | Beaconsfield Town | 0-0 | Slough Town | League | | | Match report |
| 11-04-2009 | Slough Town | 2-2 | Taunton Town | League | | | Match report |
| 04-04-2009 | Winchester City | 3-1 | Slough Town | League | | | Match report |
| 28-03-2009 | Slough Town | 1-0 | Paulton Rovers | League | | | Match report |
| 26-03-2009 | Bridgwater Town | 6-0 | Slough Town | League | | | Match report |
| 24-03-2009 | Burnham | 3-0 | Slough Town | League | | | Match report |
| 21-03-2009 | AFC Totton | 4-2 | Slough Town | League | | | Match report |
| 14-03-2009 | Slough Town | 0-0 | Bracknell Town | League | | | Match report |
| 10-03-2009 | Slough Town | 0-3 | Abingdon Utd | League | | | Match report |
| 07-03-2009 | Bishops Cleeve | 0-4 | Slough Town | League | | | Match report |
| 03-03-2009 | Slough Town | 2-3 | Cinderford Town | League | | | Match report |
| 21-02-2009 | Slough Town | 4-3 | Andover | League | | | Match report |
| 14-02-2009 | AFC Hayes | 2-1 | Slough Town | League | | | Match report |
| 31-01-2009 | Truro City | 2-1 | Slough Town | League | | | Match report |
| 27-01-2009 | Marlow | 1-0 | Slough Town | B&B Senior Cup | | | Match report |
| 24-01-2009 | Slough Town | 3-2 | Windsor & Eton | League | | | Match report |
| 20-01-2009 | Slough Town | 1-1 | North Leigh | League | | | Match report |
| 17-01-2009 | Cirencester Town | 4-1 | Slough Town | League | | | Match report |
| 01-01-2009 | Slough Town | 2-2 | Beaconsfield Town | League | | | Match report |
| 27-12-2008 | Thatcham Town | 3-1 | Slough Town | League | | | Match report |
| 20-12-2008 | Slough Town | 2-3 | Didcot Town | League | | | Match report |
| 16-12-2008 | Slough Town | 0-0 | AFC Totton | League | | | Match report |
| 29-11-2008 | Slough Town | 4-0 | Winchester City | League | | | Match report |
| 15-11-2008 | Bracknell Town | 0-0 | Slough Town | League | | | Match report |
| 11-11-2008 | Abingdon Utd | 1-1 | Slough Town | League | | | Match report |
| 08-11-2008 | Slough Town | 1-1 | Bishops Cleeve | League | | | Match report |
| 04-11-2008 | Slough Town | 2-3 | AFC Hayes | League | | | Match report |
| 01-11-2008 | Gosport Borough | 2-1 | Slough Town | League | | | Match report |
| 28-10-2008 | Leighton Town | 3-0 | Slough Town | Red Insure Cup | | | Match report |
| 25-10-2008 | Slough Town | 3-3 | Truro City | League | | | Match report |
| 18-10-2008 | Thatcham Town | 5-4 | Slough Town | FA Trophy | | | Match report |
| 14-10-2008 | Windsor & Eton | 6-2 | Slough Town | League | | | Match report |
| 11-10-2008 | Slough Town | 1-2 | Uxbridge | League | | | Match report |
| 27-09-2008 | Andover | 1-2 | Slough Town | League | | | Match report |
| 20-09-2008 | Slough Town | 3-2 | Cirencester Town | League | | | Match report |
| 13-09-2008 | Farnborough | 1-0 | Slough Town | FA Cup | | | Match report |
| 06-09-2008 | Taunton Town | 2-3 | Slough Town | League | | | Match report |
| 02-09-2008 | Slough Town | 5-2 | Abingdon Utd | FA Cup | | | Match report |
| 30-08-2008 | Abingdon Utd | 1-1 | Slough Town | FA Cup | | | Match report |
| 19-08-2008 | North Leigh | 6-1 | Slough Town | League | | | Match report |
| 16-08-2008 | Slough Town | 2-2 | Burnham | League | | | Match report |
Slough Town FC is not responsible for content produced on external websites | Copyright Slough Town FC 2023