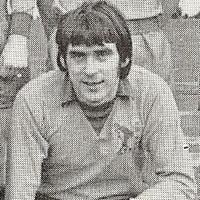 Stats
Position:
Striker
First Appearance:
24-10-1972 vs Wembley
Appearances:
109
First Goal:
25-11-1972 vs Boreham Wood
Goals:
28
Bio
Welsh international ball playing winger who was capable of upsetting the best of defences and scoring goals.

Joined from St. Albans and represented Slough in the 1973 Amateur Cup final defeat to Walton & Hersham at Wembley. Geoff worked as a schoolmaster.
History
| Match Date | Home | Score | Away | Competition | Goals | Cards | |
| --- | --- | --- | --- | --- | --- | --- | --- |
| 29-03-1975 | Dagenham | 1-2 | Slough Town | League | | | Match report |
| 25-03-1975 | Bishop's Stortford | 2-1 | Slough Town | League | | | Match report |
| 15-03-1975 | Slough Town | 2-0 | Leytonstone | League | | | Match report |
| 08-03-1975 | Bromley | 1-5 | Slough Town | League | | | Match report |
| 01-03-1975 | Slough Town | 2-1 | Ilford | League | | | Match report |
| 22-02-1975 | Leytonstone | 1-0 | Slough Town | League | | | Match report |
| 08-02-1975 | Slough Town | 0-3 | Wycombe Wanderers | B&B Senior Cup | | | Match report |
| 04-02-1975 | Hitchin Town | 2-1 | Slough Town | League | | | Match report |
| 11-01-1975 | Slough Town | 1-0 | Walthamstow | League | | | Match report |
| 04-01-1975 | Slough Town | 2-3 | Dagenham | League | | | Match report |
| 28-12-1974 | Slough Town | 1-1 | Tooting | League | | | Match report |
| 21-12-1974 | Slough Town | 3-0 | Sutton United | League | | | Match report |
| 30-11-1974 | Dagenham | 3-0 | Slough Town | FA Trophy | | | Match report |
| 23-11-1974 | Slough Town | 1-4 | Brentford | FA Cup | | | Match report |
| 09-11-1974 | Ilford | 1-2 | Slough Town | League | | | Match report |
| 02-11-1974 | Slough Town | 1-0 | Sutton United | FA Cup | | | Match report |
| 26-10-1974 | Slough Town | 2-3 | Hayes | League | | | Match report |
| 19-10-1974 | Slough Town | 1-2 | Barking | League | | | Match report |
| 15-10-1974 | Slough Town | 3-2 | Kingstonian | League | | | Match report |
| 12-10-1974 | Slough Town | 1-3 | Bishop's Stortford | League | | | Match report |
| 05-10-1974 | Kingstonian | 1-1 | Slough Town | League | | | Match report |
| 28-09-1974 | Slough Town | 2-1 | Oxford City | League | | | Match report |
| 24-09-1974 | Slough Town | 1-1 | Wycombe Wanderers | League | | | Match report |
| 21-09-1974 | Woking | 3-3 | Slough Town | League | | | Match report |
| 14-09-1974 | Walton & Hersham | 0-2 | Slough Town | League | | | Match report |
| 10-09-1974 | Leatherhead | 4-0 | Slough Town | League | | | Match report |
| 07-09-1974 | Walthamstow | 0-0 | Slough Town | League | | | Match report |
| 03-09-1974 | Hayes | 0-2 | Slough Town | League | | | Match report |
| 28-08-1974 | Oxford City | 1-0 | Slough Town | League | | | Match report |
| 24-08-1974 | Tooting | 2-1 | Slough Town | League | | | Match report |
| 20-08-1974 | Wycombe Wanderers | 1-0 | Slough Town | League | | | Match report |
| 17-08-1974 | Sutton United | 1-0 | Slough Town | League | | | Match report |
| 01-05-1974 | Slough Town | 1-0 | Horsham | League | | | Match report |
| 22-04-1974 | Wokingham Town | 2-3 | Slough Town | League | | | Match report |
| 19-04-1974 | Boreham Wood | 1-7 | Slough Town | Premier Midweek FL | | | Match report |
| 15-04-1974 | Wycombe Wanderers | 1-3 | Slough Town | B&B Senior Cup | | | Match report |
| 08-04-1974 | Slough Town | 1-0 | Hampton | League | | | Match report |
| 30-03-1974 | Slough Town | 3-0 | Maidenhead United | League | | | Match report |
| 27-03-1974 | Slough Town | 4-1 | Wembley | Premier Midweek FL | | | Match report |
| 23-03-1974 | Slough Town | 2-0 | Hertford Town | League | | | Match report |
| 16-03-1974 | Hampton | 0-1 | Slough Town | League | | | Match report |
| 09-03-1974 | Dagenham | 2-1 | Slough Town | League | | | Match report |
| 03-03-1974 | Slough Town | 1-0 | Abingdon | B&B Senior Cup | | | Match report |
| 16-02-1974 | Slough Town | 1-1 | Staines Town | League | | | Match report |
| 02-02-1974 | Ashington | 1-0 | Slough Town | FA Amateur Cup | | | Match report |
| 26-01-1974 | Slough Town | 1-1 | Ashington | FA Amateur Cup | | | Match report |
| 20-01-1974 | Slough Town | 2-1 | Wokingham Town | B&B Senior Cup | | | Match report |
| 13-01-1974 | Slough Town | 1-0 | Oxford City | FA Amateur Cup | | | Match report |
| 05-01-1974 | Oxford City | 1-1 | Slough Town | FA Amateur Cup | | | Match report |
| 30-12-1973 | Slough Town | 3-3 | Chesham United | League | | | Match report |
| 22-12-1973 | Southall | 0-0 | Slough Town | League | | | Match report |
| 15-12-1973 | Slough Town | 3-1 | Tilbury | League | | | Match report |
| 01-12-1973 | Slough Town | 1-0 | Wokingham Town | League | | | Match report |
| 24-11-1973 | Reading | 3-0 | Slough Town | FA Cup | | | Match report |
| 17-11-1973 | Finchley | 1-0 | Slough Town | League | | | Match report |
| 10-11-1973 | Slough Town | 4-0 | Harwich | League | | | Match report |
| 03-11-1973 | Horsham | 1-0 | Slough Town | League | | | Match report |
| 30-10-1973 | Wembley | 0-1 | Slough Town | Premier Midweek FL | | | Match report |
| 27-10-1973 | Carshalton Ath | 1-1 | Slough Town | League | | | Match report |
| 24-10-1973 | Slough Town | 1-0 | Southall | Premier Midweek FL | | | Match report |
| 20-10-1973 | Slough Town | 4-0 | Southall | League | | | Match report |
| 13-10-1973 | Harwich | 0-1 | Slough Town | League | | | Match report |
| 10-10-1973 | Feltham | 0-0 | Slough Town | Premier Midweek FL | | | Match report |
| 06-10-1973 | Slough Town | 1-0 | Harlow Town | League | | | Match report |
| 03-10-1973 | Slough Town | 5-1 | Boreham Wood | Premier Midweek FL | | | Match report |
| 29-09-1973 | Tilbury | 2-0 | Slough Town | League | | | Match report |
| 25-09-1973 | Southall | 0-5 | Slough Town | Premier Midweek FL | | | Match report |
| 22-09-1973 | Slough Town | 2-0 | Carshalton Ath | League | | | Match report |
| 19-09-1973 | Slough Town | 6-0 | Feltham | Premier Midweek FL | | | Match report |
| 05-09-1973 | Slough Town | 2-1 | Finchley | League | | | Match report |
| 01-09-1973 | Harlow Town | 1-1 | Slough Town | League | | | Match report |
| 28-08-1973 | Chesham United | 1-2 | Slough Town | League | | | Match report |
| 25-08-1973 | Slough Town | 2-1 | Aveley | League | | | Match report |
| 15-05-1973 | Slough Town | 2-0 | Worthing | Athenian League Cup | | | Match report |
| 07-05-1973 | Slough Town | 1-0 | Maidenhead United | Premier Midweek FL | | | Match report |
| 04-05-1973 | Slough Town | 1-0 | Dagenham | League | | | Match report |
| 30-04-1973 | Slough Town | 4-0 | Cheshunt | League | | | Match report |
| 28-04-1973 | Wembley | 0-2 | Slough Town | League | | | Match report |
| 23-04-1973 | Wycombe Wanderers | 0-1 | Slough Town | B&B Senior Cup | | | Match report |
| 21-04-1973 | Slough Town | 5-1 | Erith | League | | | Match report |
| 19-04-1973 | Hornchurch | 1-2 | Slough Town | League | | | Match report |
| 16-04-1973 | Slough Town | 5-0 | Wembley | Athenian League Cup | | | Match report |
| 14-04-1973 | Walton & Hersham | 1-0 | Slough Town | FA Amateur Cup | | | Match report |
| 31-03-1973 | Slough Town | 0-0 | Croydon | League | | | Match report |
| 26-03-1973 | Redhill | 0-7 | Slough Town | League | | | Match report |
| 24-03-1973 | Harwich | 2-4 | Slough Town | League | | | Match report |
| 19-03-1973 | Slough Town | 2-0 | Maidenhead United | Athenian League Cup | | | Match report |
| 10-03-1973 | Bishop's Stortford | 0-1 | Slough Town | FA Amateur Cup | | | Match report |
| 03-03-1973 | Wokingham Town | 0-1 | Slough Town | B&B Senior Cup | | | Match report |
| 26-02-1973 | Slough Town | 0-0 | Hayes | Premier Midweek FL | | | Match report |
| 24-02-1973 | Harlow Town | 1-3 | Slough Town | League | | | Match report |
| 20-02-1973 | Hampton | 1-3 | Slough Town | Premier Midweek FL | | | Match report |
| 17-02-1973 | Slough Town | 2-1 | Blyth Spartans | FA Amateur Cup | | | Match report |
| 30-01-1973 | Hayes | 0-0 | Slough Town | Premier Midweek FL | | | Match report |
| 27-01-1973 | Slough Town | 2-1 | Leytonstone | FA Amateur Cup | | | Match report |
| 20-01-1973 | Slough Town | 3-1 | Aylesbury United | B&B Senior Cup | | | Match report |
| 13-01-1973 | Maidenhead United | 0-0 | Slough Town | League | | | Match report |
| 08-01-1973 | Slough Town | 3-2 | Southall | Premier Midweek FL | | | Match report |
| 06-01-1973 | Eastbourne Utd | 0-2 | Slough Town | FA Amateur Cup | | | Match report |
| 30-12-1972 | Lewes | 1-0 | Slough Town | League | | | Match report |
| 27-12-1972 | Slough Town | 6-1 | Maidenhead United | League | | | Match report |
| 16-12-1972 | Aveley | 1-0 | Slough Town | League | | | Match report |
| 09-12-1972 | Slough Town | 2-1 | Cadbury Heath | FA Amateur Cup | | | Match report |
| 25-11-1972 | Slough Town | 2-1 | Boreham Wood | Athenian League Cup | | | Match report |
| 18-11-1972 | Croydon | 2-3 | Slough Town | League | | | Match report |
| 14-11-1972 | Southall | 0-0 | Slough Town | Premier Midweek FL | | | Match report |
| 11-11-1972 | Slough Town | 2-0 | Tilbury | League | | | Match report |
| 28-10-1972 | Redhill | 0-2 | Slough Town | League | | | Match report |
| 24-10-1972 | Wembley | 1-3 | Slough Town | Premier Midweek FL | | | Match report |
Slough Town FC is not responsible for content produced on external websites | Copyright Slough Town FC 2021