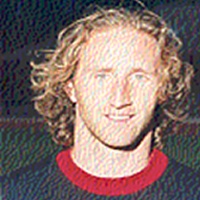 Position:
Forward
Bio
Prolific non-league striker who joined the club from Enfield during the summer of 1996.
Formed a prolific partnership with Mark West upfront for the Rebels scoring four in his first two games and 19 in his debut season for the club. Left the Rebels in the summer of 1998 to join up with Aldershot Town and continued his goalscoring exploits with a host of clubs. Some of his previous clubs are Aldershot Town, Welling, Fisher Athletic, Barnet, Enfield, Walton & Hersham, Hornchurch, Cray Wanderers and Braintree. Has now gone into management and is enjoying success with Sittingbourne.
Also played in the Conference for Welling United, Barnet and Enfield. Was an England semi-pro international and once scored five goals for an FA XI.
Mens
| First Appearance | Appearances | First Goal | Goals |
| --- | --- | --- | --- |
| 17-08-1996 vs Stalybridge Celtic | 94 | 17-08-1996 vs Stalybridge Celtic | 35 |
History
| Match Date | Home | Score | Away | Competition | Goals | Cards | |
| --- | --- | --- | --- | --- | --- | --- | --- |
| 02-05-1998 | Kidderminster Harriers | 0-1 | Slough Town | League | | | Match report |
| 28-04-1998 | Slough Town | 1-1 | Leek Town | League | | | Match report |
| 23-04-1998 | Slough Town | 1-1 | Kettering Town | League | | | Match report |
| 21-04-1998 | Dover Athletic | 2-1 | Slough Town | League | | | Match report |
| 18-04-1998 | Gateshead | 5-1 | Slough Town | League | | | Match report |
| 13-04-1998 | Slough Town | 1-1 | Yeovil Town | League | | | Match report |
| 07-04-1998 | Slough Town | 3-1 | Stevenage Borough | League | | | Match report |
| 05-04-1998 | Southport | 1-1 | Slough Town | FA Trophy | | | Match report |
| 31-03-1998 | Slough Town | 1-0 | Gateshead | League | | | Match report |
| 28-03-1998 | Slough Town | 0-1 | Southport | FA Trophy | | | Match report |
| 21-03-1998 | Hereford United | 1-1 | Slough Town | League | | | Match report |
| 16-03-1998 | Stevenage Borough | 4-2 | Slough Town | League | | | Match report |
| 14-03-1998 | Stevenage Borough | 0-1 | Slough Town | FA Trophy | | | Match report |
| 10-03-1998 | Slough Town | 1-3 | Woking | League | | | Match report |
| 07-03-1998 | Slough Town | 2-0 | Hednesford Town | League | | | Match report |
| 03-03-1998 | Slough Town | 1-0 | Telford Utd | League | | | Match report |
| 28-02-1998 | Morecambe | 2-1 | Slough Town | League | | | Match report |
| 24-02-1998 | Boreham Wood | 1-2 | Slough Town | FA Trophy | | | Match report |
| 21-02-1998 | Slough Town | 1-1 | Boreham Wood | FA Trophy | | | Match report |
| 18-02-1998 | Farnborough Town | 1-0 | Slough Town | League | | | Match report |
| 14-02-1998 | Northwich Victoria | 0-1 | Slough Town | League | | | Match report |
| 07-02-1998 | Slough Town | 3-0 | Hereford United | League | | | Match report |
| 03-02-1998 | Slough Town | 2-0 | Halifax Town | FA Trophy | | | Match report |
| 31-01-1998 | Halifax Town | 1-1 | Slough Town | FA Trophy | | | Match report |
| 24-01-1998 | Halifax Town | 1-0 | Slough Town | League | | | Match report |
| 17-01-1998 | Telford Utd | 0-1 | Slough Town | League | | | Match report |
| 13-12-1997 | Slough Town | 2-0 | Kidderminster Harriers | League | | | Match report |
| 06-12-1997 | Welling United | 1-1 | Slough Town | League | | | Match report |
| 29-11-1997 | Slough Town | 1-0 | Southport | League | | | Match report |
| 25-11-1997 | Cardiff City | 3-2 | Slough Town | FA Cup | | | Match report |
| 22-11-1997 | Hednesford Town | 2-1 | Slough Town | League | | | Match report |
| 18-11-1997 | Hayes | 2-0 | Slough Town | Isthmian Lge Sub. Cup | | | Match report |
| 15-11-1997 | Slough Town | 1-1 | Cardiff City | FA Cup | | | Match report |
| 08-11-1997 | Slough Town | 1-2 | Cheltenham Town | League | | | Match report |
| 01-11-1997 | Rushden & Diamonds | 0-1 | Slough Town | League | | | Match report |
| 25-10-1997 | Slough Town | 2-1 | Kingstonian | FA Cup | | | Match report |
| 18-10-1997 | Slough Town | 3-3 | Morecambe | League | | | Match report |
| 11-10-1997 | Slough Town | 6-1 | Tilbury | FA Cup | | | Match report |
| 07-10-1997 | Slough Town | 1-0 | Welling United | Isthmian Lge Sub. Cup | | | Match report |
| 04-10-1997 | Leek Town | 0-2 | Slough Town | League | | | Match report |
| 20-09-1997 | Slough Town | 3-0 | Northwich Victoria | League | | | Match report |
| 16-09-1997 | Slough Town | 5-0 | Baldock Town | FA Cup | | | Match report |
| 13-09-1997 | Baldock Town | 0-0 | Slough Town | FA Cup | | | Match report |
| 10-09-1997 | Slough Town | 1-2 | Welling United | League | | | Match report |
| 07-09-1997 | Southport | 1-2 | Slough Town | League | | | Match report |
| 02-09-1997 | Slough Town | 1-2 | Rushden & Diamonds | League | | | Match report |
| 30-08-1997 | Stalybridge Celtic | 0-1 | Slough Town | League | | | Match report |
| 25-08-1997 | Woking | 2-1 | Slough Town | League | | | Match report |
| 23-08-1997 | Slough Town | 1-1 | Halifax Town | League | | | Match report |
| 19-08-1997 | Slough Town | 2-4 | Dover Athletic | League | | | Match report |
| 16-08-1997 | Kettering Town | 3-3 | Slough Town | League | | | Match report |
| 03-05-1997 | Stalybridge Celtic | 2-2 | Slough Town | League | | | Match report |
| 26-04-1997 | Morecambe | 0-0 | Slough Town | League | | | Match report |
| 19-04-1997 | Hednesford Town | 2-1 | Slough Town | League | | | Match report |
| 05-04-1997 | Slough Town | 1-0 | Halifax Town | League | | | Match report |
| 31-03-1997 | Slough Town | 2-2 | Dover Athletic | League | | | Match report |
| 29-03-1997 | Bath City | 0-0 | Slough Town | League | | | Match report |
| 22-03-1997 | Slough Town | 1-1 | Southport | League | | | Match report |
| 15-03-1997 | Slough Town | 1-3 | Hayes | League | | | Match report |
| 08-03-1997 | Telford Utd | 0-2 | Slough Town | League | | | Match report |
| 01-03-1997 | Rushden & Diamonds | 2-2 | Slough Town | League | | | Match report |
| 22-02-1997 | Hayes | 5-0 | Slough Town | League | | | Match report |
| 01-02-1997 | Slough Town | 0-1 | Gateshead | League | | | Match report |
| 27-01-1997 | Slough Town | 1-2 | Dorchester Town | FA Trophy | | | Match report |
| 25-01-1997 | Macclesfield Town | 2-0 | Slough Town | League | | | Match report |
| 21-01-1997 | Dorchester Town | 1-1 | Slough Town | FA Trophy | | | Match report |
| 18-01-1997 | Slough Town | 2-2 | Dorchester Town | FA Trophy | | | Match report |
| 14-01-1997 | Slough Town | 6-0 | Buckingham Town | B&B Senior Cup | | | Match report |
| 11-01-1997 | Slough Town | 1-1 | Farnborough Town | League | | | Match report |
| 01-01-1997 | Slough Town | 1-6 | Stevenage Borough | League | | | Match report |
| 28-12-1996 | Woking | 2-0 | Slough Town | League | | | Match report |
| 26-12-1996 | Stevenage Borough | 2-2 | Slough Town | League | | | Match report |
| 21-12-1996 | Slough Town | 3-3 | Welling United | League | | | Match report |
| 14-12-1996 | Farnborough Town | 2-1 | Slough Town | League | | | Match report |
| 07-12-1996 | Kettering Town | 0-0 | Slough Town | League | | | Match report |
| 09-11-1996 | Slough Town | 0-2 | Kidderminster Harriers | League | | | Match report |
| 02-11-1996 | Altrincham | 0-1 | Slough Town | League | | | Match report |
| 26-10-1996 | Hayes | 1-0 | Slough Town | FA Cup | | | Match report |
| 19-10-1996 | Slough Town | 6-0 | Telford Utd | League | | | Match report |
| 05-10-1996 | Slough Town | 1-2 | Morecambe | League | | | Match report |
| 01-10-1996 | Slough Town | 3-0 | Woking | League | | | Match report |
| 28-09-1996 | Bromsgrove Rovers | 4-1 | Slough Town | League | | | Match report |
| 24-09-1996 | Slough Town | 1-1 | Kettering Town | League | | | Match report |
| 21-09-1996 | Slough Town | 2-2 | Hednesford Town | League | | | Match report |
| 17-09-1996 | Dover Athletic | 0-0 | Slough Town | League | | | Match report |
| 14-09-1996 | Slough Town | 2-0 | Bromsgrove Rovers | League | | | Match report |
| 10-09-1996 | Welling United | 3-2 | Slough Town | League | | | Match report |
| 07-09-1996 | Southport | 0-1 | Slough Town | League | | | Match report |
| 03-09-1996 | Slough Town | 5-2 | Bath City | League | | | Match report |
| 31-08-1996 | Slough Town | 0-1 | Altrincham | League | | | Match report |
| 26-08-1996 | Kidderminster Harriers | 1-2 | Slough Town | League | | | Match report |
| 24-08-1996 | Halifax Town | 4-1 | Slough Town | League | | | Match report |
| 20-08-1996 | Slough Town | 5-0 | Rushden & Diamonds | League | | | Match report |
| 17-08-1996 | Slough Town | 4-1 | Stalybridge Celtic | League | | | Match report |
Slough Town FC is not responsible for content produced on external websites | Copyright Slough Town FC 2023