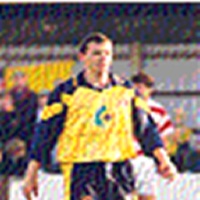 Position:
Forward
Bio
Ex league player who had a number of pro clubs to his name before joining the Rebels in February 1997.
Made an immediate imapct for Slough scoring on his debut before going on to hit ten goals in 69 appearances for the club. Left the club to take up a coaching/scouting position with one of his former clubs, Notts County.
Starting out at Crystal Palace, he turned professional with Sheffield United in 1980, Five years later, following a loan spell with Port Vale, he signed with Preston North End. He spent four seasons with Preston, then spent one season at Newcastle United, before transferring to Fulham in 1990. After a six year spell with the club he moved on to Cambridge United, Barnet, and finally Slough Town. Following this he spent two brief periods as manager of Notts County.
Having joined Crystal Palace straight from school in 1979 Brazil immediately found it difficult to make any sort of impact at Selhurst Park with manager Terry Venables opting to leave Gary out of the exciting young team that were rather prematurely labelled the team of the 80's. Indeed Gary stayed with Palace for just twelve months before he was given the opportunity of first team football with Sheffield United, signing on a free transfer in August 1980.
Sheffield United
His time a Bramall Lane was a mixed affair for although United gave Brazil his real break in the game he was invariably used as a substitute or played in midfield or as a winger instead of in his favourite role as a supporting striker. In fact in nearly five years at United Gary played 78 games of which 30 were as a substitute, scoring 10 goals. During his time at United Gary also enjoyed a short loan spell at Port Vale in August 1985 where he scored three goals in six appearances.
A Preston hero
It was in February 1985 that Brazil was given the chance of regular football when he, along with United defender Bob Atkins were offered the chance to go on loan to struggling Preston North End with a view to making the deal permanent. Although Brazil and Atkins couldn't stop Preston from being relegated they did make enough of an impact to secure a permanent £25,000 joint move to Deepdale. The next season again was a disappointment, although he was now a regular and scoring frequently Preston finished the season in 91st place in the Football League, forcing the powers that be at Deepdale to make vast changes.
With many of the older players having left, a new manager in John McGrath and a new plastic pitch laid for the start of the 1986–87 season gave Preston new optimism. Brazil was however by this time disillusioned with the life at Preston and prior to the season went on a months loan to Mansfield Town with the view to making the deal permanent. He failed to impress stags boss Ian Greaves though and he was back at Deepdale for the start of the season. Having spoken with boss McGrath Brazil decided to come off the transfer list and duly formed a lethal partnership with John Thomas (one of the few plus points from the season before) scoring nearly 50 goals between them as Preston powered to promotion, Brazil also winning the club's player of the year award. The following season was though one of consolidation with Preston finishing comfortably in mid table after a poor start and also narrowly missing out on a Wembley cup final when they lost to Burnley in the Football League Trophy semi-final. Brazil again scored regularly, bagging 20 goals for the second successive season.
The following season was to be his last with Preston. Preston again started poorly but as results picked up Gary's performances began to attract the attention of the big guns and in February 1989 Gary moved to Newcastle United for a fee of £200,000 of which half was made up in a swap deal with Ian Bogie making the trip to Deepdale. In all Gary played 202 games for Preston scoring a very respectable 72 goals.
Indifferent form and injuries during his time at St James' Park meant that Gary couldn't create a lasting impact at Newcastle and after just 18 months in which he played 27 games scoring just 2 goals he was on the move again, this time to Fulham for a fee of £110,000. His time at Fulham was personally a happy one, although the club were generally struggling, Brazil in six seasons at Craven Cottage played 254 matches scoring 60 goals becoming a firm favourite with the Fulham fans and finding the sort of form that had made him such a favourite with the Preston fans only a few years earlier.
Non-League
Upon leaving Fulham in at the end of 1995–96 he had spells at Cambridge United and Barnet where the fans nicknamed him "The Nutter", before moving into non-league football with Slough Town.
Brazil retired after the conclusion of the 1997–98 season and joined Notts County, first as a coach and then as assistant manager to Sam Allardyce. Following his boss' departure to Bolton in October 1999, Brazil was prompted to take charge of a Magpies' team that was enjoying a promising start to the season. The team faltered during the first half of 2000 and Brazil was demoted back down to assistant manager in May 2000, making way for Jocky Scott. He did receive a second chance at the helm between October and November 2001 after Scott was sacked following repeated clashes with the board, but this short reign was ended abruptly when Brazil was fired after failing to win a game over a five week period.
He went on to Doncaster Rovers as youth team coach. During the 2006–07 season Brazil returned to Fulham and is currently coaching the Academy U-18s.
Mens
| First Appearance | Appearances | First Goal | Goals |
| --- | --- | --- | --- |
| 15-02-1997 vs Northwich Victoria | 69 | 15-02-1997 vs Northwich Victoria | 10 |
History
| Match Date | Home | Score | Away | Competition | Goals | Cards | |
| --- | --- | --- | --- | --- | --- | --- | --- |
| 02-05-1998 | Kidderminster Harriers | 0-1 | Slough Town | League | | | Match report |
| 30-04-1998 | Slough Town | 4-0 | Stalybridge Celtic | League | | | Match report |
| 28-04-1998 | Slough Town | 1-1 | Leek Town | League | | | Match report |
| 23-04-1998 | Slough Town | 1-1 | Kettering Town | League | | | Match report |
| 21-04-1998 | Dover Athletic | 2-1 | Slough Town | League | | | Match report |
| 18-04-1998 | Gateshead | 5-1 | Slough Town | League | | | Match report |
| 13-04-1998 | Slough Town | 1-1 | Yeovil Town | League | | | Match report |
| 07-04-1998 | Slough Town | 3-1 | Stevenage Borough | League | | | Match report |
| 05-04-1998 | Southport | 1-1 | Slough Town | FA Trophy | | | Match report |
| 31-03-1998 | Slough Town | 1-0 | Gateshead | League | | | Match report |
| 28-03-1998 | Slough Town | 0-1 | Southport | FA Trophy | | | Match report |
| 14-03-1998 | Stevenage Borough | 0-1 | Slough Town | FA Trophy | | | Match report |
| 10-03-1998 | Slough Town | 1-3 | Woking | League | | | Match report |
| 07-03-1998 | Slough Town | 2-0 | Hednesford Town | League | | | Match report |
| 03-03-1998 | Slough Town | 1-0 | Telford Utd | League | | | Match report |
| 28-02-1998 | Morecambe | 2-1 | Slough Town | League | | | Match report |
| 24-02-1998 | Boreham Wood | 1-2 | Slough Town | FA Trophy | | | Match report |
| 21-02-1998 | Slough Town | 1-1 | Boreham Wood | FA Trophy | | | Match report |
| 18-02-1998 | Farnborough Town | 1-0 | Slough Town | League | | | Match report |
| 14-02-1998 | Northwich Victoria | 0-1 | Slough Town | League | | | Match report |
| 07-02-1998 | Slough Town | 3-0 | Hereford United | League | | | Match report |
| 03-02-1998 | Slough Town | 2-0 | Halifax Town | FA Trophy | | | Match report |
| 31-01-1998 | Halifax Town | 1-1 | Slough Town | FA Trophy | | | Match report |
| 24-01-1998 | Halifax Town | 1-0 | Slough Town | League | | | Match report |
| 17-01-1998 | Telford Utd | 0-1 | Slough Town | League | | | Match report |
| 13-01-1998 | Slough Town | 2-1 | Welling United | FA Trophy | | | Match report |
| 10-01-1998 | Welling United | 1-1 | Slough Town | FA Trophy | | | Match report |
| 01-01-1998 | Hayes | 0-1 | Slough Town | League | | | Match report |
| 29-12-1997 | Slough Town | 1-0 | Farnborough Town | League | | | Match report |
| 26-12-1997 | Slough Town | 0-0 | Hayes | League | | | Match report |
| 20-12-1997 | Yeovil Town | 2-1 | Slough Town | League | | | Match report |
| 13-12-1997 | Slough Town | 2-0 | Kidderminster Harriers | League | | | Match report |
| 06-12-1997 | Welling United | 1-1 | Slough Town | League | | | Match report |
| 29-11-1997 | Slough Town | 1-0 | Southport | League | | | Match report |
| 25-11-1997 | Cardiff City | 3-2 | Slough Town | FA Cup | | | Match report |
| 22-11-1997 | Hednesford Town | 2-1 | Slough Town | League | | | Match report |
| 15-11-1997 | Slough Town | 1-1 | Cardiff City | FA Cup | | | Match report |
| 25-10-1997 | Slough Town | 2-1 | Kingstonian | FA Cup | | | Match report |
| 18-10-1997 | Slough Town | 3-3 | Morecambe | League | | | Match report |
| 11-10-1997 | Slough Town | 6-1 | Tilbury | FA Cup | | | Match report |
| 07-10-1997 | Slough Town | 1-0 | Welling United | Isthmian Lge Sub. Cup | | | Match report |
| 04-10-1997 | Leek Town | 0-2 | Slough Town | League | | | Match report |
| 30-09-1997 | Slough Town | 0-0 | Walton & Hersham | FA Cup | | | Match report |
| 27-09-1997 | Walton & Hersham | 0-0 | Slough Town | FA Cup | | | Match report |
| 23-09-1997 | Cheltenham Town | 1-1 | Slough Town | League | | | Match report |
| 20-09-1997 | Slough Town | 3-0 | Northwich Victoria | League | | | Match report |
| 16-09-1997 | Slough Town | 5-0 | Baldock Town | FA Cup | | | Match report |
| 13-09-1997 | Baldock Town | 0-0 | Slough Town | FA Cup | | | Match report |
| 10-09-1997 | Slough Town | 1-2 | Welling United | League | | | Match report |
| 07-09-1997 | Southport | 1-2 | Slough Town | League | | | Match report |
| 02-09-1997 | Slough Town | 1-2 | Rushden & Diamonds | League | | | Match report |
| 30-08-1997 | Stalybridge Celtic | 0-1 | Slough Town | League | | | Match report |
| 25-08-1997 | Woking | 2-1 | Slough Town | League | | | Match report |
| 23-08-1997 | Slough Town | 1-1 | Halifax Town | League | | | Match report |
| 19-08-1997 | Slough Town | 2-4 | Dover Athletic | League | | | Match report |
| 16-08-1997 | Kettering Town | 3-3 | Slough Town | League | | | Match report |
| 03-05-1997 | Stalybridge Celtic | 2-2 | Slough Town | League | | | Match report |
| 26-04-1997 | Morecambe | 0-0 | Slough Town | League | | | Match report |
| 19-04-1997 | Hednesford Town | 2-1 | Slough Town | League | | | Match report |
| 05-04-1997 | Slough Town | 1-0 | Halifax Town | League | | | Match report |
| 31-03-1997 | Slough Town | 2-2 | Dover Athletic | League | | | Match report |
| 29-03-1997 | Bath City | 0-0 | Slough Town | League | | | Match report |
| 22-03-1997 | Slough Town | 1-1 | Southport | League | | | Match report |
| 15-03-1997 | Slough Town | 1-3 | Hayes | League | | | Match report |
| 11-03-1997 | Wycombe Wanderers | 3-2 | Slough Town | B&B Senior Cup | | | Match report |
| 08-03-1997 | Telford Utd | 0-2 | Slough Town | League | | | Match report |
| 01-03-1997 | Rushden & Diamonds | 2-2 | Slough Town | League | | | Match report |
| 22-02-1997 | Hayes | 5-0 | Slough Town | League | | | Match report |
| 15-02-1997 | Slough Town | 3-4 | Northwich Victoria | League | | | Match report |
Slough Town FC is not responsible for content produced on external websites | Copyright Slough Town FC 2023