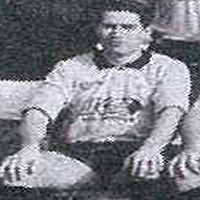 Stats
Position:
Midfielder
First Appearance:
03-11-1990 vs Telford Utd
Appearances:
56
First Goal:
01-01-1991 vs Sutton United
Goals:
8
Bio
Donnellan befan his career as an apprentice with Chelsea.

Has played for Watford, Reading, Torquay and Wealdstone. Also played for Yeovil Town from whom he was transferred to Enfield in 1990 for a five figure fee.
History
| Match Date | Home | Score | Away | Competition | Goals | Cards | |
| --- | --- | --- | --- | --- | --- | --- | --- |
| 18-04-1992 | Runcorn | 1-0 | Slough Town | League | | | Match report |
| 14-04-1992 | Colchester Utd | 4-0 | Slough Town | League | | | Match report |
| 07-04-1992 | Farnborough Town | 2-1 | Slough Town | League | | | Match report |
| 04-04-1992 | Slough Town | 0-1 | Northwich Victoria | League | | | Match report |
| 31-03-1992 | Slough Town | 0-0 | Merthyr Tydfil | League | | | Match report |
| 28-03-1992 | Yeovil Town | 1-0 | Slough Town | League | | | Match report |
| 21-03-1992 | Telford Utd | 2-2 | Slough Town | League | | | Match report |
| 14-03-1992 | Slough Town | 0-2 | Kettering Town | League | | | Match report |
| 10-03-1992 | Slough Town | 1-4 | Yeovil Town | League | | | Match report |
| 07-03-1992 | Barrow | 3-4 | Slough Town | League | | | Match report |
| 29-02-1992 | Slough Town | 2-2 | Stafford Rangers | League | | | Match report |
| 25-02-1992 | Slough Town | 1-3 | Cheltenham Town | League | | | Match report |
| 21-02-1992 | Welling United | 0-2 | Slough Town | League | | | Match report |
| 19-02-1992 | Chesham United | 3-1 | Slough Town | B&B Senior Cup | | | Match report |
| 15-02-1992 | Boston Utd | 3-1 | Slough Town | League | | | Match report |
| 08-02-1992 | Slough Town | 2-3 | Altrincham | League | | | Match report |
| 31-01-1992 | Slough Town | 3-1 | Boston Utd | League | | | Match report |
| 25-01-1992 | Witton Albion | 2-1 | Slough Town | League | | | Match report |
| 18-01-1992 | Slough Town | 2-0 | Gateshead | League | | | Match report |
| 11-01-1992 | Enfield | 4-0 | Slough Town | FA Trophy | | | Match report |
| 07-01-1992 | Slough Town | 5-2 | Flackwell Heath | B&B Senior Cup | | | Match report |
| 27-11-1991 | Reading | 2-1 | Slough Town | FA Cup | | | Match report |
| 23-11-1991 | Kettering Town | 2-3 | Slough Town | League | | | Match report |
| 16-11-1991 | Slough Town | 3-3 | Reading | FA Cup | | | Match report |
| 22-10-1991 | Slough Town | 4-0 | Redbridge Forest | League | | | Match report |
| 15-10-1991 | Bath City | 2-1 | Slough Town | League | | | Match report |
| 12-10-1991 | Berkhamsted Town | 1-4 | Slough Town | FA Cup | | | Match report |
| 05-10-1991 | Slough Town | 1-0 | Barrow | League | | | Match report |
| 07-09-1991 | Slough Town | 0-3 | Telford Utd | League | | | Match report |
| 03-09-1991 | Bath City | 2-1 | Slough Town | Bob Lord Trophy | | | Match report |
| 31-08-1991 | Slough Town | 1-0 | Runcorn | League | | | Match report |
| 26-08-1991 | Slough Town | 2-4 | Colchester Utd | League | | | Match report |
| 24-08-1991 | Macclesfield Town | 0-1 | Slough Town | League | | | Match report |
| 17-08-1991 | Slough Town | 3-1 | Kidderminster Harriers | League | | | Match report |
| 23-04-1991 | Northwich Victoria | 1-0 | Slough Town | League | | | Match report |
| 30-03-1991 | Runcorn | 3-1 | Slough Town | League | | | Match report |
| 23-03-1991 | Kidderminster Harriers | 1-2 | Slough Town | League | | | Match report |
| 19-03-1991 | Bath City | 4-0 | Slough Town | League | | | Match report |
| 12-03-1991 | Slough Town | 3-0 | Welling United | League | | | Match report |
| 09-03-1991 | Wycombe Wanderers | 2-1 | Slough Town | League | | | Match report |
| 05-03-1991 | Slough Town | 0-2 | Colchester Utd | League | | | Match report |
| 02-03-1991 | Barrow | 2-1 | Slough Town | League | | | Match report |
| 23-02-1991 | Slough Town | 1-1 | Gateshead | League | | | Match report |
| 19-01-1991 | Slough Town | 2-1 | Stafford Rangers | League | | | Match report |
| 16-01-1991 | Slough Town | 5-1 | Milton Keynes Boro | B&B Senior Cup | | | Match report |
| 12-01-1991 | Slough Town | 2-4 | Bath City | FA Trophy | | | Match report |
| 05-01-1991 | Colchester Utd | 2-1 | Slough Town | League | | | Match report |
| 01-01-1991 | Slough Town | 1-2 | Sutton United | League | | | Match report |
| 29-12-1990 | Slough Town | 1-2 | Merthyr Tydfil | League | | | Match report |
| 26-12-1990 | Sutton United | 5-2 | Slough Town | League | | | Match report |
| 22-12-1990 | Slough Town | 1-0 | Fisher Ath | League | | | Match report |
| 18-12-1990 | Cheltenham Town | 2-0 | Slough Town | League | | | Match report |
| 15-12-1990 | Slough Town | 2-0 | Yeovil Town | League | | | Match report |
| 01-12-1990 | Slough Town | 2-0 | Bath City | League | | | Match report |
| 10-11-1990 | Stafford Rangers | 3-4 | Slough Town | League | | | Match report |
| 03-11-1990 | Slough Town | 2-0 | Telford Utd | League | | | Match report |
Slough Town FC is not responsible for content produced on external websites | Copyright Slough Town FC 2021