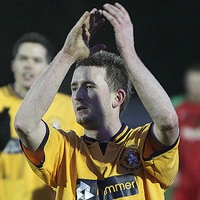 Position:
Defender
Bio
Centre back who follows striker Danny Jordan to the club from AFC Hayes.
Accomplished defender who is comfortable on the ball and will add competition for places in the back line. Ryan started his career at Hillingdon Borough, working his way up through the youth team and establishing himself at left back. He was a losing finalist in the FA Vase whilst playing for the Middlesex club against Nantwich.
Ryan made no time in making an impression with the Rebels coaching staff having impressed in training sessions, and has made an impact with some assured displays at the back.
Mens
| First Appearance | Appearances | First Goal | Goals |
| --- | --- | --- | --- |
| 16-08-2008 vs Burnham | 49 | 21-04-2009 vs Gosport Borough | 1 |
History
| Match Date | Home | Score | Away | Competition | Goals | Cards | |
| --- | --- | --- | --- | --- | --- | --- | --- |
| 27-10-2009 | Slough Town | 1-2 | Chesham United | Red Insure Cup | | | Match report |
| 13-10-2009 | Hitchin Town | 3-2 | Slough Town | League | | | Match report |
| 06-10-2009 | Mangotsfield Utd | 0-1 | Slough Town | FA Trophy | | | Match report |
| 04-10-2009 | Slough Town | 1-1 | Mangotsfield Utd | FA Trophy | | | Match report |
| 15-09-2009 | Slough Town | 2-1 | Hemel Hempstead Town | FA Cup | | | Match report |
| 25-08-2009 | Leighton Town | 0-1 | Slough Town | League | | | Match report |
| 25-04-2009 | Slough Town | 2-1 | Bridgwater Town | League | | | Match report |
| 21-04-2009 | Slough Town | 2-1 | Gosport Borough | League | | | Match report |
| 18-04-2009 | Didcot Town | 2-0 | Slough Town | League | | | Match report |
| 13-04-2009 | Beaconsfield Town | 0-0 | Slough Town | League | | | Match report |
| 11-04-2009 | Slough Town | 2-2 | Taunton Town | League | | | Match report |
| 04-04-2009 | Winchester City | 3-1 | Slough Town | League | | | Match report |
| 28-03-2009 | Slough Town | 1-0 | Paulton Rovers | League | | | Match report |
| 26-03-2009 | Bridgwater Town | 6-0 | Slough Town | League | | | Match report |
| 21-03-2009 | AFC Totton | 4-2 | Slough Town | League | | | Match report |
| 14-03-2009 | Slough Town | 0-0 | Bracknell Town | League | | | Match report |
| 03-03-2009 | Slough Town | 2-3 | Cinderford Town | League | | | Match report |
| 28-02-2009 | Uxbridge | 4-0 | Slough Town | League | | | Match report |
| 21-02-2009 | Slough Town | 4-3 | Andover | League | | | Match report |
| 14-02-2009 | AFC Hayes | 2-1 | Slough Town | League | | | Match report |
| 31-01-2009 | Truro City | 2-1 | Slough Town | League | | | Match report |
| 27-01-2009 | Marlow | 1-0 | Slough Town | B&B Senior Cup | | | Match report |
| 24-01-2009 | Slough Town | 3-2 | Windsor & Eton | League | | | Match report |
| 20-01-2009 | Slough Town | 1-1 | North Leigh | League | | | Match report |
| 17-01-2009 | Cirencester Town | 4-1 | Slough Town | League | | | Match report |
| 01-01-2009 | Slough Town | 2-2 | Beaconsfield Town | League | | | Match report |
| 27-12-2008 | Thatcham Town | 3-1 | Slough Town | League | | | Match report |
| 20-12-2008 | Slough Town | 2-3 | Didcot Town | League | | | Match report |
| 16-12-2008 | Slough Town | 0-0 | AFC Totton | League | | | Match report |
| 06-12-2008 | Paulton Rovers | 1-2 | Slough Town | League | | | Match report |
| 29-11-2008 | Slough Town | 4-0 | Winchester City | League | | | Match report |
| 11-11-2008 | Abingdon Utd | 1-1 | Slough Town | League | | | Match report |
| 08-11-2008 | Slough Town | 1-1 | Bishops Cleeve | League | | | Match report |
| 04-11-2008 | Slough Town | 2-3 | AFC Hayes | League | | | Match report |
| 01-11-2008 | Gosport Borough | 2-1 | Slough Town | League | | | Match report |
| 28-10-2008 | Leighton Town | 3-0 | Slough Town | Red Insure Cup | | | Match report |
| 25-10-2008 | Slough Town | 3-3 | Truro City | League | | | Match report |
| 18-10-2008 | Thatcham Town | 5-4 | Slough Town | FA Trophy | | | Match report |
| 11-10-2008 | Slough Town | 1-2 | Uxbridge | League | | | Match report |
| 27-09-2008 | Andover | 1-2 | Slough Town | League | | | Match report |
| 20-09-2008 | Slough Town | 3-2 | Cirencester Town | League | | | Match report |
| 13-09-2008 | Farnborough | 1-0 | Slough Town | FA Cup | | | Match report |
| 06-09-2008 | Taunton Town | 2-3 | Slough Town | League | | | Match report |
| 02-09-2008 | Slough Town | 5-2 | Abingdon Utd | FA Cup | | | Match report |
| 30-08-2008 | Abingdon Utd | 1-1 | Slough Town | FA Cup | | | Match report |
| 25-08-2008 | Slough Town | 1-1 | Thatcham Town | League | | | Match report |
| 23-08-2008 | Cinderford Town | 4-1 | Slough Town | League | | | Match report |
| 19-08-2008 | North Leigh | 6-1 | Slough Town | League | | | Match report |
| 16-08-2008 | Slough Town | 2-2 | Burnham | League | | | Match report |
Slough Town FC is not responsible for content produced on external websites | Copyright Slough Town FC 2023