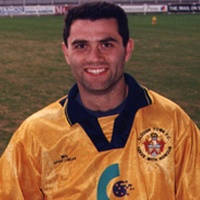 Position:
Forward
Bio
Prolific striker at non-league level signed from Wycombe Wanderers in 1994. Went on to become one of the most prolific Slough strikers with a total of 84 goals to his name.
Following an absence of eight years, West returned to the club as an assistant manager to Eddie Denton before taking over the managerial postiion himself. Mark had been a player at Thame before taking over the managerial position at Windmill Road before joining the Rebels.
With a number of constraints in place, West found life difficult and soon returned to take on a management position at Thame United. He managed just one goal in his second playing spell at the club, a wonderful lobbed effort at Wealdstone which rolled back the years, a goal which was voted as the goal of the season by the Slough supporters.
However, his record for the club in his first spell, between 1994 and 1998, was 83 goals in 157 appearances, making him a true Rebels legend.
Mens
| First Appearance | Appearances | First Goal | Goals |
| --- | --- | --- | --- |
| 13-08-1994 vs Hendon | 176 | 16-08-1994 vs Marlow | 84 |
History
| Match Date | Home | Score | Away | Competition | Goals | Cards | |
| --- | --- | --- | --- | --- | --- | --- | --- |
| 26-12-2006 | Slough Town | 0-2 | Ashford Town (Middx) | League | | | Match report |
| 23-12-2006 | Chelmsford City | 5-0 | Slough Town | League | | | Match report |
| 21-10-2006 | Leighton Town | 4-1 | Slough Town | FA Trophy | | | Match report |
| 10-10-2006 | Slough Town | 0-4 | Ashford Town (Middx) | Ryman League Cup | | | Match report |
| 23-09-2006 | Slough Town | 0-2 | Folkestone Invicta | League | | | Match report |
| 29-04-2006 | Slough Town | 1-2 | Heybridge Swifts | League | | | Match report |
| 22-04-2006 | Harrow Borough | 2-1 | Slough Town | League | | | Match report |
| 14-04-2006 | Braintree Town | 2-1 | Slough Town | League | | | Match report |
| 01-04-2006 | Staines Town | 2-1 | Slough Town | League | | | Match report |
| 25-03-2006 | Slough Town | 0-3 | Worthing | League | | | Match report |
| 11-02-2006 | Walton & Hersham | 0-1 | Slough Town | League | | | Match report |
| 04-02-2006 | Slough Town | 2-2 | Bromley | League | | | Match report |
| 31-01-2006 | Slough Town | 3-0 | Heybridge Swifts | Ryman League Cup | | | Match report |
| 28-01-2006 | AFC Wimbledon | 2-2 | Slough Town | League | | | Match report |
| 14-01-2006 | Leyton | 1-2 | Slough Town | League | | | Match report |
| 28-11-2005 | Folkestone Invicta | 3-0 | Slough Town | League | | | Match report |
| 29-10-2005 | Wealdstone | 2-2 | Slough Town | League | | | Match report |
| 22-10-2005 | Slough Town | 0-1 | Chelmsford City | League | | | Match report |
| 01-10-2005 | Slough Town | 4-1 | Maldon Town | League | | | Match report |
| 02-05-1998 | Kidderminster Harriers | 0-1 | Slough Town | League | | | Match report |
| 30-04-1998 | Slough Town | 4-0 | Stalybridge Celtic | League | | | Match report |
| 28-04-1998 | Slough Town | 1-1 | Leek Town | League | | | Match report |
| 21-04-1998 | Dover Athletic | 2-1 | Slough Town | League | | | Match report |
| 18-04-1998 | Gateshead | 5-1 | Slough Town | League | | | Match report |
| 13-04-1998 | Slough Town | 1-1 | Yeovil Town | League | | | Match report |
| 05-04-1998 | Southport | 1-1 | Slough Town | FA Trophy | | | Match report |
| 31-03-1998 | Slough Town | 1-0 | Gateshead | League | | | Match report |
| 28-03-1998 | Slough Town | 0-1 | Southport | FA Trophy | | | Match report |
| 21-03-1998 | Hereford United | 1-1 | Slough Town | League | | | Match report |
| 16-03-1998 | Stevenage Borough | 4-2 | Slough Town | League | | | Match report |
| 10-03-1998 | Slough Town | 1-3 | Woking | League | | | Match report |
| 03-03-1998 | Slough Town | 1-0 | Telford Utd | League | | | Match report |
| 28-02-1998 | Morecambe | 2-1 | Slough Town | League | | | Match report |
| 24-02-1998 | Boreham Wood | 1-2 | Slough Town | FA Trophy | | | Match report |
| 18-02-1998 | Farnborough Town | 1-0 | Slough Town | League | | | Match report |
| 14-02-1998 | Northwich Victoria | 0-1 | Slough Town | League | | | Match report |
| 07-02-1998 | Slough Town | 3-0 | Hereford United | League | | | Match report |
| 31-01-1998 | Halifax Town | 1-1 | Slough Town | FA Trophy | | | Match report |
| 27-01-1998 | Reading | 6-2 | Slough Town | B&B Senior Cup | | | Match report |
| 24-01-1998 | Halifax Town | 1-0 | Slough Town | League | | | Match report |
| 17-01-1998 | Telford Utd | 0-1 | Slough Town | League | | | Match report |
| 10-01-1998 | Welling United | 1-1 | Slough Town | FA Trophy | | | Match report |
| 01-01-1998 | Hayes | 0-1 | Slough Town | League | | | Match report |
| 26-12-1997 | Slough Town | 0-0 | Hayes | League | | | Match report |
| 20-12-1997 | Yeovil Town | 2-1 | Slough Town | League | | | Match report |
| 13-12-1997 | Slough Town | 2-0 | Kidderminster Harriers | League | | | Match report |
| 29-11-1997 | Slough Town | 1-0 | Southport | League | | | Match report |
| 25-11-1997 | Cardiff City | 3-2 | Slough Town | FA Cup | | | Match report |
| 18-11-1997 | Hayes | 2-0 | Slough Town | Isthmian Lge Sub. Cup | | | Match report |
| 08-11-1997 | Slough Town | 1-2 | Cheltenham Town | League | | | Match report |
| 18-10-1997 | Slough Town | 3-3 | Morecambe | League | | | Match report |
| 11-10-1997 | Slough Town | 6-1 | Tilbury | FA Cup | | | Match report |
| 30-09-1997 | Slough Town | 0-0 | Walton & Hersham | FA Cup | | | Match report |
| 14-12-1996 | Farnborough Town | 2-1 | Slough Town | League | | | Match report |
| 26-10-1996 | Hayes | 1-0 | Slough Town | FA Cup | | | Match report |
| 19-10-1996 | Slough Town | 6-0 | Telford Utd | League | | | Match report |
| 08-10-1996 | Kettering Town | 1-0 | Slough Town | Isthmian Lge Sub. Cup | | | Match report |
| 05-10-1996 | Slough Town | 1-2 | Morecambe | League | | | Match report |
| 01-10-1996 | Slough Town | 3-0 | Woking | League | | | Match report |
| 28-09-1996 | Bromsgrove Rovers | 4-1 | Slough Town | League | | | Match report |
| 24-09-1996 | Slough Town | 1-1 | Kettering Town | League | | | Match report |
| 21-09-1996 | Slough Town | 2-2 | Hednesford Town | League | | | Match report |
| 17-09-1996 | Dover Athletic | 0-0 | Slough Town | League | | | Match report |
| 14-09-1996 | Slough Town | 2-0 | Bromsgrove Rovers | League | | | Match report |
| 10-09-1996 | Welling United | 3-2 | Slough Town | League | | | Match report |
| 07-09-1996 | Southport | 0-1 | Slough Town | League | | | Match report |
| 03-09-1996 | Slough Town | 5-2 | Bath City | League | | | Match report |
| 31-08-1996 | Slough Town | 0-1 | Altrincham | League | | | Match report |
| 26-08-1996 | Kidderminster Harriers | 1-2 | Slough Town | League | | | Match report |
| 24-08-1996 | Halifax Town | 4-1 | Slough Town | League | | | Match report |
| 20-08-1996 | Slough Town | 5-0 | Rushden & Diamonds | League | | | Match report |
| 17-08-1996 | Slough Town | 4-1 | Stalybridge Celtic | League | | | Match report |
| 02-05-1996 | Macclesfield Town | 1-1 | Slough Town | League | | | Match report |
| 27-04-1996 | Hednesford Town | 3-1 | Slough Town | League | | | Match report |
| 20-04-1996 | Slough Town | 1-1 | Morecambe | League | | | Match report |
| 13-04-1996 | Slough Town | 0-0 | Welling United | League | | | Match report |
| 08-04-1996 | Southport | 2-0 | Slough Town | League | | | Match report |
| 03-04-1996 | Bath City | 3-1 | Slough Town | League | | | Match report |
| 30-03-1996 | Bromsgrove Rovers | 0-0 | Slough Town | League | | | Match report |
| 23-03-1996 | Slough Town | 2-1 | Stalybridge Celtic | League | | | Match report |
| 19-03-1996 | Woking | 3-0 | Slough Town | League | | | Match report |
| 16-03-1996 | Northwich Victoria | 0-3 | Slough Town | League | | | Match report |
| 12-03-1996 | Slough Town | 2-6 | Stevenage Borough | League | | | Match report |
| 09-03-1996 | Slough Town | 5-0 | Dagenham & R. | League | | | Match report |
| 02-03-1996 | Farnborough Town | 0-1 | Slough Town | League | | | Match report |
| 24-02-1996 | Kidderminster Harriers | 4-3 | Slough Town | League | | | Match report |
| 17-02-1996 | Slough Town | 1-2 | Kettering Town | League | | | Match report |
| 13-02-1996 | Kettering Town | 2-0 | Slough Town | Isthmian Lge Sub. Cup | | | Match report |
| 10-02-1996 | Slough Town | 1-2 | Kettering Town | FA Trophy | | | Match report |
| 03-02-1996 | Slough Town | 1-2 | Telford Utd | League | | | Match report |
| 30-01-1996 | Reading | 3-2 | Slough Town | B&B Senior Cup | | | Match report |
| 23-01-1996 | Slough Town | 4-3 | Farnborough Town | FA Trophy | | | Match report |
| 20-01-1996 | Farnborough Town | 1-1 | Slough Town | FA Trophy | | | Match report |
| 13-01-1996 | Altrincham | 0-1 | Slough Town | League | | | Match report |
| 06-01-1996 | Slough Town | 1-2 | Gateshead | League | | | Match report |
| 01-01-1996 | Stevenage Borough | 3-1 | Slough Town | League | | | Match report |
| 16-12-1995 | Slough Town | 3-0 | Woking | Isthmian Lge Sub. Cup | | | Match report |
| 09-12-1995 | Slough Town | 2-3 | Halifax Town | League | | | Match report |
| 02-12-1995 | Stalybridge Celtic | 0-1 | Slough Town | League | | | Match report |
| 25-11-1995 | Slough Town | 1-1 | Northwich Victoria | League | | | Match report |
| 20-11-1995 | Dagenham & R. | 1-3 | Slough Town | League | | | Match report |
| 18-11-1995 | Slough Town | 2-3 | Woking | League | | | Match report |
| 11-11-1995 | Slough Town | 0-2 | Plymouth Argyle | FA Cup | | | Match report |
| 04-11-1995 | Gateshead | 2-1 | Slough Town | League | | | Match report |
| 31-10-1995 | Slough Town | 1-1 | Farnborough Town | League | | | Match report |
| 28-10-1995 | Telford Utd | 2-0 | Slough Town | League | | | Match report |
| 21-10-1995 | Yeading | 0-2 | Slough Town | FA Cup | | | Match report |
| 14-10-1995 | Slough Town | 2-2 | Macclesfield Town | League | | | Match report |
| 07-10-1995 | Kettering Town | 2-0 | Slough Town | League | | | Match report |
| 03-10-1995 | Slough Town | 3-0 | Dagenham & R. | Isthmian Lge Sub. Cup | | | Match report |
| 30-09-1995 | Slough Town | 0-2 | Hednesford Town | League | | | Match report |
| 26-09-1995 | Dover Athletic | 0-1 | Slough Town | League | | | Match report |
| 23-09-1995 | Slough Town | 2-3 | Bromsgrove Rovers | League | | | Match report |
| 18-09-1995 | Dagenham & R. | 0-3 | Slough Town | Isthmian Lge Sub. Cup | | | Match report |
| 16-09-1995 | Slough Town | 1-2 | Altrincham | League | | | Match report |
| 12-09-1995 | Slough Town | 3-2 | Dover Athletic | League | | | Match report |
| 09-09-1995 | Runcorn | 4-3 | Slough Town | League | | | Match report |
| 05-09-1995 | Slough Town | 1-1 | Bath City | League | | | Match report |
| 02-09-1995 | Morecambe | 1-2 | Slough Town | League | | | Match report |
| 28-08-1995 | Slough Town | 5-4 | Kidderminster Harriers | League | | | Match report |
| 26-08-1995 | Halifax Town | 1-2 | Slough Town | League | | | Match report |
| 22-08-1995 | Welling United | 0-3 | Slough Town | League | | | Match report |
| 19-08-1995 | Slough Town | 2-5 | Southport | League | | | Match report |
| 08-05-1995 | Aylesbury United | 1-1 | Slough Town | Ryman League Cup | | | Match report |
| 04-05-1995 | Slough Town | 1-4 | Enfield | League | | | Match report |
| 02-05-1995 | Reading | 1-0 | Slough Town | B&B Senior Cup | | | Match report |
| 29-04-1995 | Molesey | 0-2 | Slough Town | League | | | Match report |
| 27-04-1995 | Sutton United | 1-1 | Slough Town | League | | | Match report |
| 25-04-1995 | Slough Town | 5-2 | Chesham United | League | | | Match report |
| 22-04-1995 | Harrow Borough | 0-3 | Slough Town | League | | | Match report |
| 14-04-1995 | Hitchin Town | 1-0 | Slough Town | League | | | Match report |
| 11-04-1995 | Slough Town | 2-1 | Kingstonian | League | | | Match report |
| 08-04-1995 | Slough Town | 3-1 | Hayes | League | | | Match report |
| 04-04-1995 | Hendon | 1-2 | Slough Town | League | | | Match report |
| 25-03-1995 | St Albans City | 3-1 | Slough Town | League | | | Match report |
| 21-03-1995 | Marlow | 0-2 | Slough Town | B&B Senior Cup | | | Match report |
| 18-03-1995 | Dulwich Hamlet | 0-2 | Slough Town | Ryman League Cup | | | Match report |
| 14-03-1995 | Dulwich Hamlet | 1-2 | Slough Town | Ryman League Cup | | | Match report |
| 11-03-1995 | Slough Town | 1-0 | Bishop's Stortford | League | | | Match report |
| 07-03-1995 | Aylesbury United | 3-3 | Slough Town | League | | | Match report |
| 28-02-1995 | Slough Town | 3-1 | Dulwich Hamlet | League | | | Match report |
| 18-02-1995 | Yeading | 0-0 | Slough Town | League | | | Match report |
| 14-02-1995 | St Albans City | 3-4 | Slough Town | League Cup | | | Match report |
| 09-02-1995 | Slough Town | 2-1 | Wycombe Wanderers | B&B Senior Cup | | | Match report |
| 04-02-1995 | Grays Athletic | 3-3 | Slough Town | League | | | Match report |
| 24-01-1995 | Merthyr Tydfil | 3-2 | Slough Town | FA Trophy | | | Match report |
| 17-01-1995 | Slough Town | 4-0 | Thatcham Town | B&B Senior Cup | | | Match report |
| 14-01-1995 | Slough Town | 4-0 | Marlow | League | | | Match report |
| 10-01-1995 | Chertsey Town | 3-2 | Slough Town | Ryman League Cup | | | Match report |
| 31-12-1994 | Slough Town | 4-1 | Bromley | League | | | Match report |
| 26-12-1994 | Wokingham Town | 2-0 | Slough Town | League | | | Match report |
| 17-12-1994 | Slough Town | 2-4 | Purfleet | League | | | Match report |
| 13-12-1994 | Slough Town | 5-1 | Sutton United | League Cup | | | Match report |
| 10-12-1994 | Carshalton Ath | 1-3 | Slough Town | League | | | Match report |
| 03-12-1994 | Slough Town | 3-1 | Molesey | League | | | Match report |
| 29-11-1994 | Worthing | 3-6 | Slough Town | League Cup | | | Match report |
| 26-11-1994 | Hayes | 3-1 | Slough Town | League | | | Match report |
| 19-11-1994 | Slough Town | 1-1 | Harrow Borough | League | | | Match report |
| 12-11-1994 | Slough Town | 0-4 | Birmingham City | FA Cup | | | Match report |
| 05-11-1994 | Slough Town | 1-1 | St Albans City | League | | | Match report |
| 01-11-1994 | Slough Town | 4-0 | Collier Row | League Cup | | | Match report |
| 29-10-1994 | Walton & Hersham | 3-3 | Slough Town | League | | | Match report |
| 22-10-1994 | Stafford Rangers | 0-4 | Slough Town | FA Cup | | | Match report |
| 15-10-1994 | Enfield | 0-1 | Slough Town | League | | | Match report |
| 08-10-1994 | Bishop's Stortford | 2-2 | Slough Town | League | | | Match report |
| 01-10-1994 | Slough Town | 1-1 | Dulwich Hamlet | League | | | Match report |
| 17-09-1994 | Kingstonian | 0-3 | Slough Town | League | | | Match report |
| 10-09-1994 | Slough Town | 3-2 | Sutton United | League | | | Match report |
| 06-09-1994 | Hayes | 0-1 | Slough Town | Ryman League Cup | | | Match report |
| 03-09-1994 | Slough Town | 5-3 | Yeading | League | | | Match report |
| 29-08-1994 | Purfleet | 3-0 | Slough Town | League | | | Match report |
| 27-08-1994 | Slough Town | 1-0 | Aylesbury United | League | | | Match report |
| 23-08-1994 | Slough Town | 2-0 | Grays Athletic | League | | | Match report |
| 20-08-1994 | Chesham United | 0-1 | Slough Town | League | | | Match report |
| 16-08-1994 | Marlow | 0-2 | Slough Town | League | | | Match report |
| 13-08-1994 | Slough Town | 2-2 | Hendon | League | | | Match report |
Slough Town FC is not responsible for content produced on external websites | Copyright Slough Town FC 2023