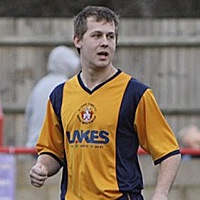 Stats
Position:
Midfielder
First Appearance:
15-12-2007 vs Taunton Town
Appearances:
43
First Goal:
25-08-2008 vs Thatcham Town
Goals:
1
Bio
Signed from near neighbours Burnham in December 2007.

Laurence is a versatile player and is capable of playing in midfield or defence. He is a combative midfielder who will not shirk a challenge. Laurence was one of the highlights in a tough season in 2007/8 with his never say die attitude which went down well with the Rebels supporters. Made his debut on December 15 2007 in a 1-0 win at Taunton Town.
History
| Match Date | Home | Score | Away | Competition | Goals | Cards | |
| --- | --- | --- | --- | --- | --- | --- | --- |
| 28-02-2009 | Uxbridge | 4-0 | Slough Town | League | | | Match report |
| 21-02-2009 | Slough Town | 4-3 | Andover | League | | | Match report |
| 14-02-2009 | AFC Hayes | 2-1 | Slough Town | League | | | Match report |
| 31-01-2009 | Truro City | 2-1 | Slough Town | League | | | Match report |
| 27-01-2009 | Marlow | 1-0 | Slough Town | B&B Senior Cup | | | Match report |
| 24-01-2009 | Slough Town | 3-2 | Windsor & Eton | League | | | Match report |
| 20-01-2009 | Slough Town | 1-1 | North Leigh | League | | | Match report |
| 17-01-2009 | Cirencester Town | 4-1 | Slough Town | League | | | Match report |
| 01-01-2009 | Slough Town | 2-2 | Beaconsfield Town | League | | | Match report |
| 27-12-2008 | Thatcham Town | 3-1 | Slough Town | League | | | Match report |
| 28-10-2008 | Leighton Town | 3-0 | Slough Town | Red Insure Cup | | | Match report |
| 25-10-2008 | Slough Town | 3-3 | Truro City | League | | | Match report |
| 14-10-2008 | Windsor & Eton | 6-2 | Slough Town | League | | | Match report |
| 11-10-2008 | Slough Town | 1-2 | Uxbridge | League | | | Match report |
| 27-09-2008 | Andover | 1-2 | Slough Town | League | | | Match report |
| 20-09-2008 | Slough Town | 3-2 | Cirencester Town | League | | | Match report |
| 13-09-2008 | Farnborough | 1-0 | Slough Town | FA Cup | | | Match report |
| 06-09-2008 | Taunton Town | 2-3 | Slough Town | League | | | Match report |
| 02-09-2008 | Slough Town | 5-2 | Abingdon Utd | FA Cup | | | Match report |
| 30-08-2008 | Abingdon Utd | 1-1 | Slough Town | FA Cup | | | Match report |
| 25-08-2008 | Slough Town | 1-1 | Thatcham Town | League | | | Match report |
| 23-08-2008 | Cinderford Town | 4-1 | Slough Town | League | | | Match report |
| 19-08-2008 | North Leigh | 6-1 | Slough Town | League | | | Match report |
| 26-04-2008 | Fleet Town | 1-0 | Slough Town | League | | | Match report |
| 22-04-2008 | Bridgwater Town | 0-0 | Slough Town | League | | | Match report |
| 19-04-2008 | Newport IOW | 1-3 | Slough Town | League | | | Match report |
| 12-04-2008 | Slough Town | 3-2 | Godalming Town | League | | | Match report |
| 05-04-2008 | Slough Town | 1-2 | Oxford City | League | | | Match report |
| 29-03-2008 | AFC Hayes | 0-0 | Slough Town | League | | | Match report |
| 24-03-2008 | Slough Town | 0-1 | Windsor & Eton | League | | | Match report |
| 22-03-2008 | Slough Town | 0-3 | Burnham | League | | | Match report |
| 08-03-2008 | Slough Town | 1-2 | Paulton Rovers | League | | | Match report |
| 01-03-2008 | Godalming Town | 2-0 | Slough Town | League | | | Match report |
| 23-02-2008 | Slough Town | 2-1 | Fleet Town | League | | | Match report |
| 16-02-2008 | Winchester City | 2-0 | Slough Town | League | | | Match report |
| 09-02-2008 | Slough Town | 0-3 | AFC Hayes | League | | | Match report |
| 05-02-2008 | Slough Town | 2-3 | Farnborough | League | | | Match report |
| 02-02-2008 | Slough Town | 1-1 | Uxbridge | League | | | Match report |
| 26-01-2008 | Bracknell Town | 3-1 | Slough Town | League | | | Match report |
| 05-01-2008 | Andover | 1-2 | Slough Town | League | | | Match report |
| 01-01-2008 | Slough Town | 1-2 | Thatcham Town | League | | | Match report |
| 22-12-2007 | Slough Town | 0-2 | Marlow | League | | | Match report |
| 15-12-2007 | Taunton Town | 0-1 | Slough Town | League | | | Match report |
Slough Town FC is not responsible for content produced on external websites | Copyright Slough Town FC 2021