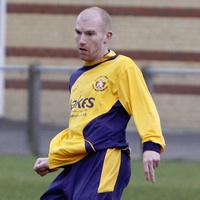 Position:
Midfielder
Bio
Creative central midfielder signed from Burnham in the summer of 2010.
Paul has demonstrated the quality of his vision and range of passing in the middle of the park, and is also a set-piece specialist. Whilst not a regular goalscorer, he scored his first Rebels goal against Beaconsfield in December 2010.
Coyne started his career at Watford where he was a scholar before joining Wealdstone and then Marlow before moving to Windsor & Eton. During his time at Windsor, Coyne was a key figure in helping the Royalists narrowly miss out to Truro for the South & West title in the 2008/09 season.
Mens
| First Appearance | Appearances | First Goal | Goals |
| --- | --- | --- | --- |
| 14-08-2010 vs Barton Rovers | 94 | 30-12-2010 vs Beaconsfield Town | 6 |
History
| Match Date | Home | Score | Away | Competition | Goals | Cards | |
| --- | --- | --- | --- | --- | --- | --- | --- |
| 01-03-2016 | Slough Town | 1-3 | Kettering Town | League | | | Match report |
| 07-05-2012 | Woodford United | 1-2 | Slough Town | League | | | Match report |
| 03-05-2012 | Slough Town | 1-2 | Beaconsfield Town | Play Off | | | Match report |
| 14-04-2012 | Bedworth United | 5-3 | Slough Town | League | | | Match report |
| 09-04-2012 | Slough Town | 1-1 | Beaconsfield Town | League | | | Match report |
| 07-04-2012 | Bedfont Town | 1-2 | Slough Town | League | | | Match report |
| 31-03-2012 | Slough Town | 1-1 | Chalfont St Peter | League | | | Match report |
| 13-03-2012 | Slough Town | 0-2 | North Greenford Utd | League | | | Match report |
| 10-03-2012 | St Neots Town | 0-1 | Slough Town | League | | | Match report |
| 25-02-2012 | Daventry Town | 1-1 | Slough Town | League | | | Match report |
| 18-02-2012 | Slough Town | 1-1 | AFC Hayes | League | | | Match report |
| 28-01-2012 | Slough Town | 3-0 | Chertsey Town | League | | | Match report |
| 24-01-2012 | Chesham United | 3-1 | Slough Town | B&B Senior Cup | | | Match report |
| 21-01-2012 | Aylesbury | 2-0 | Slough Town | League | | | Match report |
| 14-01-2012 | Slough Town | 2-0 | Uxbridge | League | | | Match report |
| 07-01-2012 | Burnham | 1-1 | Slough Town | League | | | Match report |
| 02-01-2012 | Slough Town | 3-0 | Marlow | League | | | Match report |
| 31-12-2011 | Fleet Town | 0-1 | Slough Town | League | | | Match report |
| 26-12-2011 | Beaconsfield Town | 0-2 | Slough Town | League | | | Match report |
| 17-12-2011 | Slough Town | 2-1 | Bedworth United | League | | | Match report |
| 10-12-2011 | Chalfont St Peter | 2-1 | Slough Town | League | | | Match report |
| 03-12-2011 | Slough Town | 2-1 | Bedfont Town | League | | | Match report |
| 19-11-2011 | Biggleswade Town | 1-1 | Slough Town | League | | | Match report |
| 15-11-2011 | Northwood | 2-4 | Slough Town | League | | | Match report |
| 12-11-2011 | Slough Town | 2-0 | St Neots Town | League | | | Match report |
| 08-11-2011 | AFC Hayes | 1-1 | Slough Town | League | | | Match report |
| 05-11-2011 | Slough Town | 2-1 | Woodford United | League | | | Match report |
| 01-11-2011 | Slough Town | 1-2 | Chesham United | Red Insure Cup | | | Match report |
| 29-10-2011 | Leighton Town | 0-1 | Slough Town | League | | | Match report |
| 22-10-2011 | Slough Town | 4-0 | Rugby Town | League | | | Match report |
| 18-10-2011 | Hanworth Villa | 3-1 | Slough Town | FA Cup | | | Match report |
| 15-10-2011 | Slough Town | 2-2 | Hanworth Villa | FA Cup | | | Match report |
| 08-10-2011 | Gosport Borough | 3-0 | Slough Town | FA Trophy | | | Match report |
| 04-10-2011 | North Greenford Utd | 0-0 | Slough Town | League | | | Match report |
| 01-10-2011 | Slough Town | 3-2 | Boreham Wood | FA Cup | | | Match report |
| 24-09-2011 | Slough Town | 2-1 | Daventry Town | League | | | Match report |
| 17-09-2011 | Banbury United | 1-3 | Slough Town | FA Cup | | | Match report |
| 13-09-2011 | Slough Town | 2-1 | Barton Rovers | League | | | Match report |
| 10-09-2011 | Rugby Town | 2-0 | Slough Town | League | | | Match report |
| 04-09-2011 | Slough Town | 3-1 | Binfield | FA Cup | | | Match report |
| 29-08-2011 | Marlow | 0-3 | Slough Town | League | | | Match report |
| 27-08-2011 | Slough Town | 3-0 | Fleet Town | League | | | Match report |
| 23-08-2011 | Slough Town | 1-2 | Burnham | League | | | Match report |
| 20-08-2011 | Chertsey Town | 3-5 | Slough Town | League | | | Match report |
| 16-08-2011 | Uxbridge | 0-2 | Slough Town | League | | | Match report |
| 13-08-2011 | Slough Town | 0-0 | Aylesbury | League | | | Match report |
| 28-04-2011 | Hitchin Town | 4-1 | Slough Town | Play Off | | | Match report |
| 25-04-2011 | Beaconsfield Town | 1-0 | Slough Town | League | | | Match report |
| 23-04-2011 | Slough Town | 3-2 | Biggleswade Town | League | | | Match report |
| 19-04-2011 | Slough Town | 2-0 | Ashford Town (Middx) | League | | | Match report |
| 16-04-2011 | Leighton Town | 3-1 | Slough Town | League | | | Match report |
| 12-04-2011 | Arlesey Town | 2-1 | Slough Town | League | | | Match report |
| 09-04-2011 | Slough Town | 4-3 | Northwood | League | | | Match report |
| 05-04-2011 | Daventry Town | 1-2 | Slough Town | League | | | Match report |
| 02-04-2011 | Burnham | 0-2 | Slough Town | League | | | Match report |
| 26-03-2011 | Slough Town | 2-1 | Bedworth United | League | | | Match report |
| 22-03-2011 | Barton Rovers | 2-0 | Slough Town | League | | | Match report |
| 19-03-2011 | Slough Town | 2-1 | North Greenford Utd | League | | | Match report |
| 15-03-2011 | Woodford United | 1-3 | Slough Town | League | | | Match report |
| 12-03-2011 | Rugby Town | 1-0 | Slough Town | League | | | Match report |
| 08-03-2011 | AFC Hayes | 2-4 | Slough Town | League | | | Match report |
| 01-02-2011 | Northwood | 1-5 | Slough Town | League | | | Match report |
| 29-01-2011 | Slough Town | 3-0 | Atherstone Town | League | | | Match report |
| 25-01-2011 | Slough Town | 3-3 | Woodford United | League | | | Match report |
| 18-01-2011 | Slough Town | 0-3 | Arlesey Town | League | | | Match report |
| 15-01-2011 | Marlow | 1-4 | Slough Town | League | | | Match report |
| 08-01-2011 | Slough Town | 1-1 | Hitchin Town | League | | | Match report |
| 03-01-2011 | Uxbridge | 2-1 | Slough Town | League | | | Match report |
| 30-12-2010 | Slough Town | 6-4 | Beaconsfield Town | League | | | Match report |
| 14-12-2010 | Oxford City | 0-2 | Slough Town | Red Insure Cup | | | Match report |
| 11-12-2010 | Slough Town | 1-1 | Bedfont Town | League | | | Match report |
| 04-12-2010 | Ashford Town (Middx) | 1-2 | Slough Town | League | | | Match report |
| 23-11-2010 | Marlow | 3-2 | Slough Town | B&B Senior Cup | | | Match report |
| 20-11-2010 | Aylesbury | 1-2 | Slough Town | League | | | Match report |
| 16-11-2010 | Slough Town | 5-0 | AFC Hayes | League | | | Match report |
| 13-11-2010 | North Greenford Utd | 1-3 | Slough Town | League | | | Match report |
| 09-11-2010 | Slough Town | 2-3 | Burnham | League | | | Match report |
| 30-10-2010 | Soham Town Rangers | 1-0 | Slough Town | League | | | Match report |
| 27-10-2010 | Leighton Town | 1-3 | Slough Town | Red Insure Cup | | | Match report |
| 23-10-2010 | Slough Town | 0-1 | Leighton Town | League | | | Match report |
| 19-10-2010 | Chippenham Town | 4-1 | Slough Town | FA Trophy | | | Match report |
| 16-10-2010 | Slough Town | 1-1 | Chippenham Town | FA Trophy | | | Match report |
| 09-10-2010 | Bedworth United | 1-1 | Slough Town | League | | | Match report |
| 05-10-2010 | Marlow | 0-3 | Slough Town | FA Trophy | | | Match report |
| 25-09-2010 | Slough Town | 1-3 | Daventry Town | League | | | Match report |
| 18-09-2010 | Atherstone Town | 1-2 | Slough Town | League | | | Match report |
| 14-09-2010 | Slough Town | 1-3 | Marlow | League | | | Match report |
| 11-09-2010 | Erith Town | 1-0 | Slough Town | FA Cup | | | Match report |
| 04-09-2010 | Biggleswade Town | 1-5 | Slough Town | League | | | Match report |
| 30-08-2010 | Slough Town | 5-2 | Uxbridge | League | | | Match report |
| 28-08-2010 | Lancing | 1-4 | Slough Town | FA Cup | | | Match report |
| 21-08-2010 | Hitchin Town | 3-2 | Slough Town | League | | | Match report |
| 18-08-2010 | Bedfont Town | 1-2 | Slough Town | League | | | Match report |
| 14-08-2010 | Slough Town | 2-1 | Barton Rovers | League | | | Match report |
Slough Town FC is not responsible for content produced on external websites | Copyright Slough Town FC 2023