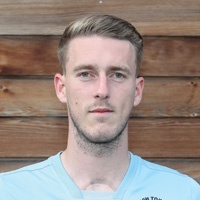 Position:
Midfielder
Achievements
2015/16 Supporters' Player of the Season - runner-up
Bio
Striker Lewis Putman was the first summer signing in 2015 for Neil Baker and Jon Underwood.
'Putts' is a player that the joint managers had been tracking for two years. He was a prolific striker who made his name at Oxhey Jets at Step 5 level, where in one season he scored 84 goals. This alerted a number of clubs, including Wealdstone who signed him, but an unfortunate ACL injury sustained shortly after, whilst playing Slough in a pre-season game, meant he missed that entire season.
In season 2014/2015 he spent his time at Step 4 clubs on his fitness comeback, and the joint managers felt that they signed him at an ideal time.
Lewis has also shown he is very comfortable playing on the left wing.
Mens
| First Appearance | Appearances | First Goal | Goals |
| --- | --- | --- | --- |
| 08-08-2015 vs Frome Town | 84 | 18-08-2015 vs Histon | 19 |
History
| Match Date | Home | Score | Away | Competition | Goals | Cards | |
| --- | --- | --- | --- | --- | --- | --- | --- |
| 22-04-2017 | Slough Town | 1-1 | Redditch United | League | | | Match report |
| 14-04-2017 | Slough Town | 0-2 | Cirencester Town | League | | | Match report |
| 08-04-2017 | Kettering Town | 3-0 | Slough Town | League | | | Match report |
| 01-04-2017 | Slough Town | 3-0 | King's Lynn Town | League | | | Match report |
| 25-03-2017 | Frome Town | 1-0 | Slough Town | League | | | Match report |
| 18-03-2017 | Slough Town | 4-1 | Cinderford Town | League | | | Match report |
| 21-01-2017 | Slough Town | 0-1 | Chippenham Town | League | | | Match report |
| 17-01-2017 | Maidenhead United | 4-2 | Slough Town | B&B Senior Cup | | | Match report |
| 07-01-2017 | St Ives Town | 2-0 | Slough Town | League | | | Match report |
| 02-01-2017 | Slough Town | 1-2 | Chesham United | League | | | Match report |
| 27-12-2016 | Hayes & Yeading United | 2-3 | Slough Town | League | | | Match report |
| 20-12-2016 | Slough Town | 3-0 | MK Dons | B&B Senior Cup | | | Match report |
| 17-12-2016 | Slough Town | 3-2 | Kettering Town | League | | | Match report |
| 06-12-2016 | Chippenham Town | 3-3 | Slough Town | League | | | Match report |
| 03-12-2016 | Slough Town | 1-2 | Frome Town | League | | | Match report |
| 29-11-2016 | Slough Town | 2-0 | Banbury United | League | | | Match report |
| 26-11-2016 | Slough Town | 2-4 | Wingate & Finchley | FA Trophy | | | Match report |
| 23-11-2016 | Northwood | 1-0 | Slough Town | League Cup | | | Match report |
| 22-11-2016 | Stratford Town | 1-2 | Slough Town | League | | | Match report |
| 19-11-2016 | Slough Town | 2-2 | Kings Langley | League | | | Match report |
| 15-11-2016 | Slough Town | 2-0 | Merthyr Town | FA Trophy | | | Match report |
| 12-11-2016 | Merthyr Town | 2-2 | Slough Town | FA Trophy | | | Match report |
| 05-11-2016 | Slough Town | 0-1 | Hitchin Town | League | | | Match report |
| 25-10-2016 | Slough Town | 2-1 | Dorchester Town | League | | | Match report |
| 22-10-2016 | Basingstoke Town | 4-1 | Slough Town | League | | | Match report |
| 18-10-2016 | Slough Town | 7-4 | Beaconsfield Town | B&B Senior Cup | | | Match report |
| 11-10-2016 | Dunstable Town | 0-1 | Slough Town | League | | | Match report |
| 08-10-2016 | Slough Town | 1-0 | Cambridge City | League | | | Match report |
| 04-10-2016 | Slough Town | 9-2 | Ashford Town (Middx) | League Cup | | | Match report |
| 01-10-2016 | Slough Town | 2-3 | Dartford | FA Cup | | | Match report |
| 29-08-2016 | Slough Town | 2-1 | Hayes & Yeading United | League | | | Match report |
| 27-08-2016 | Cirencester Town | 1-3 | Slough Town | League | | | Match report |
| 20-08-2016 | Slough Town | 3-0 | St Ives Town | League | | | Match report |
| 16-08-2016 | Slough Town | 0-0 | Stratford Town | League | | | Match report |
| 23-04-2016 | Merthyr Town | 2-0 | Slough Town | League | | | Match report |
| 16-04-2016 | Slough Town | 2-0 | King's Lynn Town | League | | | Match report |
| 09-04-2016 | Cambridge City | 4-2 | Slough Town | League | | | Match report |
| 02-04-2016 | Slough Town | 1-0 | Chippenham Town | League | | | Match report |
| 28-03-2016 | Slough Town | 0-2 | Hungerford Town | League | | | Match report |
| 26-03-2016 | Kettering Town | 1-0 | Slough Town | League | | | Match report |
| 22-03-2016 | Bideford | 2-1 | Slough Town | League | | | Match report |
| 19-03-2016 | Slough Town | 0-0 | Weymouth | League | | | Match report |
| 14-03-2016 | Hungerford Town | 1-0 | Slough Town | League | | | Match report |
| 12-03-2016 | St Neots Town | 0-0 | Slough Town | League | | | Match report |
| 09-03-2016 | Frome Town | 2-1 | Slough Town | League | | | Match report |
| 05-03-2016 | Slough Town | 1-0 | Dunstable Town | League | | | Match report |
| 01-03-2016 | Slough Town | 1-3 | Kettering Town | League | | | Match report |
| 27-02-2016 | Paulton Rovers | 3-3 | Slough Town | League | | | Match report |
| 20-02-2016 | Slough Town | 1-3 | Leamington | League | | | Match report |
| 16-02-2016 | Cirencester Town | 1-3 | Slough Town | League | | | Match report |
| 13-02-2016 | Dorchester Town | 1-2 | Slough Town | League | | | Match report |
| 06-02-2016 | Slough Town | 1-2 | Bedworth United | League | | | Match report |
| 26-01-2016 | Potters Bar Town | 2-2 | Slough Town | League Cup | | | Match report |
| 23-01-2016 | Slough Town | 1-0 | Hitchin Town | League | | | Match report |
| 26-12-2015 | Slough Town | 0-1 | Chesham United | League | | | Match report |
| 19-12-2015 | Poole Town | 3-3 | Slough Town | League | | | Match report |
| 15-12-2015 | Slough Town | 3-1 | Merthyr Town | League | | | Match report |
| 12-12-2015 | Weymouth | 6-1 | Slough Town | League | | | Match report |
| 05-12-2015 | Slough Town | 2-2 | St Neots Town | League | | | Match report |
| 01-12-2015 | Slough Town | 2-0 | Biggleswade Town | League | | | Match report |
| 24-11-2015 | Dunstable Town | 1-3 | Slough Town | League | | | Match report |
| 21-11-2015 | Slough Town | 2-4 | Stratford Town | League | | | Match report |
| 14-11-2015 | Frome Town | 2-1 | Slough Town | FA Trophy | | | Match report |
| 10-11-2015 | Marlow | 3-6 | Slough Town | League Cup | | | Match report |
| 07-11-2015 | King's Lynn Town | 2-1 | Slough Town | League | | | Match report |
| 01-11-2015 | Romford | 0-4 | Slough Town | FA Trophy | | | Match report |
| 24-10-2015 | Slough Town | 3-1 | Cambridge City | League | | | Match report |
| 19-10-2015 | Redditch United | 1-0 | Slough Town | League | | | Match report |
| 17-10-2015 | Slough Town | 2-1 | Paulton Rovers | League | | | Match report |
| 13-10-2015 | Slough Town | 3-0 | Chesham United | League Cup | | | Match report |
| 10-10-2015 | Histon | 1-2 | Slough Town | League | | | Match report |
| 06-10-2015 | Slough Town | 4-1 | Dorchester Town | League | | | Match report |
| 03-10-2015 | Slough Town | 2-1 | Bideford | League | | | Match report |
| 29-09-2015 | Leamington | 3-0 | Slough Town | League | | | Match report |
| 26-09-2015 | Basingstoke Town | 4-2 | Slough Town | FA Cup | | | Match report |
| 22-09-2015 | Slough Town | 0-2 | Redditch United | League | | | Match report |
| 19-09-2015 | Bedworth United | 2-1 | Slough Town | League | | | Match report |
| 12-09-2015 | Dorking Wanderers | 0-1 | Slough Town | FA Cup | | | Match report |
| 08-09-2015 | Slough Town | 0-3 | Burnham | B&B Senior Cup | | | Match report |
| 22-08-2015 | Hitchin Town | 3-1 | Slough Town | League | | | Match report |
| 18-08-2015 | Slough Town | 7-1 | Histon | League | | | Match report |
| 15-08-2015 | Stratford Town | 1-1 | Slough Town | League | | | Match report |
| 11-08-2015 | Biggleswade Town | 5-1 | Slough Town | League | | | Match report |
| 08-08-2015 | Slough Town | 0-0 | Frome Town | League | | | Match report |
Slough Town FC is not responsible for content produced on external websites | Copyright Slough Town FC 2023