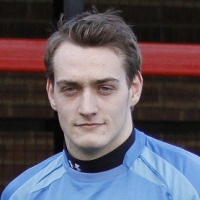 Position:
Goalkeeper
Achievements
2011/12 Players' player of the season
2011/12 Special Merit for club record number of clean sheets in a single season
2011/12 Supporters' player of the season
Bio
Goalkeeper signed by Steve Bateman in August 2011.
James, a Physiotherapy student, played for Walton Casuals with Alex Brown prior to joining the Rebels, and previously had trials at Fulham and Crystal Palace.
In December 2011, Warrington signed a contract with Slough until the end of season 2012/13 - manager Steve Bateman keen to tie the player to a contract as reward for some excellent displays since joining the club, which helped the Rebels to top spot in the Evo-Stik Southern Division One Central table.
Following his first full season at the club, Warrington scooped three awards, including Players' player and Supporters' player of the season.
Mens
| First Appearance | Appearances | First Goal | Goals | Clean Sheets |
| --- | --- | --- | --- | --- |
| 27-08-2011 vs Fleet Town | 81 | N/A | 0 | 23 |
History
| Match Date | Home | Score | Away | Competition | Goals | Cards | |
| --- | --- | --- | --- | --- | --- | --- | --- |
| 09-04-2013 | Biggleswade Town | 2-1 | Slough Town | League | | | Match report |
| 06-04-2013 | Royston Town | 2-0 | Slough Town | League | | | Match report |
| 30-03-2013 | Slough Town | 5-1 | Leighton Town | League | | | Match report |
| 26-03-2013 | Slough Town | 3-1 | Biggleswade Town | League | | | Match report |
| 16-03-2013 | Slough Town | 4-3 | Aylesbury | League | | | Match report |
| 09-03-2013 | Fleet Town | 2-5 | Slough Town | League | | | Match report |
| 02-03-2013 | Slough Town | 1-1 | Daventry Town | League | | | Match report |
| 23-02-2013 | Ashford Town (Middx) | 0-1 | Slough Town | League | | | Match report |
| 16-02-2013 | Slough Town | 0-1 | Chalfont St Peter | League | | | Match report |
| 09-02-2013 | Slough Town | 2-1 | AFC Hayes | League | | | Match report |
| 12-01-2013 | Woodford United | 1-4 | Slough Town | League | | | Match report |
| 05-01-2013 | Slough Town | 1-3 | Uxbridge | League | | | Match report |
| 01-01-2013 | Beaconsfield Town | 1-1 | Slough Town | League | | | Match report |
| 26-12-2012 | Slough Town | 2-0 | Burnham | League | | | Match report |
| 08-12-2012 | Chertsey Town | 1-3 | Slough Town | League | | | Match report |
| 01-12-2012 | Slough Town | 3-1 | Royston Town | League | | | Match report |
| 20-11-2012 | Maidenhead United | 4-1 | Slough Town | B&B Senior Cup | | | Match report |
| 17-11-2012 | Chalfont St Peter | 1-2 | Slough Town | League | | | Match report |
| 13-11-2012 | Slough Town | 1-1 | Mansfield Town | FA Cup | | | Match report |
| 10-11-2012 | Slough Town | 6-1 | Ashford Town (Middx) | League | | | Match report |
| 06-11-2012 | Slough Town | 2-3 | Rugby Town | League | | | Match report |
| 03-11-2012 | Mansfield Town | 0-0 | Slough Town | FA Cup | | | Match report |
| 30-10-2012 | Leighton Town | 0-3 | Slough Town | League | | | Match report |
| 27-10-2012 | Slough Town | 3-1 | Fleet Town | League | | | Match report |
| 23-10-2012 | Gosport Borough | 1-2 | Slough Town | FA Cup | | | Match report |
| 21-10-2012 | Slough Town | 0-0 | Gosport Borough | FA Cup | | | Match report |
| 16-10-2012 | Chalfont St Peter | 0-1 | Slough Town | Red Insure Cup | | | Match report |
| 13-10-2012 | Slough Town | 3-1 | Barton Rovers | League | | | Match report |
| 09-10-2012 | Slough Town | 4-1 | Thatcham Town | League | | | Match report |
| 06-10-2012 | Margate | 0-1 | Slough Town | FA Cup | | | Match report |
| 29-09-2012 | Slough Town | 0-4 | Gosport Borough | FA Trophy | | | Match report |
| 23-09-2012 | Slough Town | 5-1 | Eastbourne Town | FA Cup | | | Match report |
| 16-09-2012 | Slough Town | 2-1 | Hungerford Town | FA Trophy | | | Match report |
| 08-09-2012 | Slough Town | 4-1 | Lingfield | FA Cup | | | Match report |
| 04-09-2012 | Slough Town | 4-0 | Woodford United | League | | | Match report |
| 01-09-2012 | Uxbridge | 3-2 | Slough Town | League | | | Match report |
| 18-08-2012 | Slough Town | 5-0 | Northwood | League | | | Match report |
| 03-05-2012 | Slough Town | 1-2 | Beaconsfield Town | Play Off | | | Match report |
| 21-04-2012 | Slough Town | 0-3 | Leighton Town | League | | | Match report |
| 14-04-2012 | Bedworth United | 5-3 | Slough Town | League | | | Match report |
| 09-04-2012 | Slough Town | 1-1 | Beaconsfield Town | League | | | Match report |
| 07-04-2012 | Bedfont Town | 1-2 | Slough Town | League | | | Match report |
| 31-03-2012 | Slough Town | 1-1 | Chalfont St Peter | League | | | Match report |
| 24-03-2012 | Ashford Town (Middx) | 1-2 | Slough Town | League | | | Match report |
| 17-03-2012 | Slough Town | 2-1 | Biggleswade Town | League | | | Match report |
| 13-03-2012 | Slough Town | 0-2 | North Greenford Utd | League | | | Match report |
| 10-03-2012 | St Neots Town | 0-1 | Slough Town | League | | | Match report |
| 06-03-2012 | Barton Rovers | 0-3 | Slough Town | League | | | Match report |
| 03-03-2012 | Slough Town | 1-0 | Northwood | League | | | Match report |
| 25-02-2012 | Daventry Town | 1-1 | Slough Town | League | | | Match report |
| 18-02-2012 | Slough Town | 1-1 | AFC Hayes | League | | | Match report |
| 28-01-2012 | Slough Town | 3-0 | Chertsey Town | League | | | Match report |
| 21-01-2012 | Aylesbury | 2-0 | Slough Town | League | | | Match report |
| 14-01-2012 | Slough Town | 2-0 | Uxbridge | League | | | Match report |
| 07-01-2012 | Burnham | 1-1 | Slough Town | League | | | Match report |
| 02-01-2012 | Slough Town | 3-0 | Marlow | League | | | Match report |
| 31-12-2011 | Fleet Town | 0-1 | Slough Town | League | | | Match report |
| 26-12-2011 | Beaconsfield Town | 0-2 | Slough Town | League | | | Match report |
| 17-12-2011 | Slough Town | 2-1 | Bedworth United | League | | | Match report |
| 10-12-2011 | Chalfont St Peter | 2-1 | Slough Town | League | | | Match report |
| 03-12-2011 | Slough Town | 2-1 | Bedfont Town | League | | | Match report |
| 26-11-2011 | Slough Town | 4-3 | Ashford Town (Middx) | League | | | Match report |
| 19-11-2011 | Biggleswade Town | 1-1 | Slough Town | League | | | Match report |
| 15-11-2011 | Northwood | 2-4 | Slough Town | League | | | Match report |
| 12-11-2011 | Slough Town | 2-0 | St Neots Town | League | | | Match report |
| 08-11-2011 | AFC Hayes | 1-1 | Slough Town | League | | | Match report |
| 05-11-2011 | Slough Town | 2-1 | Woodford United | League | | | Match report |
| 29-10-2011 | Leighton Town | 0-1 | Slough Town | League | | | Match report |
| 22-10-2011 | Slough Town | 4-0 | Rugby Town | League | | | Match report |
| 18-10-2011 | Hanworth Villa | 3-1 | Slough Town | FA Cup | | | Match report |
| 15-10-2011 | Slough Town | 2-2 | Hanworth Villa | FA Cup | | | Match report |
| 08-10-2011 | Gosport Borough | 3-0 | Slough Town | FA Trophy | | | Match report |
| 04-10-2011 | North Greenford Utd | 0-0 | Slough Town | League | | | Match report |
| 01-10-2011 | Slough Town | 3-2 | Boreham Wood | FA Cup | | | Match report |
| 24-09-2011 | Slough Town | 2-1 | Daventry Town | League | | | Match report |
| 17-09-2011 | Banbury United | 1-3 | Slough Town | FA Cup | | | Match report |
| 13-09-2011 | Slough Town | 2-1 | Barton Rovers | League | | | Match report |
| 10-09-2011 | Rugby Town | 2-0 | Slough Town | League | | | Match report |
| 04-09-2011 | Slough Town | 3-1 | Binfield | FA Cup | | | Match report |
| 29-08-2011 | Marlow | 0-3 | Slough Town | League | | | Match report |
| 27-08-2011 | Slough Town | 3-0 | Fleet Town | League | | | Match report |
Slough Town FC is not responsible for content produced on external websites | Copyright Slough Town FC 2023