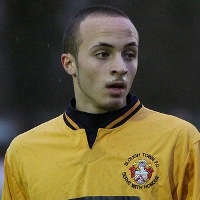 Position:
Unknown
Achievements
2009/10 Player's player of the season
2009/10 Golden Boot winner
Bio
Striker who joined the club in September 2009.
Buchanan's former clubs include Northwood, Stevenage, AFC Wimbledon (loan) and Concord Rangers.
The 20 year-old broke into the Northwood side in 2006 at the age of 17. In the 2007-08 season for Northwood Buchanan scored 23 goals in 26 games for the Woods and went onto sign an 18-month contract at Stevenage Borough after being snapped up by former England Under 21 Manager Peter Taylor.
Left at the end of the 2009/10 season to join Conference side Hayes & Yeading scoring 12 goals in 21 appearances before securing a move to Newport County.
Mens
| First Appearance | Appearances | First Goal | Goals |
| --- | --- | --- | --- |
| 12-09-2009 vs Hemel Hempstead Town | 46 | 19-09-2009 vs Soham Town Rangers | 24 |
History
| Match Date | Home | Score | Away | Competition | Goals | Cards | |
| --- | --- | --- | --- | --- | --- | --- | --- |
| 01-05-2010 | Chesham United | 4-0 | Slough Town | Play Off | | | Match report |
| 27-04-2010 | Hitchin Town | 1-2 | Slough Town | Play Off | | | Match report |
| 24-04-2010 | Romulus | 1-4 | Slough Town | League | | | Match report |
| 20-04-2010 | Slough Town | 0-1 | Hitchin Town | League | | | Match report |
| 17-04-2010 | Slough Town | 5-1 | Aylesbury United | League | | | Match report |
| 15-04-2010 | Bromsgrove Rovers | 1-1 | Slough Town | League | | | Match report |
| 13-04-2010 | Burnham | 1-1 | Slough Town | League | | | Match report |
| 10-04-2010 | Bury Town | 1-0 | Slough Town | League | | | Match report |
| 05-04-2010 | Marlow | 0-1 | Slough Town | League | | | Match report |
| 03-04-2010 | Slough Town | 3-1 | Beaconsfield Town | League | | | Match report |
| 30-03-2010 | Slough Town | 1-2 | Arlesey Town | League | | | Match report |
| 27-03-2010 | Rothwell Town | 1-3 | Slough Town | League | | | Match report |
| 23-03-2010 | Barton Rovers | 3-3 | Slough Town | League | | | Match report |
| 16-03-2010 | Slough Town | 0-1 | Wycombe Wanderers | B&B Senior Cup | | | Match report |
| 13-03-2010 | Biggleswade Town | 1-0 | Slough Town | League | | | Match report |
| 09-03-2010 | Slough Town | 3-1 | Leighton Town | League | | | Match report |
| 06-03-2010 | Slough Town | 2-0 | Soham Town Rangers | League | | | Match report |
| 02-03-2010 | Slough Town | 1-3 | Chesham United | League | | | Match report |
| 20-02-2010 | Slough Town | 2-2 | Sutton Coldfield Town | League | | | Match report |
| 15-02-2010 | Beaconsfield Town | 1-4 | Slough Town | League | | | Match report |
| 13-02-2010 | Slough Town | 0-1 | AFC Sudbury | League | | | Match report |
| 09-02-2010 | Slough Town | 1-1 | Marlow | League | | | Match report |
| 06-02-2010 | Woodford United | 0-1 | Slough Town | League | | | Match report |
| 02-02-2010 | Bedworth United | 2-4 | Slough Town | League | | | Match report |
| 26-01-2010 | Slough Town | 2-1 | Marlow | B&B Senior Cup | | | Match report |
| 23-01-2010 | Stourport Swifts | 1-4 | Slough Town | League | | | Match report |
| 12-12-2009 | Slough Town | 2-2 | Romulus | League | | | Match report |
| 08-12-2009 | Arlesey Town | 1-2 | Slough Town | League | | | Match report |
| 05-12-2009 | Slough Town | 0-1 | Bury Town | League | | | Match report |
| 01-12-2009 | AFC Sudbury | 1-2 | Slough Town | League | | | Match report |
| 28-11-2009 | Aylesbury United | 2-5 | Slough Town | League | | | Match report |
| 07-11-2009 | Slough Town | 4-1 | Rothwell Town | League | | | Match report |
| 03-11-2009 | Slough Town | 1-0 | Woodford United | League | | | Match report |
| 31-10-2009 | Boreham Wood | 3-2 | Slough Town | FA Trophy | | | Match report |
| 27-10-2009 | Slough Town | 1-2 | Chesham United | Red Insure Cup | | | Match report |
| 24-10-2009 | Slough Town | 3-2 | Stourport Swifts | League | | | Match report |
| 20-10-2009 | Slough Town | 2-0 | Uxbridge | FA Trophy | | | Match report |
| 17-10-2009 | Uxbridge | 1-1 | Slough Town | FA Trophy | | | Match report |
| 13-10-2009 | Hitchin Town | 3-2 | Slough Town | League | | | Match report |
| 10-10-2009 | Tooting & Mitcham Utd | 3-2 | Slough Town | FA Cup | | | Match report |
| 06-10-2009 | Mangotsfield Utd | 0-1 | Slough Town | FA Trophy | | | Match report |
| 04-10-2009 | Slough Town | 1-1 | Mangotsfield Utd | FA Trophy | | | Match report |
| 26-09-2009 | Slough Town | 2-0 | Concord Rangers | FA Cup | | | Match report |
| 19-09-2009 | Soham Town Rangers | 0-2 | Slough Town | League | | | Match report |
| 15-09-2009 | Slough Town | 2-1 | Hemel Hempstead Town | FA Cup | | | Match report |
| 12-09-2009 | Hemel Hempstead Town | 1-1 | Slough Town | FA Cup | | | Match report |
Slough Town FC is not responsible for content produced on external websites | Copyright Slough Town FC 2023