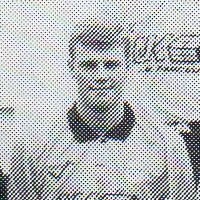 Stats
Position:
Midfielder
First Appearance:
27-08-1988 vs Bishop's Stortford
Appearances:
110
First Goal:
28-03-1989 vs Leyton Wingate
Goals:
12
Bio
Local player who worked through the youth and reserve sides at Slough before emerging into the first team in the late eighties.

Had three spells with the club returning first in the mid-nineties as the club were establishing themselves in the Conference. His third spell was a short one however making just three appearances following his much heralded signing from neighbours Maidenhead United.
History
| Match Date | Home | Score | Away | Competition | Goals | Cards | |
| --- | --- | --- | --- | --- | --- | --- | --- |
| 25-08-2001 | Bromley | 0-3 | Slough Town | League | | | Match report |
| 21-08-2001 | Oxford City | 3-0 | Slough Town | League | | | Match report |
| 18-08-2001 | Slough Town | 0-3 | Walton & Hersham | League | | | Match report |
| 19-03-1996 | Woking | 3-0 | Slough Town | League | | | Match report |
| 16-03-1996 | Northwich Victoria | 0-3 | Slough Town | League | | | Match report |
| 09-03-1996 | Slough Town | 5-0 | Dagenham & R. | League | | | Match report |
| 02-03-1996 | Farnborough Town | 0-1 | Slough Town | League | | | Match report |
| 24-02-1996 | Kidderminster Harriers | 4-3 | Slough Town | League | | | Match report |
| 17-02-1996 | Slough Town | 1-2 | Kettering Town | League | | | Match report |
| 03-02-1996 | Slough Town | 1-2 | Telford Utd | League | | | Match report |
| 23-01-1996 | Slough Town | 4-3 | Farnborough Town | FA Trophy | | | Match report |
| 01-01-1996 | Stevenage Borough | 3-1 | Slough Town | League | | | Match report |
| 16-12-1995 | Slough Town | 3-0 | Woking | Isthmian Lge Sub. Cup | | | Match report |
| 09-12-1995 | Slough Town | 2-3 | Halifax Town | League | | | Match report |
| 25-11-1995 | Slough Town | 1-1 | Northwich Victoria | League | | | Match report |
| 20-11-1995 | Dagenham & R. | 1-3 | Slough Town | League | | | Match report |
| 18-11-1995 | Slough Town | 2-3 | Woking | League | | | Match report |
| 11-11-1995 | Slough Town | 0-2 | Plymouth Argyle | FA Cup | | | Match report |
| 28-10-1995 | Telford Utd | 2-0 | Slough Town | League | | | Match report |
| 21-10-1995 | Yeading | 0-2 | Slough Town | FA Cup | | | Match report |
| 14-10-1995 | Slough Town | 2-2 | Macclesfield Town | League | | | Match report |
| 07-10-1995 | Kettering Town | 2-0 | Slough Town | League | | | Match report |
| 03-10-1995 | Slough Town | 3-0 | Dagenham & R. | Isthmian Lge Sub. Cup | | | Match report |
| 30-09-1995 | Slough Town | 0-2 | Hednesford Town | League | | | Match report |
| 26-09-1995 | Dover Athletic | 0-1 | Slough Town | League | | | Match report |
| 23-09-1995 | Slough Town | 2-3 | Bromsgrove Rovers | League | | | Match report |
| 18-09-1995 | Dagenham & R. | 0-3 | Slough Town | Isthmian Lge Sub. Cup | | | Match report |
| 16-09-1995 | Slough Town | 1-2 | Altrincham | League | | | Match report |
| 12-09-1995 | Slough Town | 3-2 | Dover Athletic | League | | | Match report |
| 09-09-1995 | Runcorn | 4-3 | Slough Town | League | | | Match report |
| 18-03-1995 | Dulwich Hamlet | 0-2 | Slough Town | Ryman League Cup | | | Match report |
| 11-03-1995 | Slough Town | 1-0 | Bishop's Stortford | League | | | Match report |
| 07-03-1995 | Aylesbury United | 3-3 | Slough Town | League | | | Match report |
| 01-10-1991 | Slough Town | 1-0 | Yeading | FA Cup | | | Match report |
| 28-09-1991 | Yeading | 0-0 | Slough Town | FA Cup | | | Match report |
| 11-09-1991 | Cheltenham Town | 1-0 | Slough Town | League | | | Match report |
| 07-09-1991 | Slough Town | 0-3 | Telford Utd | League | | | Match report |
| 04-05-1991 | Telford Utd | 2-1 | Slough Town | League | | | Match report |
| 30-04-1991 | Slough Town | 3-3 | Altrincham | League | | | Match report |
| 27-04-1991 | Boston Utd | 0-1 | Slough Town | League | | | Match report |
| 23-04-1991 | Northwich Victoria | 1-0 | Slough Town | League | | | Match report |
| 19-04-1991 | Slough Town | 1-3 | Barnet | League | | | Match report |
| 06-04-1991 | Yeovil Town | 7-2 | Slough Town | League | | | Match report |
| 09-03-1991 | Wycombe Wanderers | 2-1 | Slough Town | League | | | Match report |
| 23-02-1991 | Slough Town | 1-1 | Gateshead | League | | | Match report |
| 16-01-1991 | Slough Town | 5-1 | Milton Keynes Boro | B&B Senior Cup | | | Match report |
| 12-01-1991 | Slough Town | 2-4 | Bath City | FA Trophy | | | Match report |
| 01-01-1991 | Slough Town | 1-2 | Sutton United | League | | | Match report |
| 26-12-1990 | Sutton United | 5-2 | Slough Town | League | | | Match report |
| 18-12-1990 | Cheltenham Town | 2-0 | Slough Town | League | | | Match report |
| 15-12-1990 | Slough Town | 2-0 | Yeovil Town | League | | | Match report |
| 17-11-1990 | Slough Town | 0-1 | Macclesfield Town | League | | | Match report |
| 03-11-1990 | Slough Town | 2-0 | Telford Utd | League | | | Match report |
| 16-10-1990 | Slough Town | 3-3 | Wycombe Wanderers | League | | | Match report |
| 06-10-1990 | Slough Town | 2-4 | Northwich Victoria | League | | | Match report |
| 08-09-1990 | Altrincham | 3-0 | Slough Town | League | | | Match report |
| 04-09-1990 | Slough Town | 2-4 | Fisher Ath | Bob Lord Trophy | | | Match report |
| 27-08-1990 | Merthyr Tydfil | 3-0 | Slough Town | League | | | Match report |
| 21-08-1990 | Barnet | 6-1 | Slough Town | League | | | Match report |
| 18-08-1990 | Slough Town | 2-0 | Boston Utd | League | | | Match report |
| 13-08-1990 | Aveley | 0-2 | Slough Town | Unknown Cup | | | Match report |
| 05-05-1990 | Bromley | 0-1 | Slough Town | League | | | Match report |
| 28-04-1990 | Slough Town | 3-0 | Marlow | League | | | Match report |
| 21-04-1990 | Hendon | 1-1 | Slough Town | League | | | Match report |
| 16-04-1990 | Wycombe Wanderers | 2-1 | Slough Town | B&B Senior Cup | | | Match report |
| 14-04-1990 | Slough Town | 1-0 | Hayes | League | | | Match report |
| 10-04-1990 | Slough Town | 2-1 | Kingstonian | League | | | Match report |
| 07-04-1990 | Carshalton Ath | 4-4 | Slough Town | League | | | Match report |
| 04-04-1990 | Redbridge Forest | 2-0 | Slough Town | League | | | Match report |
| 31-03-1990 | Slough Town | 3-2 | Leyton Wingate | League | | | Match report |
| 24-03-1990 | Slough Town | 2-0 | Dulwich Hamlet | League | | | Match report |
| 20-03-1990 | Slough Town | 3-1 | Hendon | League | | | Match report |
| 17-03-1990 | Bishop's Stortford | 0-1 | Slough Town | League | | | Match report |
| 13-03-1990 | Dulwich Hamlet | 2-3 | Slough Town | League | | | Match report |
| 06-03-1990 | Slough Town | 4-0 | Harrow Borough | League | | | Match report |
| 03-03-1990 | Wokingham Town | 1-1 | Slough Town | League | | | Match report |
| 27-02-1990 | Slough Town | 3-0 | Abingdon Utd | B&B Senior Cup | | | Match report |
| 24-02-1990 | Slough Town | 0-1 | Dagenham | League | | | Match report |
| 17-02-1990 | Aylesbury United | 3-1 | Slough Town | League | | | Match report |
| 10-02-1990 | Slough Town | 2-1 | Basingstoke Town | League | | | Match report |
| 05-02-1990 | Slough Town | 4-1 | Buckingham Town | B&B Senior Cup | | | Match report |
| 27-01-1990 | Slough Town | 2-0 | Grays Athletic | League | | | Match report |
| 20-01-1990 | Barking | 1-1 | Slough Town | League | | | Match report |
| 17-01-1990 | Redbridge Forest | 3-0 | Slough Town | FA Trophy | | | Match report |
| 13-01-1990 | Slough Town | 1-1 | Redbridge Forest | FA Trophy | | | Match report |
| 09-01-1990 | Slough Town | 2-0 | Aylesbury United | B&B Senior Cup | | | Match report |
| 06-01-1990 | Bognor Regis Town | 1-3 | Slough Town | League | | | Match report |
| 01-01-1990 | Slough Town | 1-1 | Windsor & Eton | League | | | Match report |
| 30-12-1989 | Staines Town | 0-4 | Slough Town | League | | | Match report |
| 26-12-1989 | Windsor & Eton | 0-1 | Slough Town | League | | | Match report |
| 16-12-1989 | Slough Town | 3-2 | Carshalton Ath | League | | | Match report |
| 12-12-1989 | Basingstoke Town | 1-3 | Slough Town | League | | | Match report |
| 09-12-1989 | St Albans City | 0-3 | Slough Town | League | | | Match report |
| 05-12-1989 | Slough Town | 1-0 | Bromley | League | | | Match report |
| 02-12-1989 | Stroud | 1-10 | Slough Town | FA Trophy | | | Match report |
| 25-11-1989 | Marlow | 0-0 | Slough Town | League | | | Match report |
| 20-11-1989 | Dagenham | 0-3 | Slough Town | League | | | Match report |
| 14-11-1989 | Bishop's Stortford | 2-0 | Slough Town | AC Delco Cup | | | Match report |
| 04-11-1989 | Slough Town | 1-1 | Bishop's Stortford | League | | | Match report |
| 21-10-1989 | Slough Town | 1-2 | Aylesbury United | League | | | Match report |
| 17-10-1989 | Uxbridge | 1-2 | Slough Town | FA Cup | | | Match report |
| 22-04-1989 | Slough Town | 4-0 | Hendon | League | | | Match report |
| 08-04-1989 | Slough Town | 1-1 | Carshalton Ath | League | | | Match report |
| 01-04-1989 | Farnborough Town | 2-6 | Slough Town | League | | | Match report |
| 28-03-1989 | Leyton Wingate | 1-1 | Slough Town | League | | | Match report |
| 25-03-1989 | Slough Town | 2-0 | Kingstonian | League | | | Match report |
| 18-03-1989 | Dulwich Hamlet | 1-0 | Slough Town | League | | | Match report |
| 28-02-1989 | Barking | 1-0 | Slough Town | League | | | Match report |
| 25-02-1989 | Slough Town | 1-3 | Leyton Wingate | League | | | Match report |
| 27-08-1988 | Bishop's Stortford | 4-0 | Slough Town | League | | | Match report |
Slough Town FC is not responsible for content produced on external websites | Copyright Slough Town FC 2021