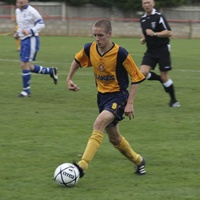 Position:
Midfielder
Bio
Young midfielder who is the son of Slough Town legend Garry.
Pacy and skillful left winger who has blended straight into the side following his debut in the 2007/8 season. Is a constant threat down the left hand side. Has continued to develop at this level since his introduction to the team by then manager Darron WIlkinson.
Is highly regarded by supporters and management alike and continues to impress down the left flank. Scored in the pre-season friendly against Eton Wick, bagging a brace in the 8-3 victory.
Mens
| First Appearance | Appearances | First Goal | Goals |
| --- | --- | --- | --- |
| 22-09-2007 vs Gosport Borough | 39 | N/A | 0 |
History
| Match Date | Home | Score | Away | Competition | Goals | Cards | |
| --- | --- | --- | --- | --- | --- | --- | --- |
| 18-04-2009 | Didcot Town | 2-0 | Slough Town | League | | | Match report |
| 13-04-2009 | Beaconsfield Town | 0-0 | Slough Town | League | | | Match report |
| 28-03-2009 | Slough Town | 1-0 | Paulton Rovers | League | | | Match report |
| 26-03-2009 | Bridgwater Town | 6-0 | Slough Town | League | | | Match report |
| 07-03-2009 | Bishops Cleeve | 0-4 | Slough Town | League | | | Match report |
| 03-03-2009 | Slough Town | 2-3 | Cinderford Town | League | | | Match report |
| 21-02-2009 | Slough Town | 4-3 | Andover | League | | | Match report |
| 17-01-2009 | Cirencester Town | 4-1 | Slough Town | League | | | Match report |
| 06-12-2008 | Paulton Rovers | 1-2 | Slough Town | League | | | Match report |
| 11-11-2008 | Abingdon Utd | 1-1 | Slough Town | League | | | Match report |
| 08-11-2008 | Slough Town | 1-1 | Bishops Cleeve | League | | | Match report |
| 04-11-2008 | Slough Town | 2-3 | AFC Hayes | League | | | Match report |
| 01-11-2008 | Gosport Borough | 2-1 | Slough Town | League | | | Match report |
| 28-10-2008 | Leighton Town | 3-0 | Slough Town | Red Insure Cup | | | Match report |
| 14-10-2008 | Windsor & Eton | 6-2 | Slough Town | League | | | Match report |
| 11-10-2008 | Slough Town | 1-2 | Uxbridge | League | | | Match report |
| 27-09-2008 | Andover | 1-2 | Slough Town | League | | | Match report |
| 06-09-2008 | Taunton Town | 2-3 | Slough Town | League | | | Match report |
| 30-08-2008 | Abingdon Utd | 1-1 | Slough Town | FA Cup | | | Match report |
| 25-08-2008 | Slough Town | 1-1 | Thatcham Town | League | | | Match report |
| 23-08-2008 | Cinderford Town | 4-1 | Slough Town | League | | | Match report |
| 19-08-2008 | North Leigh | 6-1 | Slough Town | League | | | Match report |
| 29-03-2008 | AFC Hayes | 0-0 | Slough Town | League | | | Match report |
| 24-03-2008 | Slough Town | 0-1 | Windsor & Eton | League | | | Match report |
| 22-03-2008 | Slough Town | 0-3 | Burnham | League | | | Match report |
| 08-03-2008 | Slough Town | 1-2 | Paulton Rovers | League | | | Match report |
| 04-12-2007 | Hillingdon Borough | 4-1 | Slough Town | League | | | Match report |
| 27-11-2007 | Slough Town | 1-3 | Hillingdon Borough | League | | | Match report |
| 17-11-2007 | Oxford City | 5-0 | Slough Town | League | | | Match report |
| 03-11-2007 | Slough Town | 3-6 | Didcot Town | League | | | Match report |
| 30-10-2007 | Burnham | 3-1 | Slough Town | League | | | Match report |
| 27-10-2007 | Slough Town | 2-0 | Newport IOW | League | | | Match report |
| 23-10-2007 | Didcot Town | 5-1 | Slough Town | B&B Senior Cup | | | Match report |
| 16-10-2007 | Farnborough | 5-0 | Slough Town | League | | | Match report |
| 09-10-2007 | Hillingdon Borough | 2-1 | Slough Town | FA Trophy | | | Match report |
| 06-10-2007 | Slough Town | 1-1 | Hillingdon Borough | FA Trophy | | | Match report |
| 29-09-2007 | Abingdon Utd | 3-0 | Slough Town | League | | | Match report |
| 25-09-2007 | AFC Hayes | 6-1 | Slough Town | Red Insure Cup | | | Match report |
| 22-09-2007 | Slough Town | 1-2 | Gosport Borough | League | | | Match report |
Slough Town FC is not responsible for content produced on external websites | Copyright Slough Town FC 2023