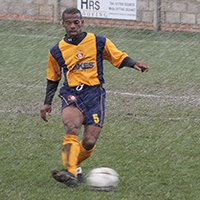 Position:
Defender
Bio
38-year old centre half Brian Connor brings a wealth of experience to Slough's team.
Brian is best known for the time he spent at local rivals Maidenhead United, where he clocked up over 300 appearances after joining in 1995. An excellent reader of the game, Brian brings an air of calm to the defence.
Connor made his debut for Anguilla in a February 2008 World Cup qualification match against El Salvador, aged 38. He also played in the return match, his only two caps by December 2008.
Mens
| First Appearance | Appearances | First Goal | Goals |
| --- | --- | --- | --- |
| 19-08-1989 vs Kingstonian | 47 | N/A | 0 |
History
| Match Date | Home | Score | Away | Competition | Goals | Cards | |
| --- | --- | --- | --- | --- | --- | --- | --- |
| 26-04-2008 | Fleet Town | 1-0 | Slough Town | League | | | Match report |
| 05-04-2008 | Slough Town | 1-2 | Oxford City | League | | | Match report |
| 29-03-2008 | AFC Hayes | 0-0 | Slough Town | League | | | Match report |
| 22-03-2008 | Slough Town | 0-3 | Burnham | League | | | Match report |
| 08-03-2008 | Slough Town | 1-2 | Paulton Rovers | League | | | Match report |
| 01-03-2008 | Godalming Town | 2-0 | Slough Town | League | | | Match report |
| 23-02-2008 | Slough Town | 2-1 | Fleet Town | League | | | Match report |
| 16-02-2008 | Winchester City | 2-0 | Slough Town | League | | | Match report |
| 09-02-2008 | Slough Town | 0-3 | AFC Hayes | League | | | Match report |
| 12-01-2008 | Gosport Borough | 2-2 | Slough Town | League | | | Match report |
| 05-01-2008 | Andover | 1-2 | Slough Town | League | | | Match report |
| 01-01-2008 | Slough Town | 1-2 | Thatcham Town | League | | | Match report |
| 26-12-2007 | Windsor & Eton | 2-1 | Slough Town | League | | | Match report |
| 22-12-2007 | Slough Town | 0-2 | Marlow | League | | | Match report |
| 15-12-2007 | Taunton Town | 0-1 | Slough Town | League | | | Match report |
| 08-12-2007 | Slough Town | 2-2 | Winchester City | League | | | Match report |
| 23-09-1995 | Slough Town | 2-3 | Bromsgrove Rovers | League | | | Match report |
| 26-08-1995 | Halifax Town | 1-2 | Slough Town | League | | | Match report |
| 08-05-1995 | Aylesbury United | 1-1 | Slough Town | Ryman League Cup | | | Match report |
| 06-05-1995 | Slough Town | 3-3 | Carshalton Ath | League | | | Match report |
| 04-05-1995 | Slough Town | 1-4 | Enfield | League | | | Match report |
| 19-04-1995 | Bromley | 1-1 | Slough Town | League | | | Match report |
| 17-04-1995 | Slough Town | 1-0 | Wokingham Town | League | | | Match report |
| 14-04-1995 | Hitchin Town | 1-0 | Slough Town | League | | | Match report |
| 11-04-1995 | Slough Town | 2-1 | Kingstonian | League | | | Match report |
| 08-04-1995 | Slough Town | 3-1 | Hayes | League | | | Match report |
| 04-04-1995 | Hendon | 1-2 | Slough Town | League | | | Match report |
| 01-04-1995 | Slough Town | 0-0 | Walton & Hersham | League | | | Match report |
| 28-03-1995 | Slough Town | 3-2 | Hitchin Town | League | | | Match report |
| 28-02-1995 | Slough Town | 3-1 | Dulwich Hamlet | League | | | Match report |
| 14-02-1995 | St Albans City | 3-4 | Slough Town | League Cup | | | Match report |
| 04-02-1995 | Grays Athletic | 3-3 | Slough Town | League | | | Match report |
| 24-01-1995 | Merthyr Tydfil | 3-2 | Slough Town | FA Trophy | | | Match report |
| 10-01-1995 | Chertsey Town | 3-2 | Slough Town | Ryman League Cup | | | Match report |
| 31-12-1994 | Slough Town | 4-1 | Bromley | League | | | Match report |
| 26-12-1994 | Wokingham Town | 2-0 | Slough Town | League | | | Match report |
| 17-12-1994 | Slough Town | 2-4 | Purfleet | League | | | Match report |
| 13-12-1994 | Slough Town | 5-1 | Sutton United | League Cup | | | Match report |
| 10-12-1994 | Carshalton Ath | 1-3 | Slough Town | League | | | Match report |
| 03-12-1994 | Slough Town | 3-1 | Molesey | League | | | Match report |
| 29-11-1994 | Worthing | 3-6 | Slough Town | League Cup | | | Match report |
| 16-09-1989 | Slough Town | 5-1 | Walthamstow Pennant | FA Cup | | | Match report |
| 12-09-1989 | Slough Town | 2-1 | Lewes | AC Delco Cup | | | Match report |
| 02-09-1989 | Grays Athletic | 1-1 | Slough Town | League | | | Match report |
| 26-08-1989 | Slough Town | 4-2 | Barking | League | | | Match report |
| 22-08-1989 | Slough Town | 3-3 | St Albans City | League | | | Match report |
| 19-08-1989 | Kingstonian | 1-2 | Slough Town | League | | | Match report |
Slough Town FC is not responsible for content produced on external websites | Copyright Slough Town FC 2023