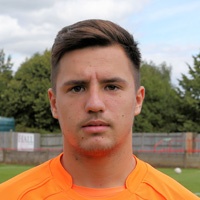 Position:
Goalkeeper
Achievements
2013/14 Won promotion to Southern League, Premier Division
Bio
Jake is a very promising young goalkeeper who joined Slough in June 2013 from Godalming Town, following the arrival of new joint managers Neil Baker and Jon Underwood.
Jake has a big career ahead of him having established himself as a number one at a very young age. He managed to keep 15 league clean sheets in his first season at the club, and was in the top 5 appearance makers for the season.
After making 72 appearances for Slough, including the Play-Off Final at Kettering Town in May 2014, Jake left the club in January 2015.
Somerville came through the youth ranks at Farnborough, making 13 appearances in the Conference South before joining Godalming on loan in December 2011. His performances earned him the number one jersey and he signed on for the 'Gs' for the 2012/13 season.
Previous clubs include Fleet Town, Farnborough and Godalming Town.
Mens
| First Appearance | Appearances | First Goal | Goals | Clean Sheets |
| --- | --- | --- | --- | --- |
| 17-08-2013 vs Northwood | 72 | N/A | 0 | 19 |
History
| Match Date | Home | Score | Away | Competition | Goals | Cards | |
| --- | --- | --- | --- | --- | --- | --- | --- |
| 01-01-2015 | Slough Town | 1-2 | Hungerford Town | League | | | Match report |
| 26-12-2014 | Chesham United | 0-0 | Slough Town | League | | | Match report |
| 20-12-2014 | Slough Town | 2-1 | Dorchester Town | League | | | Match report |
| 13-12-2014 | Frome Town | 1-1 | Slough Town | League | | | Match report |
| 09-12-2014 | St Neots Town | 0-3 | Slough Town | League | | | Match report |
| 06-12-2014 | Slough Town | 0-3 | Dunstable Town | League | | | Match report |
| 02-12-2014 | Slough Town | 1-2 | Cirencester Town | League | | | Match report |
| 25-11-2014 | Slough Town | 2-2 | Chippenham Town | League | | | Match report |
| 22-11-2014 | Slough Town | 2-1 | Hitchin Town | League | | | Match report |
| 18-11-2014 | Merthyr Town | 3-2 | Slough Town | FA Trophy | | | Match report |
| 11-10-2014 | Slough Town | 1-7 | Redditch United | League | | | Match report |
| 07-10-2014 | Hungerford Town | 2-1 | Slough Town | B&B Senior Cup | | | Match report |
| 04-10-2014 | Arlesey Town | 1-0 | Slough Town | League | | | Match report |
| 01-10-2014 | Corby Town | 1-2 | Slough Town | League | | | Match report |
| 27-09-2014 | Truro City | 1-2 | Slough Town | League | | | Match report |
| 20-09-2014 | Slough Town | 4-1 | Bideford | League | | | Match report |
| 13-09-2014 | Slough Town | 1-2 | Ardley United | FA Cup | | | Match report |
| 09-09-2014 | Poole Town | 2-1 | Slough Town | League | | | Match report |
| 06-09-2014 | Weymouth | 3-2 | Slough Town | League | | | Match report |
| 30-08-2014 | Slough Town | 1-1 | Histon | League | | | Match report |
| 25-08-2014 | Slough Town | 0-3 | Chesham United | League | | | Match report |
| 23-08-2014 | Paulton Rovers | 2-2 | Slough Town | League | | | Match report |
| 19-08-2014 | Slough Town | 1-1 | Biggleswade Town | League | | | Match report |
| 16-08-2014 | Slough Town | 2-1 | Banbury United | League | | | Match report |
| 09-08-2014 | Burnham | 0-2 | Slough Town | League | | | Match report |
| 05-05-2014 | Kettering Town | 2-3 | Slough Town | Play Off | | | Match report |
| 29-04-2014 | Rugby Town | 0-3 | Slough Town | Play Off | | | Match report |
| 26-04-2014 | Slough Town | 1-0 | Chertsey Town | League | | | Match report |
| 21-04-2014 | Aylesbury | 3-1 | Slough Town | League | | | Match report |
| 19-04-2014 | Slough Town | 1-2 | Rugby Town | League | | | Match report |
| 12-04-2014 | Ashford Town (Middx) | 0-5 | Slough Town | League | | | Match report |
| 05-04-2014 | AFC Hayes | 0-1 | Slough Town | League | | | Match report |
| 03-04-2014 | Barton Rovers | 1-2 | Slough Town | League | | | Match report |
| 29-03-2014 | Slough Town | 2-1 | Royston Town | League | | | Match report |
| 25-03-2014 | North Greenford Utd | 1-7 | Slough Town | League | | | Match report |
| 22-03-2014 | Slough Town | 4-1 | Leighton Town | League | | | Match report |
| 15-03-2014 | Daventry Town | 2-2 | Slough Town | League | | | Match report |
| 08-03-2014 | Slough Town | 1-0 | St Ives Town | League | | | Match report |
| 04-03-2014 | Slough Town | 1-3 | Egham Town | League | | | Match report |
| 01-03-2014 | Potters Bar Town | 0-3 | Slough Town | League | | | Match report |
| 22-02-2014 | Slough Town | 4-0 | Dunstable Town | League | | | Match report |
| 15-02-2014 | Slough Town | 5-3 | Aylesbury United | League | | | Match report |
| 04-02-2014 | Slough Town | 2-0 | Aylesbury | League | | | Match report |
| 28-01-2014 | Northwood | 0-2 | Slough Town | League | | | Match report |
| 28-12-2013 | Slough Town | 0-2 | Kettering Town | League | | | Match report |
| 26-12-2013 | Beaconsfield Town | 3-1 | Slough Town | League | | | Match report |
| 21-12-2013 | Slough Town | 1-2 | Uxbridge | League | | | Match report |
| 14-12-2013 | Chertsey Town | 0-4 | Slough Town | League | | | Match report |
| 07-12-2013 | Slough Town | 1-2 | AFC Hayes | League | | | Match report |
| 03-12-2013 | Dunstable Town | 3-2 | Slough Town | League | | | Match report |
| 30-11-2013 | Royston Town | 0-1 | Slough Town | League | | | Match report |
| 23-11-2013 | Slough Town | 3-1 | Daventry Town | League | | | Match report |
| 19-11-2013 | Slough Town | 3-0 | North Greenford Utd | League | | | Match report |
| 16-11-2013 | St Ives Town | 0-3 | Slough Town | League | | | Match report |
| 05-11-2013 | Slough Town | 0-3 | Wycombe Wanderers | B&B Senior Cup | | | Match report |
| 02-11-2013 | Leighton Town | 1-0 | Slough Town | League | | | Match report |
| 29-10-2013 | Chalfont St Peter | 0-1 | Slough Town | League | | | Match report |
| 26-10-2013 | Aylesbury United | 3-3 | Slough Town | League | | | Match report |
| 22-10-2013 | Slough Town | 2-1 | Marlow | League | | | Match report |
| 19-10-2013 | Slough Town | 1-2 | Merthyr Town | FA Trophy | | | Match report |
| 12-10-2013 | Maidenhead United | 1-3 | Slough Town | B&B Senior Cup | | | Match report |
| 05-10-2013 | Godalming Town | 1-2 | Slough Town | FA Trophy | | | Match report |
| 28-09-2013 | Egham Town | 2-2 | Slough Town | League | | | Match report |
| 24-09-2013 | Slough Town | 4-2 | Ashford Town (Middx) | League | | | Match report |
| 21-09-2013 | Slough Town | 4-0 | Barton Rovers | League | | | Match report |
| 07-09-2013 | Rugby Town | 0-4 | Slough Town | League | | | Match report |
| 03-09-2013 | Cirencester Town | 1-0 | Slough Town | FA Cup | | | Match report |
| 01-09-2013 | Slough Town | 1-1 | Cirencester Town | FA Cup | | | Match report |
| 26-08-2013 | Slough Town | 1-3 | Beaconsfield Town | League | | | Match report |
| 24-08-2013 | Kettering Town | 1-5 | Slough Town | League | | | Match report |
| 20-08-2013 | Uxbridge | 1-1 | Slough Town | League | | | Match report |
| 17-08-2013 | Slough Town | 0-1 | Northwood | League | | | Match report |
Slough Town FC is not responsible for content produced on external websites | Copyright Slough Town FC 2023