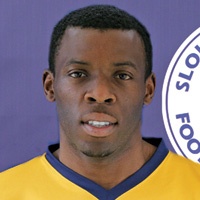 Position:
Forward
Achievements
2015/16 Golden Boot winner
Bio
Accountant Charlie Mpi joined the Rebels in the summer of 2011 after impressing in the club's pre-season campaign.
The former Wealdstone and Maidenhead United striker scored three times and impressed Steve Bateman with his direct running and work ethic.
Mpi won the BUCS (British Universities & Colleges Sport) Championship whilst at Loughborough University, scoring the opening goal of a 1-1 draw in normal time against UWE Hartpury, before firing home the winning penalty kick in a tense shoot-out, which eventually finished 12-11. He has also played in the England Universities team.
Charlie also spent time on loan at Aylesbury, with spells dual registered with Burnham and Thatcham Town.
Mens
| First Appearance | Appearances | First Goal | Goals |
| --- | --- | --- | --- |
| 13-08-2011 vs Aylesbury | 55 | 01-10-2011 vs Boreham Wood | 15 |
History
| Match Date | Home | Score | Away | Competition | Goals | Cards | |
| --- | --- | --- | --- | --- | --- | --- | --- |
| 13-09-2016 | Weymouth | 0-1 | Slough Town | League | | | Match report |
| 02-04-2016 | Slough Town | 1-0 | Chippenham Town | League | | | Match report |
| 28-03-2016 | Slough Town | 0-2 | Hungerford Town | League | | | Match report |
| 26-03-2016 | Kettering Town | 1-0 | Slough Town | League | | | Match report |
| 13-02-2016 | Dorchester Town | 1-2 | Slough Town | League | | | Match report |
| 06-02-2016 | Slough Town | 1-2 | Bedworth United | League | | | Match report |
| 26-01-2016 | Potters Bar Town | 2-2 | Slough Town | League Cup | | | Match report |
| 23-01-2016 | Slough Town | 1-0 | Hitchin Town | League | | | Match report |
| 26-12-2015 | Slough Town | 0-1 | Chesham United | League | | | Match report |
| 19-12-2015 | Poole Town | 3-3 | Slough Town | League | | | Match report |
| 15-12-2015 | Slough Town | 3-1 | Merthyr Town | League | | | Match report |
| 12-12-2015 | Weymouth | 6-1 | Slough Town | League | | | Match report |
| 05-12-2015 | Slough Town | 2-2 | St Neots Town | League | | | Match report |
| 01-12-2015 | Slough Town | 2-0 | Biggleswade Town | League | | | Match report |
| 24-11-2015 | Dunstable Town | 1-3 | Slough Town | League | | | Match report |
| 21-11-2015 | Slough Town | 2-4 | Stratford Town | League | | | Match report |
| 14-11-2015 | Frome Town | 2-1 | Slough Town | FA Trophy | | | Match report |
| 07-11-2015 | King's Lynn Town | 2-1 | Slough Town | League | | | Match report |
| 01-11-2015 | Romford | 0-4 | Slough Town | FA Trophy | | | Match report |
| 27-10-2015 | Chippenham Town | 3-3 | Slough Town | League | | | Match report |
| 24-10-2015 | Slough Town | 3-1 | Cambridge City | League | | | Match report |
| 19-10-2015 | Redditch United | 1-0 | Slough Town | League | | | Match report |
| 17-10-2015 | Slough Town | 2-1 | Paulton Rovers | League | | | Match report |
| 10-10-2015 | Histon | 1-2 | Slough Town | League | | | Match report |
| 06-10-2015 | Slough Town | 4-1 | Dorchester Town | League | | | Match report |
| 03-10-2015 | Slough Town | 2-1 | Bideford | League | | | Match report |
| 26-09-2015 | Basingstoke Town | 4-2 | Slough Town | FA Cup | | | Match report |
| 22-09-2015 | Slough Town | 0-2 | Redditch United | League | | | Match report |
| 19-09-2015 | Bedworth United | 2-1 | Slough Town | League | | | Match report |
| 12-09-2015 | Dorking Wanderers | 0-1 | Slough Town | FA Cup | | | Match report |
| 05-09-2015 | Slough Town | 1-0 | Cirencester Town | League | | | Match report |
| 31-08-2015 | Chesham United | 1-1 | Slough Town | League | | | Match report |
| 29-08-2015 | Slough Town | 1-3 | Poole Town | League | | | Match report |
| 15-11-2011 | Northwood | 2-4 | Slough Town | League | | | Match report |
| 12-11-2011 | Slough Town | 2-0 | St Neots Town | League | | | Match report |
| 08-11-2011 | AFC Hayes | 1-1 | Slough Town | League | | | Match report |
| 05-11-2011 | Slough Town | 2-1 | Woodford United | League | | | Match report |
| 01-11-2011 | Slough Town | 1-2 | Chesham United | Red Insure Cup | | | Match report |
| 22-10-2011 | Slough Town | 4-0 | Rugby Town | League | | | Match report |
| 18-10-2011 | Hanworth Villa | 3-1 | Slough Town | FA Cup | | | Match report |
| 15-10-2011 | Slough Town | 2-2 | Hanworth Villa | FA Cup | | | Match report |
| 08-10-2011 | Gosport Borough | 3-0 | Slough Town | FA Trophy | | | Match report |
| 04-10-2011 | North Greenford Utd | 0-0 | Slough Town | League | | | Match report |
| 01-10-2011 | Slough Town | 3-2 | Boreham Wood | FA Cup | | | Match report |
| 24-09-2011 | Slough Town | 2-1 | Daventry Town | League | | | Match report |
| 17-09-2011 | Banbury United | 1-3 | Slough Town | FA Cup | | | Match report |
| 13-09-2011 | Slough Town | 2-1 | Barton Rovers | League | | | Match report |
| 10-09-2011 | Rugby Town | 2-0 | Slough Town | League | | | Match report |
| 04-09-2011 | Slough Town | 3-1 | Binfield | FA Cup | | | Match report |
| 29-08-2011 | Marlow | 0-3 | Slough Town | League | | | Match report |
| 27-08-2011 | Slough Town | 3-0 | Fleet Town | League | | | Match report |
| 23-08-2011 | Slough Town | 1-2 | Burnham | League | | | Match report |
| 20-08-2011 | Chertsey Town | 3-5 | Slough Town | League | | | Match report |
| 16-08-2011 | Uxbridge | 0-2 | Slough Town | League | | | Match report |
| 13-08-2011 | Slough Town | 0-0 | Aylesbury | League | | | Match report |
Slough Town FC is not responsible for content produced on external websites | Copyright Slough Town FC 2023