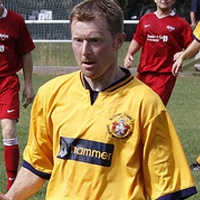 Position:
Forward
Bio
Garry Sippetts was signed in advance of the 2009/10 season as manager Steve Bateman looked to put together a squad capable challenging for promotion from the Zamaretto Midlands Division.
The striker is well known to those who follow non-league football as a prolific striker having scored goals for Hemel Hempstead Town and St. Albans City, as well as having two spells at Chesham, which is where Sippetts helped the club secure a play-off position in season 2008/09 with some vital goals in their run-in. Sippetts made his long-awaited debut in February 2010 against Marlow after having missed the majority of the season with a career-threatening freak injury suffered at work, which saw him drop a sheet of glass on his foot and sever his ankle tendons.
He joined Colney Heath on a month's loan in January 2010 in order to gain some much-needed match fitness before returning for the end of season run-in.
Mens
| First Appearance | Appearances | First Goal | Goals |
| --- | --- | --- | --- |
| 09-02-2010 vs Marlow | 38 | 27-03-2010 vs Rothwell Town | 10 |
History
| Match Date | Home | Score | Away | Competition | Goals | Cards | |
| --- | --- | --- | --- | --- | --- | --- | --- |
| 11-01-2011 | Ashford Town (Middx) | 1-2 | Slough Town | Red Insure Cup | | | Match report |
| 14-12-2010 | Oxford City | 0-2 | Slough Town | Red Insure Cup | | | Match report |
| 23-11-2010 | Marlow | 3-2 | Slough Town | B&B Senior Cup | | | Match report |
| 16-11-2010 | Slough Town | 5-0 | AFC Hayes | League | | | Match report |
| 13-11-2010 | North Greenford Utd | 1-3 | Slough Town | League | | | Match report |
| 09-11-2010 | Slough Town | 2-3 | Burnham | League | | | Match report |
| 06-11-2010 | Slough Town | 1-3 | Rugby Town | League | | | Match report |
| 30-10-2010 | Soham Town Rangers | 1-0 | Slough Town | League | | | Match report |
| 27-10-2010 | Leighton Town | 1-3 | Slough Town | Red Insure Cup | | | Match report |
| 09-10-2010 | Bedworth United | 1-1 | Slough Town | League | | | Match report |
| 05-10-2010 | Marlow | 0-3 | Slough Town | FA Trophy | | | Match report |
| 02-10-2010 | Slough Town | 2-2 | Marlow | FA Trophy | | | Match report |
| 25-09-2010 | Slough Town | 1-3 | Daventry Town | League | | | Match report |
| 18-09-2010 | Atherstone Town | 1-2 | Slough Town | League | | | Match report |
| 04-09-2010 | Biggleswade Town | 1-5 | Slough Town | League | | | Match report |
| 28-08-2010 | Lancing | 1-4 | Slough Town | FA Cup | | | Match report |
| 21-08-2010 | Hitchin Town | 3-2 | Slough Town | League | | | Match report |
| 18-08-2010 | Bedfont Town | 1-2 | Slough Town | League | | | Match report |
| 14-08-2010 | Slough Town | 2-1 | Barton Rovers | League | | | Match report |
| 20-04-2010 | Slough Town | 0-1 | Hitchin Town | League | | | Match report |
| 17-04-2010 | Slough Town | 5-1 | Aylesbury United | League | | | Match report |
| 15-04-2010 | Bromsgrove Rovers | 1-1 | Slough Town | League | | | Match report |
| 13-04-2010 | Burnham | 1-1 | Slough Town | League | | | Match report |
| 10-04-2010 | Bury Town | 1-0 | Slough Town | League | | | Match report |
| 05-04-2010 | Marlow | 0-1 | Slough Town | League | | | Match report |
| 03-04-2010 | Slough Town | 3-1 | Beaconsfield Town | League | | | Match report |
| 30-03-2010 | Slough Town | 1-2 | Arlesey Town | League | | | Match report |
| 27-03-2010 | Rothwell Town | 1-3 | Slough Town | League | | | Match report |
| 23-03-2010 | Barton Rovers | 3-3 | Slough Town | League | | | Match report |
| 20-03-2010 | Slough Town | 3-3 | Atherstone Town | League | | | Match report |
| 16-03-2010 | Slough Town | 0-1 | Wycombe Wanderers | B&B Senior Cup | | | Match report |
| 13-03-2010 | Biggleswade Town | 1-0 | Slough Town | League | | | Match report |
| 09-03-2010 | Slough Town | 3-1 | Leighton Town | League | | | Match report |
| 06-03-2010 | Slough Town | 2-0 | Soham Town Rangers | League | | | Match report |
| 02-03-2010 | Slough Town | 1-3 | Chesham United | League | | | Match report |
| 15-02-2010 | Beaconsfield Town | 1-4 | Slough Town | League | | | Match report |
| 13-02-2010 | Slough Town | 0-1 | AFC Sudbury | League | | | Match report |
| 09-02-2010 | Slough Town | 1-1 | Marlow | League | | | Match report |
Slough Town FC is not responsible for content produced on external websites | Copyright Slough Town FC 2023