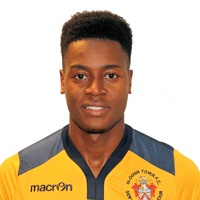 Position:
Forward
Achievements
2017/18 Won promotion to National League South
Bio
Gavin, 28, was the second summer signing from Maidenhead United in 2016, following the arrival of Mark Nisbet.
The pacy striker started at Wycombe Wanderers before spells with Maidenhead, Beaconsfield SYCOB and Flackwell Heath. He hit over 40 goals in Flackwell's title winning season which earned the striker an international call up for St Vincent & The Grenadines.
Gavin hit 15 goals in an injury-hit first season at Slough in the 2016/2017 season.
Sponsored by: Joshua & Chris Szalajko
Mens
| First Appearance | Appearances | First Goal | Goals |
| --- | --- | --- | --- |
| 06-08-2016 vs St Neots Town | 51 | 27-08-2016 vs Cirencester Town | 17 |
History
| Match Date | Home | Score | Away | Competition | Goals | Cards | |
| --- | --- | --- | --- | --- | --- | --- | --- |
| 10-02-2018 | Slough Town | 0-1 | Banbury United | League | | | Match report |
| 06-02-2018 | Slough Town | 4-0 | Redditch United | League | | | Match report |
| 30-01-2018 | Slough Town | 1-1 | Kings Langley | League | | | Match report |
| 26-12-2017 | Slough Town | 5-1 | Farnborough | League | | | Match report |
| 23-12-2017 | Slough Town | 1-1 | Stratford Town | League | | | Match report |
| 04-11-2017 | Gainsborough Trinity | 0-6 | Slough Town | FA Cup | | | Match report |
| 14-10-2017 | Slough Town | 1-0 | Folkestone Invicta | FA Cup | | | Match report |
| 10-10-2017 | Merthyr Town | 4-5 | Slough Town | League | | | Match report |
| 07-10-2017 | Slough Town | 2-1 | Biggleswade Town | League | | | Match report |
| 02-10-2017 | Beaconsfield Town | 2-2 | Slough Town | League Cup | | | Match report |
| 26-09-2017 | Redditch United | 1-4 | Slough Town | League | | | Match report |
| 23-09-2017 | St Neots Town | 3-1 | Slough Town | League | | | Match report |
| 09-09-2017 | Slough Town | 8-1 | Dunstable Town | League | | | Match report |
| 28-08-2017 | Farnborough | 1-2 | Slough Town | League | | | Match report |
| 26-08-2017 | Slough Town | 3-0 | St Ives Town | League | | | Match report |
| 15-08-2017 | Gosport Borough | 1-5 | Slough Town | League | | | Match report |
| 12-08-2017 | Slough Town | 1-2 | Kettering Town | League | | | Match report |
| 26-04-2017 | Leamington | 1-0 | Slough Town | Play Off | | | Match report |
| 22-04-2017 | Slough Town | 1-1 | Redditch United | League | | | Match report |
| 17-04-2017 | Chesham United | 1-1 | Slough Town | League | | | Match report |
| 14-04-2017 | Slough Town | 0-2 | Cirencester Town | League | | | Match report |
| 08-04-2017 | Kettering Town | 3-0 | Slough Town | League | | | Match report |
| 25-03-2017 | Frome Town | 1-0 | Slough Town | League | | | Match report |
| 18-03-2017 | Slough Town | 4-1 | Cinderford Town | League | | | Match report |
| 14-03-2017 | St Neots Town | 1-1 | Slough Town | League | | | Match report |
| 11-03-2017 | Hitchin Town | 2-3 | Slough Town | League | | | Match report |
| 21-02-2017 | Cinderford Town | 2-1 | Slough Town | League | | | Match report |
| 18-02-2017 | Slough Town | 1-0 | Merthyr Town | League | | | Match report |
| 11-02-2017 | Cambridge City | 3-4 | Slough Town | League | | | Match report |
| 07-02-2017 | Slough Town | 3-0 | Weymouth | League | | | Match report |
| 04-02-2017 | Slough Town | 1-0 | Dunstable Town | League | | | Match report |
| 31-01-2017 | King's Lynn Town | 5-2 | Slough Town | League | | | Match report |
| 28-01-2017 | Leamington | 0-6 | Slough Town | League | | | Match report |
| 21-01-2017 | Slough Town | 0-1 | Chippenham Town | League | | | Match report |
| 17-01-2017 | Maidenhead United | 4-2 | Slough Town | B&B Senior Cup | | | Match report |
| 07-01-2017 | St Ives Town | 2-0 | Slough Town | League | | | Match report |
| 02-01-2017 | Slough Town | 1-2 | Chesham United | League | | | Match report |
| 27-12-2016 | Hayes & Yeading United | 2-3 | Slough Town | League | | | Match report |
| 20-12-2016 | Slough Town | 3-0 | MK Dons | B&B Senior Cup | | | Match report |
| 01-10-2016 | Slough Town | 2-3 | Dartford | FA Cup | | | Match report |
| 27-09-2016 | Slough Town | 2-0 | Leamington | League | | | Match report |
| 24-09-2016 | Slough Town | 3-0 | Biggleswade Town | League | | | Match report |
| 17-09-2016 | Cambridge City | 1-3 | Slough Town | FA Cup | | | Match report |
| 13-09-2016 | Weymouth | 0-1 | Slough Town | League | | | Match report |
| 10-09-2016 | Redditch United | 0-4 | Slough Town | League | | | Match report |
| 27-08-2016 | Cirencester Town | 1-3 | Slough Town | League | | | Match report |
| 20-08-2016 | Slough Town | 3-0 | St Ives Town | League | | | Match report |
| 16-08-2016 | Slough Town | 0-0 | Stratford Town | League | | | Match report |
| 13-08-2016 | Kings Langley | 2-3 | Slough Town | League | | | Match report |
| 09-08-2016 | Banbury United | 1-0 | Slough Town | League | | | Match report |
| 06-08-2016 | Slough Town | 2-0 | St Neots Town | League | | | Match report |
Slough Town FC is not responsible for content produced on external websites | Copyright Slough Town FC 2023